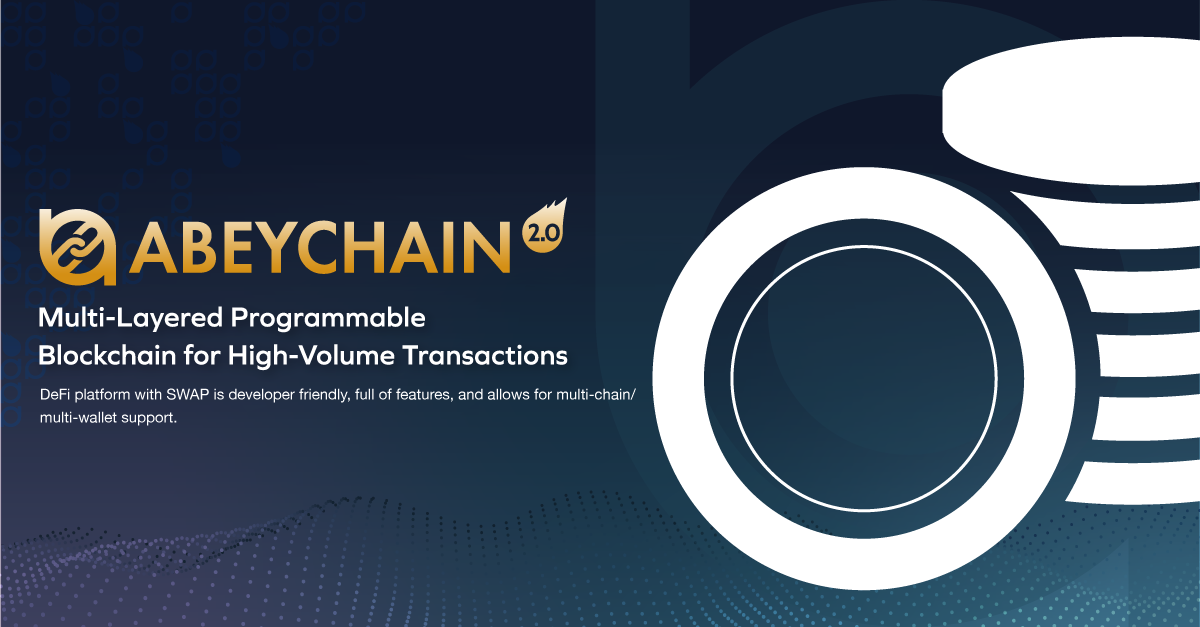 ABEYCHAIN 2.0 is a third-generation public blockchain on a mission to leverage its unique hybrid consensus architecture while creating an ecosystem for developers to create fully scalable smart contracts and solutions.
Many blockchain projects have entered the market looking to take part in the crypto revolution. Unfortunately, many have been unable to breakthrough due to their inability to solve the conundrum of achieving scalability at the expense of decentralization
ABEYCHAIN  2.0
ABEYCHAIN  2.0 stands out from the crowd as it has solved the ''impossible triangle'' problem by creating a unique architecture. The blockchain platform deploys a hybrid consensus that consists of the Delegated Proof-of-Stake (DPoS) and Proof-of-work (PoW).
This ensures that the ABEYCHAIN 2.0 blockchain can achieve scalability and process high volume transactions while maintaining its status as a fully decentralized public blockchain.
In simple terms, ABEYCHAIN 2.0 provides an innovative blockchain framework where any individual, developer, and community can take advantage of low gas fees, high-performance blockchain, and an extensive ecosystem.
The potential of ABEYCHAIN 2.0 high-speed blockchain makes it a major breakthrough for web 3.0 operations.
ABEYCHAIN  2.0 key features
One of the driving forces in the adoption of any blockchain platform is a feature-rich ecosystem. ABEYCHAIN 2.0 provides an ecosystem that caters to the latest concepts within the crypto space like NFTs, DeFi, decentralized storage, and more.
XSwap is the native decentralized exchange (DEX) of ABEYCHAIN  and the hub of DeFi. The DEX is built to handle high volume transactions, and digital assets built on ABEYCHAIN  can be swapped at no cost. It will also feature trading options like limit and market orders making it more advanced than existing DEXs.
As the DeFi hub, users will be able to stake their assets, provide liquidity, and leverage multiple yield farming opportunities. XSwap also supports a multi-chain wallet that users can securely store their digital assets.
ABEYCHAIN 2.0 also supports a stablecoin ACT that is paired 1:1 to leading stablecoin USDT. ACT has multiple use cases and will help investors access multiple products within the  ecosystem. Holders can convert their tokens to USDT via the aPay payment service in the ABEYCHAIN 2.0 wallet.
To maintain price stability, a unique mining and burning mechanism is deployed. Act is mined when an investor purchases the coin using popular crypto like BTC, ETH, and LTC, while a burning process occurs when users convert the stablecoin to other cryptocurrencies.
There is a dedicated NFT marketplace on ABEYCHAIN 2.0. The marketplace Music.Net allows artists to create and trade NFTs. ABEYCHAIN  has also revealed plans to involve top artists and organizations to launch exclusive NFTs that will drive engagement and adoption of its marketplace. NFT lovers can send and withdraw their Niffties and also view them in the marketplace
ABEYCHAIN Storage Network
ABEYCHAIN Storage Network is one of the unique features that have the potential to transform decentralized storage. Built on the ABEYCHAIN 2.0 blockchain, it provides high-quality data storage using a novel layer built within the IPFS network. This ensures that files are kept safe and secured in a decentralized way with nodes located globally.
Like similar decentralized storage platforms, miners are incentivized using the native token AST (Abey Storage Token). Holders can easily exchange the token for Filecoin at a 1:1 parity, and the mining costs are among the lowest in the market.
ABEYCHAIN  is scalable and well thought out
ABEYCHAIN 2.0 comes across as a powerful blockchain platform that is highly scalable and secure. It is well thought out with the features cutting across different sectors in the crypto space, and this is great news for web 3.0 enthusiasts.
ABEYCHAIN 2.0 continues to expand and currently has more than 150,000 users taking advantage of its features. The entire ecosystem is powered by the Abey token that can be traded on  www.zbx.com and www.zbx.plus. To learn more about ABEYCHAIN 2.0 blockchain, visit the website at http://www.abey.com
This is a sponsored story. Its content does not constitute financial advice. Please remember that the value of investments, and any income from them, can fall as well as rise so you could get back less than you invest. If you are unsure of the suitability of your investment please seek advice.
This website is only provided for your general information and is not intended to be relied upon by you in making any investment decisions. You should always combine multiple sources of information and analysis before making an investment and seek independent expert financial advice.
Where we list or describe different products and services, we try to give you the information you need to help you compare them and choose the right product or service for you. We may also have tips and more information to help you compare providers.
Some providers pay us for advertisements or promotions on our website or in emails we may send you. Any commercial agreement we have in place with a provider does not affect how we describe them or their products and services. Sponsored companies are clearly labelled.