Crypto-traders have started to prepare their 2018 tax documentation for filing, including reporting Capital Gains or Losses.  BitTaxer makes calculating and reporting any crypto-taxes a simple and straightforward process.
The 2018 tax season is upon us, and for many Americans that means it's time to start gathering their W-2s, receipts, and other tax documents, in preparation for filing. For crypto-traders, that also means reporting capital gains and losses. In the past, there have been many challenges with reporting capital gains and losses for the average crypto-trader. The process of compiling transaction data (from every exchange transacted upon within the tax year), then manually calculating tax implications for potentially dozens/hundreds of lines, then reporting all of the figures accurately in TurboTax is difficult to achieve without guidance.
To the appreciation of crypto-traders everywhere, cryptocurrency tax software like BitTaxer provides proper guidance in making the reporting of capital gains or losses quick and easy.  Once an account is created, users are guided through the BitTaxer Guidance System, a quick step-by-step process to get transactions uploaded into the system right away.  
There are three methods to choose from when using the BitTaxer Guidance System: Data can be uploaded or imported directly from most major exchanges using the 'Exchange Import' option, the 'BitTaxer Template' option can be used to upload records kept by hand via use of a custom CSV template, or users can manually enter any transactions line by line.

After transaction data is uploaded, BitTaxer walks users through the 'Classification' stage, which ensures all sends and receives have a specific classification (for example, classifying received mining crypto income as a separate source from received goods and services crypto income).  Classification of data is an important step when creating crypto transaction reports for tax filing, and BitTaxer gives a clean and quick approach to this step in the process.
Once all transactions are imported and classified, BitTaxer is ready to create the reports needed to file.  Uploaded data can be reviewed in the charts and tables found on the Dashboard, and the Reports tab houses all options for transaction data output.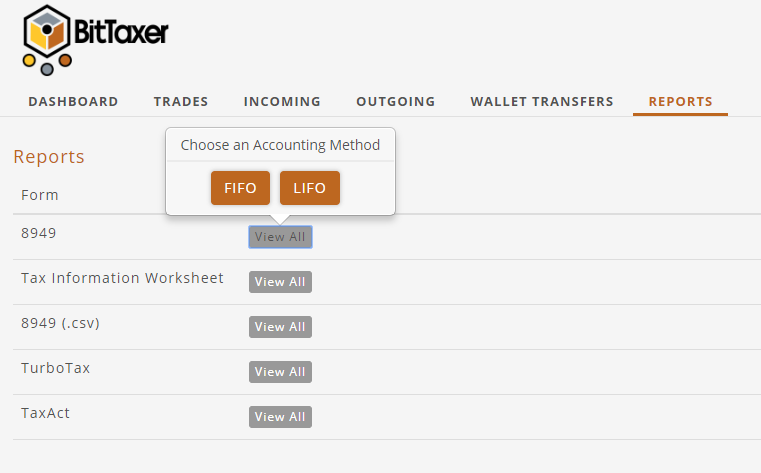 It is important to mention – If users have a free account, reporting data will be redacted until they upgrade to the flat-rate paid tier that provides unlimited transaction reporting (there is an upgrade button easily seen on the Dashboard and Reports page of free accounts).  Uploaded data for any user is available to review at any time, at no cost.
Are you ready to try the cryptocurrency tax software that
is easy to use, magically fast, and CPA approved?
Sign Up Today!
Special Offer for CryptoCompare users
Get 15% discount coupon when subscribing with the promo code below:
uGGm3XrJ
This website is only provided for your general information and is not intended to be relied upon by you in making any investment decisions. You should always combine multiple sources of information and analysis before making an investment and seek independent expert financial advice.
Where we list or describe different products and services, we try to give you the information you need to help you compare them and choose the right product or service for you. We may also have tips and more information to help you compare providers.
Some providers pay us for advertisements or promotions on our website or in emails we may send you. Any commercial agreement we have in place with a provider does not affect how we describe them or their products and services. Sponsored companies are clearly labelled.