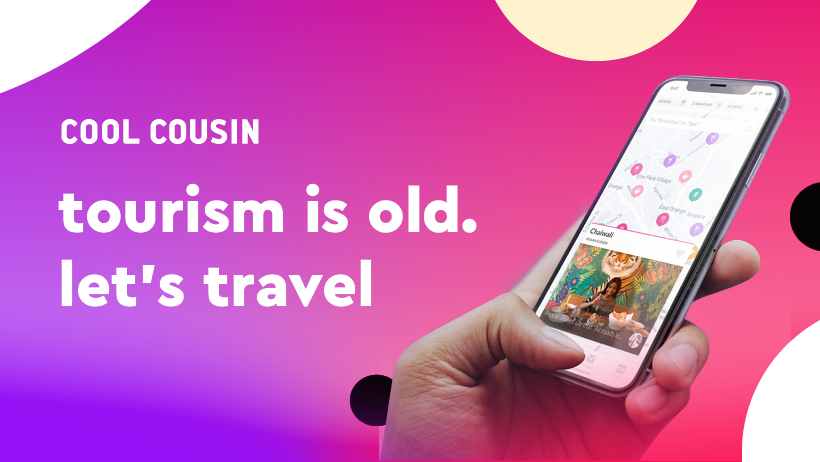 This is a sponsored guide and does not represent investment advice from CryptoCompare. Please do your due diligence when dealing with any Initial Coin Offering and never invest more than what you can afford to lose.
Traveling in the 21st Century can be as frustrating as it is fun. Travelers often depend on the internet to find the best and most affordable places to stay, eat and visit. To an extent, this has made travelling easier but information overload and biased content can also make it impossible for users to make up their minds and may even lead them in error. This issue that is bound to get worse as the internet continues to take over the world.
The information overload and biased content problem is one that many of us have experienced or are likely to in our lifetime and that is perhaps why Cool Cousin is becoming a universally loved application among diehard travellers and casual tourists alike, considered one of the "7 can't-miss apps" by the Mashable.
What is Cool Cousin
Cool Cousin is a mobile application that has taken an original approach to the information overload and biased content problem found in the centralized travelling market. According to its website, "Cool Cousin is shaking up the travel industry with a new kind of travel agency, optimized for Millennial and Gen Z travellers."
So, how does Coolcousin work? It's simple. Cool Cousin allows travellers to get on-demand city guidance from like-minded locals they feel will may have similar tastes or mindsets and that can lead them to experiences they will enjoy. The idea is to combine the inherited knowledge locals have about their city with a matchmaking option that guarantees travellers an enjoyable experience that could never be provided by a travel agent.
Once a traveller chooses and connects with one of these locals, known as Cousins in the app context, they can start reaching out to them for personalized city guidance. This includes places to stay, events to go to, where to eat and much more. Connecting with your Cousin can be done prior to and during your travels, ensuring that you can get information on the fly if you're unsure of what to do or where to go. Once your vacation is over, you can review your Cousin to ensure other like-minded individuals get a chance to connect with him as well.
Introducing the CUZ Token
Although Cool Cousin is a disruptive concept in and of itself, the team behind the app wants to take it a step further by introducing blockchain technology into the mix. By integrating a cryptocurrency token, named CUZ, Cool Cousin will allow travellers to access diverse and affordable premium services while creating an incentive/reward-based system for Cousins in a way that does not jeopardise their impartiality and trustworthiness.
CUZ is an ERC20 token based on the Ethereum blockchain and it will be used in the exchange of travel services and unique local information. Most of the token supply will be kept by the application for the Community pool, a reserve of CUZ that rewards actions within the ecosystem, incentivizing interaction within the platform. The aforementioned incentives will be given to members of the community who will ultimately validate and approve new content, Cousins and Services and more.
The community is comprised of Cousins, Pro-Cousins, users, contributors, editors, the Board of Representatives and Business Owners. Each of these members plays a vital role within the platform.
Pro-Cousins, for example, is a more advanced version of Cousins who can act as travel agents in exchange for tokens. Contributors add various elements to the ecosystem and earn CUZ tokens through these actions, from taking pictures for spots, flagging inaccuracies, onboarding new Cousins, and more. All of the actions by Contributors must be accepted by Editors.
The board of directors will vote on the important decisions regarding the platform, with voting power being distributed by the company and the community, the first receiving a 35% share and the later receiving a 65% share.
Lastly, business owners will be able to manage their pages following a Cousin recommendation. Promoted content and special offers will be available in a transparent manner, allowing users to distinguish between sponsored and organic content.
Initial Coin Offering (ICO)
In order to fund the development and marketing of this new decentralized ecosystem, Cool Cousin will host an Initial Coin Offering campaign which will also ensure a transparent and fair distribution mechanism for the CUZ token.
The ICO will start in March 2018 and will see 33% of the total 300M CUZ supply distributed to investors at a 0.000265 ETH base price. Users will be able to participate with BTC, ETH and even USD.
To learn more about Cool Cousin, be sure to check out their website, blog and white paper. You can also connect with the team and community through Twitter, Telegram and Reddit.
This website is only provided for your general information and is not intended to be relied upon by you in making any investment decisions. You should always combine multiple sources of information and analysis before making an investment and seek independent expert financial advice.
Where we list or describe different products and services, we try to give you the information you need to help you compare them and choose the right product or service for you. We may also have tips and more information to help you compare providers.
Some providers pay us for advertisements or promotions on our website or in emails we may send you. Any commercial agreement we have in place with a provider does not affect how we describe them or their products and services. Sponsored companies are clearly labelled.