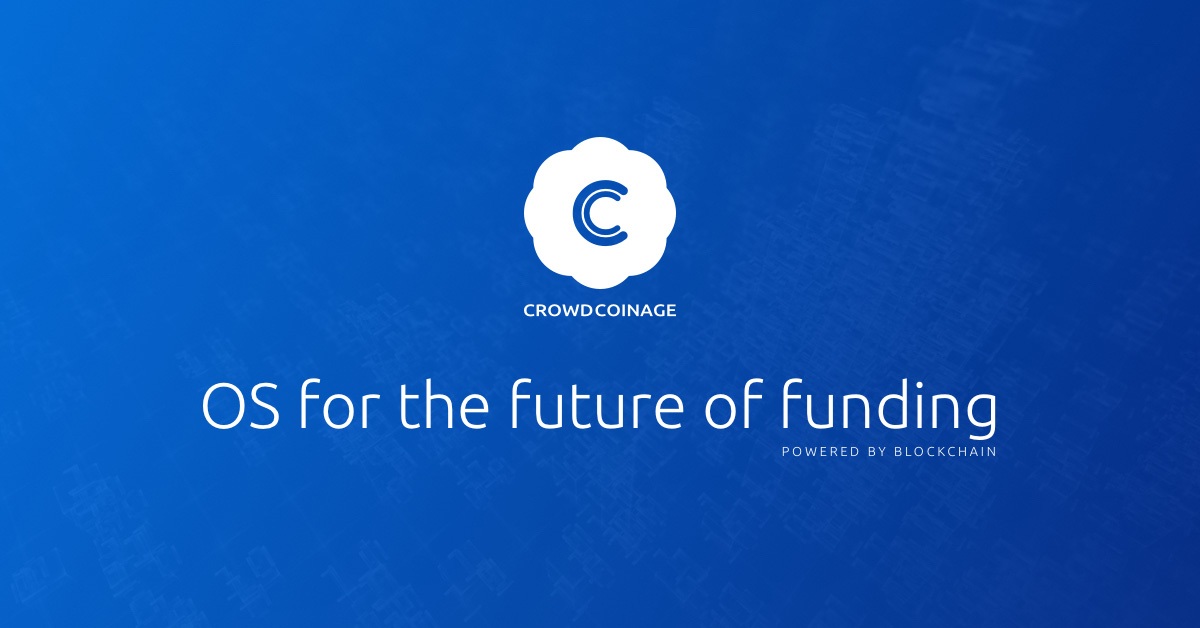 This is a sponsored guide and does not represent investment advice from CryptoCompare. Please do your due diligence when dealing with any Initial Coin Offering and never invest more than what you can afford to lose.
Although blockchain technology is changing the world, its full potential is yet to be reached. Entrepreneurs still find it hard to launch their projects due to the immense technological knowledge that is necessary to start blockchain-based projects. Although several token issuance and ICO platforms have been created in the last few months/years, these often focus on either fundraising or finance services. CrowdCoinage OS is here to change that. The white paper reads:
"We are planning to develop a versatile OS that offers a wide-range of services, and that distinguishes us from the other similar projects that are mostly focused on one specific area and use of the cryptocurrencies."
The CrowdCoinage OS is a platform for the "future of funding". Built on the Ethereum network, CrowdCoinage OS is a platform focused on startups and investors in the crypto industry, providing them with tools and services such as ICO campaigns. Moreover, CrowdCoinage OS will also focus on providing a wide-range of crypto-based services for consumers, such as marketplaces, p2p lending, payment and saving deposits and more.
How it works
Crowdfunding ICO campaigns: CrowdCoinage OS allows startup founders to launch their successful ICOs, pre-ICOs, and other crowdfunding campaigns, providing them with automated tools to generate tokens and smart contracts. CrowdCoinage OS will allow for listing visibility, the ability to be found via certain tags or search parameters, detailed views with texts, founders' images, videos, diagrams, and graphics. Project managers will also be able to recruit new talent in the marketplace or the job board functionalities integrated into the OS. The OS also allows for integrations with two major exchanges (more to come).
Traditional businesses will also be able to launch their own crowdfunding campaigns through a small subset of services that allow founders to set up a smart contract so that they do not generate their own token.
Marketplace: The marketplace will allow investors, professionals and blockchain based companies to access the database of startups in the need of venture capital or know-how, allowing them to invest in a certain project or to provide their skills or expertise.
P2P loans: CrowdCoinage OS will provide a P2P lending platform enhanced by smart contract and blockchain technology. This platform aims to solve the current issues found in traditional P2P lending: assessment and transparency.
Exchange and wallet: CrowdCoinage OS comes complete with its own wallet and exchange. This allows CrowdCoinage OS to launch the tokens issued on its platform with the utmost speed while also ensuring liquidity for their own token. The user wallet will be created at the signup and will use both online and offline storage solutions with top-notch encryption. Two-factor authentication will be used as an additional layer of protection.
Payment cards and saving deposits: The CrowdCoinage OS allows its users to issue payment cards, allowing founders and investors to automatically convert their funds to fiat when purchasing goods or services.
Additionally, saving deposits will be available, allowing investors to store Ether or other ERC20 tokens, who then receive a ROI based on the fees received from the payment cards.
Insurance: Leveraging blockchain technology and other new techs like AI and IoT, CrowdCoinage OS features an insurance service whose decision-making process is completely automated.
E-Residency Integration: Estonia provides an e-Residency program that allows citizens to establish and manage a company remotely. CrowdCoinage OS will allow its users to enjoy this feature provided by the Estonian government itself.
CCOS Token & ICO
The CCOS token is an ERC20 token based on the Ethereum blockchain. It will be used for transactions within the platform.
In order to fund the development and marketing of the CrowdCoinage OS, the team will host an Initial Coin Offering campaign. The CrowdCoinage OS ICO has already started on the 15th of January and will last until the 13th of March, 2018. The ICO token allocation represents 80% of the total token supply and will be available for a 0.0001 ETH (0.08 euros). The ICO funding target has been set at 1,900 ETH and the cap at 58,000 ETH.
Token Reserve Split (20%):
10% - Team,

5% - Advisors

5% - Bounties
The CCOS ICO will feature a bonus and bounty campaign
This website is only provided for your general information and is not intended to be relied upon by you in making any investment decisions. You should always combine multiple sources of information and analysis before making an investment and seek independent expert financial advice.
Where we list or describe different products and services, we try to give you the information you need to help you compare them and choose the right product or service for you. We may also have tips and more information to help you compare providers.
Some providers pay us for advertisements or promotions on our website or in emails we may send you. Any commercial agreement we have in place with a provider does not affect how we describe them or their products and services. Sponsored companies are clearly labelled.