CryptoCompare, a leading cryptoasset data provider, is listing the potential tokens from the anticipated Ethereum Merge, which describes the network's current mainnet merging with the Beacon Chain's Proof-of-Stake (PoS) system, setting the stage for future scaling upgrades, including sharding. The move is expected to reduce Ethereum's energy consumption by 99.95%.
CryptoCompare is joining the wave of crypto companies offering data and coverage support for a possible miner-led Ethereum hard fork. The idea gained impetus in the crypto community after it was pushed by Chandler Guo —a popular cryptocurrency miner and investor.
Guo is a well-known Ethereum miner who, back in 2016, was involved in the hard fork that separated Ethereum Classic (ETC) and Ethereum (ETH) after the DAO hack.
Guo emerged as the main backer of the initiative, and he claims to have over 60 developers under his wings working on getting rid of the difficulty bomb, which is the software tool used by ETH developers to force the transition from a Proof-of-Work (PoW) consensus into Proof-of-Stake.
Several ETH miners supported a potential chain split since it will allow them to move forward with their operations despite the Ethereum merge. The move away from PoW is said to make the network cheaper, faster, and more environmentally friendly, however, it will also mark the end of an income stream for Ethereum miners who were being rewarded for securing the PoW network.
An ETH PoW Token, Without An Existing ETH Hard Fork?
While the ETH PoW hard fork chain doesn't yet exist, there already is an ETH fork token —which also doesn't exist—, dubbed ETHW, and is listed on exchanges including Poloniex and DigiFinex as ETHW.
Moreover, there's also an ETHS token (ETHPoS) which is presumably the resulting asset from the Ethereum transition to PoS, added by numerous exchanges as well.
The ETHPoW token debuted on August 8, at a price of $30 apiece across various crypto trading platforms, is quickly gaining momentum, rallying 333% to $130 before correcting as trading went on.  ETHPoS, on the other hand, is at the time of writing, mirroring the price of ETH, currently at $1,820 apiece.
It's worth mentioning prices currently differ from exchange to exchange. Poloniex, for example, has created TRON-based TRC tokens representing the potential hard fork tokens.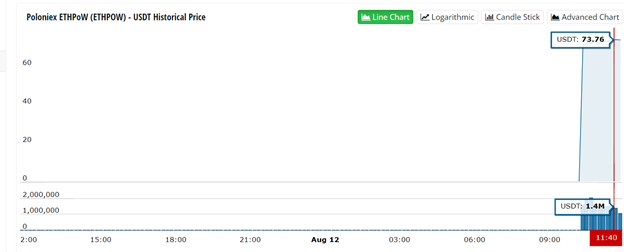 Both tokens have already received support from numerous crypto exchanges, including Poloniex and MEXC, the first two firms to list such tokens. BitMEX quickly followed suit by adding an ETHW futures product using Tether (USDT) as margin collateral with an expiry date in December 2022.
Poloniex and MEXC will reportedly allow users to trade ETH for ETHW and ETHS at a 1:1 ratio. These forked versions of ETH will come in the form of IOU (I Owe You) tokens, which work similarly to derivatives. Other exchanges said they were "evaluating the idea" and will list the forked tokens only if they see enough interest and meet certain conditions.
One thing to notice is that both exchanges said they would suspend and delist both IOU tokens and their respective markets if the Ethereum Merge is completed without the hard fork. This poses a risk, since users are trading highly speculative tokens that do not actually exist and relying on the faith that they will, eventually.
This website is only provided for your general information and is not intended to be relied upon by you in making any investment decisions. You should always combine multiple sources of information and analysis before making an investment and seek independent expert financial advice.
Where we list or describe different products and services, we try to give you the information you need to help you compare them and choose the right product or service for you. We may also have tips and more information to help you compare providers.
Some providers pay us for advertisements or promotions on our website or in emails we may send you. Any commercial agreement we have in place with a provider does not affect how we describe them or their products and services. Sponsored companies are clearly labelled.