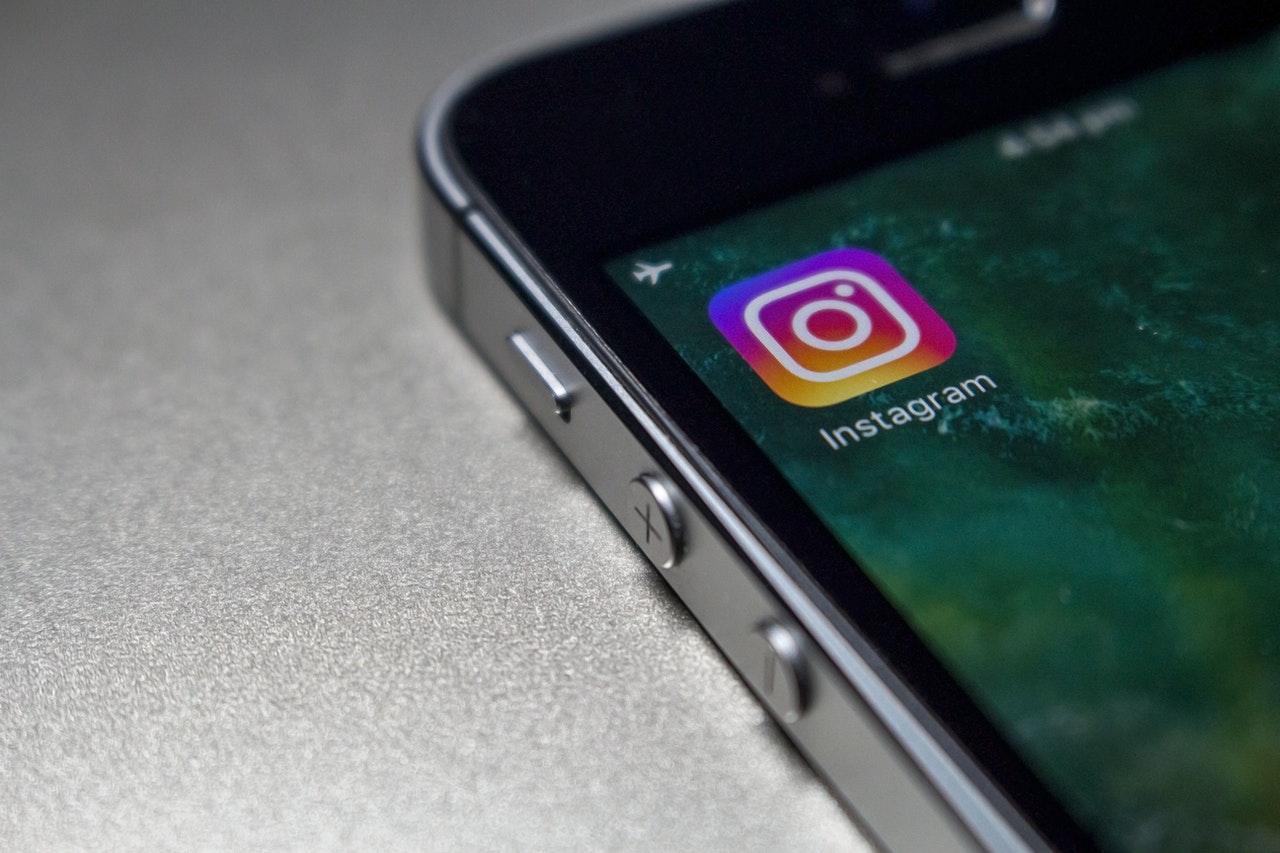 Vitalik Buterin has an impressive resume and is mostly known for being one of the co-founders of Ethereum. Before he helped create the smart contract network, he co-founded leading cryptocurrency information portal Bitcoin Magazine. His achievements have attracted 2.5 million followers on Twitter, with many wondering whether Vitalik Buterin has an Instagram account.
In short: no. Vitalik Buterin does not have an Instagram account. The developer and entrepreneur hinted as much on the microblogging platform when responding to a user asking whether he stood behind a project he posted on the Facebook-owned platform.
But if Buterin does not have an Instagram account, then why are there so many accounts named Vitalik Buterin with his pictures on them? Some of these even have followers counts entering six-digit territory. To understand the phenomenon, we need to dig into a phenomenon that has plagued the cryptocurrency industry: scams.
Scammers are Impersonating Vitalik
Ever since the 2017 bull run saw the price of bitcoin get close to the $20,000 mark thanks to retail interest in the cryptocurrency, scammers have been taking advantage of social media platforms to trick users into believing reputable companies and influencers are giving away funds.
Their scams are often as simple as this: send X amount of crypto to this address, and we will send you back twice as much. The complexity of the scam focuses on tricking users into believing it's real.
Often, scammers will hack verified accounts on social media to then switch their names on them and either create these giveaways or try to claim they are authentic in the comments through examples of unrelated transactions in a bid to establish social proof.
Social media platforms have so far been unable to actively get rid of scammers in a timely manner, effectively allowing the problem to persist. The CEO of Ripple, Brad Garlinghouse, has even famously filed a lawsuit against YouTube, accusing the video-sharing platform of damaging their brand and reputations by allowing scammers to use their image on the platform.
These scams managed to trick various XRP investors into believing Ripple and Garlinghouse were conducting legitimate giveaways. XRP data aggregator XRPlorer has claimed Coinbase users along lost over 940,000 XRP to these scams.
That lawsuit was settled in early 2021, with both Ripple and YouTube agreeing to work together to "prevent, detect and take down these scams." Details on the settlement are confidential, but it's known both companies will fund a non-profit organization dedicated to helping victims of cybercrime.
Just like Brad Garlinghouse, Vitalik Buterin is being impersonated on social media so scammers can promote fake giveaway scams using his image. A Buterin impersonator on Instagram with just over 24,000 followers, for example, managed to steal 37 ETH from the social media platform's users in one of these giveaways in 2018.
On Reddit, users have been warning each other about the phenomenon as well. Vitalik Buterin does not have an Instagram account, and as such, any account with his name on the platform is merely impersonating him.
High-profile Twitter account hijacking
Hijacking high-profile Twitter accounts has always been a way for hackers to trick unsuspecting users. In 2020, a U.S. teenager plead guilty to hacking several high-profile accounts to promote a Bitcoin giveaway scams.
The hacker managed to hijack the accounts of leading cryptocurrency exchanges and companies like Binance and Apple, and of popular celebrities like Kim Kardashian, Elon Musk, Bill Gates, and Barack Obama. The scam collected over $117,000 worth of BTC at the time. Below is a screenshot of the tweet published from Apple's verified account: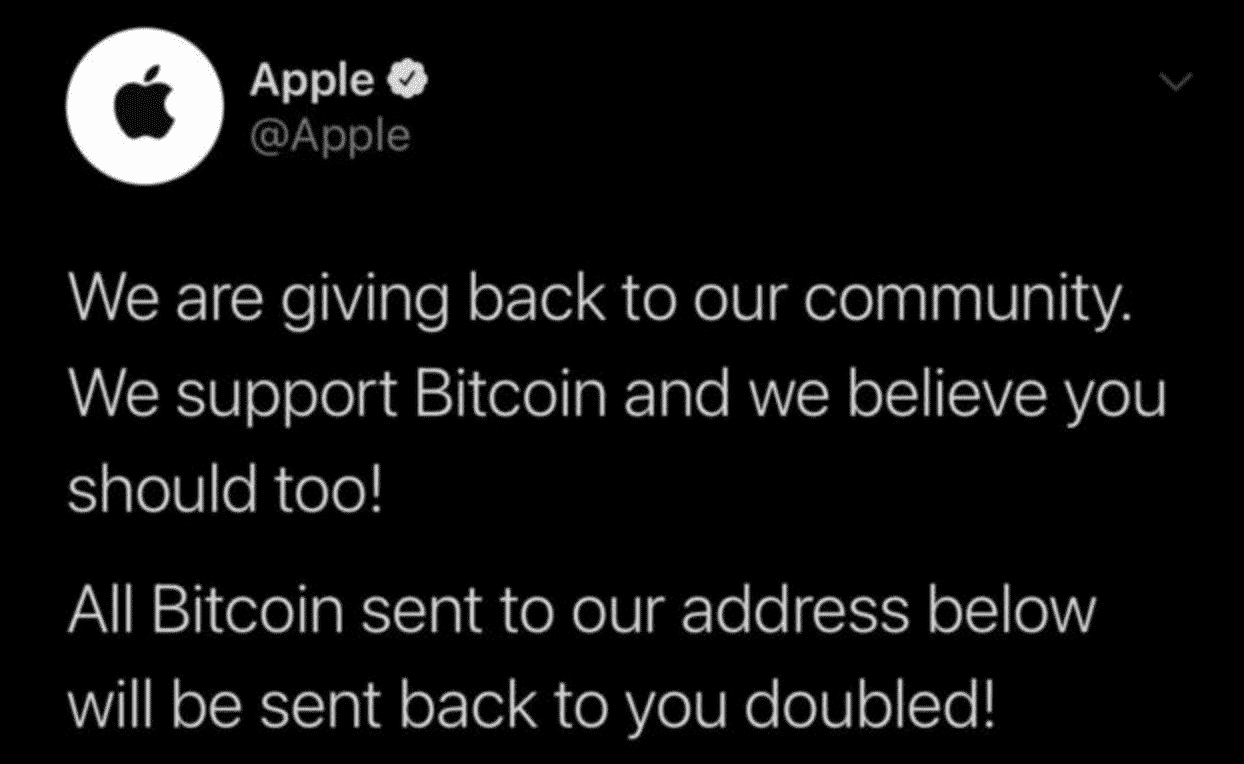 According to the BBC, the hacker managed to gain access to these accounts by imitating a member of Twitter staff to gain access to the platform's networks. The heist was pulled off with the help of two other hackers.
Staying safe
Cryptocurrencies are a radical alternative to the established financial system and staying safe isn't as easy as it is when a central entity is closely watching every financial transaction to sniff out scammers and other bad actors.
Following a set of best practices helps users avoid getting scammed in the space. First things first: focus on understanding cryptocurrency thoroughly. A lack of knowledge opens up gaps scammers can take advantage of.
Cryptocurrency networks like Ethereum are decentralized, so no customer service agents will ever reach out to you, nor will you be able to reach any support staff for that matter. What can be offered are some tips on staying safe:
Secure your private keys – Private keys are what

gives you access to your funds. If you share them with anyone else, they will also have access to them. Keep them safe, preferably offline, as even if your devices are compromised, your crypto won't be.

Double-check transactions – Cryptocurrency transactions are irreversible. Before moving your funds, make sure you trust the person you are sending the funds to and that they are who they say they are. Always double-check the address you're sending funds to.
Set smart contract spending limits – Without creating these spending limits, malicious smart contracts may drain your wallet. These limits can be adjusted in your Ethereum wallet.
Don't trust, verify – In line with the cryptocurrency community's ethos, don't take a social media account's word for it, and instead work to verify whether the deal is legitimate or not. If they're offering to double your funds in some sort of giveaway, chances are you're getting scammed.
You can learn more about keeping your cryptoassets safe using this guide from Blockchain Council. Ethereum.org, which is maintained by the Ethereum Foundation, also has numerous security tips you should always keep in mind.
This website is only provided for your general information and is not intended to be relied upon by you in making any investment decisions. You should always combine multiple sources of information and analysis before making an investment and seek independent expert financial advice.
Where we list or describe different products and services, we try to give you the information you need to help you compare them and choose the right product or service for you. We may also have tips and more information to help you compare providers.
Some providers pay us for advertisements or promotions on our website or in emails we may send you. Any commercial agreement we have in place with a provider does not affect how we describe them or their products and services. Sponsored companies are clearly labelled.