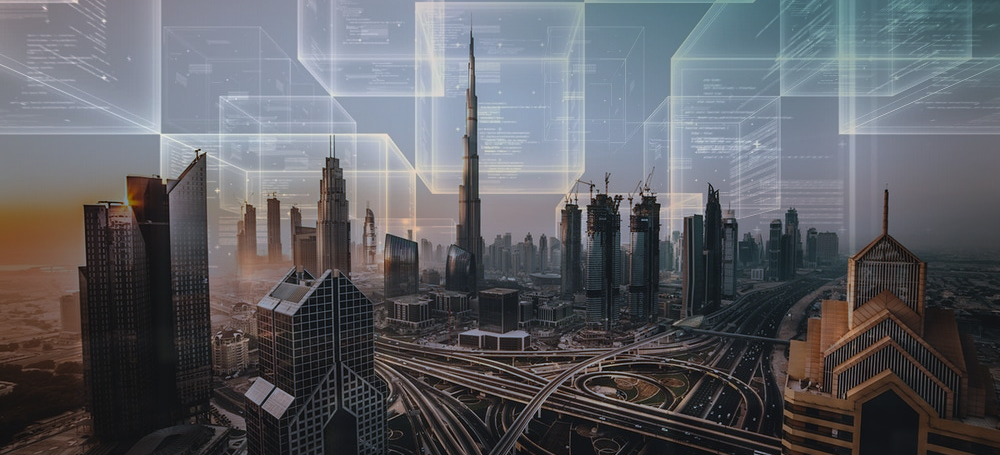 Dubai is a place that prides itself on thinking big. With the world's tallest building (the 828-meter tall Burj Khalifa), the world's biggest shopping mall and a quarter of the world's cranes at work building yet more large-scale projects, it's a city constantly with its eyes on the prize.
It's not the sort of place, therefore, where the rise of cryptos would be ignored. While digital payments have been around a few years now, 2017 was the year they made the world stand up and take notice – especially with the price of Bitcoin soaring from about US$1,000 to US$20,000 with the sort of wild fluctuations in between that would even make the hair of investors in the forex market stand on end. So, how is the "City of the Future" looking to secure its slice of the cryptocurrency market?
Its own currency
At the end of 2017, Dubai's government launched its very own cryptocurrency – a move that resulted from a partnership of the subsidiary Emcredit Limited and UK-based Object Tech Group. The blockchain-based emCash currency falls under the government's Accelerators Initiative, with the promise to users that the emWallet payment system will allow them to buy everything from 'their daily coffee and children's school fee to utility charges and money transfers' using near-field communication.
Dubai Economy deputy director general Ali Ibrahim said: "A digital currency has varied advantages – faster processing, improved delivery time, less complexity and cost, to name a few. It will change the way people live and do business in Dubai, and mark a giant leap for the city in harnessing game-changing innovations to improve ease of business and quality of life."
A Dubai-based exchange
That's not the only Dubai-flavoured cryptocurrency news to be aware of either. Thanks to ArabianChain, the city now has its own digital asset exchange through which traders and investors can buy, sell and trade.
Palmex, enables users to deposit and trade coins including ArabianChain's DubaiCoin, Bitcoin, Ethereum and Ripple. ArabianChain founder and CEO Mohammed Alsehli said: "The demand to trade and issue digital assets has grown exponentially with the phenomenal surge in valuation of cryptocurrencies like Bitcoin and the rapid evolution of blockchain technology."
"The regional market is ripe and hungry for a user-friendly platform that makes it possible for them to buy and sell in a secure environment."
The world's first blockchain economy
Having its own currency and own exchange isn't the limit of Dubai's ambitions in this field, however. Far from it. To live up to the City of the Future tag it needs to be bigger and bolder than that – and this rests on the way it plans to harness the technology that underpins cryptocurrencies, blockchain. As Futurism notes, blockchain could simplify record-keeping and the transport of goods all over the world. As a low-tax, business-friendly, transport hub, you can see the attraction of putting this to use in Dubai.
Aisha Bin Bishr, director general of Smart Dubai, said:
"We want to make Dubai the first blockchain-powered government in the world by 2020. It is disruptive for existing systems, but will help us prepare for the future."
The spread and use of cryptocurrencies, therefore, fits neatly into this goal and the wider adoption of futuristic technologies – with 3D printed skyscrapers, smart palm trees, AI road networks and widespread solar power capture also on the cards as part of this vision.
Embracing the future is vital to Dubai's image and reputation and both of these things are key to its economic standing. With that in mind, we should expect the city to push further and faster with cryptocurrencies than its rivals in the coming months and years.
Written by: Chelsea Ellsworth
This website is only provided for your general information and is not intended to be relied upon by you in making any investment decisions. You should always combine multiple sources of information and analysis before making an investment and seek independent expert financial advice.
Where we list or describe different products and services, we try to give you the information you need to help you compare them and choose the right product or service for you. We may also have tips and more information to help you compare providers.
Some providers pay us for advertisements or promotions on our website or in emails we may send you. Any commercial agreement we have in place with a provider does not affect how we describe them or their products and services. Sponsored companies are clearly labelled.