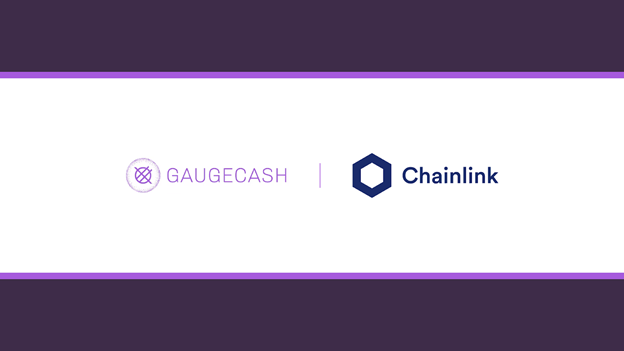 This is a sponsored story. Its content does not constitute financial advice. Please remember that the value of investments, and any income from them, can fall as well as rise so you could get back less than you invest. If you are unsure of the suitability of your investment please seek advice.
We're excited to announce that GAUGECASH has integrated Chainlink Keepers live on Ethereum and Polygon mainnet. GAUGECASH is using Chainlink Keepers to securely and cost-efficiently automate and stabilize the protocol's liquidity pool — GAUGEFIELD (GAUF) — to help ensure it remains at a near-constant value. Chainlink Keepers help GAUF independently remain at the same price regardless of price fluctuations around ETH and MATIC.
We decided to decentralize GAUGEFIELD's Constant Price smart contract function using Chainlink Keepers because it is operated by the same pool of time-tested, provably reliable node operators that currently help secure tens of billions of dollars in DeFi, even during record levels of network congestion and extreme volatility. The proven infrastructure of Chainlink helps ensure that GAUF Price contract calls are executed on time in a trust-minimized manner, giving users additional guarantees that the protocol functions exactly as intended.
GAUGECASH is a novel DeFi protocol pushing the boundaries of what's possible in the blockchain space. We created a token that references a basket of real-world FX data to generate a new kind of Weighted Average price to help protect against hyperinflation. In other words, we have built the most stable asset, decentralized, and it can be used to price goods and services worldwide. You can check the historical Average Volatility at https://charts.gaugecash.com against major fiat currencies, including gold, all the way back to 2002 when the Euro was released.
GAUGEFIELD is the liquidity pool of GAUGECASH. There will be only 500M GAUF tokens in existence, giving it the economic principle of scarcity. GAUGEFIELD will wrap other decentralized blockchain assets with the same scarcity issuance model. When GAUGECASH gets released, and volume starts increasing, the law of supply and demand will ignite a growth positive self-reinforcing economic decentralized system for GAUGECASH's USERS and GAUGEFIELD INVESTORS.
The token economics for the relation between GAUGECASH's Volume versus GAUGEFIELD's Value is essential to measure the different stages of the protocol as it reaches equilibrium. Pricing GAUGEFIELD equally on various networks, at this first stage, will allow us to maximize adoption as the protocol is blockchain agnostic but welcomes as much decentralization, lower transaction fees, and scalability as possible.
Chainlink Keepers is a decentralized service purpose-built to manage tasks on behalf of smart contracts. Chainlink Keepers serve as hyper-reliable, economically-incentivized automation bots that wake up smart contracts when they need to perform critical on-chain functions, which usually take place at regular time intervals (e.g., every day at the same time) or based on external events (e.g., when an asset hits a specific price).
Some of the notable features of Chainlink Keepers include:
High Uptime 

— Chainlink Keepers are run by the same professional DevOps teams that have an established on-chain performance history of providing high reliability to Chainlink Price Feeds during extreme network congestion and market volatility.

Low Costs

 — Chainlink Keepers have several gas-optimizing features that lower the costs of automating maintenance tasks for users, including a rotating node selection process to prevent gas price auction wars and stabilize costs.

Decentralized Execution 

— Chainlink leverages a decentralized and transparent pool of Keepers to help provide strong guarantees around secure contract automation, saving teams time and mitigating the risks around manual interventions or centralized servers.

Expandable Computation

 — Chainlink Keepers perform off-chain computations and generate call data verifiable by smart contracts, allowing developers to build advanced, trust-minimized dApps at lower costs.
"GAUGECASH is bringing significant theoretical innovations in economics and mathematics around a decentralized value system that retains permanence over time and protects against poor monetary policy decisions worldwide.
GAUGECASH's theoretical framework was developed not knowing if the tech would be ready to implement our one-of-a-kind oracle mechanism. With the help of Chainlink, the industry-leading oracle network, GAUGECASH is starting to turn theory into reality. Chainlink Keepers help automate critical management processes that will help enable GAUGECASH/GAUGEFIELD to become a remarkable breakthrough innovation."
– Manuel Blanco, Founder at GAUGECASH.
About Chainlink
Chainlink is the industry standard for building, accessing, and selling oracle services needed to power hybrid smart contracts on any blockchain. Chainlink oracle networks provide smart contracts with a way to reliably connect to any external API and leverage secure off-chain computations for enabling feature-rich applications. Chainlink currently secures tens of billions of dollars across DeFi, insurance, gaming, and other major industries, and offers global enterprises and leading data providers a universal gateway to all blockchains.
Learn more about Chainlink by visiting chain.link or reading the developer documentation at docs.chain.link. To discuss an integration, reach out to an expert.
About GAUGECASH
GAUGECASH is a Decentralized Monetary System that will be available to anyone anywhere. We have created an Index of Fiat currencies representing a new value that contains sensible Monetary Policy to pay for goods and services or store wealth. The protocol ensures stability and liquidity for the current and next generations using properties of the new "blockchain asset class" born when Bitcoin was successfully deployed.
"For the first time in history, we have the tools to compete with Gold; USD; EUR with a Decentralized Monetary System and come on top."
– Manuel Blanco, Founder at GAUGECASH.
To learn more, visit www.gaugecash.com and be part of the cutting-edge solutions we are bringing for the DEFI community. Follow @GAUGECASH on Twitter, and join our Telegram group
This website is only provided for your general information and is not intended to be relied upon by you in making any investment decisions. You should always combine multiple sources of information and analysis before making an investment and seek independent expert financial advice.
Where we list or describe different products and services, we try to give you the information you need to help you compare them and choose the right product or service for you. We may also have tips and more information to help you compare providers.
Some providers pay us for advertisements or promotions on our website or in emails we may send you. Any commercial agreement we have in place with a provider does not affect how we describe them or their products and services. Sponsored companies are clearly labelled.