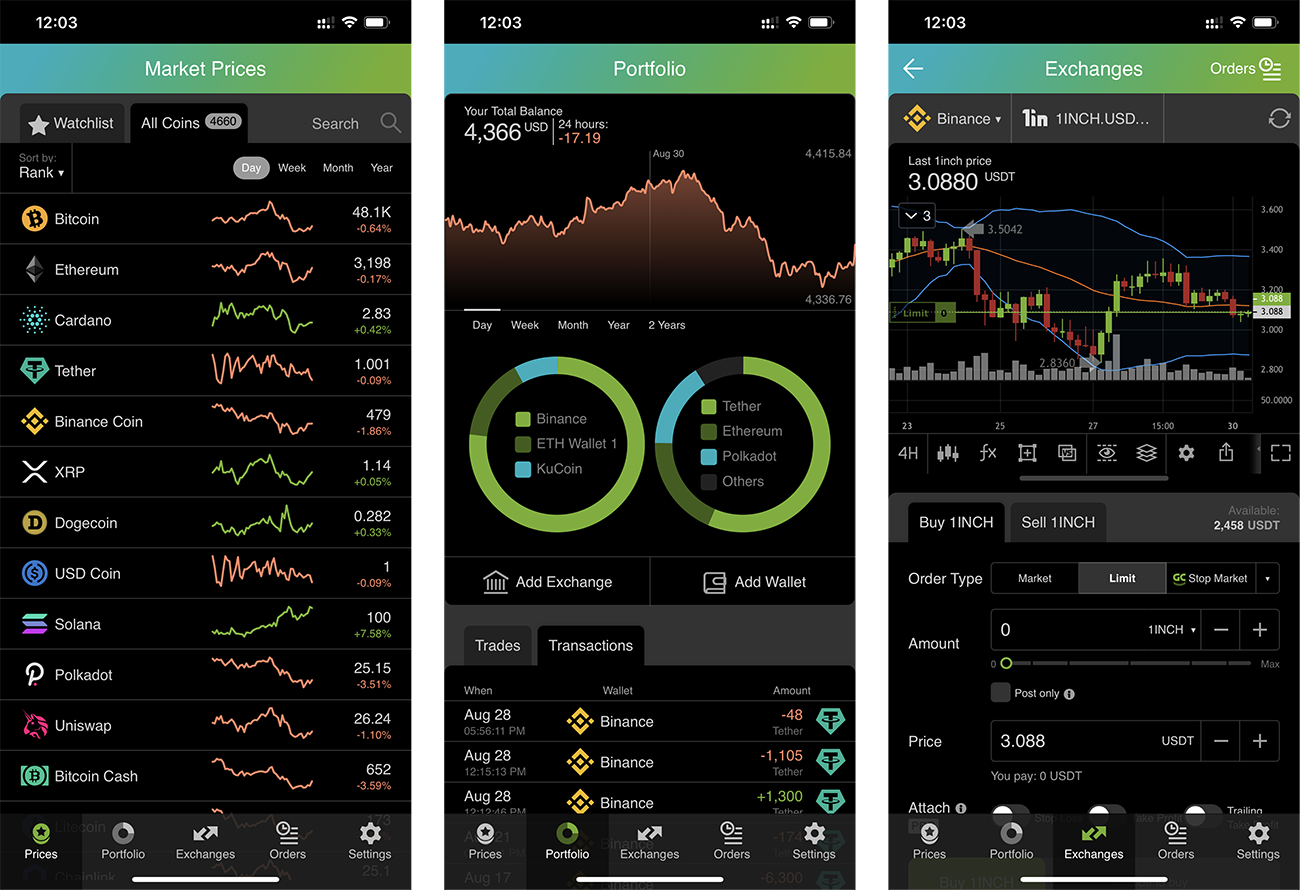 This is a sponsored story. Its content does not constitute financial advice. Please remember that the value of investments, and any income from them, can fall as well as rise so you could get back less than you invest. If you are unsure of the suitability of your investment please seek advice.

Cryptocurrency trading is no rocket science - oh, wait a second, it is. It is a consuming full-time job where you tie yourself up in knots on a daily basis. So when the newness defining the niche wears out, you start asking Google questions like the best crypto trading app or the best crypto portfolio tracker in an attempt to automate as many processes as possible.
This is when you locate Good Crypto - a mobile-first multi-exchange crypto trading terminal that also doubles as crypto portfolio tracker and connects you to 30+ exchanges and wallets, allows you to place advanced custom orders, such as Trailing Stop Loss or Stop Loss + Take Profit combo, sends you push notifications on order execution, significant price changes, deposits, transfers, daily portfolio summary, and offers trade automation.
Good Crypto: the best portfolio tracker & cryptocurrency trading app
Once you install Good Crypto on your iOS or Android device or open the Web App, it offers real-time market data and analytics, automated portfolio tracking, and advanced trading terminal supporting 30 leading crypto exchanges.
Connecting all your crypto exchanges and blockchain wallets out to Good Crypto is easy: just add your API keys and enjoy an overview of your portfolio that is updated in real time, set up alerts or head straight to the most advanced mobile crypto trading terminal on the market!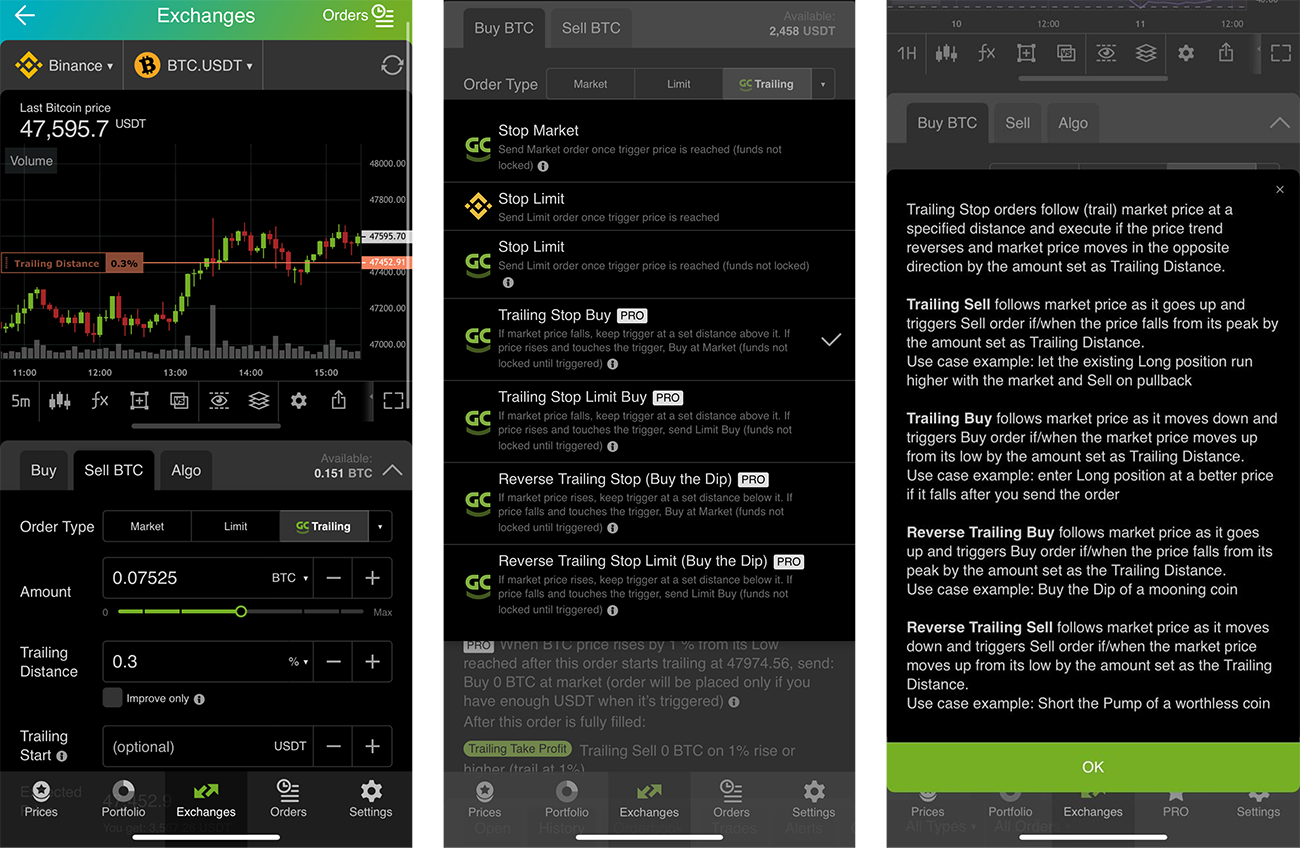 Here you can enjoy the full functionality of TradingView charts on the palm of your hand with all the drawing tools you are used to and over 40 technical indicators. Good Crypto's conditional orders do not freeze your balance until triggered giving you exceptional flexibility in creating your trading setups.
Switch to Algo tab and enjoy seamless trade automation: from Infinity Trailing algo, to Grid, DCA, and custom order groups.
How to pursue crypto trading strategies with Good Crypto?
Trailing Stop Orders
Entering long position with a Trailing Stop Buy
Say, you've decided to buy some BTC. You can send a Market order to buy it right away, but you are worried that the price might pull back. Of course, you can place a Limit order below the current Market price. But what if the price never falls to that level? Or on the contrary, falls a lot lower?
Trailing Stop order takes a lot of uncertainty out of your decision: if the price falls after you send your Trailing Buy order it will automatically move the trigger lower, but once the price rises by a percentage you define, the Buy order will be executed.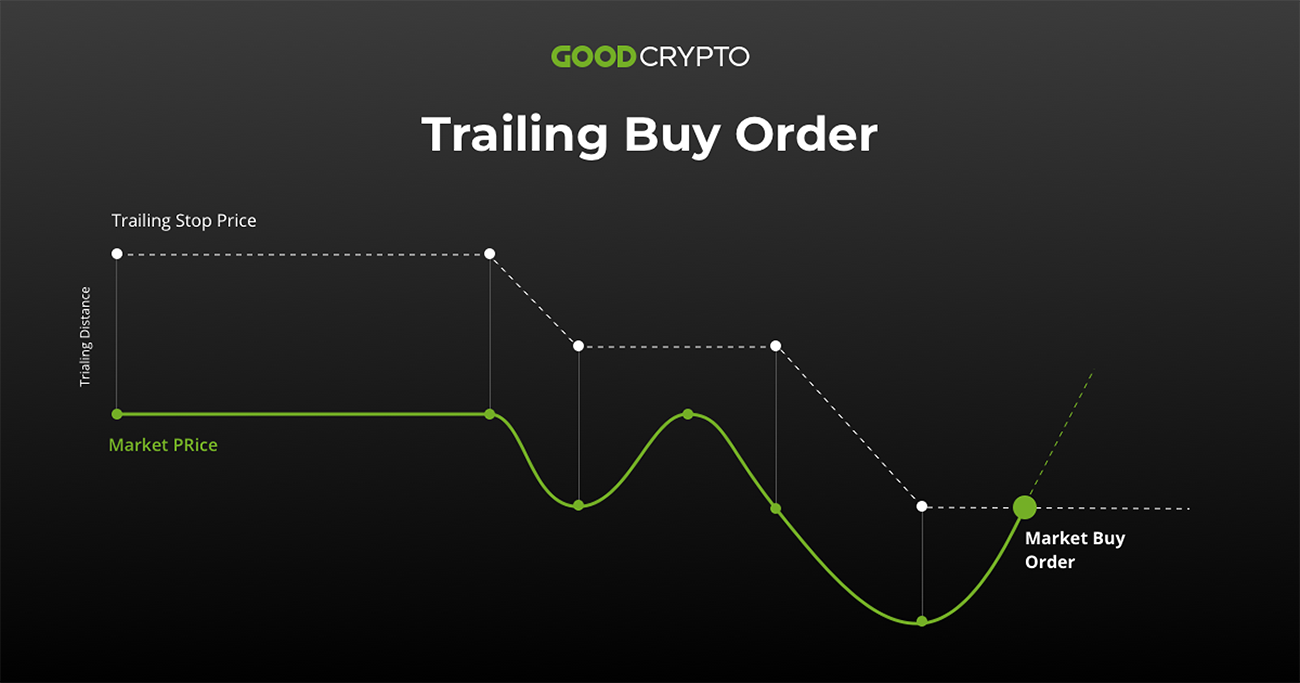 Trailing Stop moved its trigger lower as the Market price was making new lows, but stayed in place when market price was rising. When it rose enough to reach the trigger, a Market Buy order was executed. It allowed us to improve the entry price compared to simply sending a Market order.
Exiting long position with a Trailing Stop Sell
Trailing Stop orders are also a great instrument to exit existing Long positions without sacrificing an additional upside if the price continues to move in the favorable direction.
When you send a Trailing Sell order it will follow the price as it continues to rise and execute a Market sell when it reverses.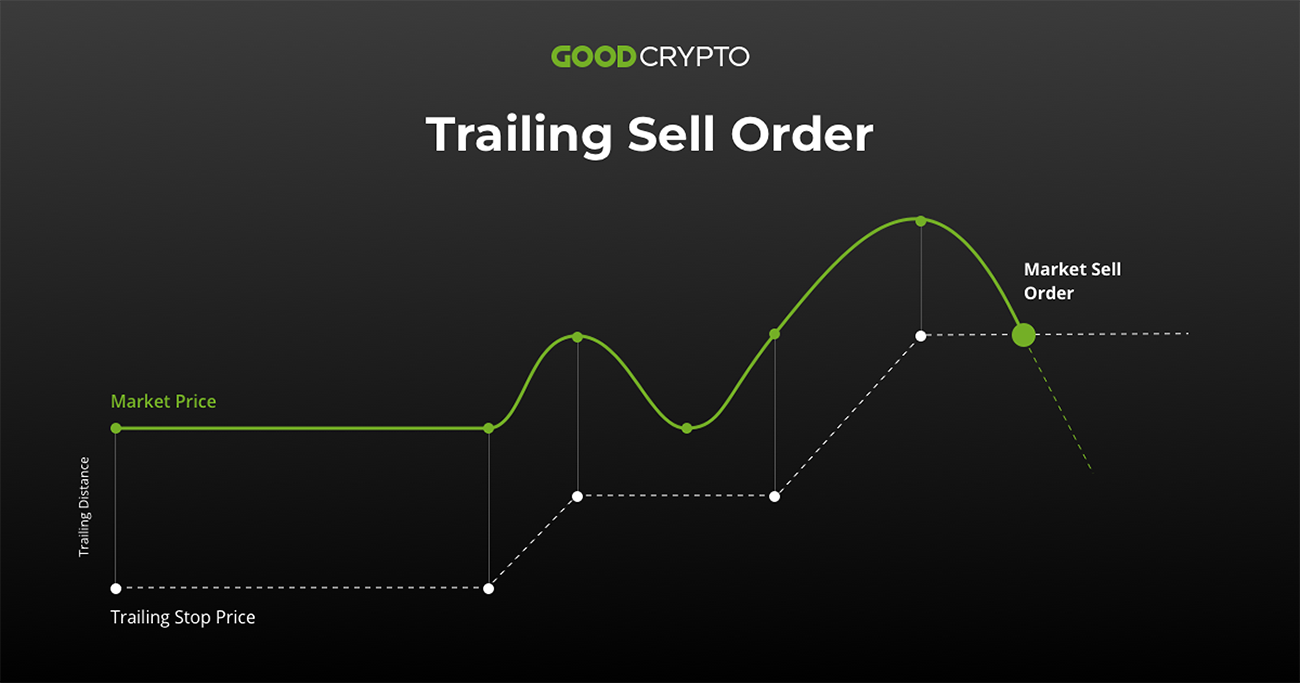 Trailing Stop moved its trigger higher as the Market price was making new highs, but stayed in place when market price was falling. When it fell enough to reach the trigger, a Market Sell order was executed. It allowed us to improve the exit price compared to simply sending a Market order.
Sending Trailing Stop orders in Good Crypto
Sending vanilla Trailing Stop orders to any of the 30 exchanges that Good Crypto supports is fairly straightforward: you select order type, input order size and define Trailing Distance. Trailing Distance is the distance from the market price that the order will keep when it moves in the favorable direction. In other words, the order will 'trail' market price at this distance.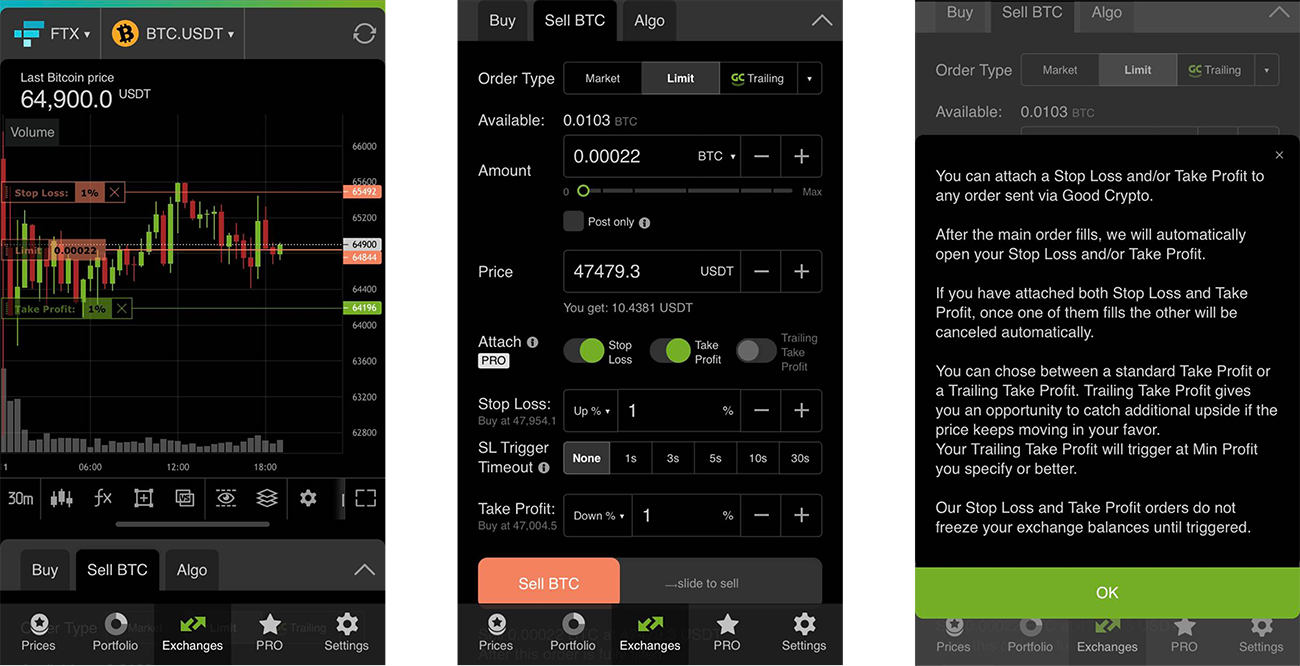 You can choose between Trailing Stop Market and Trailing Stop Limit orders, as well as Reverse Trailing orders that are a mirror image of the basic orders.

You can also add a Trailing Start to your order, allowing it to stay dormant and activate only when the market price reaches a certain threshold - say, when some significant support or resistance level is breached or when another order fills.
Connected Stop Loss and Take Profit Orders
You can connect Take Profit and Stop Loss to any order you send in one click. Both Take Profit and Stop Loss will activate when your base order gets filled and when one of them executes - the other will be canceled automatically. Your balances do not get locked in the process.
Choose a Trailing Take Profit instead of an ordinary one - unleashing the full power of Trailing Stop orders. This will give you an opportunity not to limit your potential upside if the price continues to move in your direction,instantly making your trading setups much more powerful and tilting the Risk/Reward ratio in your favor.
Specify a trigger timeout for your Stop Loss order to protect yourself against erroneous market moves caused by large orders or liquidations. If the price only briefly falls under your Stop Loss - it won't trigger.
Alerts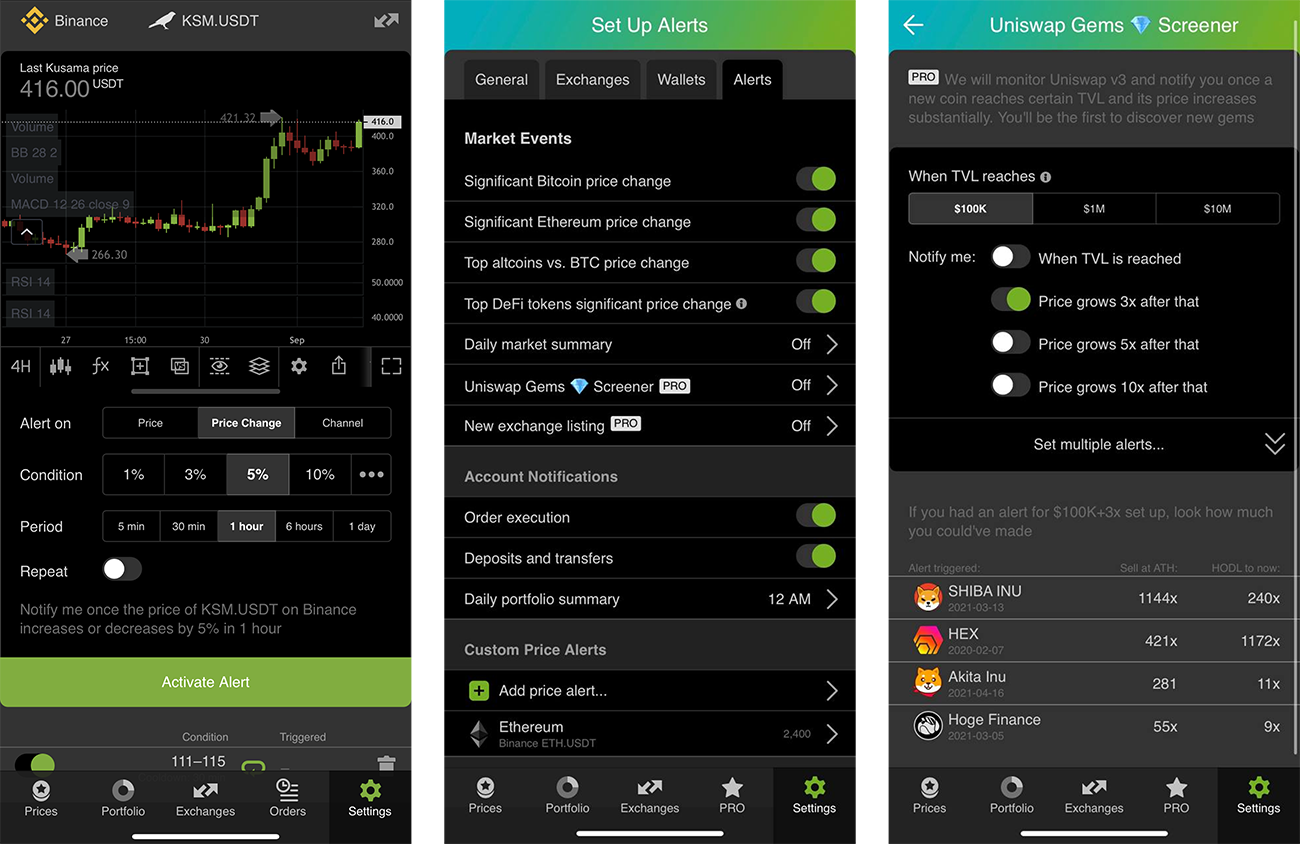 Alerts are a crucial weapon in every trader's arsenal. Good Crypto's got you covered here as well, providing a wide array of alerts: from unlimited custom price alerts to order execution, sudden market movements, market and portfolio summaries, new exchange listings, and even DeFi gems monitoring.
Summing Up
If you're looking for a great tool to trade cryptocurrency and manage your crypto portfolio, you might find some peace after signing up for the Good Crypto App, which provides you with advanced trading functionality, great portfolio tracking, and a suite of market research and analytics tools.
So install Good Crypto on iOS or Android and continue your crypto journey with ease!
This website is only provided for your general information and is not intended to be relied upon by you in making any investment decisions. You should always combine multiple sources of information and analysis before making an investment and seek independent expert financial advice.
Where we list or describe different products and services, we try to give you the information you need to help you compare them and choose the right product or service for you. We may also have tips and more information to help you compare providers.
Some providers pay us for advertisements or promotions on our website or in emails we may send you. Any commercial agreement we have in place with a provider does not affect how we describe them or their products and services. Sponsored companies are clearly labelled.