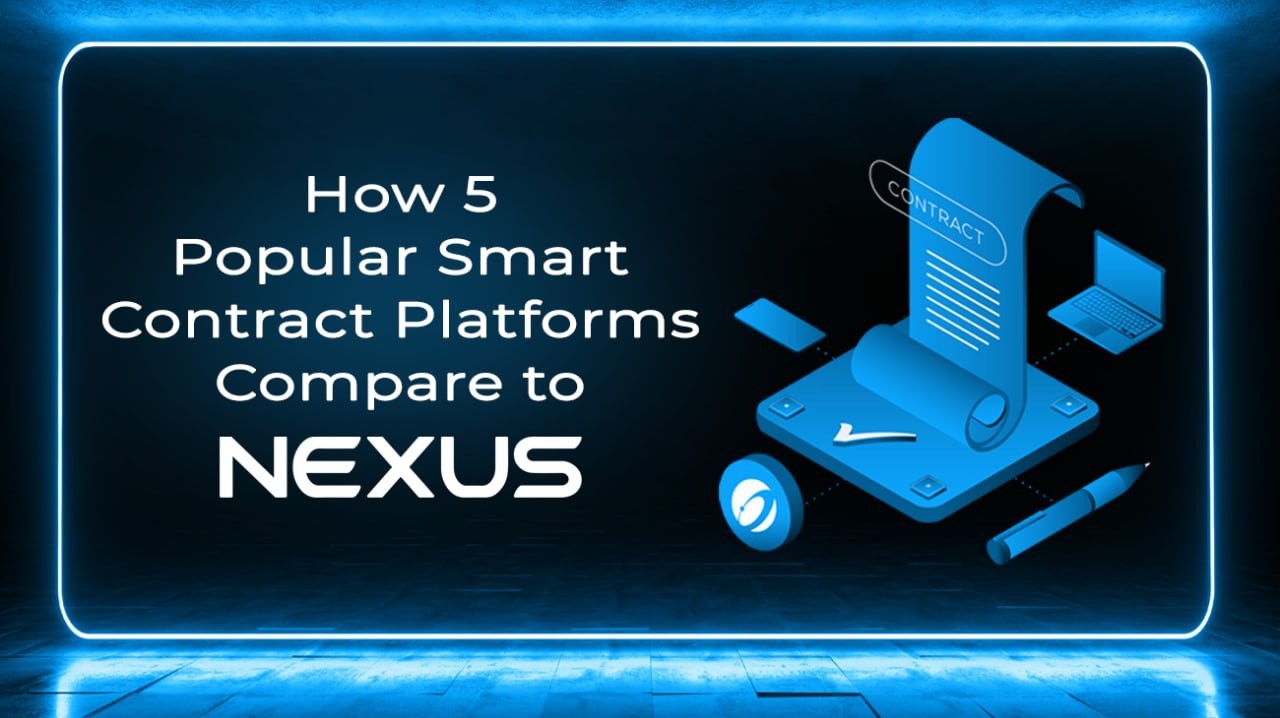 This is a sponsored story. Its content does not constitute financial advice. Please remember that the value of investments, and any income from them, can fall as well as rise so you could get back less than you invest. If you are unsure of the suitability of your investment please seek advice. The information within this article has not been independently verified.
With hyped-up meme coins making their way into the Top 20 on coin listing sites like CryptoCompare, it's clear that having the best tech doesn't automatically lead to a multi-billion dollar market cap. In this article, we focus on five that may be offering the most advanced technology.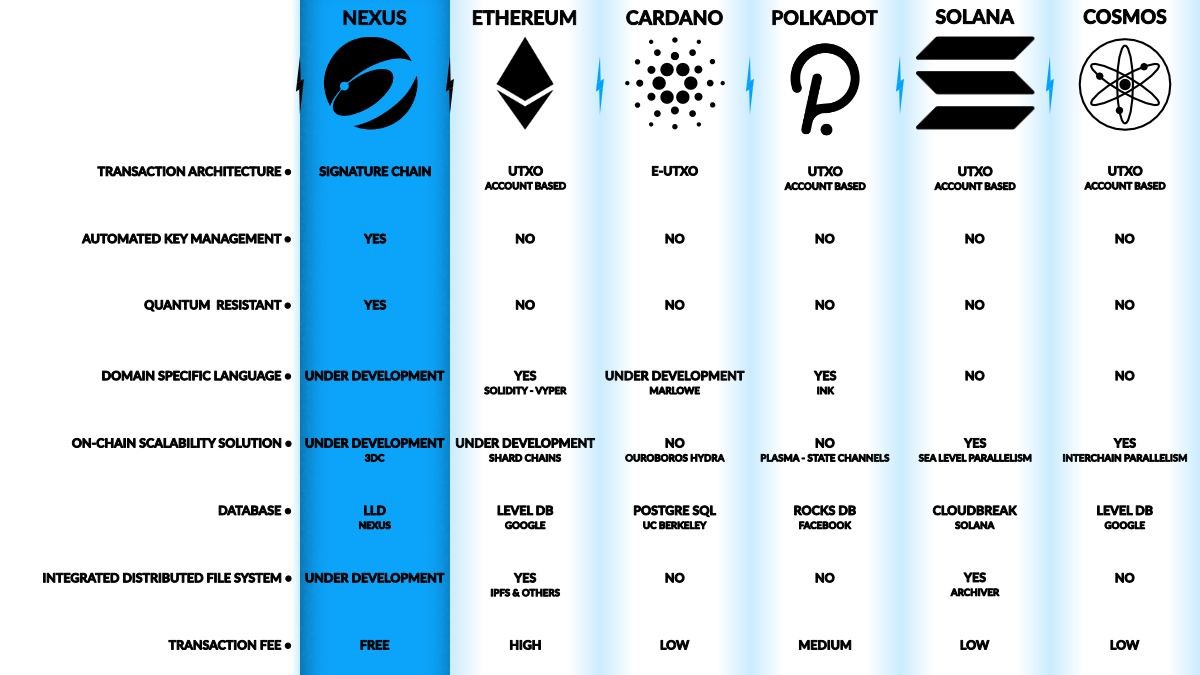 Transaction Architecture 
Here's how these five smart contract platforms compare when it comes to their transaction architecture:
Ethereum
While Bitcoin was introduced with built-in Smart Contract functionality called 'scripts', Ethereum augmented these capabilities into its 'Turing Complete Smart Contracts'. Turing completeness means that someone can write programs (contracts) that could mostly solve any reasonable computation problems. Since the Ethereum Virtual Machine (EVM) is turing-complete, sophisticated language can be implemented into a smart contract.
Cardano
Cardano, which was founded by Ethereum co-founded Charles Hoskinson, promised to improve on Ethereum's smart contract platform. Instead of Solidity, it uses Plutus (derived from Haskell) for its smart contact computation. It also differs from Ethereum by using a dual-layer design in its protocol where it splits up computations from settlements.
Polkadot
Polkadot focuses on the interoperability of blockchains. Its architecture is made up of four components: relay chain, parachains, parathreads, and bridges. The relay chain is for the Polkadot's shared security, consensus, and cross-chain interoperability. 
Solana
The architecture of Solana allows it to run parallel smart contracts. It uses a modified version of Proof-of-History using Practical Byzantine Fault Tolerance (PBFT). There is a block propagation protocol called Turbine, as well as a mempool-less transaction forwarding protocol named Gulf Stream. 
Cosmos
The architecture of Cosmos involves several different blockchains that interact with one another through a central blockchain 'hub'. It uses Tendermint, which is a variant of Practical Byzantine Fault Tolerance (PBFT). 
Nexus
You will see from the comparative table that currently all of these blockchains still retain the original blockchain UTOX architecture, in an account-based form, apart from Nexus. Instead, Nexus has designed a seven-layered software stack operating as a 64-bit register-based process virtual machine rather than a stack-based script, an EVM, or JVM. Each layer carries out a specialized process increasing the efficiency of contract processing. The key difference is that Nexus is built to verify the authenticity, as well as verify the computation of data.
Database
Nearly every one of the popular smart contract platforms uses a different database. Here's the lowdown on what platform uses what database:
Ethereum
Ethereum uses LevelDB for managing its database. LevelDB has native implementation in Go and has no schema constraints. However, given that keys are organized "alphabetically" on a disk, it becomes expensive to access values associated with hashes. This is not something that can be optimized any further. Even though LevelDB works very efficiently with sufficient memory, it no longer does so when additional disk access is needed. Performance degradation is therefore a major concern.
Cardano
Cardano takes data from its blockchain and inserts it into PostgreSQL. Created at UC Berkeley, this database is one of the oldest, yet advanced, databases around today. Its schema is stable and can be used directly for queries. On-chain data gets stored in tables that are structured to prevent data from becoming duplicated. However, this does mean that extracting data like transactions will require joining multiple tables within a query.
Polkadot
Polkadot decided to go with RocksDB for its database, which was developed by Facebook. Building upon LevelDB, this database's reads are mostly coming from RAM. Polkadot and other blockchains are using RocksDB for their database needs. However, there is the issue of needing to undo pending transactions and rewriting the database. 
Solana
Cloudbreak is the database architecture designed by Solana to expand transaction capacity. This database is optimized for simultaneous reads and writes. Since this is a horizontal scaling solution, the database can perform better and be resilient, but it can also lead to less consistency and there will be more cross-server communication.
Cosmos
Cosmos also uses the Google-designed LevelDB. For all of its strengths when used by centralized networks, LevelDB unveils its flaws relatively quickly once a network scales, as is the case with Ethereum, and likely soon with Cosmos.
Nexus
Nexus has developed its own database called the Lower Level Database (LLD). It is a fast and modular storage engine that is capable of outperforming the current embedded database engines that exist. Tests have shown an average of 0.33 seconds per 100,000 writes and reads to disk, making it faster than Google's LevelDB. LLD multithreading demoing from May 2021 showed 1024 threads at 578M reads per second, and 3333 threads reaching 4.2B reads per second. It is anticipated that staying above 1M reads per second will be the standard when multithreading is applied during live application.
Scalability Solution
Fundamental to the future adoption of cryptocurrency is the challenge of solving the "blockchain trilemma'', which is a belief that only two of three qualities; Security, Decentralization, and Scalability, are achievable concurrently. 
Here are the current scaling solutions used by the popular smart contract platforms:
Ethereum
Ethereum is inherently not that scalable at 15 TPS on its base layer. This has led to numerous Layer 2 solutions being created. Currently, Plasma, Raiden, and Rollups are being implemented to help with scaling. 
Cardano
Cardano also uses a Layer 2 solution for greater scalability called Ouroborus Hydra while using minimal on-chain storage.
Polkadot
Polkadot uses a Layer 2 solution as well called Plasma, just as Ethereum does. It also employs State Channel Network technology from Celor Network.
Solana
Solana uses intra-shard parallelism with the help of its Sealevel runtime, which executes transactions natively on GPUs.
Cosmos
Cosmos has on-chain scalability due to using various compatible networks connected through Zones and operating in parallel to increase transaction throughput.
Nexus
Under development is the three-dimensional chain (3DC), which has three consensus layers that check and balance one another, creating security and decentralization, while the foundation layer aggregates sharded states to achieve scalability. 
Transaction Fees
There has been a race to figure out how to best lower tx fees after fees skyrocketed on the Ethereum network. Here's how the popular smart contract platforms compare when it comes to transaction fees:
Ethereum
Users on Ethereum are required to set a 'gas' price and limit. This results in higher fees during times of high network demand, which can cause contracts to fail, while the contract user still has to pay the costs. 
Cardano
Transactions on Cardano can be increased or decreased via a community vote, which would require a Hardfork Combinator event. The fees are usually 0.17 ADA for simple transactions, while a 0.88 ADA max tx fee can be reached when transaction sizes grow to the 16KB maximum.
Polkadot
Polkadot uses 'weight' and a per-byte fee instead of 'gas' to calculate transaction fees. The current tx fee on Polkadot is around 0.015 DOT.
Solana
Transaction fees on Solana are usually around 0.00001 SOL but are known to fluctuate over time. The fees are set by the competition for block space. This will rise the more network traffic there is. 
Cosmos
Cosmic aims to accept many tokens created on-chain to use for paying transaction fees. Currently, the tx fee on Cosmos is around 0.08 ATOM.
Nexus
With Nexus, each transaction (debit or credit) is a clustered contract space. It is free to send and receive NXS, tokens and assets (NFTs). Each single transaction can contain a maximum of 100 contracts that can be called with predefined APIs. Therefore, the transaction fee is calculated based on the number of contracts held within it, at a rate of 0.01 NXS per contract. With more complex contracts, a user simply pays the cost of execution which depends on the complexity of the contract, i.e. the operations involved, without worry of contract failure.
Tritium ++
Nexus is becoming noticed as an exceptional and unique smart contract platform that rivals the five popular ones compared to it here.
The next major milestone of the Nexus protocol is a massive update called Tritium++. This will include a lite node mobile wallet, a DAO, pooled staking, P2P marketplace, and hybrid mode that provides tools to developers to create an individual network right out of the box. 
This website is only provided for your general information and is not intended to be relied upon by you in making any investment decisions. You should always combine multiple sources of information and analysis before making an investment and seek independent expert financial advice.
Where we list or describe different products and services, we try to give you the information you need to help you compare them and choose the right product or service for you. We may also have tips and more information to help you compare providers.
Some providers pay us for advertisements or promotions on our website or in emails we may send you. Any commercial agreement we have in place with a provider does not affect how we describe them or their products and services. Sponsored companies are clearly labelled.