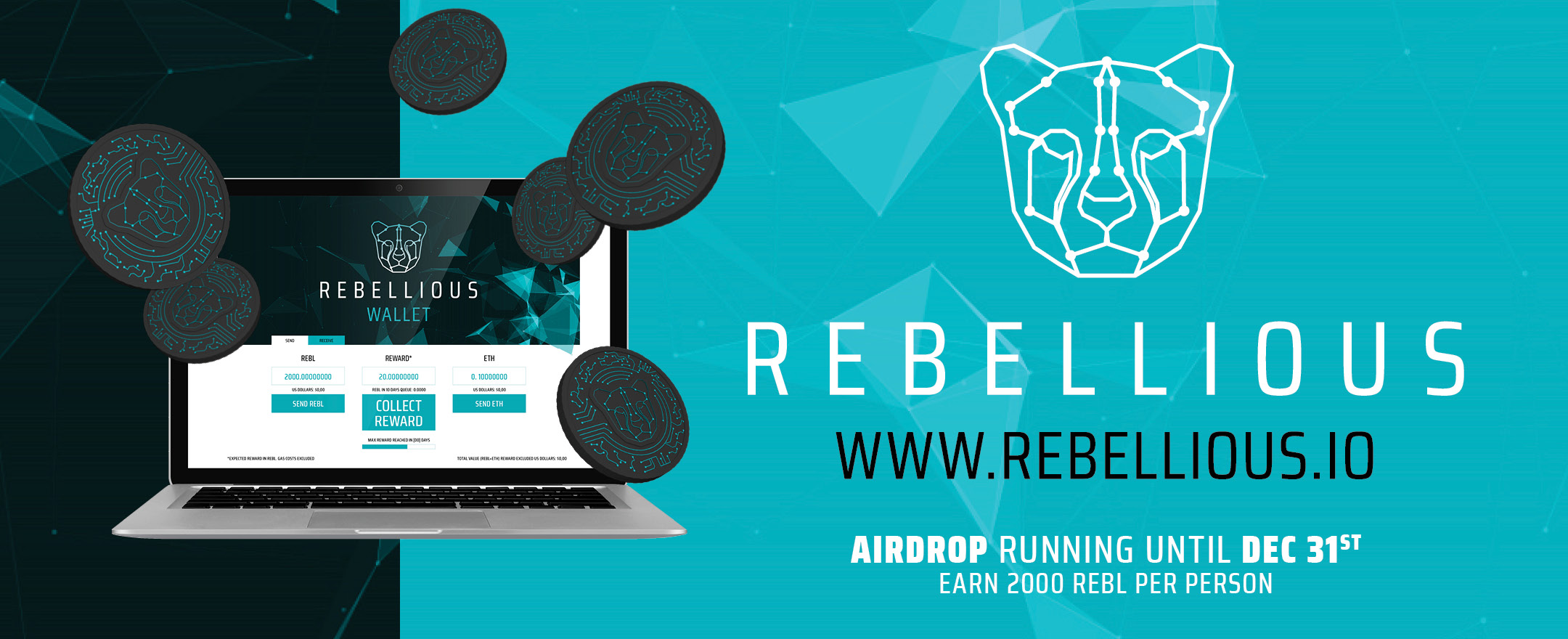 This is a sponsored guide and does not represent investment advice from CryptoCompare. Please do your due diligence when dealing with any Initial Coin Offering and never invest more than what you can afford to lose.
Many cryptocurrencies start out with a focus on the community that rallies around them, being led and guided by those who help shape it. Rebellious is a cryptocurrency that embraces this idea and takes it one step further.
Founded by a team of crypto-enthusiasts, the aim of a is to create a currency that puts the power back into the hands of its users, while offering a practical way to pay for goods and services.
At current, the internet is dominated by a few payment providers. This has a huge impact on the e-commerce market and the quality of service being offered. As a result of these few companies overseeing all transactions, merchants often find that transactions speeds are slow, fees are high, and development is scarce.
Cryptocurrencies have the potential to change this, but at current, they are being seen as more of a commodity than a currency. This is often due to large investors buying up cryptocurrency in order to influence price and profit through trading.
Rebellious intends to solve these problems.
HOW REBELLIOUS WORKS
To do so, Rebellious is putting a focus on the community that drives it. It is one of the first currencies to building a following of like-minded individuals, giving them a say in the way Rebellious is developed, and then evenly distributing REBL among them through an airdrop. This puts an equal amount of power in everyone's hands, and by growing a community that shares Rebellious' values, creates a currency that focuses on product development and investment rather than quick trading – which is often the case when big investors are allowed to buy there way into a currency and influence it.
In tandem, Rebellious is actively developing plugin payment solutions for all major e-commerce platforms. This also puts power back into the hands of merchants, allowing them to accept Rebellious as payment for their goods and services – cutting out middlemen and the slow transaction speeds and large fees that go with them. The Rebellious network will be fast, and the only transaction only very low fees are involved.
Platforms with modules in active development include:
Prestashop

WooCommerce

Shopify

BigCommerce

Magento
You can find the full list of platforms we are developing for, and when they intend to be launched, in the Rebellious whitepaper.
THE REBELLIOUS TOKEN
The Rebellious token is unique Proof of Stake ERC20 token built on the Ethereum blockchain.
Distribution of 250.000.000 tokens is currently underway via airdrop to those who have signed up to become part of the community and contribute to its growth.
By utilizing the Rebellious wallet, those holding REBL can claim interest on their tokens at a regular interval, equating to roughly 10% interest per year. It offers those who want to back the Rebellious cause by holding their tokens a passive way to contribute and be rewarded.
Rebellious aims to make their token swappable for a REBL coin based on its own independent blockchain at the beginning of 2019. This puts even more power into the hands of the community behind it, and ensuring it takes advantage of the latest blockchain advancements.
THE END GAME
Through their efforts, Rebellious is aiming to produce a currency that is ripe for mass adoption. With a focus on long-term sustainability, community, and  transactions with minimum fees, they intend to remove the hurdles currently holding back other cryptocurrencies, and show the world the power a community-driven cryptocurrency can have.    
You can find out more about Rebellious by either viewing their website or whitepaper.
This website is only provided for your general information and is not intended to be relied upon by you in making any investment decisions. You should always combine multiple sources of information and analysis before making an investment and seek independent expert financial advice.
Where we list or describe different products and services, we try to give you the information you need to help you compare them and choose the right product or service for you. We may also have tips and more information to help you compare providers.
Some providers pay us for advertisements or promotions on our website or in emails we may send you. Any commercial agreement we have in place with a provider does not affect how we describe them or their products and services. Sponsored companies are clearly labelled.