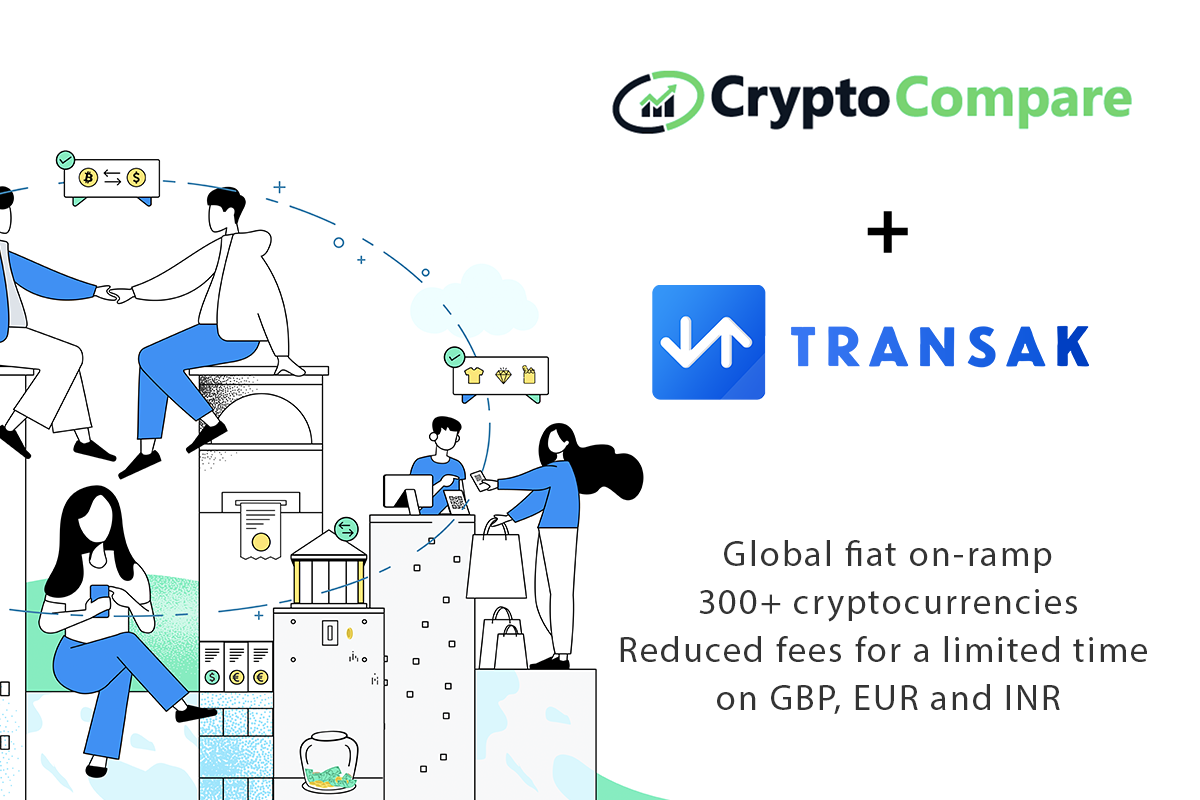 CryptoCompare has partnered with ConsenSys-backed startup Tranak to let its millions of monthly active users buy cryptocurrencies directly from its pages, simplifying new users' onboarding process and making cryptocurrency access easier.
The partnership saw CryptoCompare add a Transak widget to its cryptocurrency listings pages, allowing users to buy hundreds of cryptocurrencies using a bank transfer or a credit card in a transparent, cost-effective manner from the same page that gives them everything they need to know about these currencies.
Transactions are settled with Transak's data layer and do not take custody of users' data or funds, meaning users pay the transaction fee to move the cryptoassets directly to their wallets. For a limited time the partnership launched as a fee-free offering, but fees to buy cryptoassets on CryptoCompare are 0.5%.
In this guide we'll be looking at the process, step-by-step, to buy cryptoassets directly from CryptoCompare's website.
Getting a Wallet
As the funds are transferred directly to users' wallets, an important first step is getting a wallet. CryptoCompare has various wallet listings that let users choose one that works for them based on various factors, including supported cryptoassets, anonymity, ease of use, extra services offered, and more.
These wallets are also reviewed by CryptoCompare's users so it's easy to tell which wallets users are happy with, ad which wallets users are not so happy with. A few things users may want to consider when choosing a cryptocurrency wallet include whether or not they will be in control of their private keys, and whether or not the wallet is open-source.
Not controlling your private keys means that while you control the cryptocurrency stored in the wallet, the keys that control the wallet are under someone else's control. Some wallets, like the Blockchain Wallet, store their users' private keys, but encrypt them using their password, This allows newcomers to use an email and password to access their funds, making the onboarding process easier.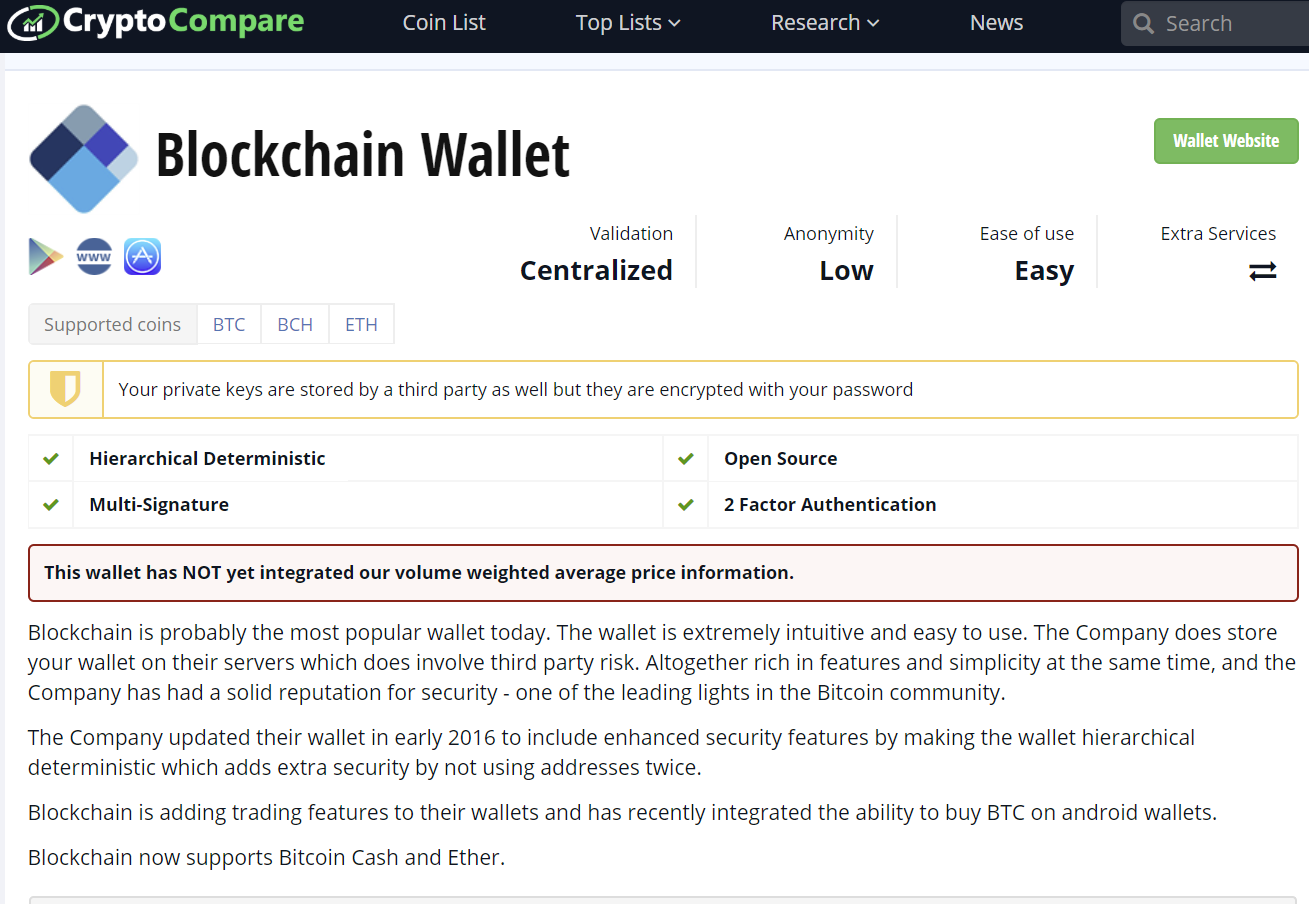 In the above image, we can see that Blockchain wallet supports Bitcoin (BTC), Bitcoin Cash (BCH), and Ethereum (ETH). It's a centralized wallet that provides exchange services and low anonymity, but is easy to use.
We can secure the wallet in various ways, including two-factor authentication (2FA) and the wallet's code is open-source, which means it's available to the public and has been reviewed by it. It may be a good option for some, but more advanced users may prefer a wallet that gives them more anonymity. Alternatives that are not as to use would be the Wasabi wallet or the Bitcoin Core Client, for example.
Buying Cryptoassets
To move on to the buying process we need to head over to a cryptocurrency page: these pages include prices, trading volumes, exchanges, technical indicators, ratings, and a lot more information on the cryptoassets.
Let's say we want to buy some bitcoin. To do so we need to find Bitcoin's page – available n CryptoCompare's homepage and on our coin lists -  and click the "buy" button.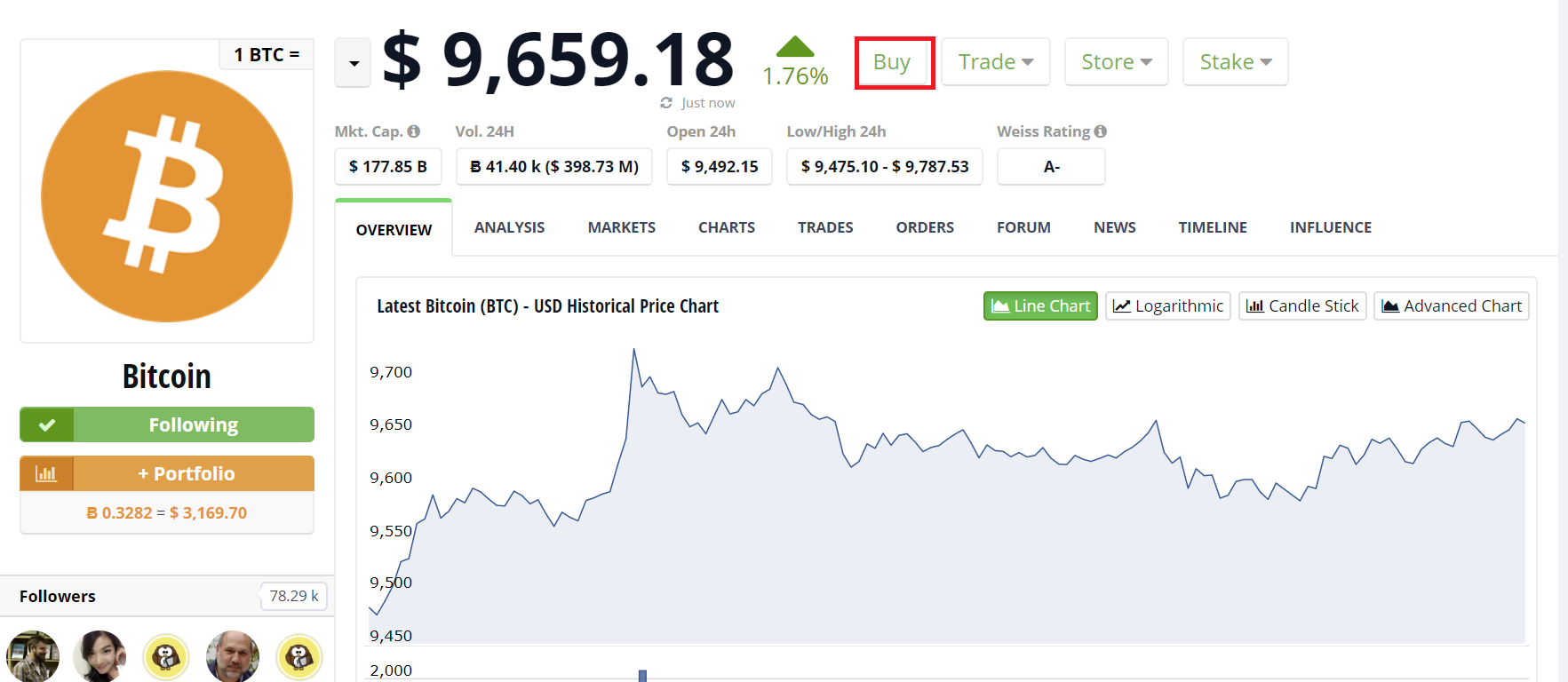 Transak's widget will appear on our screen. We can choose which fiat currency we want to use to buy bitcoin, and choose whether we want to pay via bank transfer or use a credit card. After we select the amount we want to buy, we're shown the fee calculations.
As there's an ongoing fee-free limited time offer, we would only have to pay bitcoin's network fees to receive the BTC we want to buy.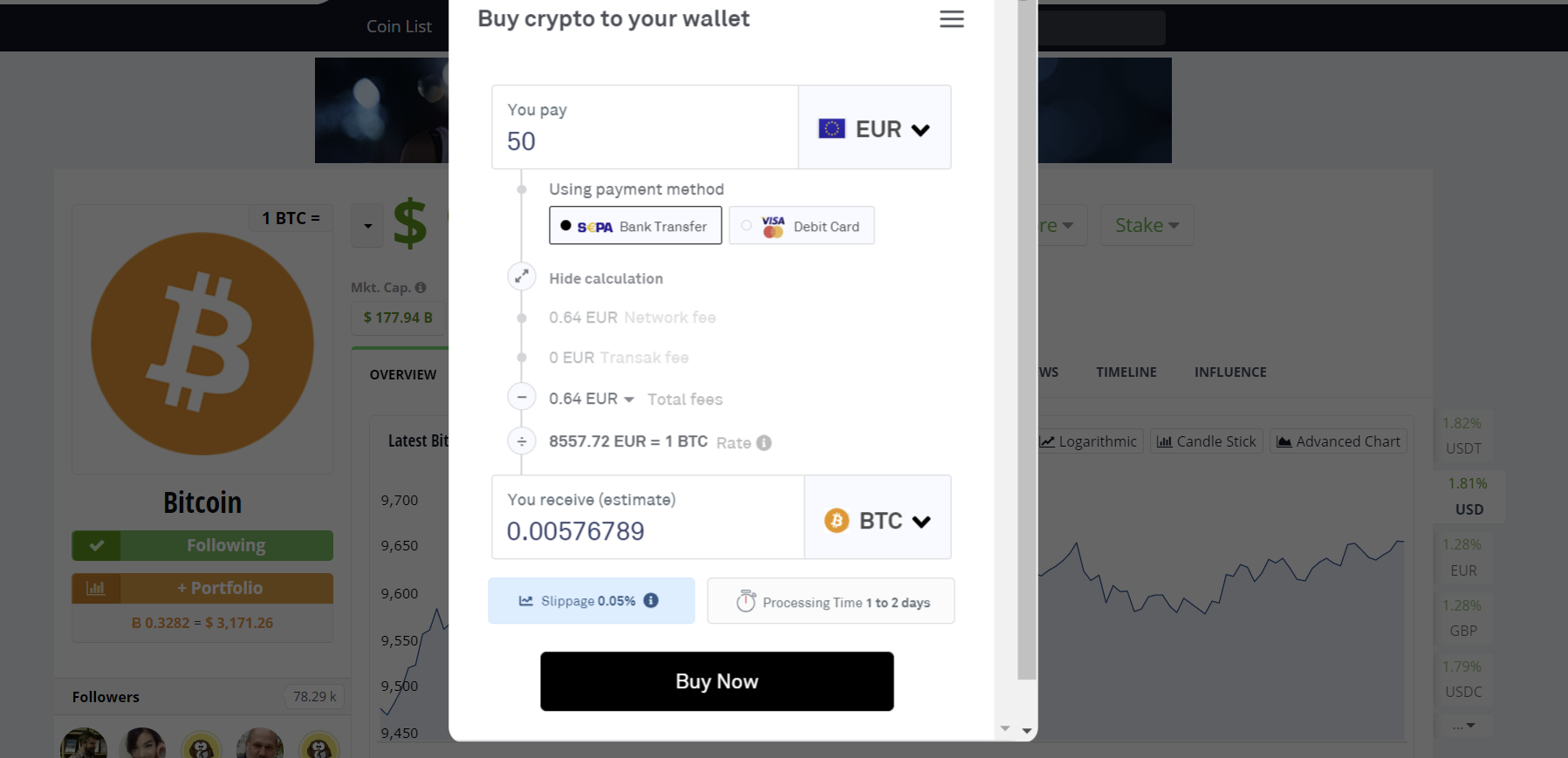 After you specify to which address the funds are going to, CryptoCompare will send you a confirmation code via email, and ask you to agree to Transak's terms of service. After doing so, the only thing left to do is go through a know-your-customer (KYC) check.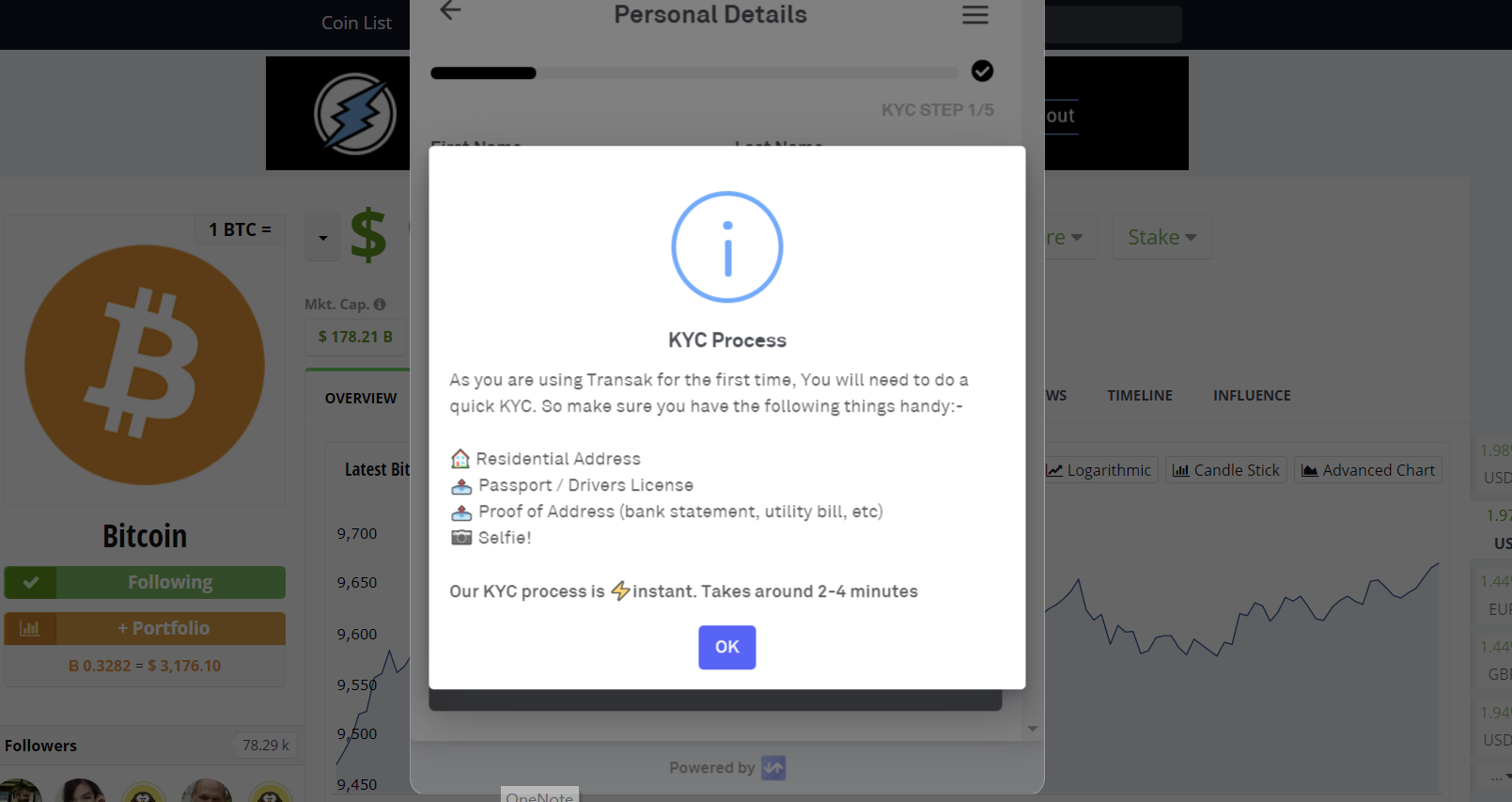 The KYC check is rather straightforward and takes a few minutes to complete. After entering your name and date of birth, you will be asked to specify your address, upload a photo of a document that identifies you – such as a driver's license or government-issued ID – for proof of address, and for a selfie taken today.
Finally, it's time to enter your bank account or credit card details.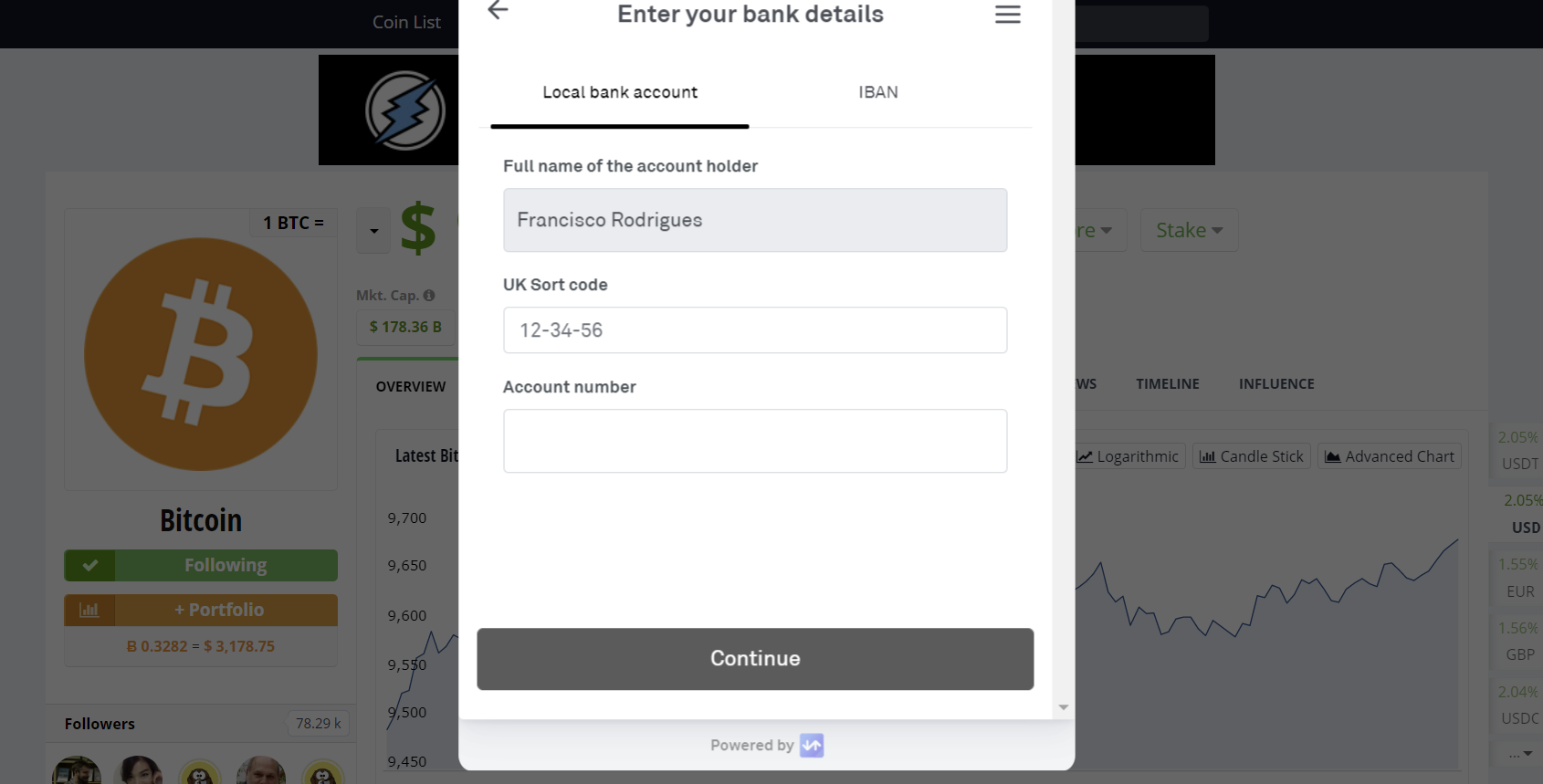 After doing so and approving the transaction, the funds will be sent over to the cryptocurrency address you specified. Keep in mind that credit card payments are processed in a couple of minutes, while bank transfers are processed in a few days.
This website is only provided for your general information and is not intended to be relied upon by you in making any investment decisions. You should always combine multiple sources of information and analysis before making an investment and seek independent expert financial advice.
Where we list or describe different products and services, we try to give you the information you need to help you compare them and choose the right product or service for you. We may also have tips and more information to help you compare providers.
Some providers pay us for advertisements or promotions on our website or in emails we may send you. Any commercial agreement we have in place with a provider does not affect how we describe them or their products and services. Sponsored companies are clearly labelled.