How to create a DAO on the Wings Platform

The Wings Platform is a decentralized platform to create, join and manage DAOs (Decentralized Autonomous Organizations). Anyone will have the power to create his own project to be vetted and funded by the Wings community.
This community is in charge of vetting the projects through a decentralized forecasting market that will allow WINGS token holders to forecast how much funding a project will gather in its backing stage. This is a great tool for investors who are not required to research and examine a project before investing (although this is always advised). Instead, experienced users will filter the project in exchange for a reward that is given out according to how close the forecast is to the amount gathered.
The Wings platform will be based on the RSK sidechain/drivechain, allowing users to create and fund projects with smart Bitcoins. 
Learn more by reading the whitepaper
The platform is currently in the Alpha stage. Although this is still a test platform, users can get a good feel of what's to come from the real live version. The alpha platform is based on the Ethereum development testnet, meaning that tokens are "fake" and have no value
Today, we want to show you how to create, forecast, and fund projects! Let's get to it!
Part 1- Create an account
Step 1: Click here to go to the WINGS platform
Step 2: Click "Login"

Step 3: Click "Create a new account"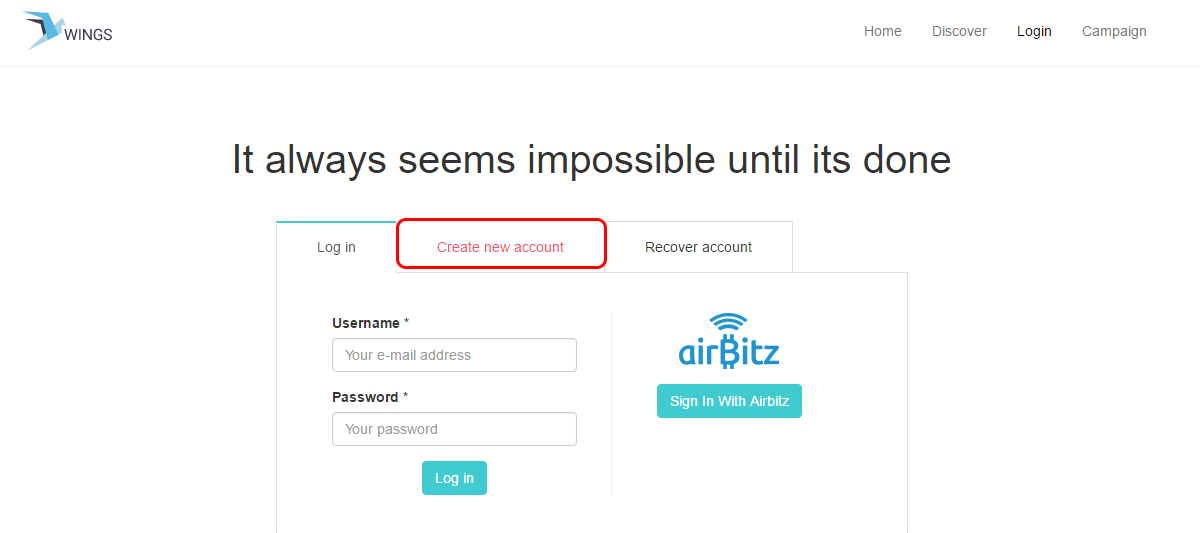 Step 4: Enter your email and password and click "Generate passphrase". This will generate a seed for your testnet wallet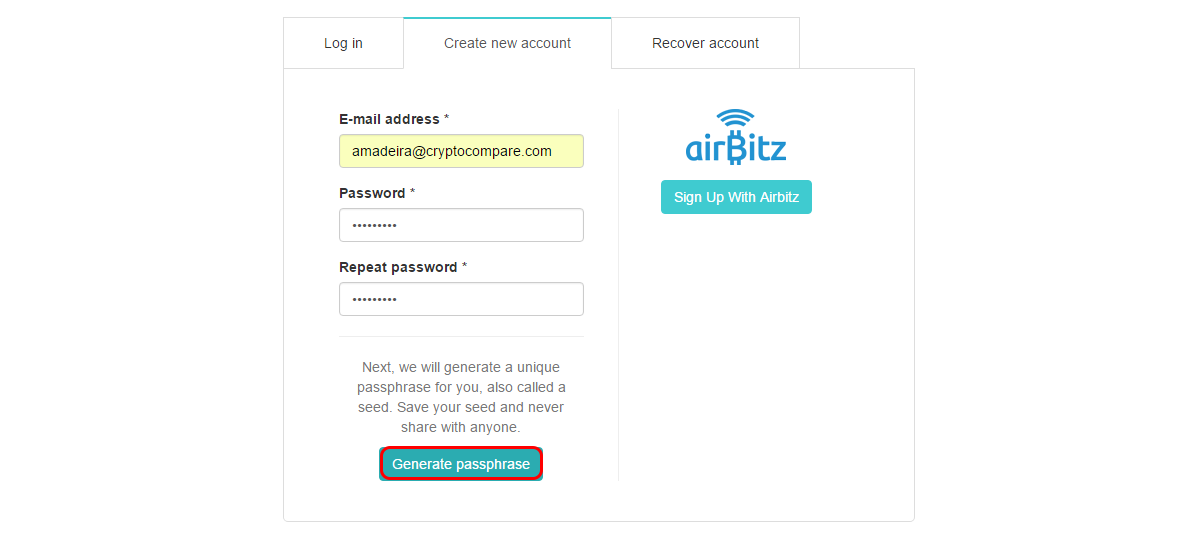 Step 5: Copy your seed phrase. (It's not possible to recover your account without the seed!)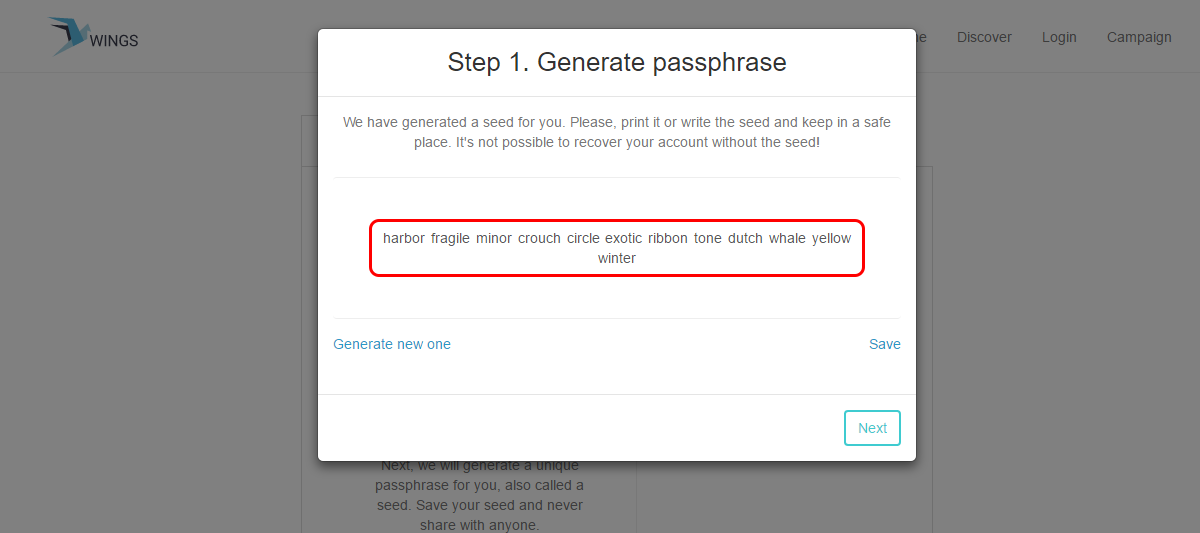 Step 6: Click "Next"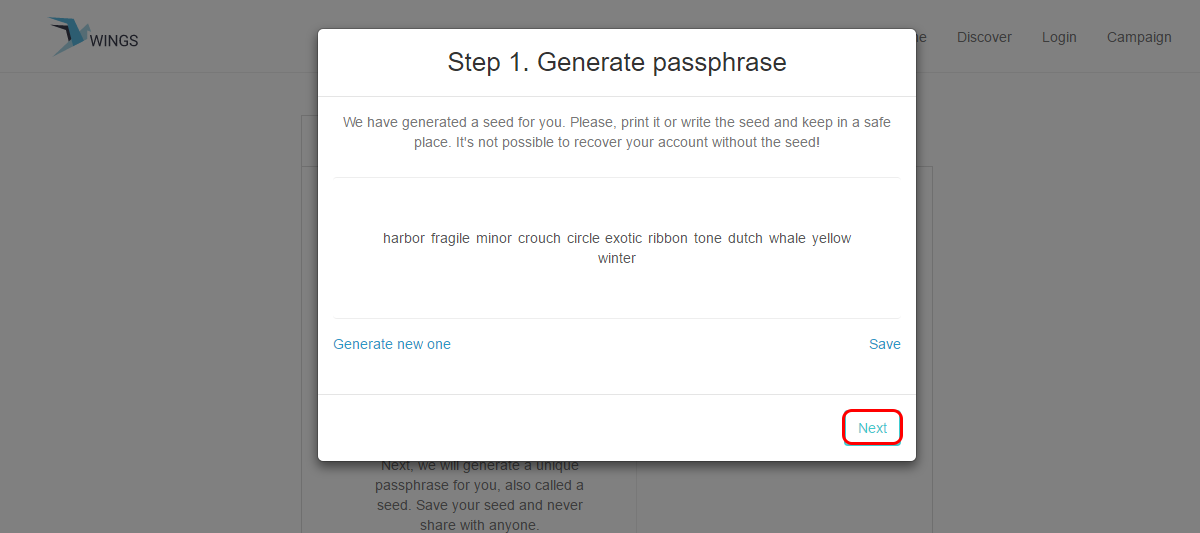 Step 7: Put the seed words in their correct order to ensure you have safely stored the passphrase. Click "Create account"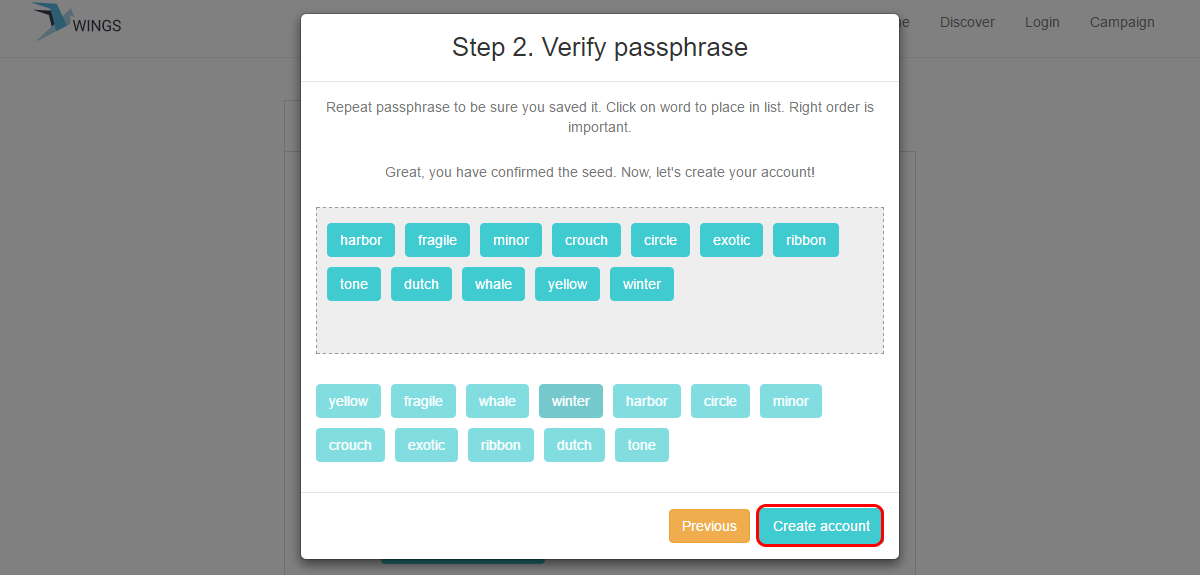 Step 8: You will be shown your testnet ETH wallet address. "You can now create projects and forecast on proposals". Click "Let's start"

Part 2 - Fund your account with testnet coins
In order to forecast and back projects, you'll need to get some test WINGS and BTC tokens to simulate your real balance once the platform is officially launched. So, lets fund this account with test coins provided by Wings.
Step 1: Click on your profile picture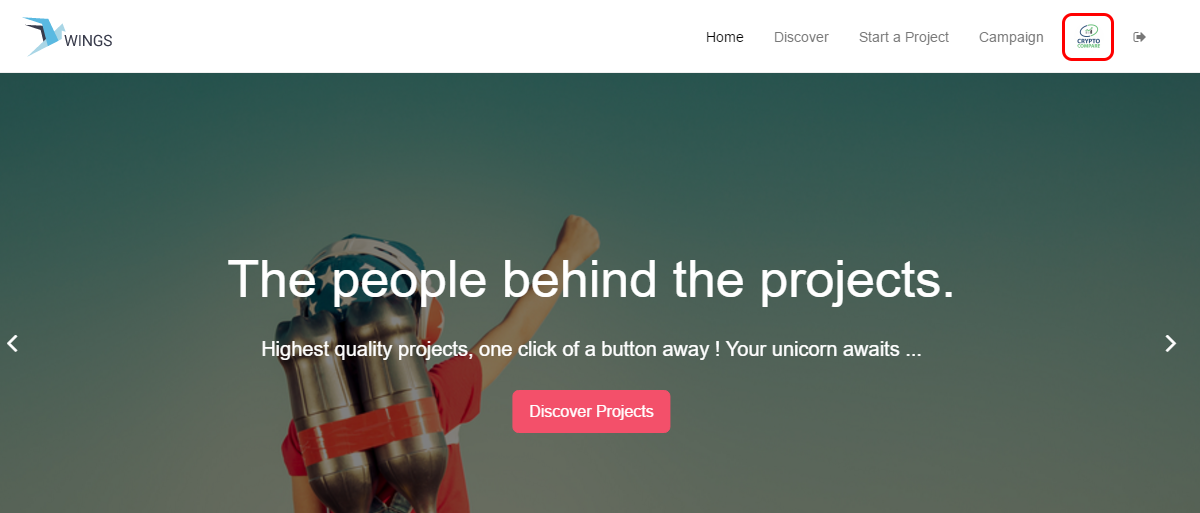 Step 2: Now click "Get more WINGS and BTC"

Your test BTC and WINGS will be sent and received quickly.

Let's move on to the next part, forecasting a project.
Part 3 - Forecast a project
Before we move on to creating our own project, let's have a look around and see what the community has in store for us! We'll be allowed to forecast the success of a project, guiding investors by stipulating the quality of the project and how much funding it will amass during the backing stage
Step 1: Click "Discover"

Step 2: You can now browse through the projects and choose the one that catches your attention by clicking on the image. (We chose KobiKit)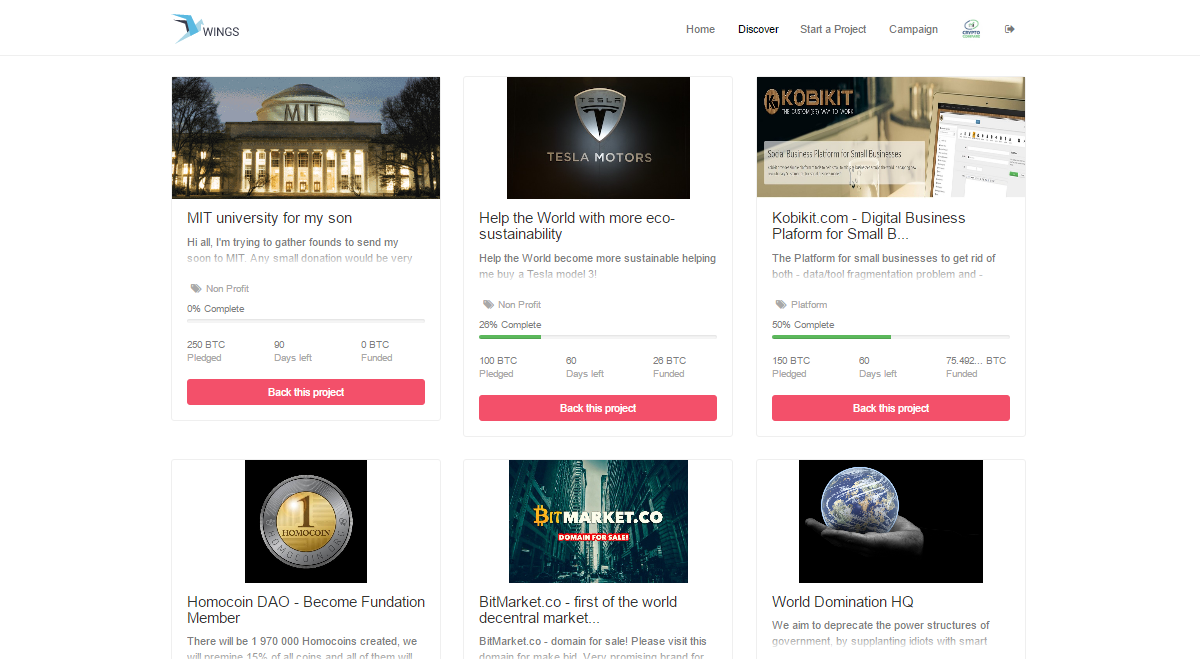 You can now view the project presentation video, read the description and see how much the project gathered on the project page. You can also fund the project, but we'll get to that. If you scroll down you'll se you are also able to forecast the project.
Step 3: Click "Forecast"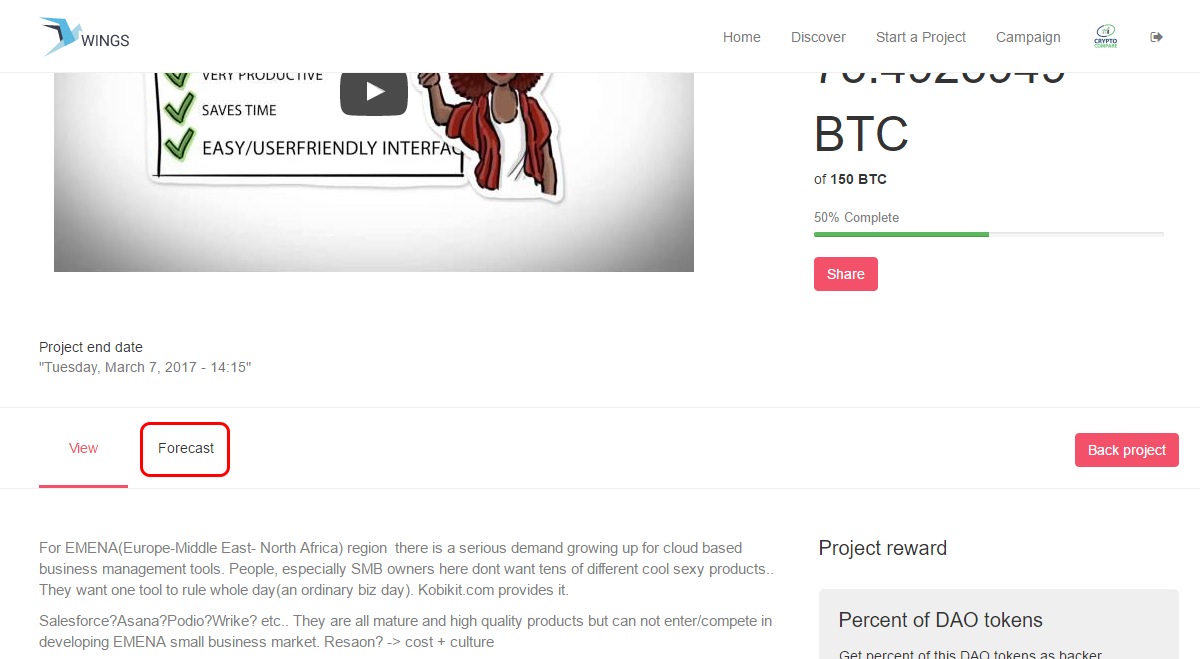 Step 4: Now it's time to forecast the success of the project. Drag the bar to choose the amount of funds you think the project can gather

Step 5: Write your opinion i the text box and click "Save my forecast"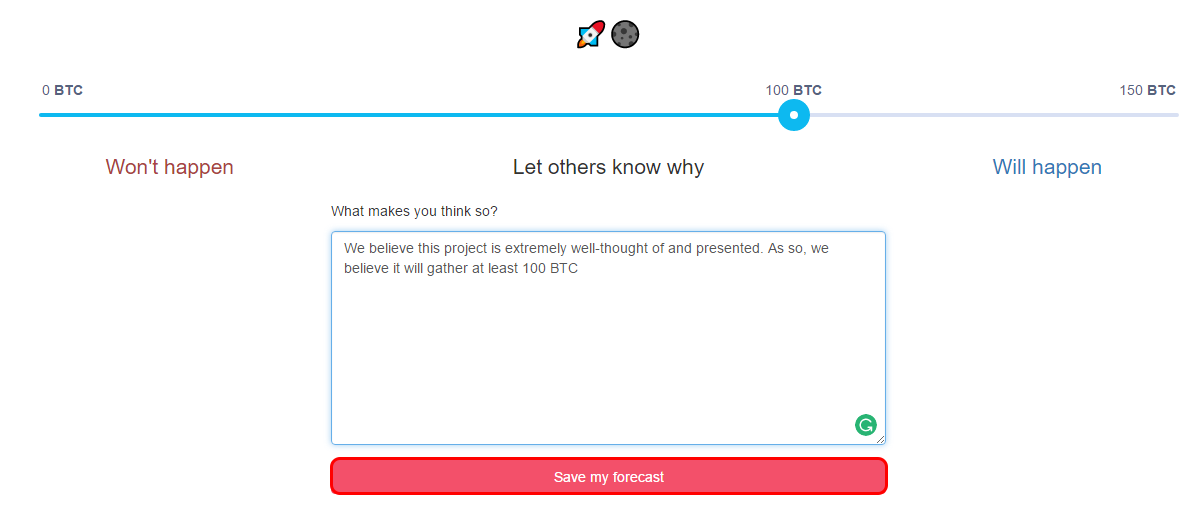 Step 6: Enter your password and click "OK"

Your forecast will be processed and added to the other ones. You will be able to see it in a few moments.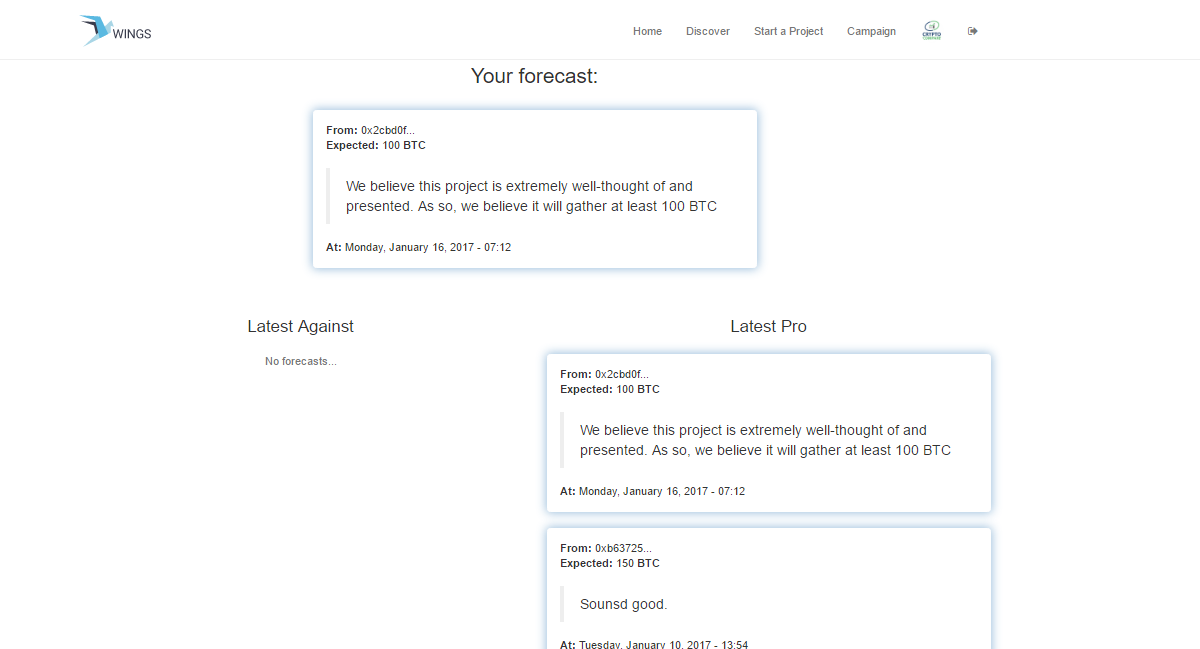 Now it's time to fund this project!
Part 4 - Fund a project
You can now choose a project to fund with BTC by browsing the projects like we did on the previous part. Once the project is chosen:
Step 1: On the right side of the screen, click "Back project"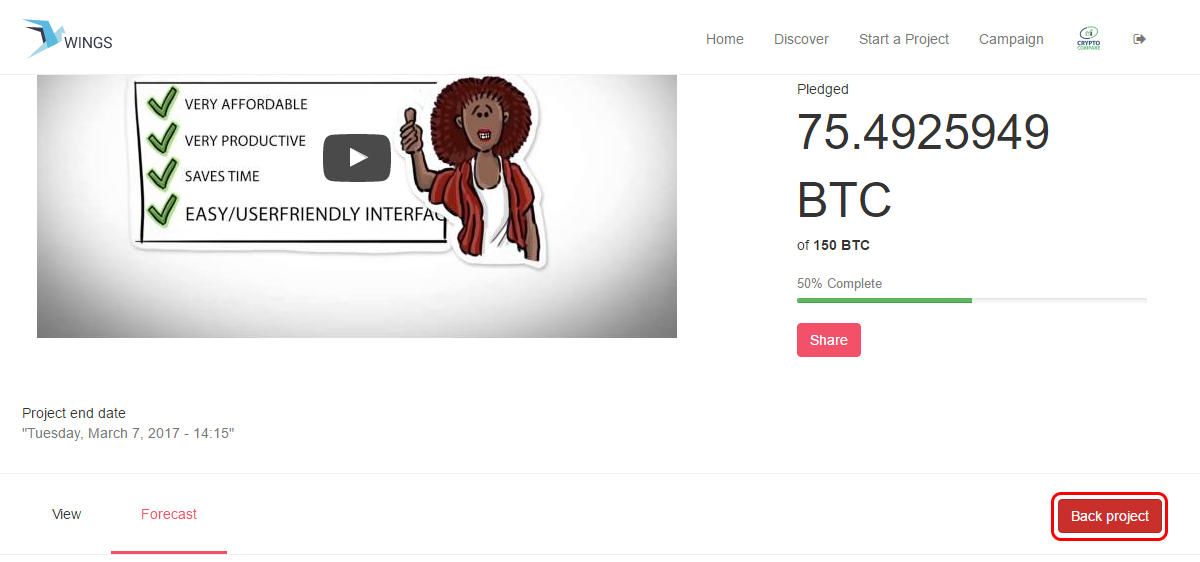 Step 2: Click "Send BTC"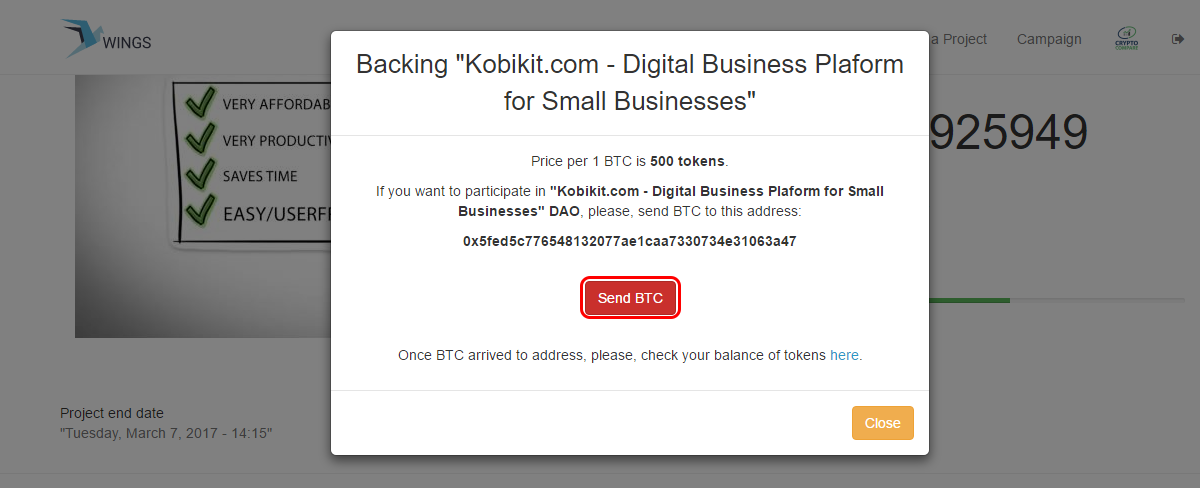 You will be taken to the Send page. Here you can fund all projects by choosing from the drop down list, as so: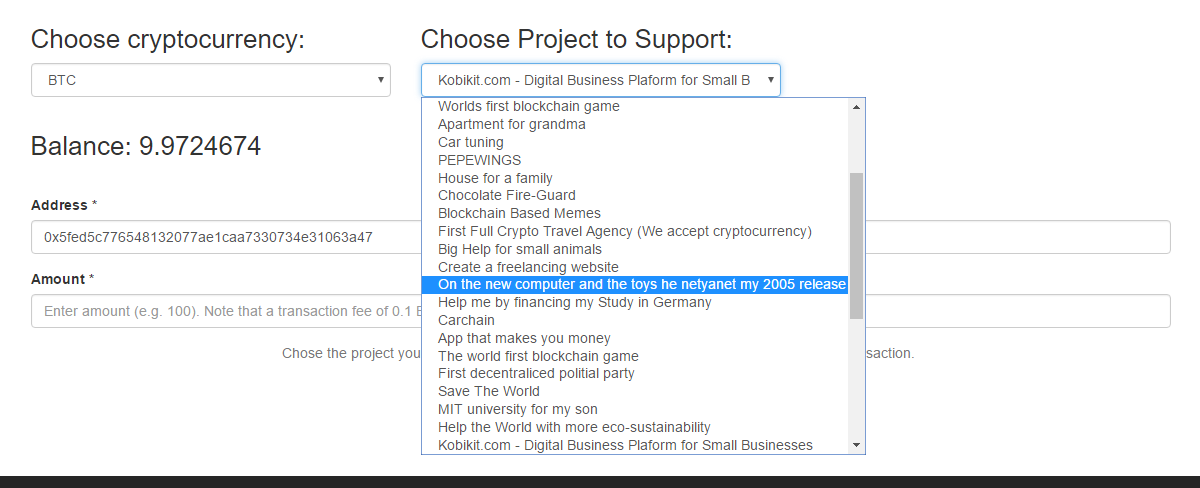 Step 3: Enter the amount of BTC you want to send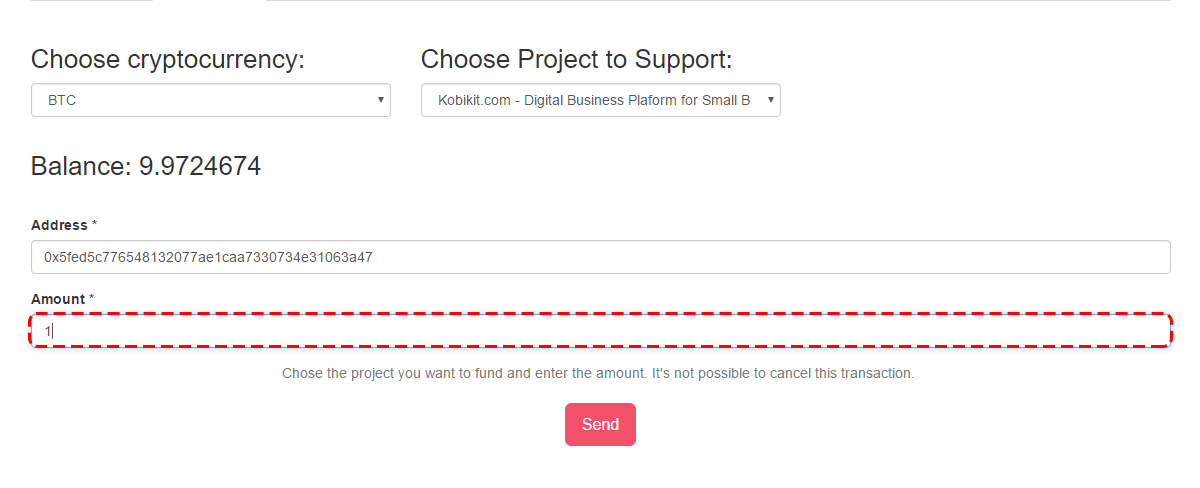 Step 4: Click "Send"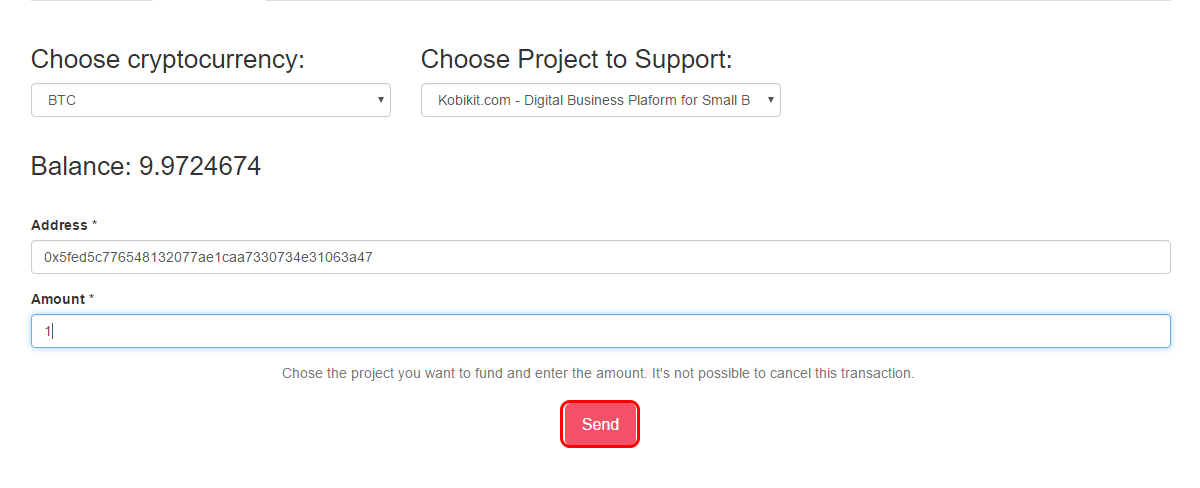 Step 5: Confirm the transaction and click "Send 'X'"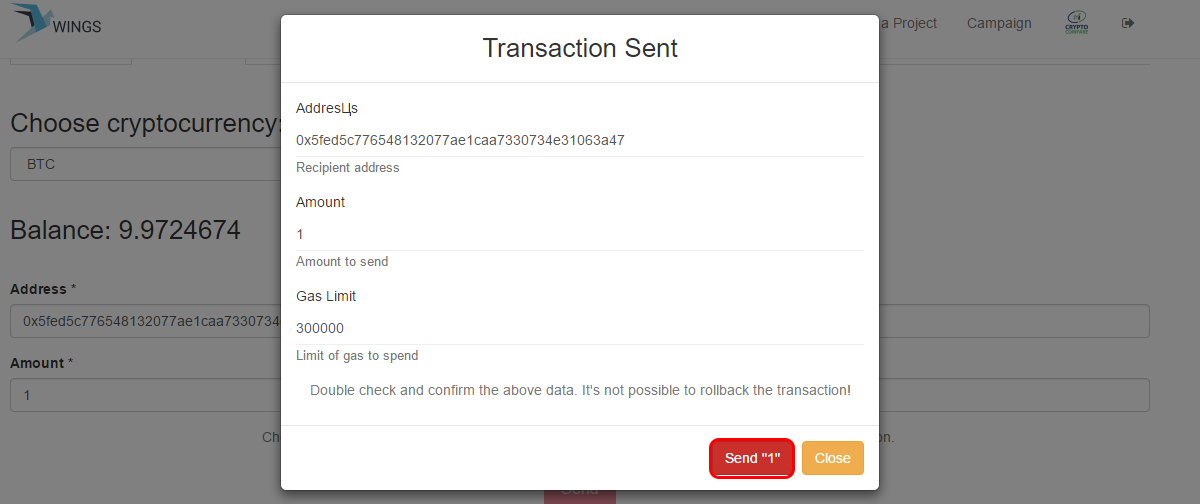 Step 6: Enter your password and click "OK"

That's it! The project is now funded by you. Click "Got it" to close the window

Part 5 - Create your project
Now, the good stuff! The great thing about Wings is that it empowers individuals and groups to easily create their own DAOs without prior coding experience or knowledge. Your projects will be subject to the forecast of the community, so beware of how you present them. Scam or spam projects will be quickly dismissed on the live platform, and the fee paid by the project creator will be distributed to the forecasters.
Step 1: Click "Start a project"

Step 2: Click "Let's start" to create a project

Step 3: Click "Continue"

Step 4: Fill out the information about your project and click "OK" at the end
Etner the title of your project. Short and simple does the trick. Then enter the project description on the "Short blurb". Select the category that best fits your DAO. Choose the reward, which is the token and token quantity (in %) that will be given to forecasters for correctly predicting your project's success. Set the duration and goal of the funding campaign, then click "Continue"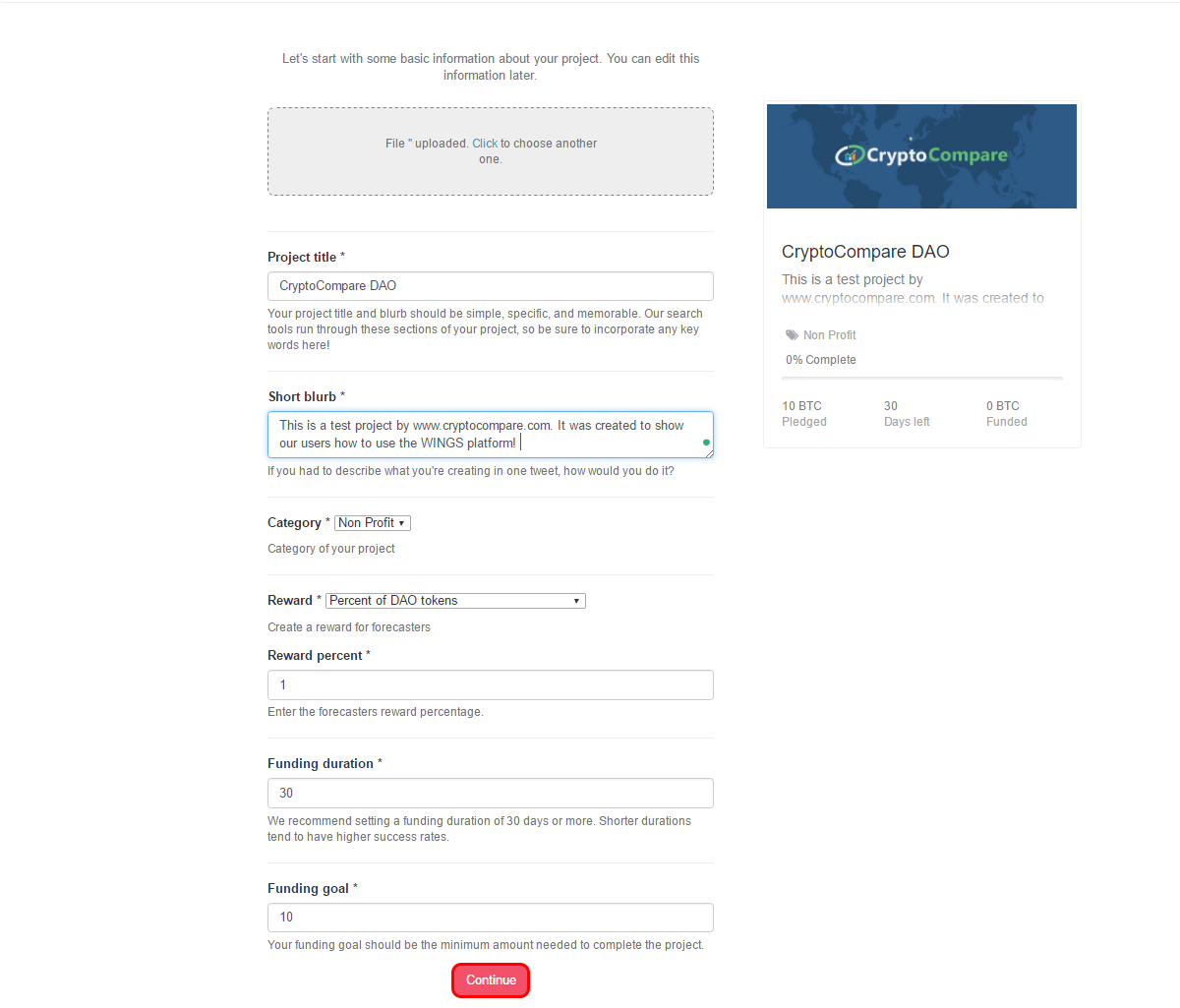 Step 5: The draft for your project will be created. Click "Continue". Now, you will be taken to a page where you can further edit your DAO

Step 6: Got to the "Story" page

Step 7: You can set a video and the project story for your DAO. Click "Save" when you're done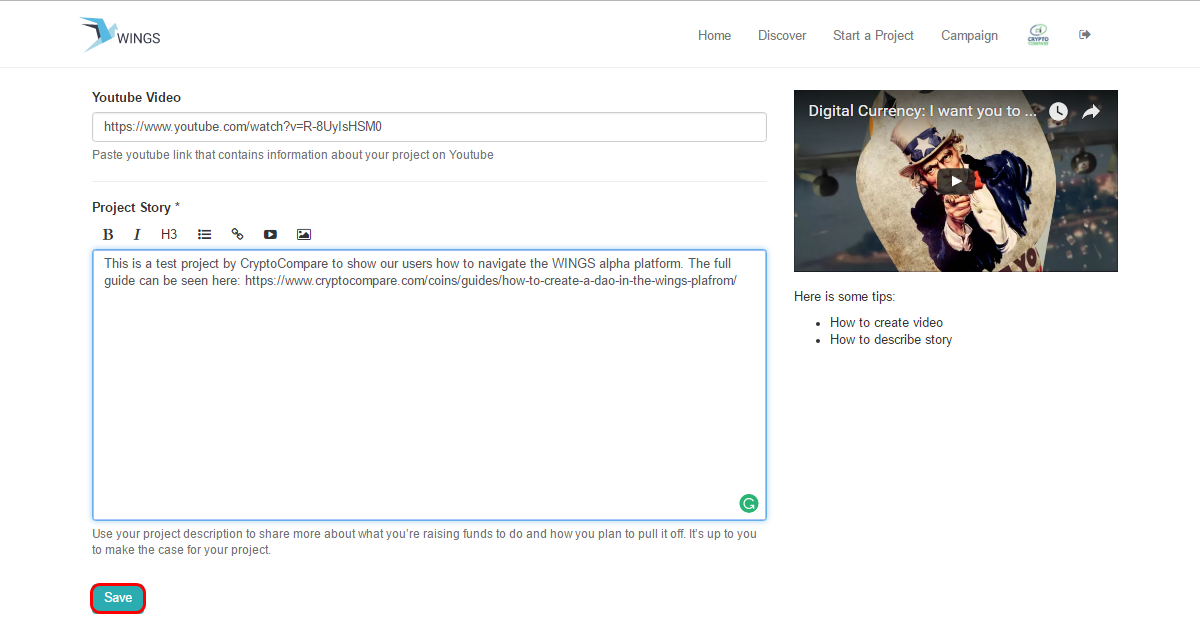 Step 8: Go to "Milestones" to set the milestone details. This system allows project backers to release the funds gathered by the project according to the performance of the development team. Milestones must be completed by the developers or the backers can choose a new development team

Step 9: Enter the milestone details and click "Save Milestone" (click "Add item" to set the milestone)

Step 10: You can now preview your project backing page. Click "Preview"

Step 11: If you like the result, you can now click "Publish" to publish the project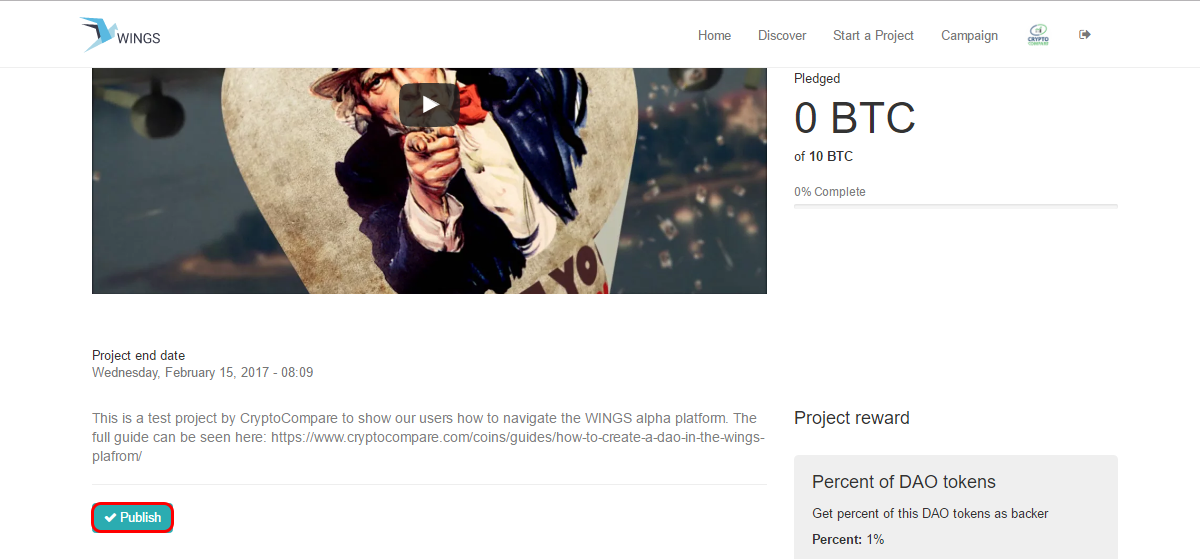 Step 12: Click 

"

OK

" to confirm and publish the project

Step 13: Enter your password and c

lick 

"

OK

"

Your DAO project will be created and be subject to both funding and forecasting from the community! If you do decide to create your project on the Wings alpha platform, you can be selected to recieve a prize in case you want to move with your project forward on the live version. Make sure to contact the Wings platform development team if that is the case.
Our project was submited and can be seen here: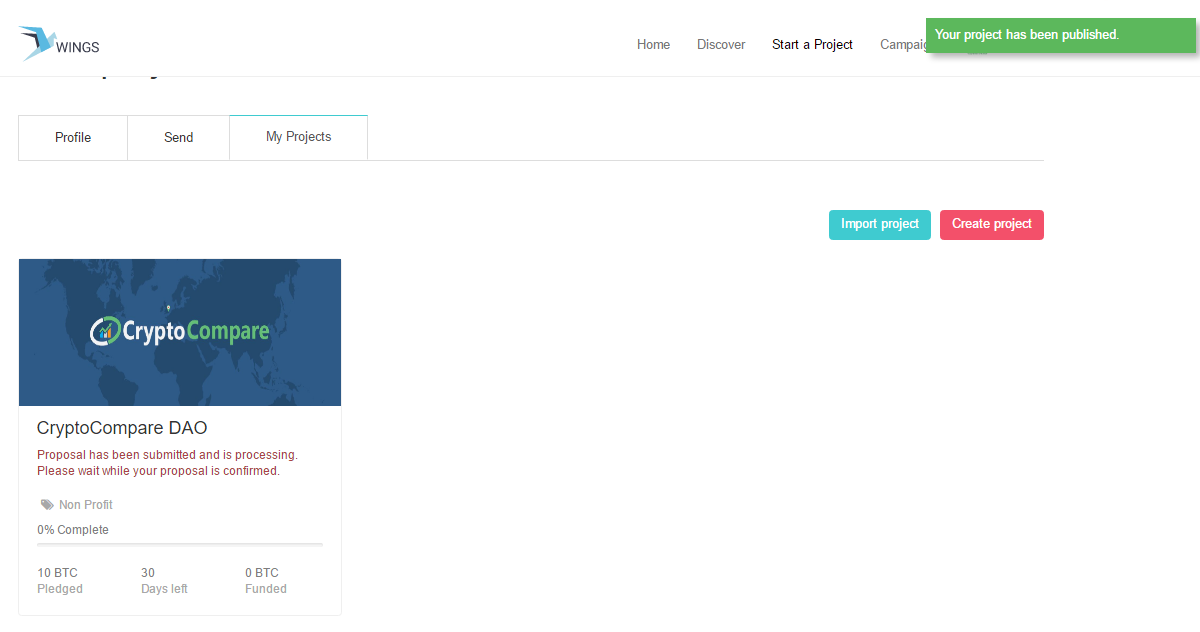 This website is only provided for your general information and is not intended to be relied upon by you in making any investment decisions. You should always combine multiple sources of information and analysis before making an investment and seek independent expert financial advice.
Where we list or describe different products and services, we try to give you the information you need to help you compare them and choose the right product or service for you. We may also have tips and more information to help you compare providers.
Some providers pay us for advertisements or promotions on our website or in emails we may send you. Any commercial agreement we have in place with a provider does not affect how we describe them or their products and services. Sponsored companies are clearly labelled.