Bitcoin is a global currency. It allows us to pay for anything, anywhere, in seconds. However, Bitcoin is more than that. It opens up the world, rendering it borderless when it comes to financial interaction. Using Bitcoin, I can easily pay someone on the other side of the world for a product or service. Something that would otherwise take days and a considerable amount of fees is now made easy with marginal fees and in less than an hour.
As so, freelancing for Bitcoin becomes much easier than doing it for any other national currency. Traditional freelancing platforms will often require your to reveal a multitude of personal details and the fees charged to ensure that you will only receive a portion of your salary. Bitcoin freelancing also removes any geographical restrictions one might have when signing up for a freelance job.
With that being said, we want to teach you how to work for Bitcoins in an easy-to-use freelancing platform, dubbed XBTfreelancer. The platform relies on a simple bidding system that allows freelancers to compete for job positions through the application, price, experience, and past feedback.
So, let's get to it!
Part 1 - Create an account
Step 1: Click here to go to XBTFreelancer
Step 2: Click on "Sign up

" to create an account

Step 3: Enter your personal details (1), choose your position as a freelancer (2), solve the captcha, and click "Sign up" (3) (You can also sign up with Facebook)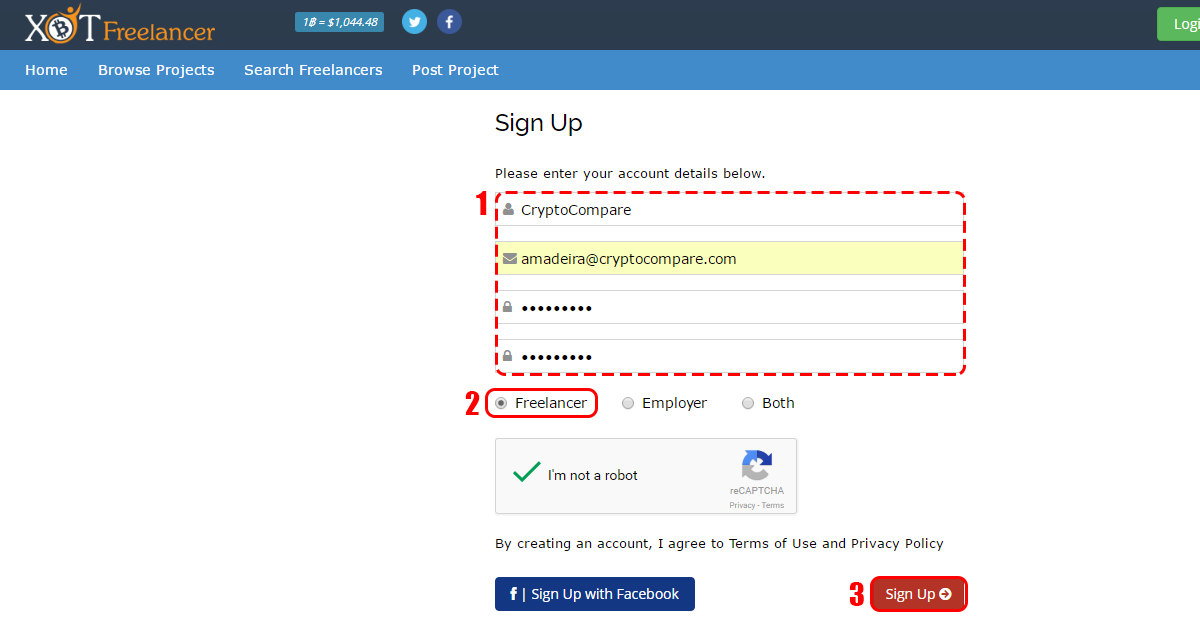 Step 4: Go to your inbox and confirm your email address

Part 2 - Set up your profile
One of the most important parts of getting a job (especially the first one) is to have a good profile with all the relevant information so that employers know what to expect.
Step 1: We will start with a profile image. Adding a picture of your company or (Even better) your self will create trust. Click "Change image"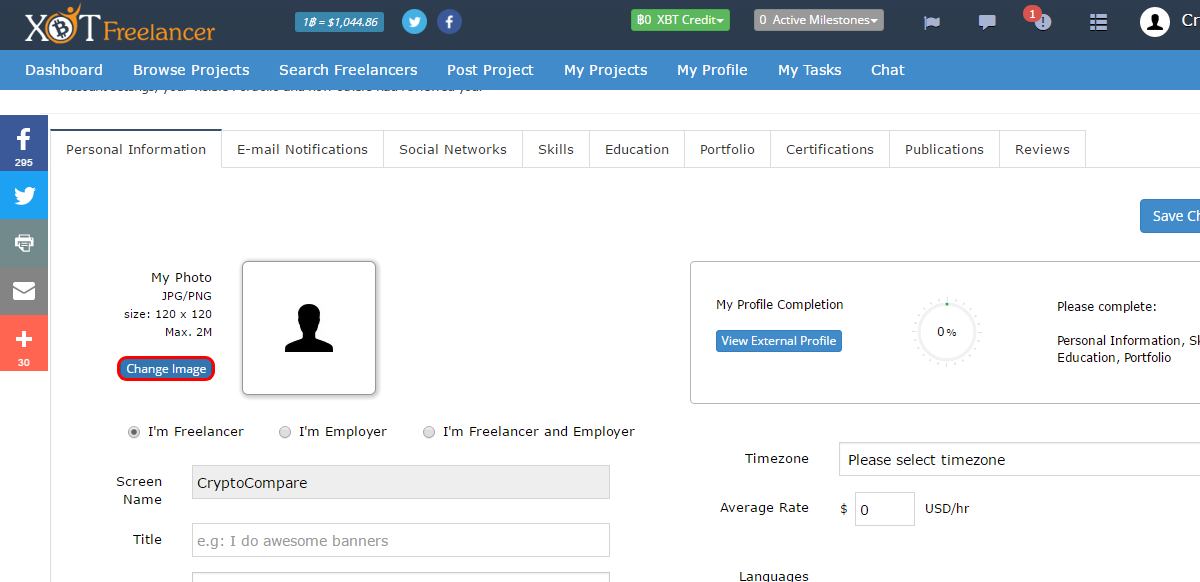 Step 2: Click "Select Image"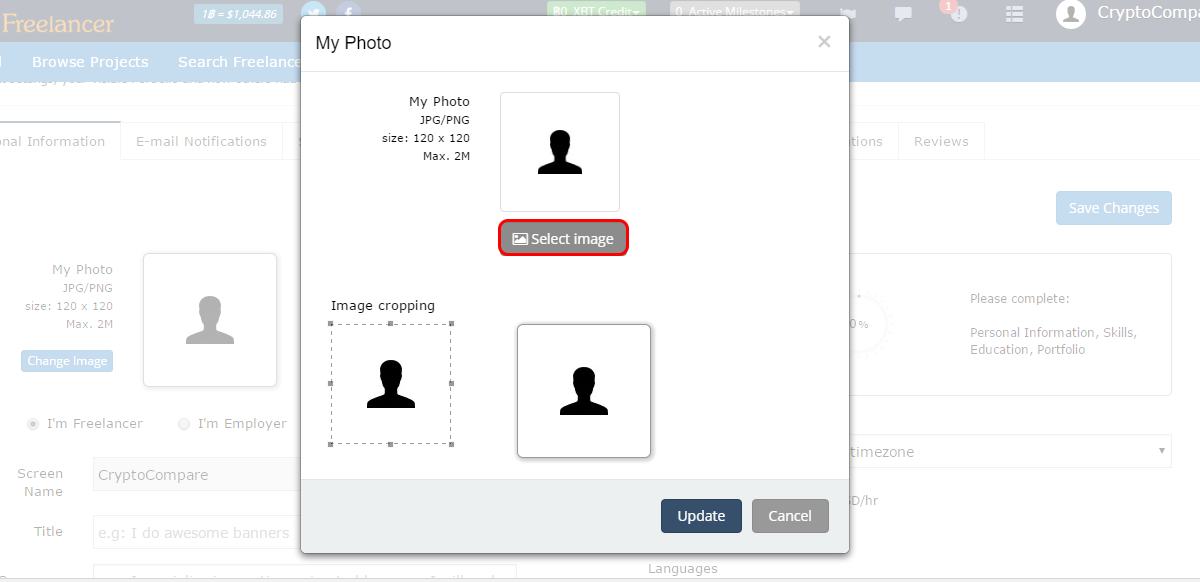 Step 3: Choose an image from your computer to upload and click "Open"

Step 4: Crop the image to your liking and click "Update"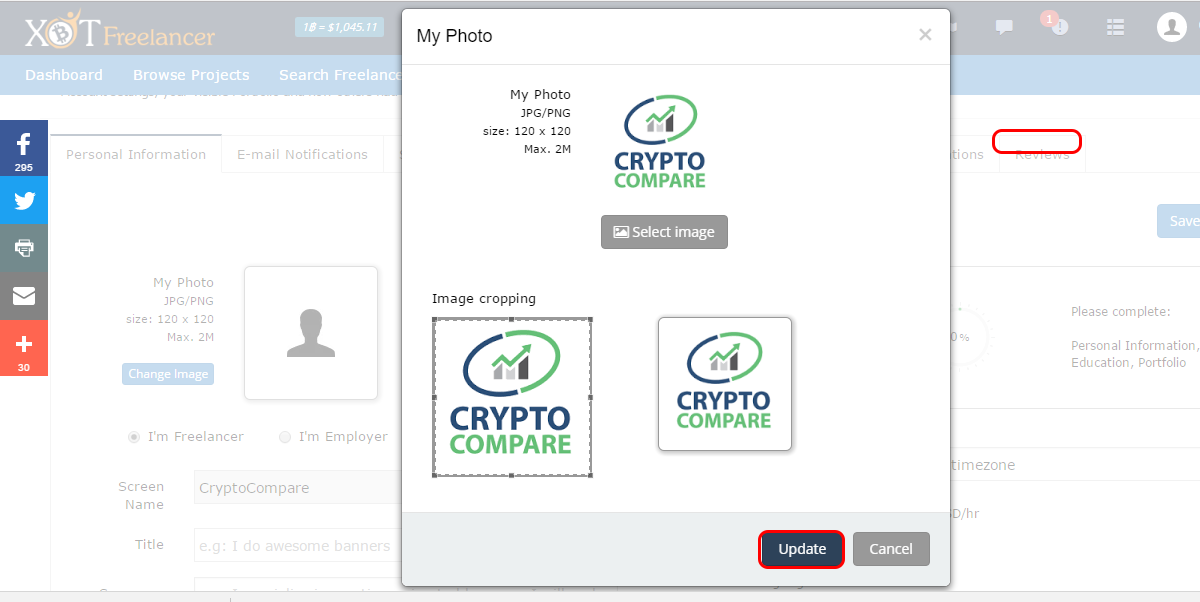 Now, let's add a description about ourselves. One that reveals who we are, what we do, and experience.
Step 5: Add a title and a summary of yourself

Step 6: Choose your timezone

Step 7: Add your hourly rate

Step 8: Choose your languages

Step 9: Once you're happy with your profile, click "Save Changes"

Part 3 - Skills, Education, Portfolio
In order to make sure your profile is 100% complete, let's add your skills, educational background, and work portfolio
Step 1: Click "Skills"

Step 2: Scroll down, write your skills and click "Save Changes" once you're done

Step 3: Click "Education"

Step 4: Click "Add Education

Step 5: Enter your details (1) and click "Save" (2)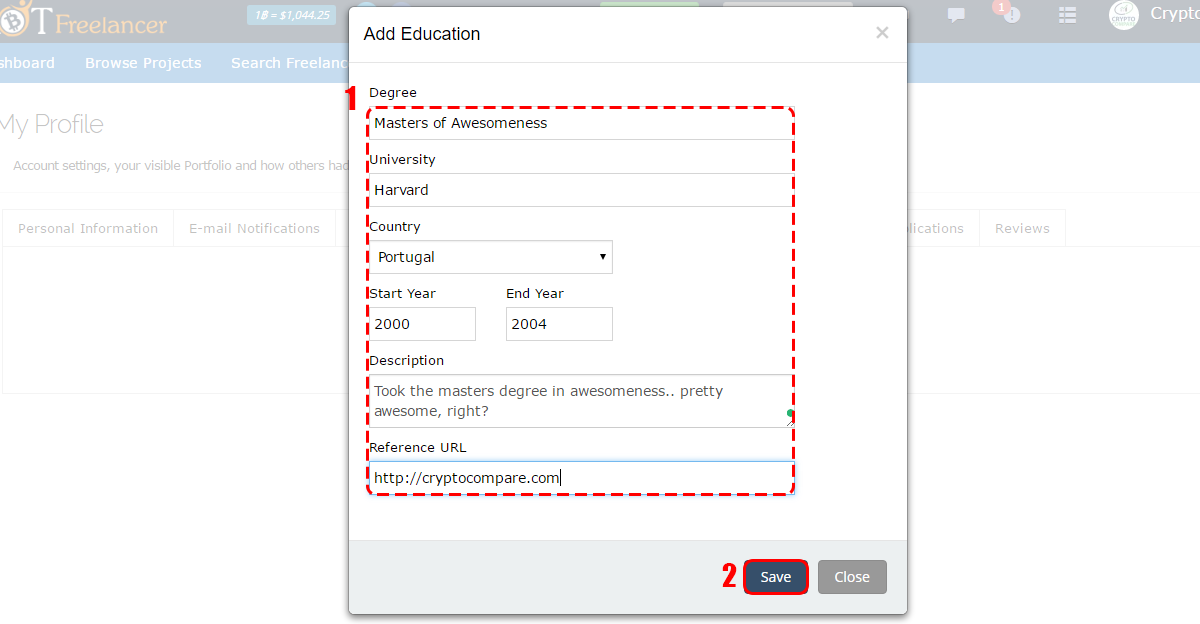 Step 6: Let's move on to your work portfolio. Click "Portfolio"

Step 7: Click "Add Portfolio"

Step 8: Add all the relevant portfolio information (including a link to it) (1) and click "Save" (2)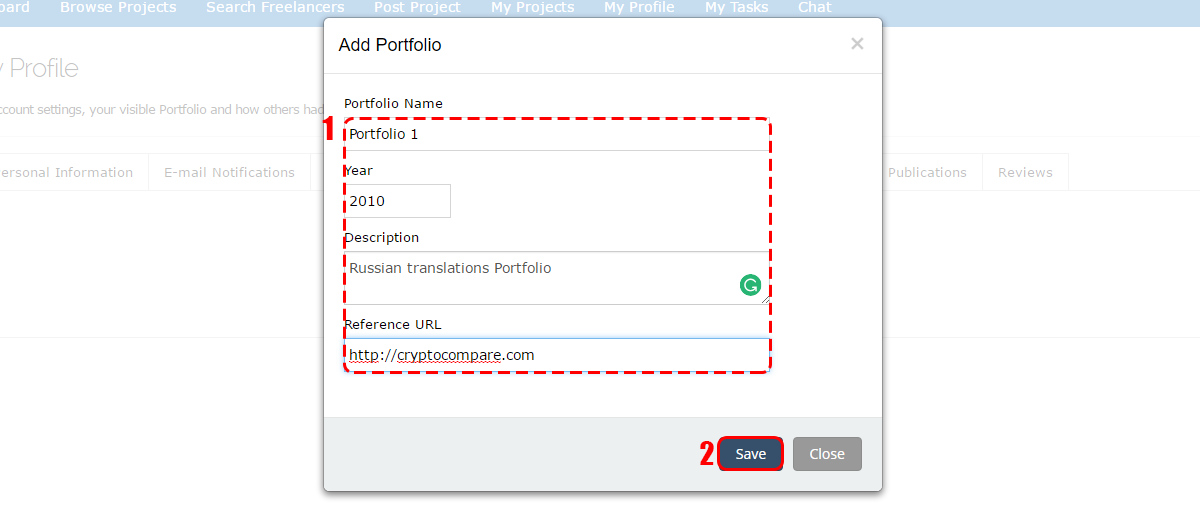 Part 4 - Get a job!
Now, it's time to start working. Like we previously mentioned XBTFreelancer is a bidding platform which means you have to bid on jobs to get them. Bidding the lowest value won't always get you the job and bidding the highest value may get the job if the situation justifies it! It depends on your experience in and outside of the platform. The more positive feedback you have on the website, the more likely you are to get chosen. Of course, low rates are always helpful, just make sure you're not working for beans.
Step 1: Click "Browse Projects". You'll be taken to the list of all available jobs to bid on.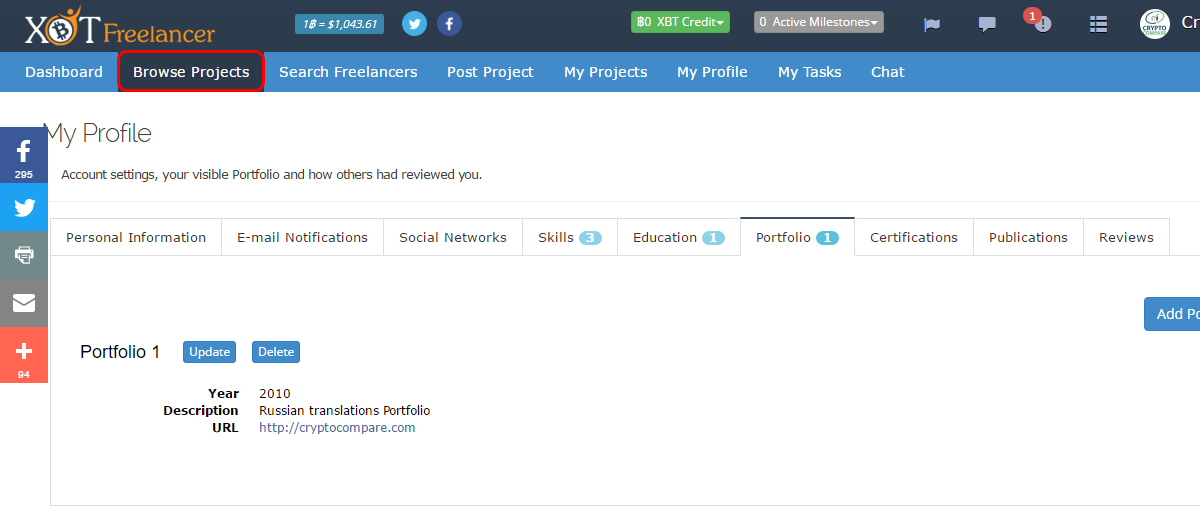 Step 2: Select one that is within your skill set and click on the name of the project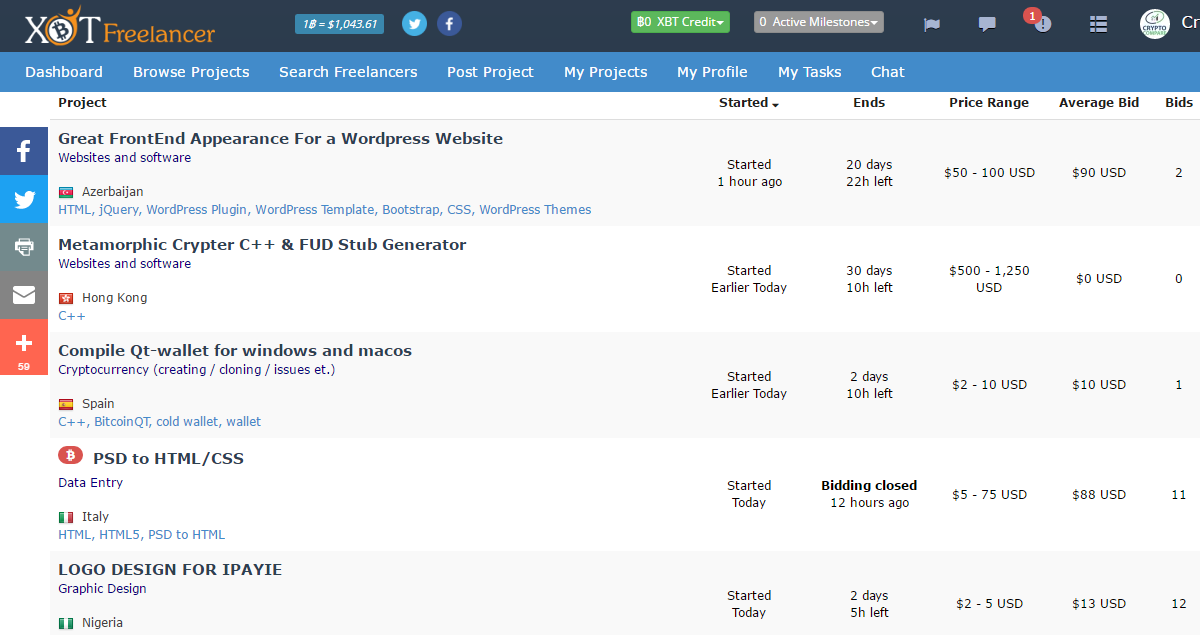 Step 3: Once on the project page, you'll want to check out the employer feedback (1), the description of the job (2) and  the type of work and skills needed (3)

You can also choose to chat with the employer by clicking "Chat"

Step 4: Now, once you're sure you want to work on this project it's time to bid on it. Click "Place a bid"

Step 5: Choose the amount you want to be paid for the job (1), enter a comment that backs up your proposal (2) and lastly click "Save" (3)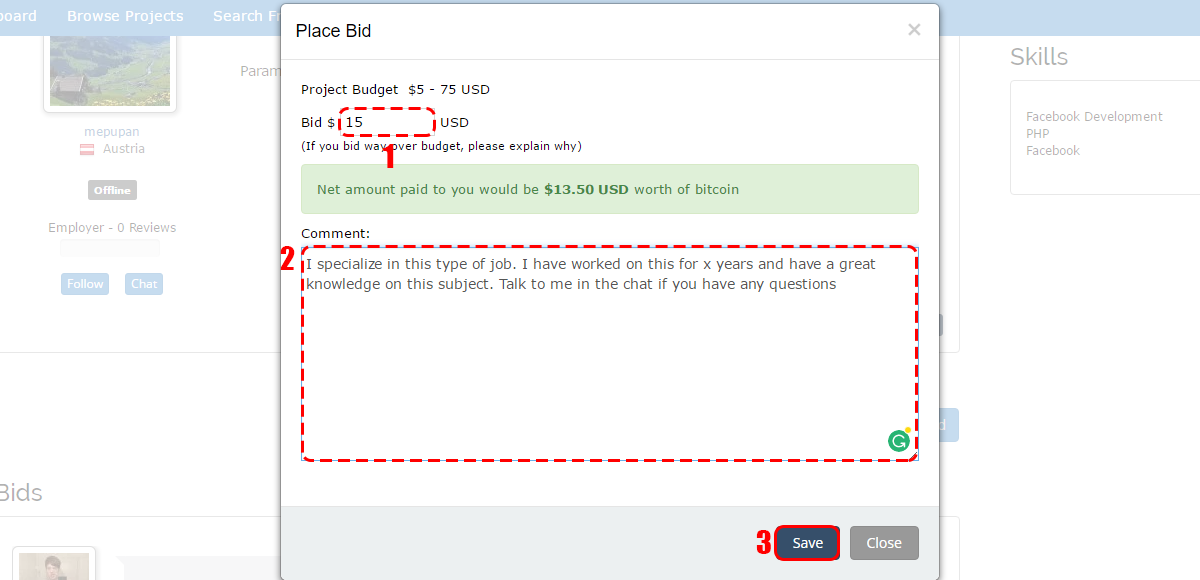 Done! All you can do now is wait for the reply from the employer. You may not get the first few jobs you apply for but don't give up too quick. As you build a reputation, it will become easier to earn Bitcoin from your work as a freelancer.
Alternatively, you can also mine Bitcoin or buy a cloud mining contract with Hashflare or Genesis Mining.
This website is only provided for your general information and is not intended to be relied upon by you in making any investment decisions. You should always combine multiple sources of information and analysis before making an investment and seek independent expert financial advice.
Where we list or describe different products and services, we try to give you the information you need to help you compare them and choose the right product or service for you. We may also have tips and more information to help you compare providers.
Some providers pay us for advertisements or promotions on our website or in emails we may send you. Any commercial agreement we have in place with a provider does not affect how we describe them or their products and services. Sponsored companies are clearly labelled.