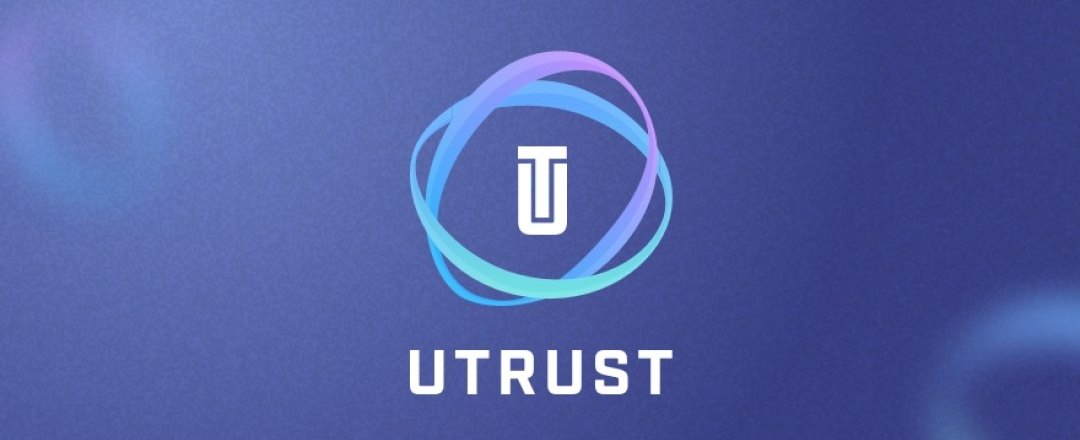 This is a sponsored guide and does not represent investment advice from CryptoCompare. Please do your due diligence when dealing with any Initial Coin Offering and never invest more than what you can afford to lose.
Part 1 - UTRUST, UTK and ICO
UTRUST is a payment platform that allows the user to pay for goods and services with his or her favorite coins while enjoying the security that has become a standard in traditional payment processors. The merchant receives the payment in fiat, allowing him to hedge against the volatility of cryptocurrencies.
A centralized escrow system is employed to ensure that the funds are kept safe until the buyer receives his item or service. Once the transaction is complete, the funds will be sent. In case of a dispute, the Utrsut dispute resolution team will take action.
This automated system allows users to enjoy the benefits of crypto without worrying about additional escrows or multi-sigs.
Besides the interoperability between cryptocurrencies and its consumer-protection system, UTRUST also offers a competitive fee model where a 1% fee is charged on purchases, outdoing PayPal's 2.9% + $0.30 USD flat fee, and allowing for smaller transactions to take place on the platform. 
See the UTRUST introduction video to learn more:
The UTRUST platform features its own ERC20 token based on the Ethereum blockchain. Distributed during its upcoming pre-ICO on the 28th of August and in its September ICO, the UTK token will allow the project to become self-sufficient while making UTRUST a community-driven project that its user base can support. The advantages provided to UTK holders are simple:
No fees charged when using the UTK token.

Part of the profits generated by the 1% fee will be used to buy-back and burn the UTK token, reducing its total supply over time. The token is bought from exchanges at its market price.
Click here to see ICO details

Part 2 - Buy BTC or ETH

This guide will walk you through the process of buying BTC or ETH and using it to participate in the UTRUST token sale which will see 700 million UTK tokens distributed to project supporters.
First of all, you will have to own either some Bitcoin (BTC) or some Ether (ETH) in order to participate in the UTRUST token sale. You can buy BTC and ETH with fiat currency in an exchange like Coinbase or in many other exchanges available in our exchanges page.
Since you can participate in the UTRUST ICO using Ether, there are a number of fiat exchanges that you can use to buy Ether. Kraken is a particularly good example - you can read out guide on how to buy ETH from Kraken.
Once you are in possession of either BTC or ETH, it's time to go through some major steps on how to use your ETH and BTC in the UTRUST ICO — from wallet creation to sending the payment.
Part 3 - How to buy UTK
Step 1: Click here to go to Utrust
Step 2: Click "Sign In"

Step 3: You will be presented with the sign in screen. Click "Sign Up"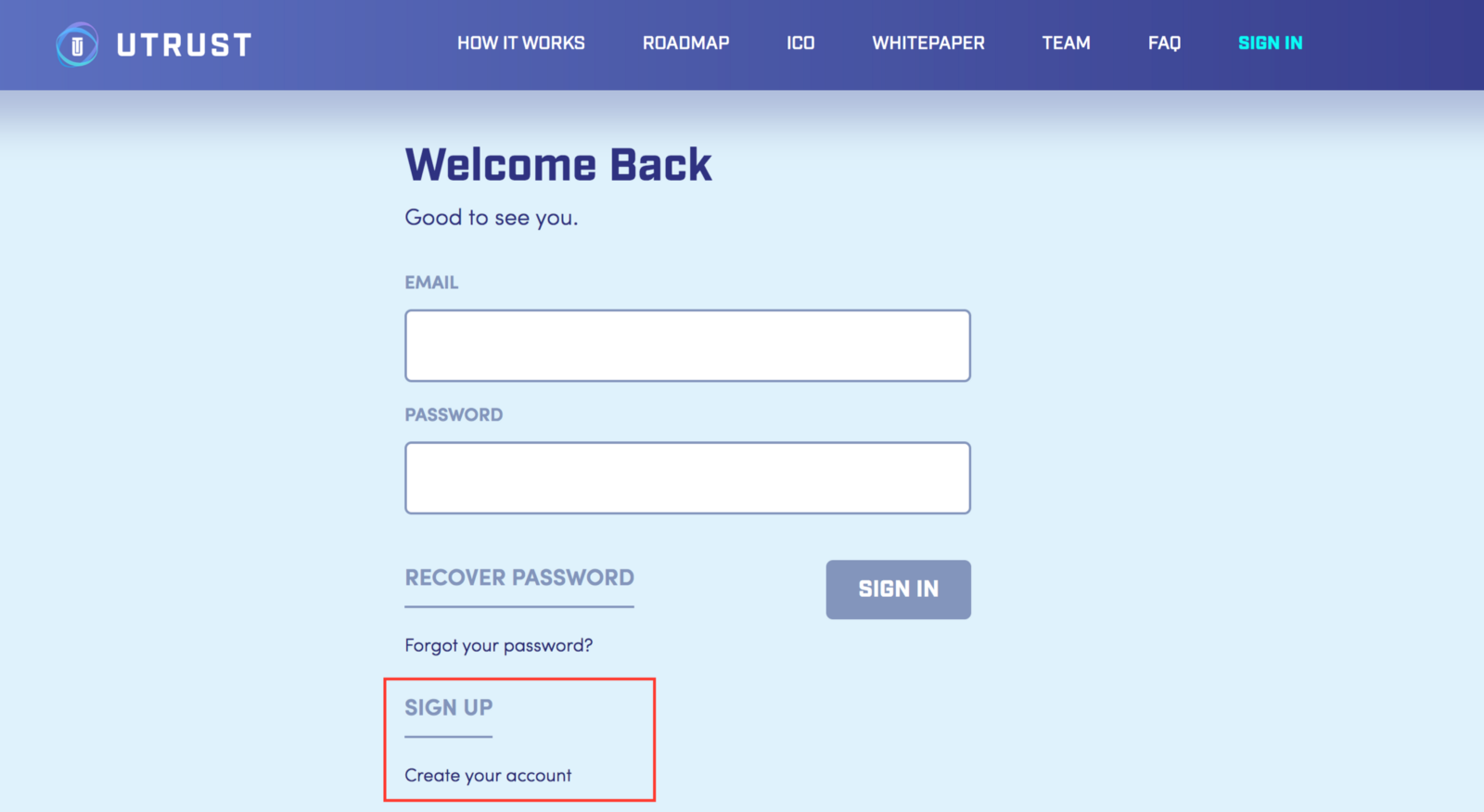 Step 4: Fill in your personal details. Read and accept the Terms and Conditions, confirm your citizenship and click "Register"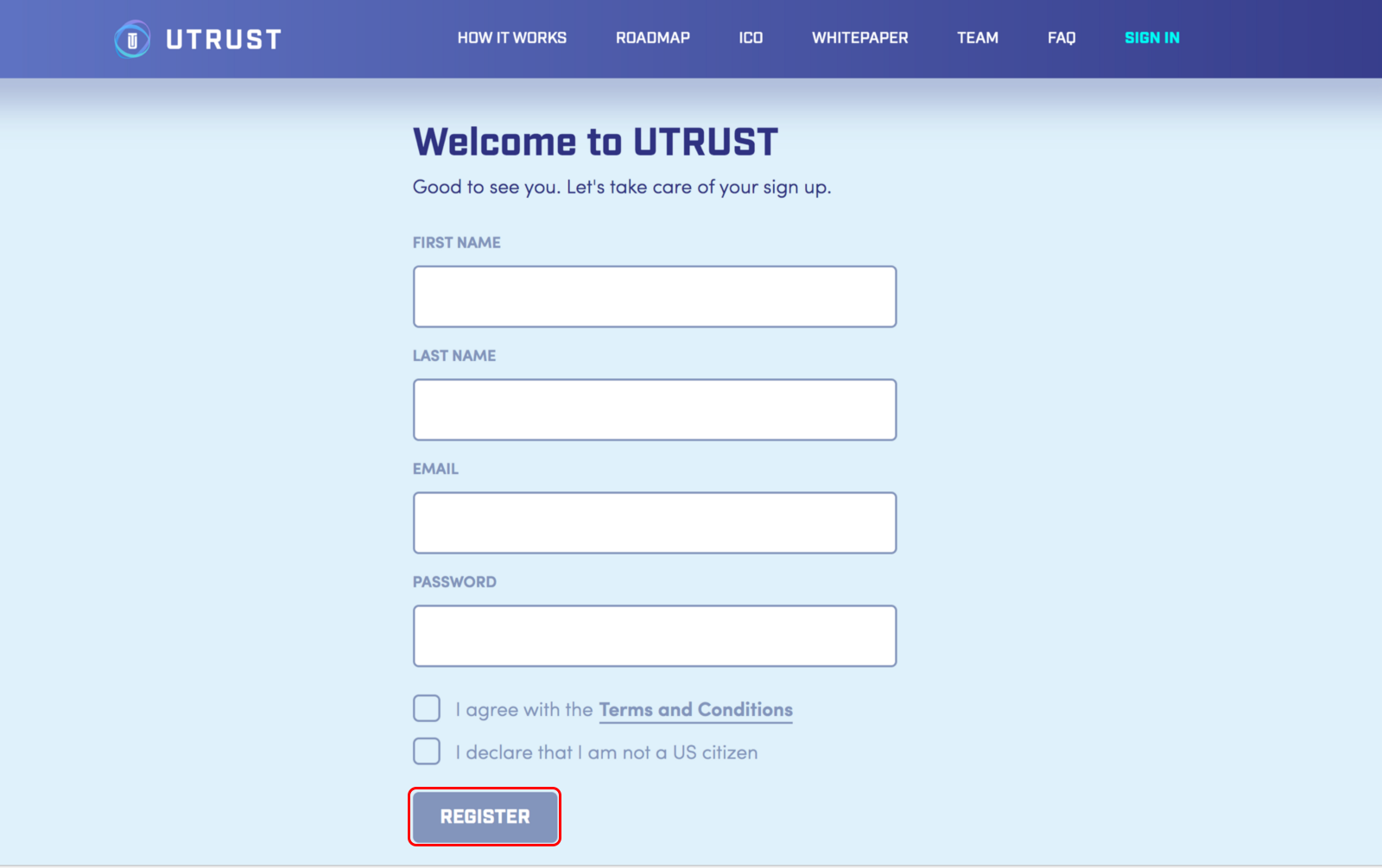 Step 5: Finally, confirm your email activate your account. Go to your inbox and click "Confirm my account". If you didn't receive the confirmation email, check your spam folder.

Step 6: To login, fill in your email and password and click "Sign In"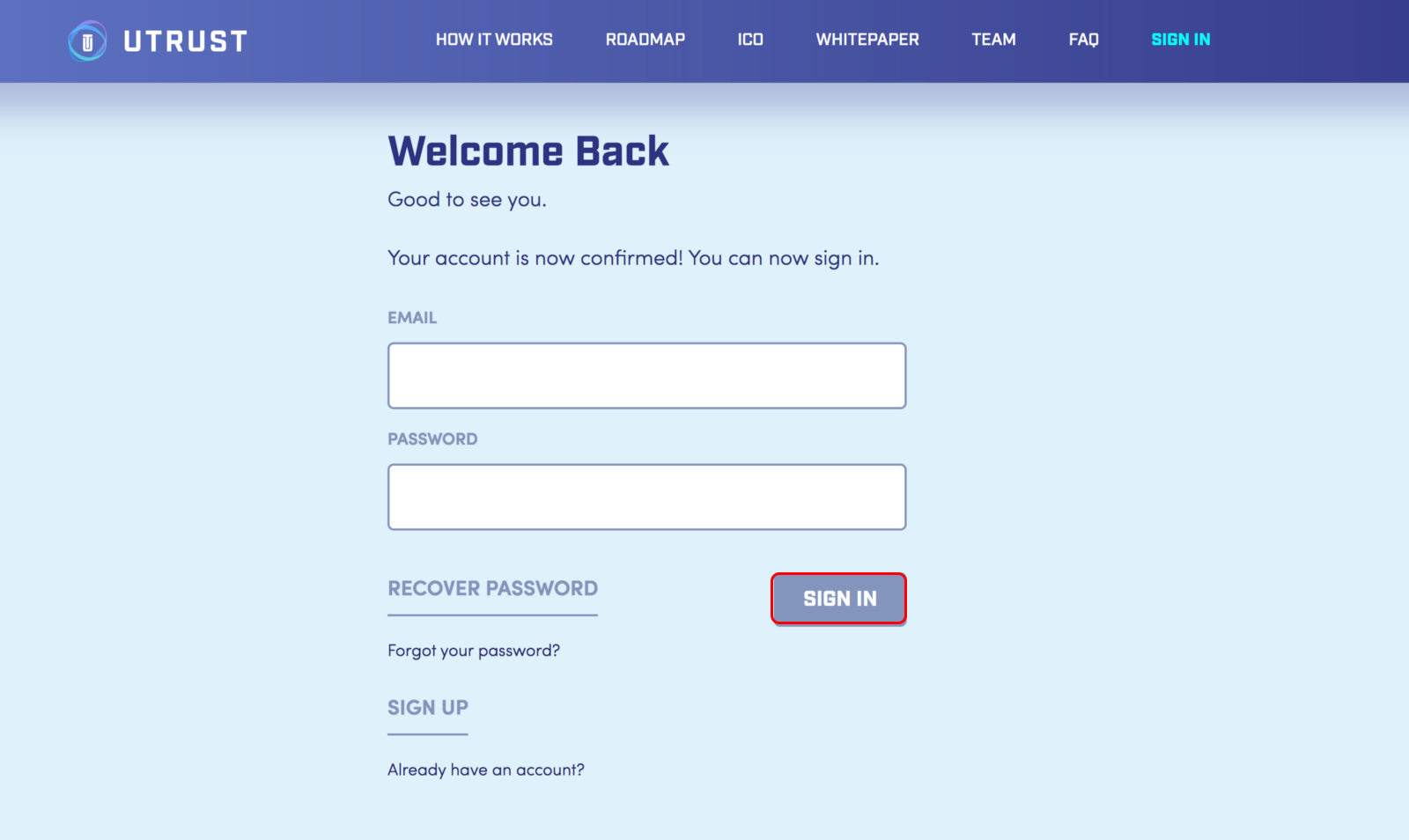 After the opening of the ICO you will be presented with the addresses and a deposit list used for having a trail of the status of your investment, and the amount of UTRUST tokens that you have. You will also be presented with your unique BTC and ETH addresses. At this time, all you'll need to do is send a transaction to the displayed wallet(s). ICO participants can send funds from any wallet, including wallets from exchanges. Either in BTC or ETH. To receive your UTK tokens once the ICO closes you must have an Ethereum wallet. Read the next part of the guide to learn how to create an Ethereum wallet. 
Part 4 - Set up your Wallet
ICO participants can send funds from any wallet, including wallets from exchanges. Either in BTC or ETH. To receive your UTK tokens once the ICO closes you must have an Ethereum wallet. Most importantly do not use an exchange wallet to receive tokens unless the exchange supports the UTK token directly. Doing so, can cost you your tokens.
A few options for Ether and token wallets:
MyEtherWallet

is a website that allows you to create, send & receive ETH without having someone control your private keys. You need to generate a wallet first and the site will create a public-private key pair for you which will be protected by your password of course. MyEtherWallet.com cannot access accounts, recover keys, reset passwords nor reverse transactions.

Mist

is the official Ethereum wallet. It takes a while to install and synchronize with all Ethereum nodes but after installation, it runs smoothly. When the sync is completed you need to set a secure password which you are required to remember for good as no other way to access your wallet again if you forget this password. You don't need to worry about your security as your private keys are on your device itself. Mist has also ShapeShift built in for exchanging other digital currencies as well.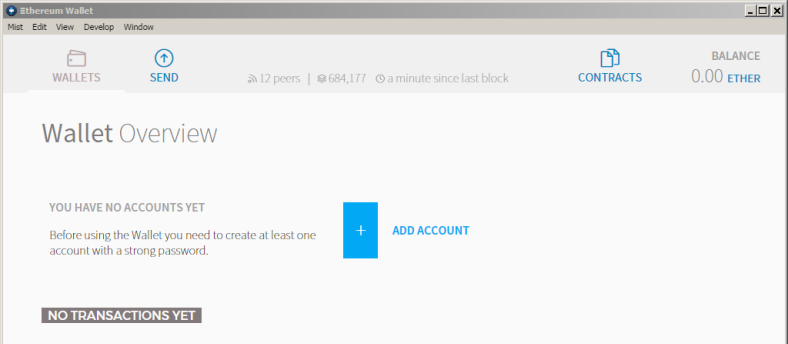 It could be still a risky game to store your tokens or your ETH on a crypto-wallet so we strongly recommend you to protect your private keys and use a wallet in whichy you control your own private keys.
Click here to learn how to watch and send Ethereum tokens like UTK with MyEtherWallet.
This website is only provided for your general information and is not intended to be relied upon by you in making any investment decisions. You should always combine multiple sources of information and analysis before making an investment and seek independent expert financial advice.
Where we list or describe different products and services, we try to give you the information you need to help you compare them and choose the right product or service for you. We may also have tips and more information to help you compare providers.
Some providers pay us for advertisements or promotions on our website or in emails we may send you. Any commercial agreement we have in place with a provider does not affect how we describe them or their products and services. Sponsored companies are clearly labelled.