A new phase of the Aventus Network's Validator registration Program is set to soon start and using it, Aventus Token (AVT) holders will be able to stake their holdings and earn from transaction fees on the cryptocurrency's network.
After the mainnet launch of the AVT in February, token holders staked over 1.5 million tokens in the first phase of the Validator Registration program. One month has passed since the first phase concluded and since then the network has launched its own block explorer, giving Validators access to network transaction data and associated fees.
First things first, let's look at the Aventus Network and its advantage, before digging into the advantages of being a Validator on it.
What is the Aventus Network?
The Aventus Network (AvN) s a layer-two scaling solution that lets enterprises build on top of the Ethereum network at speed and scale, without having to deal with the significant transaction fees haunting the network.
Ethereum currently supports around 15 transactions per second and its success has seen network utilization get close to 98%, forcing users to compete for blockspace, which led to ever-increasing gas fees. The average transaction fee on the Ethereum network is now $13.7, according to BitInfoCharts.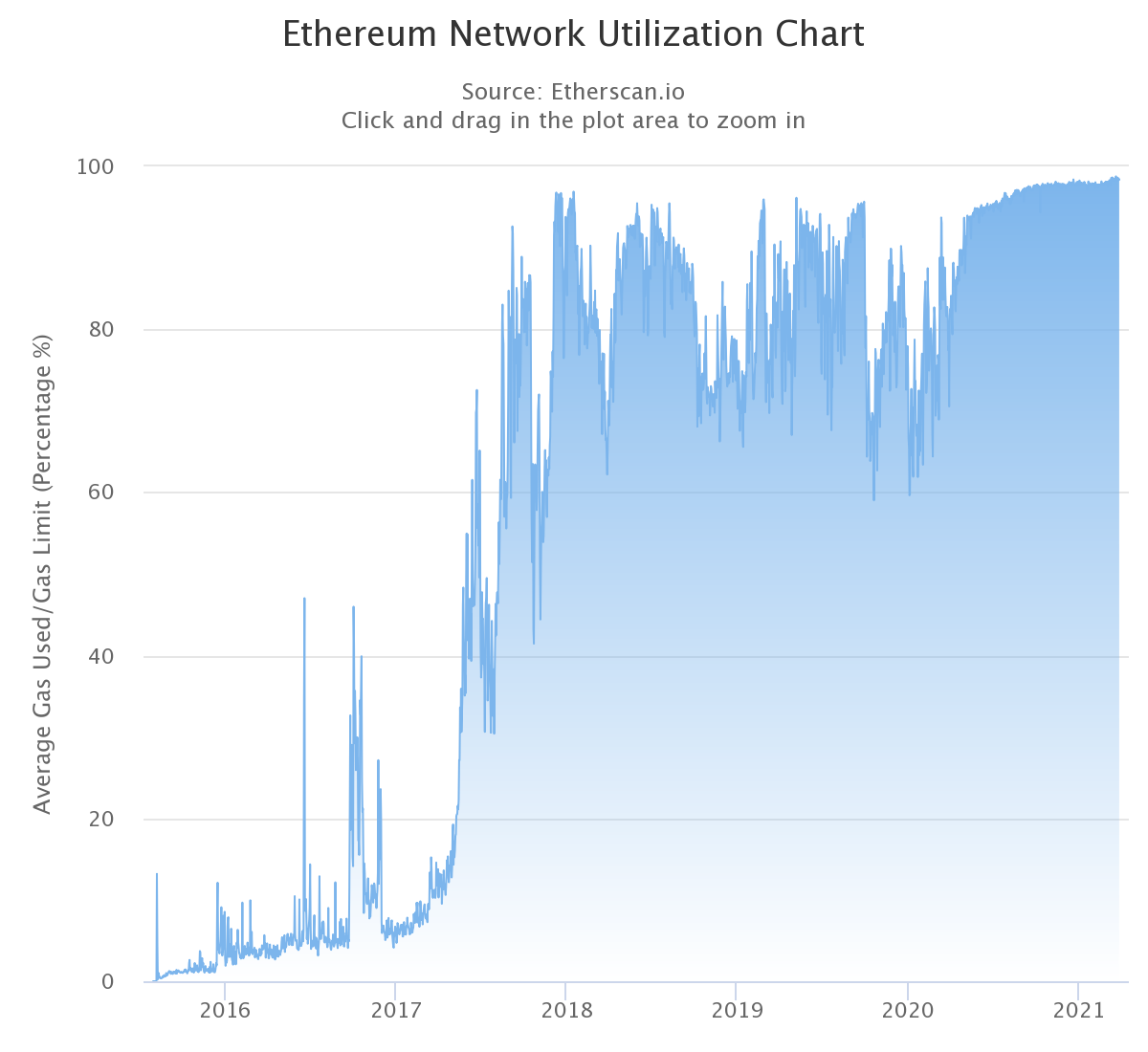 With the AvN, applications can work easily even as the main Ethereum network waits for other scaling solutions. Moreover, they work with other promising blockchains through cross-chain technology by plugging into the Polkadot ecosystem.
The AvN can handle up to 2,000 transactions per second and the average cost of a transaction on it is of $0.01, far below the average ETH transaction fee. Transactions are processed in 0.13 seconds, meaning it's also over 100 times faster than the Ethereum blockchain.
Its use cases include Financial Assets, Rewards and Loyalty Programs, Live Entertainment, Data Integrity, Supply Chains, and more. Its technology was first conceived by its founder Alan Vey at Imperial College London.
Through multiple partnerships with firms like Cashback App, Artos Systems, and VOW currency, the network was launched on its first day with 8.5 million historical transactions to be processed. In the first 6 months, these are the absolute minimum the network will be processing.
Aventus Network Validators
At the beginning of February, Aventus opened an eight-day registration for AVT token holders to become Validators by staking their tokens. Validators allocate their tokens to nodes that process transactions, and earn $0.01 per processed transaction.
Validators who signed up at the time can now expect to receive a share of the fees earned from the 8.5 million transactions already conducted on the network. The network, at launch, has 10 nodes each with an equal probability of being selected to pick up a transaction.
Each node has a total stake of 250,000 AVT, and fee rewards are paid to token holders according to their share of each node. If investor A has 25,000 AVT in a node, they receive 10% of the transaction fee rewards the node processes.
Validators can withdraw their share of the transaction fees on a monthly basis.
Become an Aventus Network Validator
A total of 1.5 million AVT tokens were staked during part 1 of the Validator Registration Program. Part 2 is now set to open on Tuesday March 31 at 9 a.m. UK time, so token holders can stake the remaining 1 million tokens.

The second part of the Validators Program allows investors to earn a share of the fees from a minimum of 6.5 million historical transactions, plus their share of fees from future transactions from forthcoming partnerships.
The Validator Staking Program Part 2 will begin on Wednesday, March 31, and will run for 12 days or until the maximum number of token allocations has been filled. To register for the Transaction Validator Program before its end, visit https://aventus.io/products/.
To become a network Validator you will need to, after successfully registering:
Buy AVT tokens on exchanges. The token is trading on Uniswap, HitBTC, and Mercatox.

Send AVT to the Aventus Validator registration smart contract.

Contribute any amount of AVT to one of the 10 nodes available.
An Ethereum smart contract, called the Staking contract, is deployed at an address that a prospective Validator will receive, after agreeing to the Terms and Conditions. After depositing AVT tokens, Validators will be able to start withdrawing fees according to the transactions processed by the node and their share of the tokens held in it.
This is a sponsored story. Its content does not constitute financial advice. Please remember that the value of investments, and any income from them, can fall as well as rise so you could get back less than you invest. If you are unsure of the suitability of your investment please seek advice.
This website is only provided for your general information and is not intended to be relied upon by you in making any investment decisions. You should always combine multiple sources of information and analysis before making an investment and seek independent expert financial advice.
Where we list or describe different products and services, we try to give you the information you need to help you compare them and choose the right product or service for you. We may also have tips and more information to help you compare providers.
Some providers pay us for advertisements or promotions on our website or in emails we may send you. Any commercial agreement we have in place with a provider does not affect how we describe them or their products and services. Sponsored companies are clearly labelled.