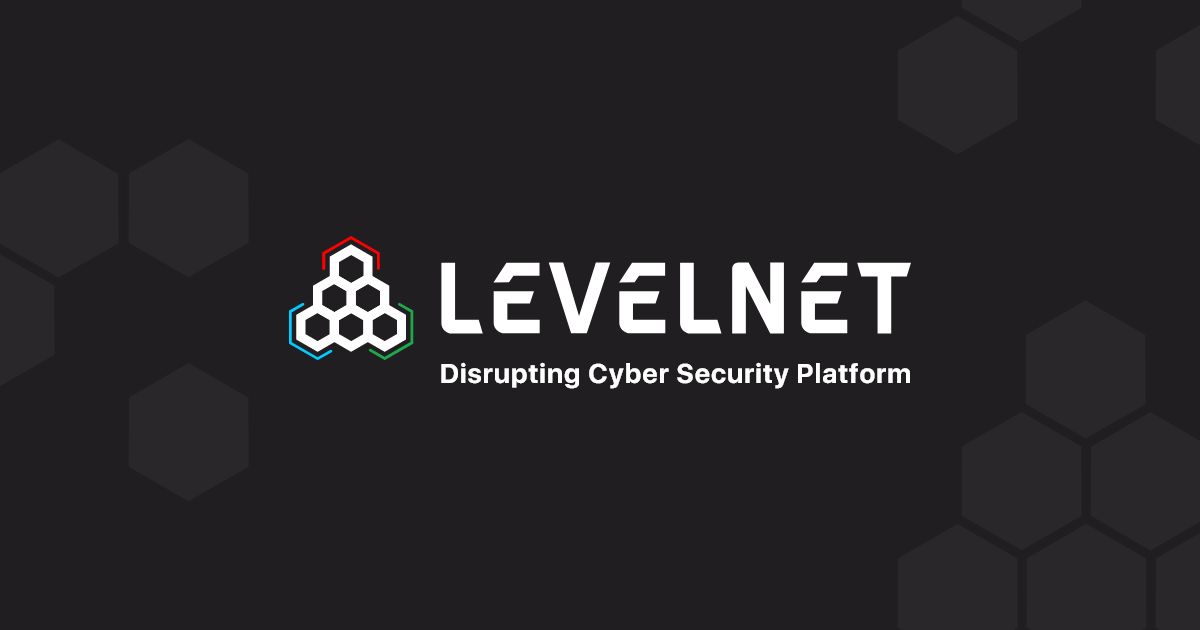 This is a sponsored guide and does not represent investment advice from CryptoCompare. Please do your due diligence when dealing with any Initial Coin Offering and never invest more than what you can afford to lose.
As technology continues to evolve at an astonishing pace, changing the way we connect with each other and exchange information, so do the threats that have come with it. From hackers to deceptive ads to advanced malware, surfing the web can be a dangerous venture, and doing so unprotected may cost you your work or personal files and even your hard-earned savings.
As cybercriminals continue to perfect their craft and come up with new attack vectors, cybersecurity professionals, along with their software solutions, must evolve at an even faster pace and explore new and creative solutions. While legacy antivirus software has played a big role in keeping us safe from hackers and malware in the past, a time has come when new strategies must be applied.
This is where LevelNet, a next-gen cybersecurity platform, comes in!
What is LevelNet?
To put it simply, LevelNet is the world's first decentralized cyber security solution. It acts alongside traditional anti-virus software, functioning as a network of collective information security in which each user is constantly updated and protected against new threats. LevelNet leverages the information collected by each and every users in the network and the measures applied by their respective antiviruses in order to keep every member device safe.
While some anti-virus may be more advanced than others or apply better measures to certain attacks than others, with LevelNet each user can have access to the most advanced security measures for each particular threat without the need to search and pay for one or several advanced anti-virus software solutions, resulting in a much more secure experience for all those involved. The white paper reads:
"LevelNet integrates virtually all existing anti-virus technologies into one simple, user-friendly application. This distributed system enables participants to share threat data globally and in real time, allowing for the entire system to become much smarter, much faster, than any single security cybersecurity provider can today."
How does LevelNet work?
So how does LevelNet work? To put it simply, the LevelNet system provides cybersecurity measures against suspected files/viruses/threats detected by any of the anti-virus applications present on each of the network devices/nodes. These files can be quarantined or deleted regardless of whether there is installed antivirus software on a particular device.
LevelNet detects threats by monitoring the response of the security systems installed in each user's device. This response is then analyzed by the client software and the results are sent on the LevelNet network and out to the network servers for further processing as well as for deciding the level of a particular threat. If the LevelNet system perceives response results as a potential or real threat, all users receive information about the file or software, along with suggested actions against the detected threat.
LevelNet will not only warn users about certain threats, it will also create a decentralized reputation database for determining the risk level of certain software packages. This system is based on factors such as antivirus reactions from user devices, level of trust from the publisher, prevalence of the software within the network, and number of additions to exception whitelists from users.
Publishers can apply to be included on the LevelNet Whitelist as a reputable software creator, where they must register and undergo verification procedures. Once these are done, the publisher can then upload its software package, as well as provide updates to newer versions as they become available. According to LevelNet, "all subsequently uploaded files also undergo an automatic antivirus scan for the potential existence of malicious components".
LVL Token and ICO
In order to fund the development, marketing and launch of the LevelNet solution, Level Capital LLC will launch an Initial Coin Offering (ICO) campaign in which the LevelNet (LVL) token will be made available for supporters.
The LVL token will give its holders several advantages, such as the possibility access LevelNet services, the LevelNet ecosystem, and all its products. Token holders also receive use of intellectual property rights and the possibility to exchange tokens for crypto shares in a later stage of the project.
The LevelNet ICO will start on the 20th of April and last until the 15th of July. The ICO token supply represents 80% of the total token supply which will be available for a 0.01$ starting price. The ICO funding target is set at 1500000 USD and the funding cap at 12000000 USD.
Token Reserve Split (20%):
5% Advisors (lockup 1 year);

5% Options pool (lockup 1 year);

7% Bounties&Airdrop;

3% Wings;

The LVL ICO features both a bonus and bounty campaign.
Bonus Structure:
+10% 0 - $1.5m

+5% $1.5m - $5m

+3% $5m - $7m
This website is only provided for your general information and is not intended to be relied upon by you in making any investment decisions. You should always combine multiple sources of information and analysis before making an investment and seek independent expert financial advice.
Where we list or describe different products and services, we try to give you the information you need to help you compare them and choose the right product or service for you. We may also have tips and more information to help you compare providers.
Some providers pay us for advertisements or promotions on our website or in emails we may send you. Any commercial agreement we have in place with a provider does not affect how we describe them or their products and services. Sponsored companies are clearly labelled.