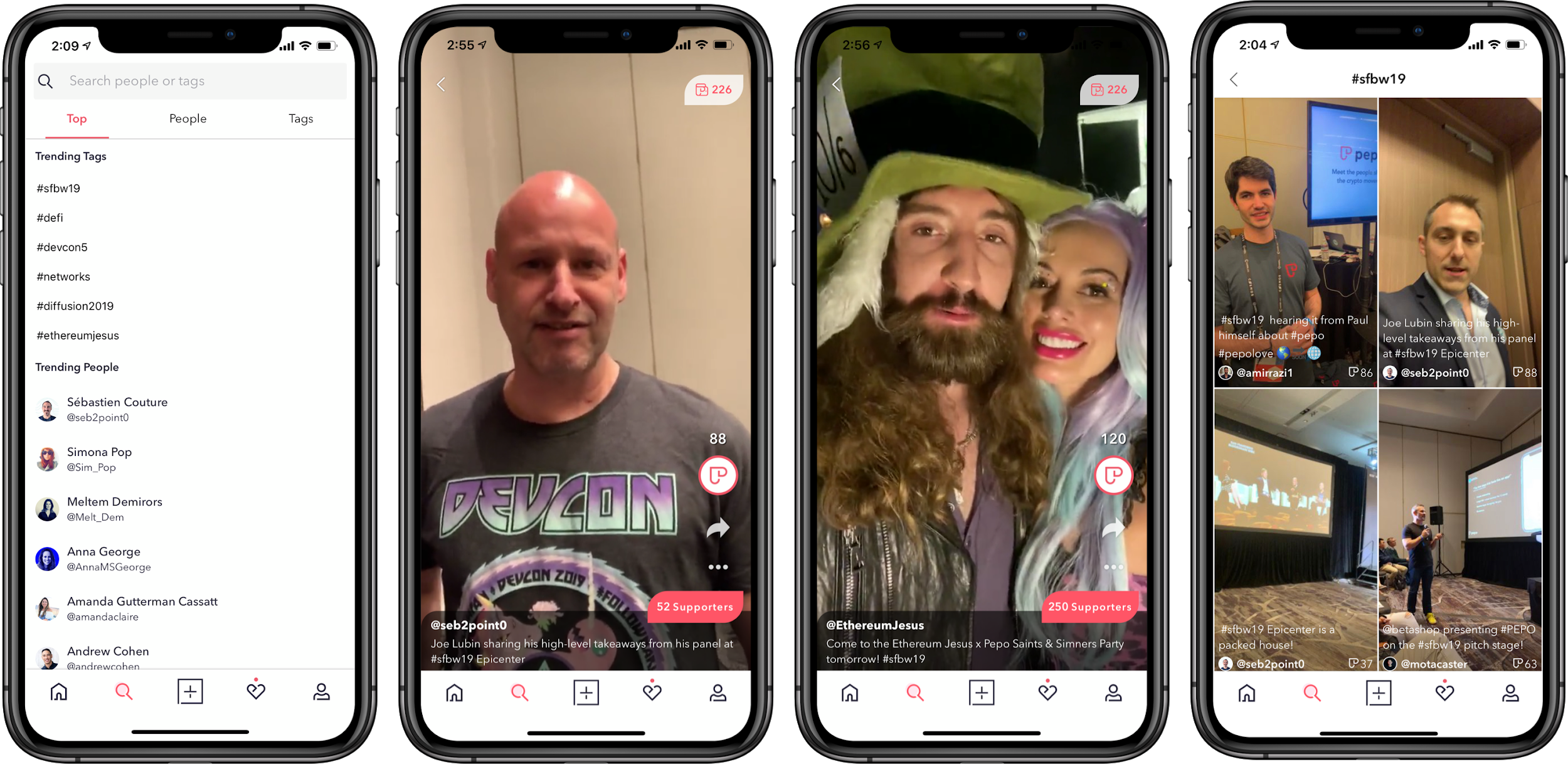 Pepo, the first decentralized platform approved to sell crypto in-app by the Apple App Store, launches at San Francisco Blockchain Week. The app lets crypto enthusiasts connect and share content on a network designed by and for members of the community. Pepo offers a blazing fast and gorgeous user experience, demonstrating that the cryptocurrency experience can be so much better than what we are used to.
Pepo's approval from the Apple App Store is a major validation from a company with famously high standards, especially around privacy, performance, and user experience. A beta version of the Pepo app debuted at DevCon 5 in Osaka, with over 1,000 users signing up and performing over 30,000 transactions.
For years, cryptocurrency enthusiasts have been using Twitter and Reddit as their main social networks. These older services have provided a space for the crypto community to come together and help move blockchain forward. But it is time to establish our own platform that fully reflects the community's values.
That time is now. Meet Pepo.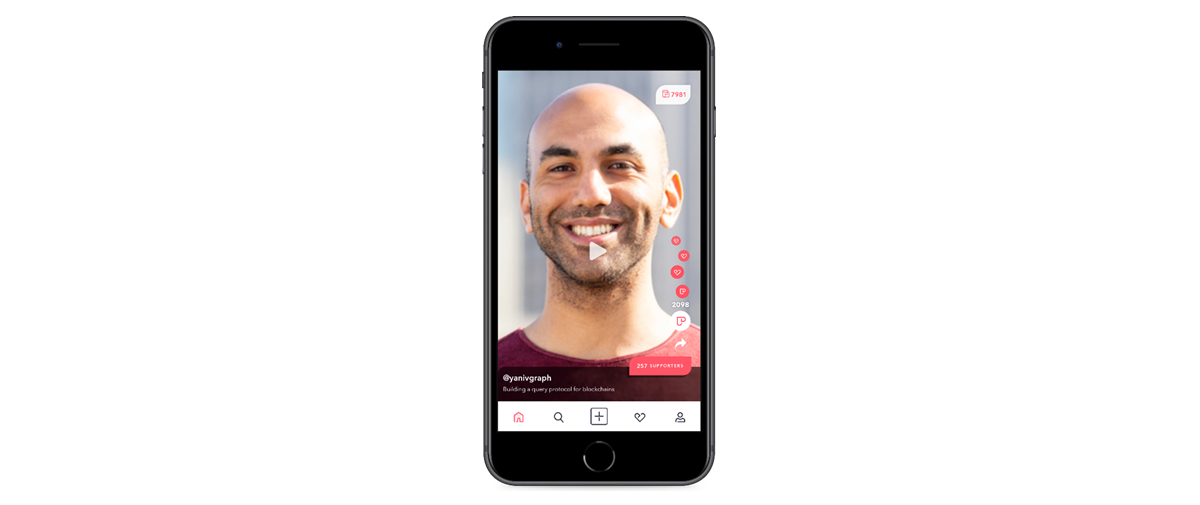 Pepo: Crypto-Native Social Networking
Pepo is where the crypto community comes together, with short video updates and tokens of appreciation.
Pepo is a blockchain-based app where users publish short 30-second videos. Functionally, it's like a hybrid between TikTok and Instagram. But it's not just for social connections. The norms around online interaction and the rules governing workplace environments are changing so fast that soon, Pepo could compete with Linkedin and other professional networking sites.
What sets Pepo apart is its blockchain-based architecture. This allows users to send and receive cryptocurrency -- in the form of Pepo tokens -- to support fellow creators on the platform. Every time you like a video on Pepo, the person who posted it receives a micropayment in tokens, which they can use to purchase real-world goods. With Pepo, content creators -- developer, podcaster, analyst, blogger, or enthusiasts -- can finally be fairly, democratically rewarded for their contributions to the network.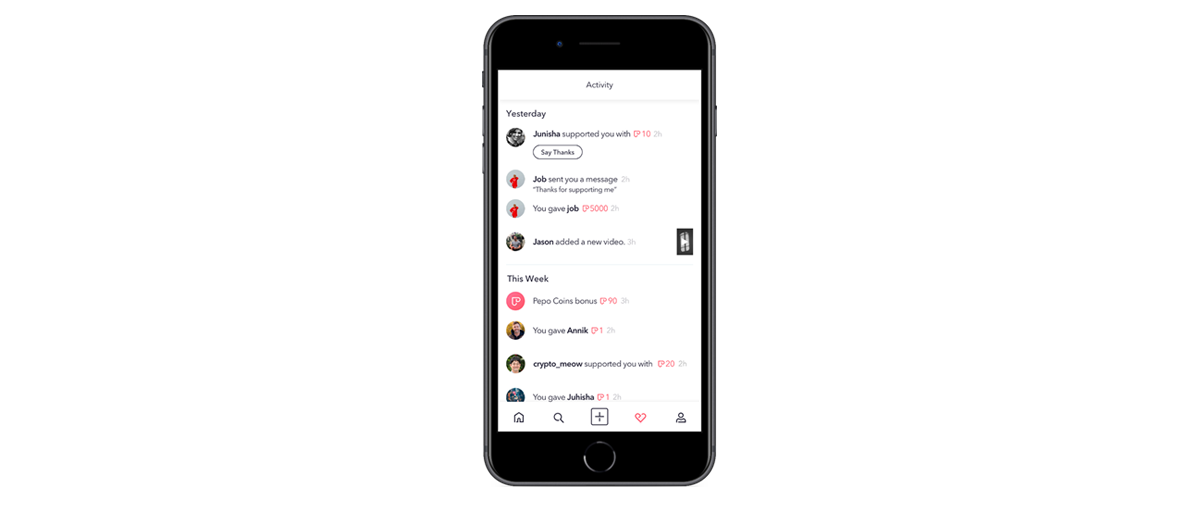 Pepo is free from the typical drawbacks of crypto transactions. It is non-custodial, which means users are always in control of their own funds. It works on a layer-two scaling solution atop the Ethereum blockchain, allowing transactions to be ultra-fast and smooth and bypassing the blockchain's scalability issues.
The result is an extremely simple fiat-to-crypto on-ramp within the application. If users want to support someone in Pepo, they don't need a cryptocurrency exchange at all. They just have to like a video.
A Crypto App That's User-Friendly
Pepo is powered by OST technology. OST, whose CEO Jason Goldberg has been creating slick user experiences for content creators for years, provides the first embeddable Ethereum wallet SDK, which is meticulously designed for use within mainstream consumer apps and a number are already using it. For Pepo, this means an easy, seamless user experience. There's no need to deal with large strings of characters or to check transactions one by one. Users create a simple, 6-digit PIN for seamless account recovery, avoiding the catastrophic risk of losing a private key. To create this PIN, users can simply connect their Twitter account to the Pepo app. Pepo also uses Session Keys, which allow users to approve a group of related transactions rather than signing each one individually.
Pepo runs on Ethereum, and tokens sent through the app are ERC-20 compatible. Pepo coins are brand tokens, backed by the OST token. OST lets Pepo create its own ERC-20 tokens and use them for microtransactions, which are then batched and registered on the Ethereum blockchain.
The user, though, doesn't see any of this. Instead, they see a clear video with a simple menu, and a button allowing them to support the video's creator. When someone "likes" a video, the user who uploaded it is automatically "tipped" in tokens. No private keys, no browser extensions -- just simple, beautiful content.
Great Content, Well Rewarded
Pepo is built around a simple concept: great content should be rewarded. The blockchain technology that lies at the foundation of Pepo allows for two things: users who upload quality content are rewarded in tokens, and fake accounts are identified and filtered out. Pepo allows the people who make the network special -- the content creators -- to receive tokens and rise to the top.
The tokens that users exchange to reward each other never leave the app. Instead, they can be used for a variety of in-app purchases through the App Store or Google Play Store. If a user wants to take their rewards outside the app, they can cash them out for gift cards or vouchers to use in their favorite real-world stores. So, whether it is to buy a book on Amazon, stay at an Airbnb or dine via Uber Eats, content creators on social media can earn real rewards.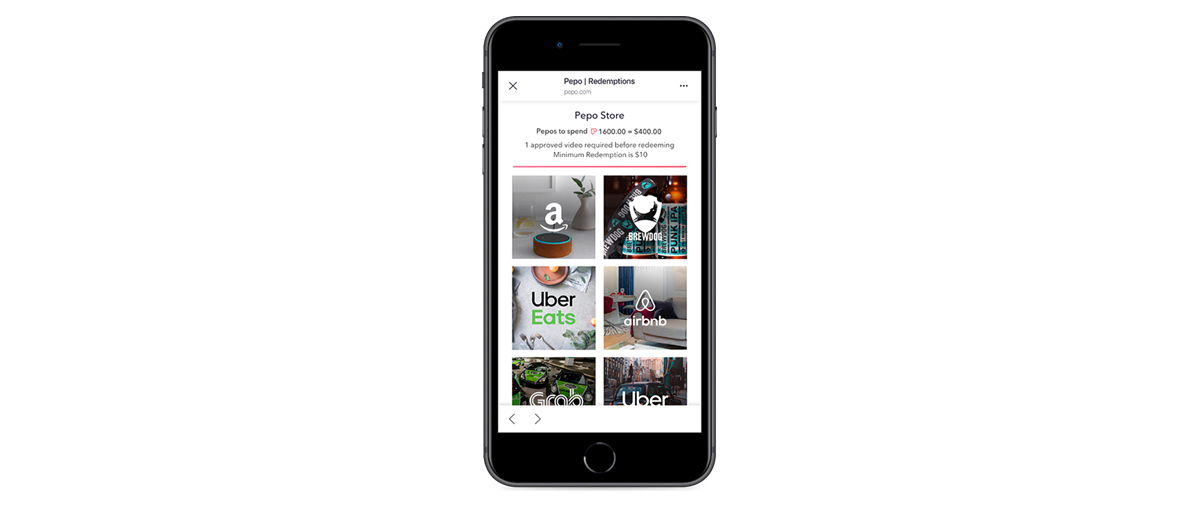 A New Model for Social Media
Pepo can and should be used for publishing funny videos or sharing content to grab attention. But it has utility beyond simple entertainment. Since the beta launch at DevCon, the platform has been taken much more seriously, with blockchain developers introducing themselves in short videos and talking about the projects they're interested in. Ultimately, it can be a competitor to sites like LinkedIn, helping to establish a new, less rigid, more person-centric paradigm for professional networking.
More to Come
Pepo could be the first crypto-powered app to truly go mainstream. Users don't have to worry about the technology under the hood, and can focus on the quality content and unique rewards on offer. This week's official launch is a major milestone for Pepo, for the crypto community, and for social networking technology. If you are attending SF Blockchain Week, we invite you to stop by and introduce yourself.
This is just the beginning. You can download the Pepo app on Google Play or on Apple's app store and use the invite code HEYPEPO. You can also follow us on Twitter @thePepoApp.
This website is only provided for your general information and is not intended to be relied upon by you in making any investment decisions. You should always combine multiple sources of information and analysis before making an investment and seek independent expert financial advice.
Where we list or describe different products and services, we try to give you the information you need to help you compare them and choose the right product or service for you. We may also have tips and more information to help you compare providers.
Some providers pay us for advertisements or promotions on our website or in emails we may send you. Any commercial agreement we have in place with a provider does not affect how we describe them or their products and services. Sponsored companies are clearly labelled.