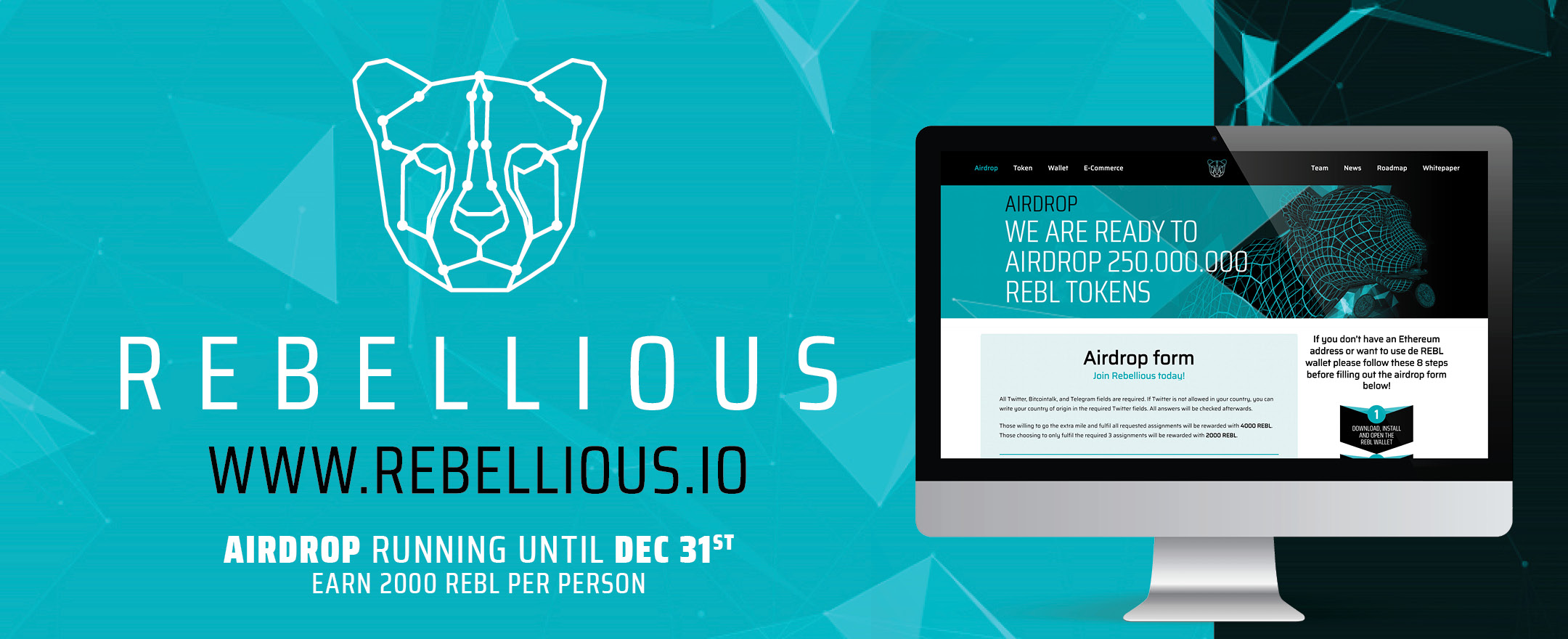 This is a sponsored guide and does not represent investment advice from CryptoCompare. Please do your due diligence when dealing with any Initial Coin Offering and never invest more than what you can afford to lose.
Currently, cryptocurrencies are often dominated by large investors and mining groups. It gives these groups a disproportionate influence over the currency, making it hard for the normal users' voice to be heard. This in turn also makes it hard for a currency to achieve mass adoption, changing it from its intended use into a trading commodity.
At Rebellious, the focus is addressing these problems through the power of community. Through the equal distribution of REBL among all community members, and developing payment plugins with minimal added transaction fees for all of the major e-commerce platforms, Rebellious wants emphasize investment and growth over quick trading. It is also one of the first ERC20 tokens to operate on a Proof of Stake system, rewarding those who hold onto the currency.  
Instead of selling their cryptocurrency, Rebellious are sharing them out equally via airdrop to community members who have signed up with them. Community members are incentivized to contribute their time rather than money to Rebellious, gaining extra rewards for performing tasks that help Rebellious grow.
SIGN UP TO REBELLIOUS
The Rebellious airdrop is taking place over the period of Nov 21st to Dec 31st. It is easy to apply to join the community and get involved in the drop. All you need to do is head over to their registration page and join up.
The whole process should take about 30 minutes.
Note, their focus is on building a community that shares their values. As such, they are checking each application by hand before tokens are sent.
REBELLIOUS TOKEN DISTRIBUTION SPLIT
Below you can find information on how Rebellious intends to split the distribution of REBL:
-    250.000.000 tokens will be airdropped to the community
-    50.000.000 tokens will be given as rewards to the community
-    50.000.000 tokens will be used to pay external costs
-    26.200.000 tokens will be reserved for unexpected costs
-    19.800.000 tokens will be reserved for the Rebellious team
This equates to 95% of tokens being harnessed for the Rebellious project, with 5% being held back for the team behind it.
DOWNLOAD THE REBELLIOUS WALLET
REBL can be stored in pretty much any wallet that accepts tokens, such as MyEtherWallet. However, to fully utilize Rebellious, it is recommended you store it using the Rebellious wallet. This allows for tokens to be staked for interest gain (roughly 10% per year).
You can find out more about Rebellious and their mission on both their website and in their whitepaper.
This website is only provided for your general information and is not intended to be relied upon by you in making any investment decisions. You should always combine multiple sources of information and analysis before making an investment and seek independent expert financial advice.
Where we list or describe different products and services, we try to give you the information you need to help you compare them and choose the right product or service for you. We may also have tips and more information to help you compare providers.
Some providers pay us for advertisements or promotions on our website or in emails we may send you. Any commercial agreement we have in place with a provider does not affect how we describe them or their products and services. Sponsored companies are clearly labelled.