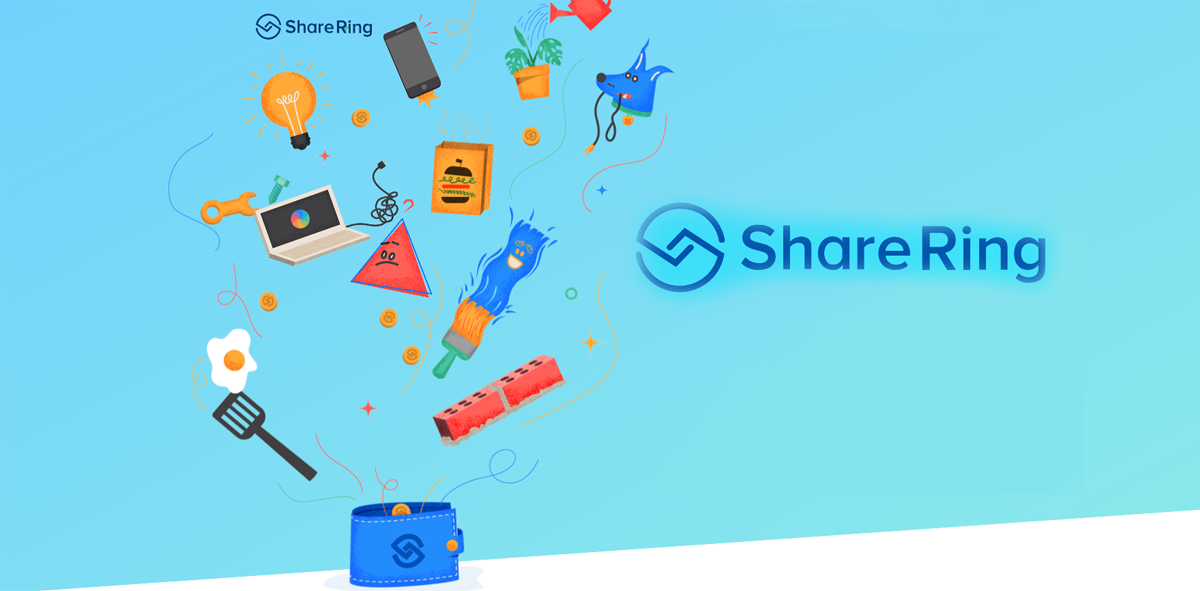 This is a sponsored guide and does not represent investment advice from CryptoCompare. Please do your due diligence when dealing with any Initial Coin Offering and never invest more than what you can afford to lose.
ShareRing will make it easy to share everything
The sharing economy is a wonderful thing but it is a hassle if you have to go to different websites and apps to access the services, be it sharing a car ride, a wifi connection or products with neighbours. General Motors, BMW, Ford and Renault are just four of the big names that have just formed a new group to bring blockchain to the automotive and mobility industry – sharing rides in autonomous vehicles might not be all that far away. Wouldn't it be much more convenient if you could access all of those sharing services in one place and pay for them in one country wherever you are in the world? That's what blockchain project ShareRing is all about. It wants to be the Amazon of the sharing economy.
What is ShareRing?
ShareRing is using blockchain to in effect provide a single point of entry to sharing platforms such as Uber and AirBnB. But it is not just the convenience of not having to complete multiple registrations that ShareRing offers.
Many sharing and gig economy apps are geared to local markets. Even those with an international footprint require that only those residing in a particular legal jurisdiction can sign-up to a specific national version of the platform. That's an enormous headache for people working or doing business in multiple countries or those travelling on holiday.
That relates to another important issue that is meant to be handled by the existing platforms but isn't done so adequately, and that is trust. The trustlessness of blockchain means that ShareRing will provide users with the peace of mind that comes when every company and individual is verified on the SmartRing smart system.
Finally, there is the issue of payments. Universal access is all very well, but if you have to keep changing between currencies and pay exchange rates to secure those goods and services, it makes for a far less streamlined and more expensive experience. ShareRing solves all this.
How will it work?
Cryptocurrencies introduce to the world the promise of fast and easy payments and the dual token SharePay (SHRP) and ShareToken (SHR) set-up behind the ShareRing ecosystem wants to make that a practical reality. ShareRing's payment solution faces both ways in that it is a solution for consumers but also for sharing platforms themselves and other providers.
The business-to-consumer element requires the utility token SharePay for transactions – customers use it to pay for renting assets.
The business-to-business value proposition comes from the lower expenses of a tokenised marketplace and the prospect of being able to expand business by reaching the corners of the economy previously untapped by the sharing revolution. Partner companies accessing third-party assets on the platform will use ShareToken to pay for their interaction with the ShareLedger blockchain.
Providers can also earn SHR by renting out their assets and by hosting a node on the network. You don't have to be a big company to be a provider. Individuals as well as well as smaller companies not yet part of the sharing economy can benefit from the platform's services.
ShareLedger operates with a proof-of-stake consensus algorithm. Transaction fees are charged on the network (at around 3% in the worked example explored in the whitepaper) with 50% going to the masternodes and 50% to ShareRing Ltd.
SharePay is the base currency of the platform. Consumers will be able to access the ShareRing platform with their credit cards without requiring any knowledge or specific expertise in cryptocurrency technology, as is so often the case with other distributed ledger products.
ShareRing has launched the token sale to raise development funds to complete the building of its universal app for both Android and iOS, with a rollout pencilled for late 2018. Partner companies in the sharing economy will also have the option of developing their own mini app if they wish to add functionality specific to their brand offering.
Keaz, the global car sharing startup, is ShareRing's first partner company. ShareRing CEO Tim Bos founded Keaz, which has offices in Hong Kong, Vietnam, Australia and the US.
ShareRing Token Sale
Four billion tokens are being issued. 2.5 billion SHR tokens are available in the presale and 1 billion in the main token sale event (TSE), with the whitelist available here. In the presale 1 SHR = $0.01 for a 50% discount. There is no discount in the main TSE.
There is a lock-in for presale contributors set at three months after the main TGE ends. Sixty per cent of tokens are available in the TSE, with 24% allocated to the ShareRing platform, 10% to advisors, 5% to the bounty program and 1% airdrop.
The whitepaper is available here.
This website is only provided for your general information and is not intended to be relied upon by you in making any investment decisions. You should always combine multiple sources of information and analysis before making an investment and seek independent expert financial advice.
Where we list or describe different products and services, we try to give you the information you need to help you compare them and choose the right product or service for you. We may also have tips and more information to help you compare providers.
Some providers pay us for advertisements or promotions on our website or in emails we may send you. Any commercial agreement we have in place with a provider does not affect how we describe them or their products and services. Sponsored companies are clearly labelled.