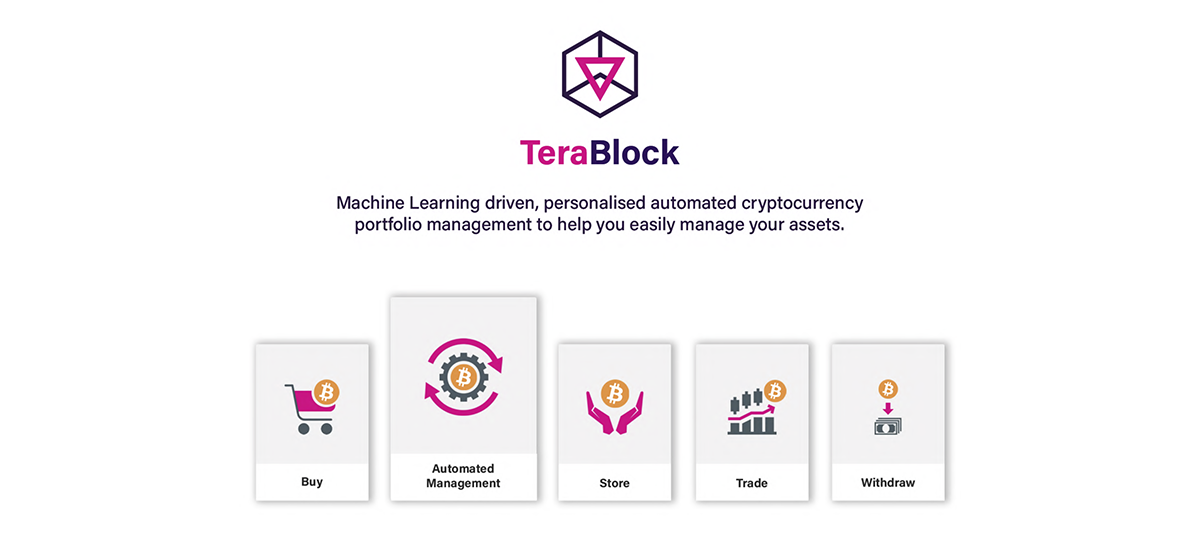 After successfully completing an investment round, TeraBlock is preparing to launch its platform and to conduct it's IDO on May 11th on BSCPad. A host of well-known investors, fueling the crypto industry for years now, are among its backers. The list includes AU21 Capital, Blocksync Ventures, BTX Capital, CryptoDormFund, and many more. 
As a platform facilitating crypto trade, Terablock is well-revered for its machine learning-driven, personalized cryptocurrency portfolio trade features. Its automated strategies make prudent suggestions on when to enter the market. For users newly initiated to crypto, it helps cut the clutter in a market that often appears immensely challenging with its substantial price swings and high levels of volatility. The algorithms of Terablock keep learning and improving on its execution so that the success rate is high and the client is well-protected against market volatility.
Terablock: The Road Travelled So Far
Apart from facilitating easy purchases of crypto with Visa and MasterCard and offering a highly intuitive, fully automated portfolio trading service, Terablock has proved its worth in several other areas in the crypto trade ecosystem. It has a simple fee structure with no extra subscription or management fees. Binance's superior security features empower the platform, whereas users' funds are insured by Binance's SAFU funds insurance. Users can access Terablock on all platforms, both web, and mobile. 
Armoured with such a strong suit of services, Terablock has already completed trades worth more than US$145 million since its inception in 2017. To keep on growing in the days to come, Terablock has partnered with the Scalex Venture Program and Blockchain Founders Fund. To accelerate, TeraBlock will conduct its IDO on BSCPad.
TeraBlock: The Upcoming IDO
As TeraBlock estimates, the world now has more than 50 million crypto traders, constituting a market of more than US$1 trillion. To augment its position in this market, Terablock has decided to go for an IDO of its coin TBC. An IDO is where a blockchain project makes a coin's public debut on a decentralized exchange to raise funds from retail investors. It is essentially a strategy to fuel growth and that's what Terablock seems to have adopted. 
The use of its native TBC coin has so far been in giving relaxation in fees to its users who hold 10% of their funds in TBC. The user pays in TBC for both automation and manual trading services. But, now, Terablock is launching this BEP-20 type coin on BSCPAD to raise funds. 18.5% of Terablock's 400 million tokens will be up for sale. 
The BSCPad, also known as the BSC LaunchPad, is the first decentralized IDO platform for the BSC smart-chain network. It helps crypto projects in distributing tokens and raising liquidity. It has closed several projects, including Kryptobellion, BlockBank, StackOS, KelVPN, and more. 
With heavily followed tech leaders, such as Tesla, investing billions of dollars in crypto, the interest among both institutional and retail investors is high to diversify a part of their holdings in digital assets. Launching TBC on BSCPad for an IDO is expected to leverage this interest in favor of TeraBlock. To get an idea of how much this leverage could be, we would have to wait until 11th May. 
This is a sponsored story. Its content does not constitute financial advice. Please remember that the value of investments, and any income from them, can fall as well as rise so you could get back less than you invest. If you are unsure of the suitability of your investment please seek advice.
This website is only provided for your general information and is not intended to be relied upon by you in making any investment decisions. You should always combine multiple sources of information and analysis before making an investment and seek independent expert financial advice.
Where we list or describe different products and services, we try to give you the information you need to help you compare them and choose the right product or service for you. We may also have tips and more information to help you compare providers.
Some providers pay us for advertisements or promotions on our website or in emails we may send you. Any commercial agreement we have in place with a provider does not affect how we describe them or their products and services. Sponsored companies are clearly labelled.