What is Augur?
Augur is an Ethereum-based decentralized prediction market that leverages the wisdom of the crowds to create a search engine for the future that runs on its own token, REP. Augur allows users to create their markets for specific questions they may have and to profit from the trading buys while allowing users to buy positive or negative shares regarding the outcome of a future event.
How does it work?
The value of each share adds up to one dollar, so if a negative share is worth 50 cents and if a positive share is worth 50 cents, there is a 50/50 probability of said event becoming true or false according to the platform. If that event is proven to take place, the positive shareholders will receive a full dollar for each share bought. The current market price of a share is an estimate of the probability of an event occurring.
Users don't have to hold on to a share until the event takes place, as shares can be freely traded in the Augur exchange until the event takes place.
Let's say we're betting on a sports tournament. A user can buy shares for the underdog to win the championship at a cheap price, 10 cents for example. As the tournament progresses, this underdog surprises everyone by winning some games. The price of that share will certainly rise given the success of the team, meaning that we can now sell the share for a higher price, let's say 60 cents, making a 50c profit for each share sold.
After the event takes place, thousands of users will then report the outcome using the Augur token (REP), meaning that the result of the event is not reported by a central authority, but by a large group of individuals that participate in the Augur system.
Other than providing a source of income for market creators, and entertainment for speculators, Augur provides another useful feature by leveraging the wisdom of the crowd concept ( if you ask the same question to a large number of people, their average answer will always be far more accurate then the answer provided by a specialist), meaning that Augur can be used as the search engine for the future. 
This concept isn't new, however, as prediction markets have been around for a while, however, Augur is the first decentralized one, meaning that users do not have to trust a central authority to report on the outcome of events, as this creates a single point of failure and leaves the market open to mistakes or outright manipulation. With Augur, thousands of REP token holders will verify this outcome, making manipulation or error virtually impossible. 
Anyone can create a market for a future event, regardless of the event itself, by providing the initial funding and liquidity for shares. Market creators receive a monetary incentive from the fees generated by the market, as users buy and sell shares for that event.
Crowd Sale
A total of 8.8 million (80%) of all 11 million tokens were sold to investors as part of the crowd sale. The remaining 2.2 million tokens were distributed to the team/advisors (16%) and to the Forecast Foundation (4%), a non-profit organization that is formally responsible for managing the maintenance, enhancement, and promotion of the platform.
During the crowd sale, Augur gathered 19053.92000 BTC and 1176816.43 ETH, amounting to a total of 5,318,331.63 USD (average exchange rates for last 24 hours of the crowd sale). The proceeds from this crowd sale will be primarily used for funding the development of Augur beyond its initial release.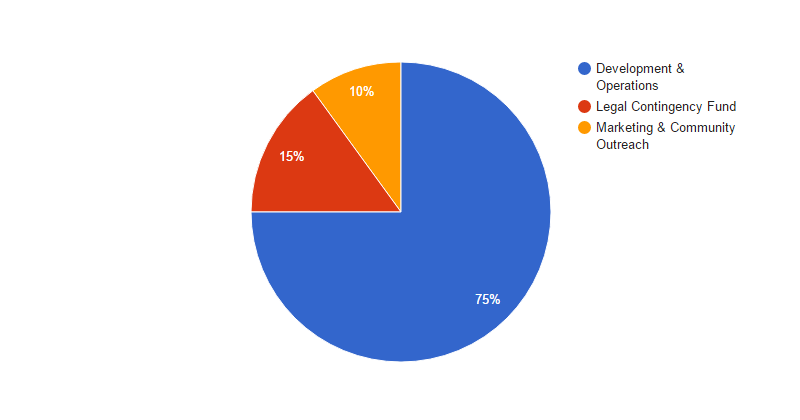 This website is only provided for your general information and is not intended to be relied upon by you in making any investment decisions. You should always combine multiple sources of information and analysis before making an investment and seek independent expert financial advice.
Where we list or describe different products and services, we try to give you the information you need to help you compare them and choose the right product or service for you. We may also have tips and more information to help you compare providers.
Some providers pay us for advertisements or promotions on our website or in emails we may send you. Any commercial agreement we have in place with a provider does not affect how we describe them or their products and services. Sponsored companies are clearly labelled.