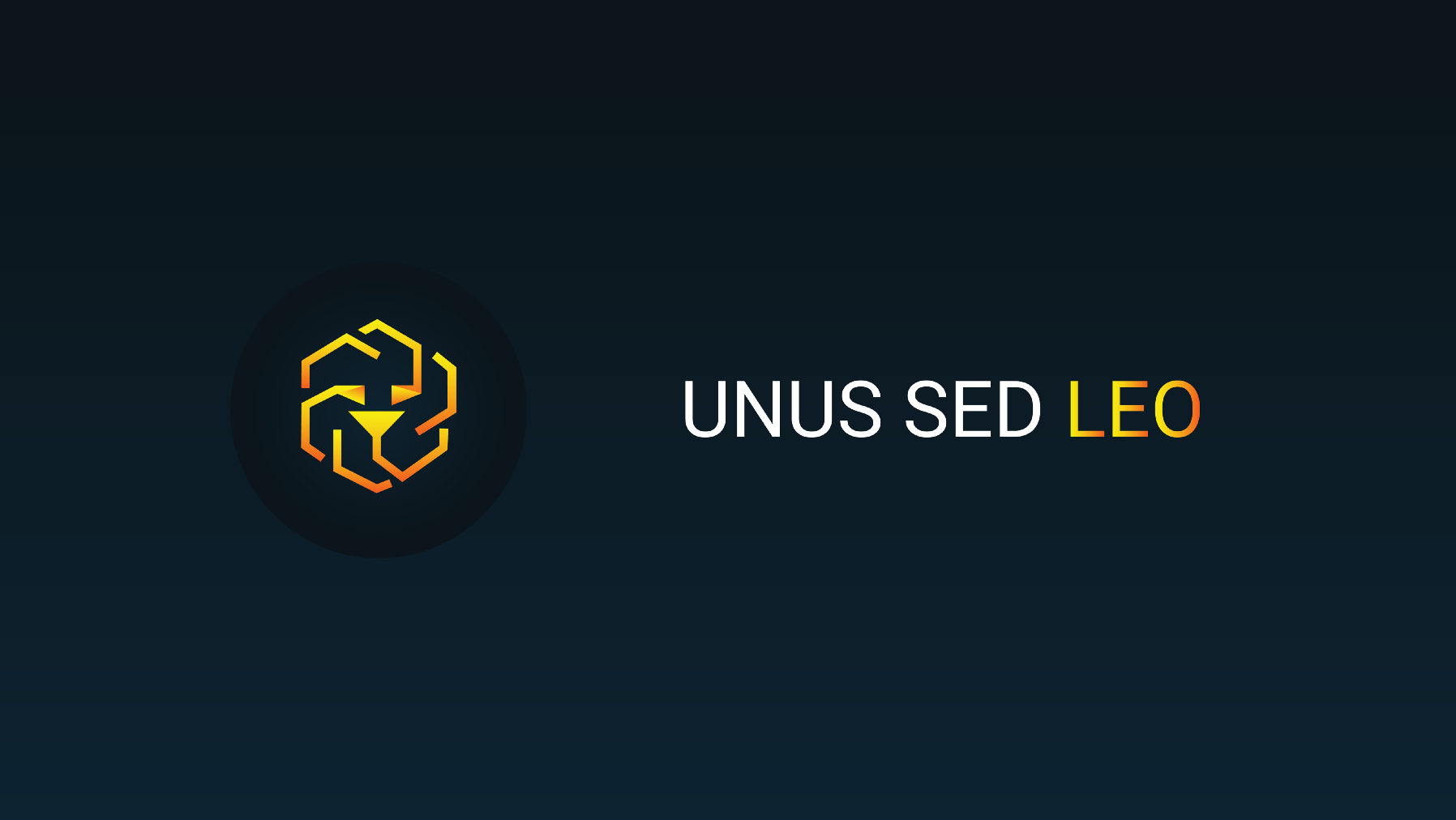 Bitfinex's (part of iFinex Inc.) LEO token is the latest and greatest hype in the cryptoasset industry at the moment. The LEO release is an IEO for the exchange's own proprietary exchange token.
LEO is an exchange token like many, many others, offering a complicated array of discounts on trading fees for customers holding the token.
Because of the startling success of the similar Binance Token (BNB) during 2018-19; and because of Bitfinex's prominent stature in the cryptoasset community - owing to the popularity of its leveraged exchange, but also because of its connection to Tether (USDT) - people are starting to sit up and take notice of LEO. Indeed on crypto social media, it is being spoken about a lot:
https://twitter.com/MapleLeafCap/status/1138103832515362823
The use case of stablecoins for the crypto industry is undeniable; and Tether along with Bitfinex were the first movers into the now-burgeoning stablecoin world. Thus, Bitfinex have undeniable clout in the crypto industry and community.
But  Bitfinex and sister enterprise Tether have for years been the source of energetic ambivalence, inspiring equal and intense concern and praise in the community. The concern is and has been that the pair are unable to secure reliable banking relationships and funding, and that USDT is not actually one-to-one backed by USD in reserve. Accusations at the pair have been the cause of wild fluctuations in the cryptoasset markets.
The praise, on the other hand, has always been that the USDT product was needed and it worked. But with more stablecoin options than ever, a growth trend that is sure to continue, USDT cannot rest on these laurels.
LEO's Release
The publicization and release of the LEO token has been no less controversial than anything else connected to Bitfinex/Tether. The issuing of the IEO came strikingly soon after the recent accusation by the New York Attorney General that Bitfinex were short almost a billion dollars in their finances, and that they (and Tether) had engaged in fraud. Bitfinex claimed that the sum was locked up by former payment processor Crypto Capital (this will be important later), asked for a line of credit from Tether after "[growing] concerned" about repayment.
The LEO offering boils down to Bitfinex joining the exchange token crowd, in exchange for fresh funds to close the alleged hole in their finances. In the shadow of these events, the offering is naturally looked upon with some suspicion by the industry.
But the raise was nevertheless raised, to the tune of $1 billion, and concern has given way to buying. The LEO token price has steadily climbed since the token's public trading began - having almost doubled at time of writing - and this trend looks likely to continue. 
Comparisons of LEO and BNB have started to crop up on the internet, with some placing LEO on top - truly an auspicious evaluation if accurate.
So here, we too will consider LEO in the context of the most successful exchange token ever: BNB.
LEO Token
The whitepaper briefly explains that the full name of the LEO token -- UNUS SED LEO -- comes from a Latin phrase in one of Aesop's fables. This fable has several animals (depending on which version is consulted) bragging about how many offspring they each bore. The lioness, having bore only one, retorted to the other animals: "I have only one; but that one is [a] lion (unus sed leo)."
Metaphors and bravado aside, LEO does offer some significant advantages over other exchange tokens in terms of the token's "tokenomics," or the characteristics of the token supply will be handled and manipulated.
According to the whitepaper, 27% of iFinex's monthly revenues will be used to buy back - or "burn" - an equal amount of LEO tokens, per current market price, until no LEO tokens are left in circulation. 
Such a scheme is typical among exchange tokens. Binance, for example, burns 20% of monthly profits - certainly a lower ratio than revenues - until just half of BNB tokens are left in circulation. Comparatively, we might consider the LEO token burning scheme considerably more aggressive than BNB's was, and expect LEO's price to rise quickly. 
But beyond the monthly burns, Bitfinex are pledged - again according to the LEO whitepaper - to conduct additional token repurchases. These additional events center around two unfortunate events in the exchange's history: the first is a 2016 hack of the platform which saw about 120,000 bitcoin stolen - a sum worth now over a billion dollars.
The second is the more recent issue with Crypto Capital, which event has seemed to put all of this in motion. In both cases, the exchange is anticipating the return of large tranches of funds that they have lost access to. And in both cases, if and when those funds are returned, the exchange has pledged to use nearly all returned funds for LEO buybacks/burns - in addition to the revenue burns.
The problem is that in both cases, there is a strong possibility that no funds will ever be returned. Take the 2016 hack for example. At time of writing, only 27.6 bitcoin - less than half of a percent of the total sum - have ever been returned to Bitfinex. This issue is broached in the whitepaper, and although Bitfinex claims to be actively pursuing the return of any of these funds in cooperation with national law enforcement and business leaders, they readily admit that "there can be no assurance that these or any other strategies will be successful."
It is the same story with Crypto Captial, saying that while they are "actively working in various jurisdictions around the world to expedite the return of these funds, and [are] confident in the future success of these efforts [...] there is no certainty that BitFinex will be able to recover these funds."
These additional occasions for reducing the supply of the LEO token, which would presumably inflate the token's price, are thus purely theoretical. There is a very real chance that no tokens will be burned in this way.
Roll the Dice?
Bitfinex, and Tether, have survived an awful lot over the years, and are still standing. Tether remains widely used, far more than any other stablecoin, despite all the FUD (Fear Uncertainty Doubt). And in a recent and detailed CryptoCompare Benchmarking of cryptoasset exchanges, Bitfinex ranked respectably across seven categories at number 14 out of 110 ranked exchanges.
LEO's tokenomics already look good, without the unknown factors of recovering funds from the 2016 and from Crypto Capital. And according to reports, Binance may not be significantly more profitable than Bitfinex, with both companies apparently netting between $400-450 million during 2018.
And with the LEO token's market capitalization, at the time of writing, a paltry $1.26 billion compared to BNB's $4.91 billion, the LEO supply could dwindle much more quickly than the BNB supply.
It probably depends on what happens with the New York Attorney General's investigation of Bitfinex. If the exchange is able to contort its way through legal hurdles that are potentially ahead, and keep its doors open as it has for years - then LEO just might be worth picking up.
This website is only provided for your general information and is not intended to be relied upon by you in making any investment decisions. You should always combine multiple sources of information and analysis before making an investment and seek independent expert financial advice.
Where we list or describe different products and services, we try to give you the information you need to help you compare them and choose the right product or service for you. We may also have tips and more information to help you compare providers.
Some providers pay us for advertisements or promotions on our website or in emails we may send you. Any commercial agreement we have in place with a provider does not affect how we describe them or their products and services. Sponsored companies are clearly labelled.