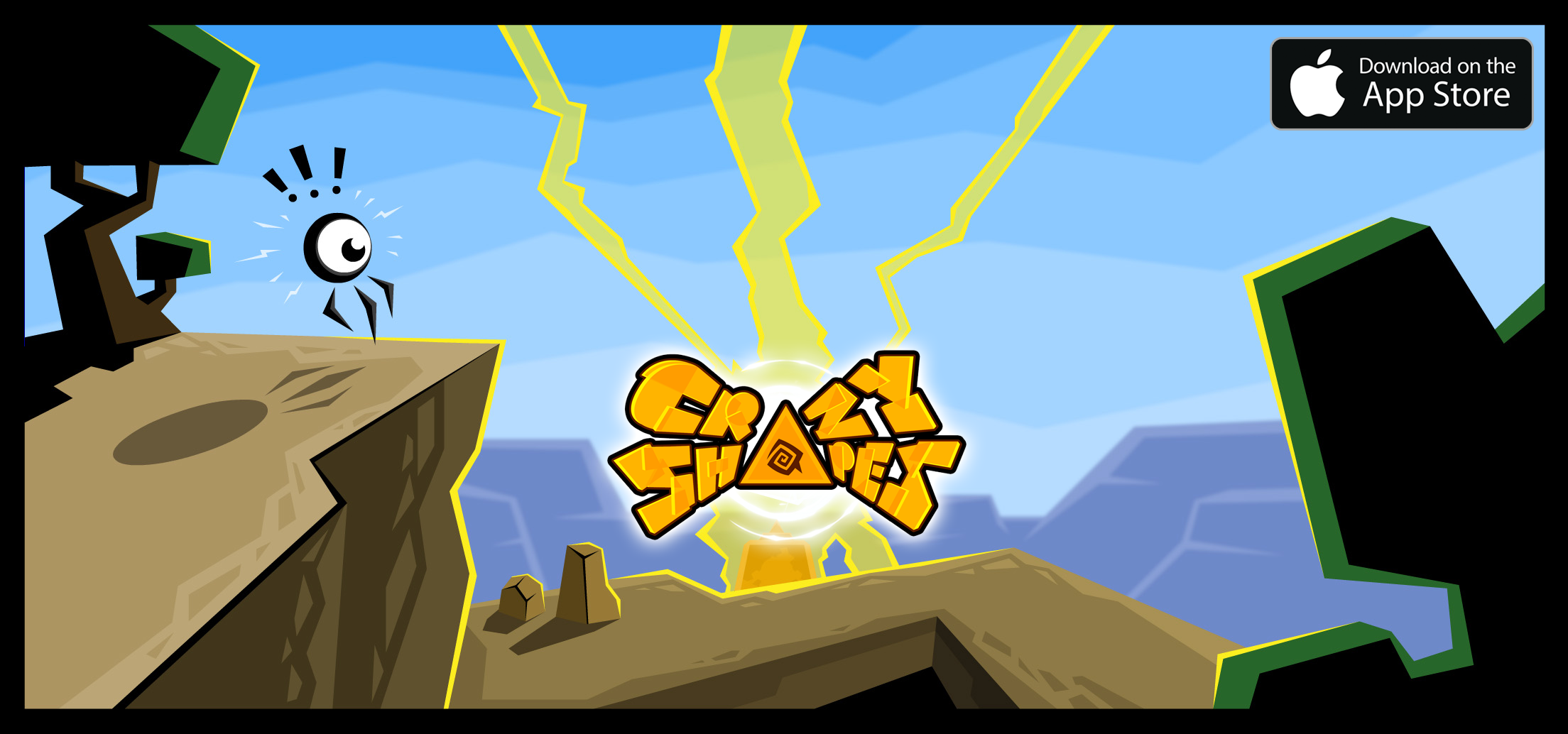 This is a sponsored guide and does not represent investment advice from CryptoCompare. Please do your due diligence when dealing with any Initial Coin Offering and never invest more than what you can afford to lose.
What is Crazy Shapes?
Introducing the New World of Crazy Shapes - a whole gaming universe with its unique history, full of love, anger, nobility and betrayal, amazing puzzles, deadly dangers and lots of FUN!
It offers users the ability to immerse themselves in a wonderful world, forgetting about the surrounding problems and worries, passing the time, and recharging their positive energies.
Different multiplayer modes will give the player a lot of fun and the opportunity to prove themselves in their dynamic weekly tournaments. The single-player mode will complement and enrich the game with a story component. Future plans to enter the system of "skins" will make it possible to change the appearance of the main characters and play around with the look of each character.
In Crazy Shapes, you play as a hero whose name is "Cuebit". Cuebit is endowed with super strength to confront world chaos. Kwadi can reincarnate in other characters - Drilltop, Fracto, Surger, Judger, Wingflow. Each of the characters has its own abilities which help in passing different levels during the adventure. Leveraging the strengths of each character according to the task at hand is a must in the Crazy Shapes journey.
At the end of each level, you can receive rewards depending on how well and quickly you passed the test. Bonuses give you the opportunity to buy a variety of "boosters", which will help you get through the levels and obstacles ahead.
Advantages of the game:
- Managing gestures;
- Interesting and detailed story of the world and the characters;
- Real-time multiplayer;
- Beautiful and pleasant graphics;
- Modern programming solutions;
- Operational support for gamers;
- Exciting atmosphere.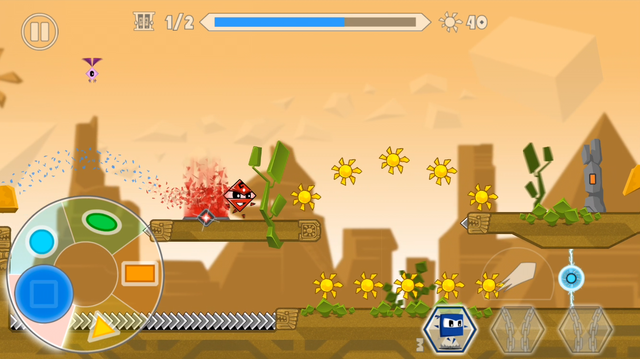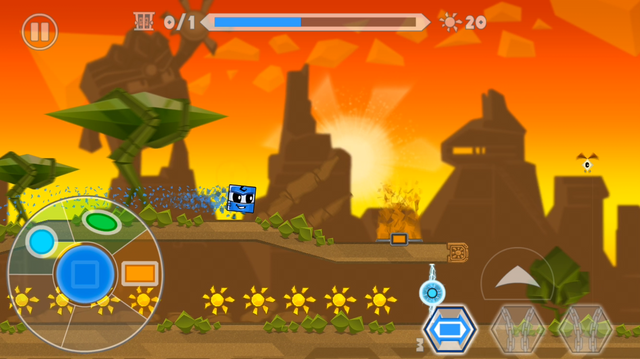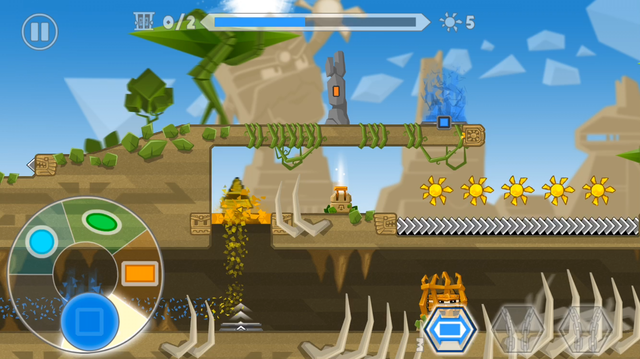 What is CrazyCoin?
CrazyCoin is a cryptocurrency token that gives you the right to receive  promotion codes for Crazy Shapes: Run Adventure. The CZC token is based on the Waves Blockchain Platform.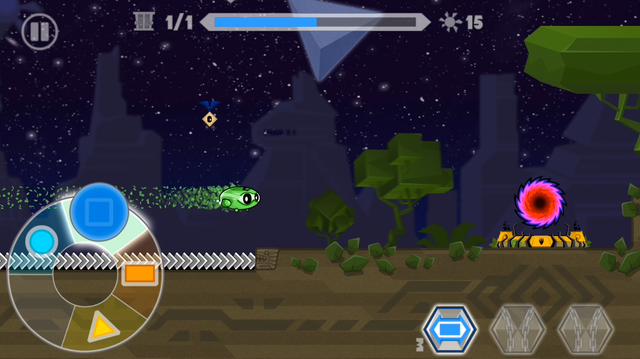 Bonuses for the first owners of CrazyCoin:
Promotional codes are exchanged for solar (in-game currency). Crazy Shapes give the following number of Solaris for each number of tokens:
100 tokens = 100 solar;
200 tokens = 250 solar;
400 tokens = 750 solar;
800 tokens = 1 600 solar + 1 crystal;
1200 tokens = 2 500 solar + 3 crystals;
2 500 tokens = 7 000 solar + 6 crystals;
10 000 tokens = 35 000 solar + 15 crystals;
25 000 tokens = 100 000 solar + 30 crystals + a special present from the developers;
100 000 tokens = 1 000 000 solar + 50 crystals + an exclusive gift from developers.
ICO
Crazy Shapes: Run Adventure is a project by a new studio for mobile games developers. The official launch took place in May 2017. During the 9-month development period, there were a lot of ideas for new and disruptive ideas solutions, including the use of blockchain technology.
Since the release of the game in the App Store, Crazy Shapes: Run Adventure managed to hit several tops of categories. At that time, the game required improvements in order to simplify the gameplay for the mass user, more effective monetization, as well as the development of multiplayer modes, without which it is impossible to imagine a modern game project.
To learn more about the ICO, click here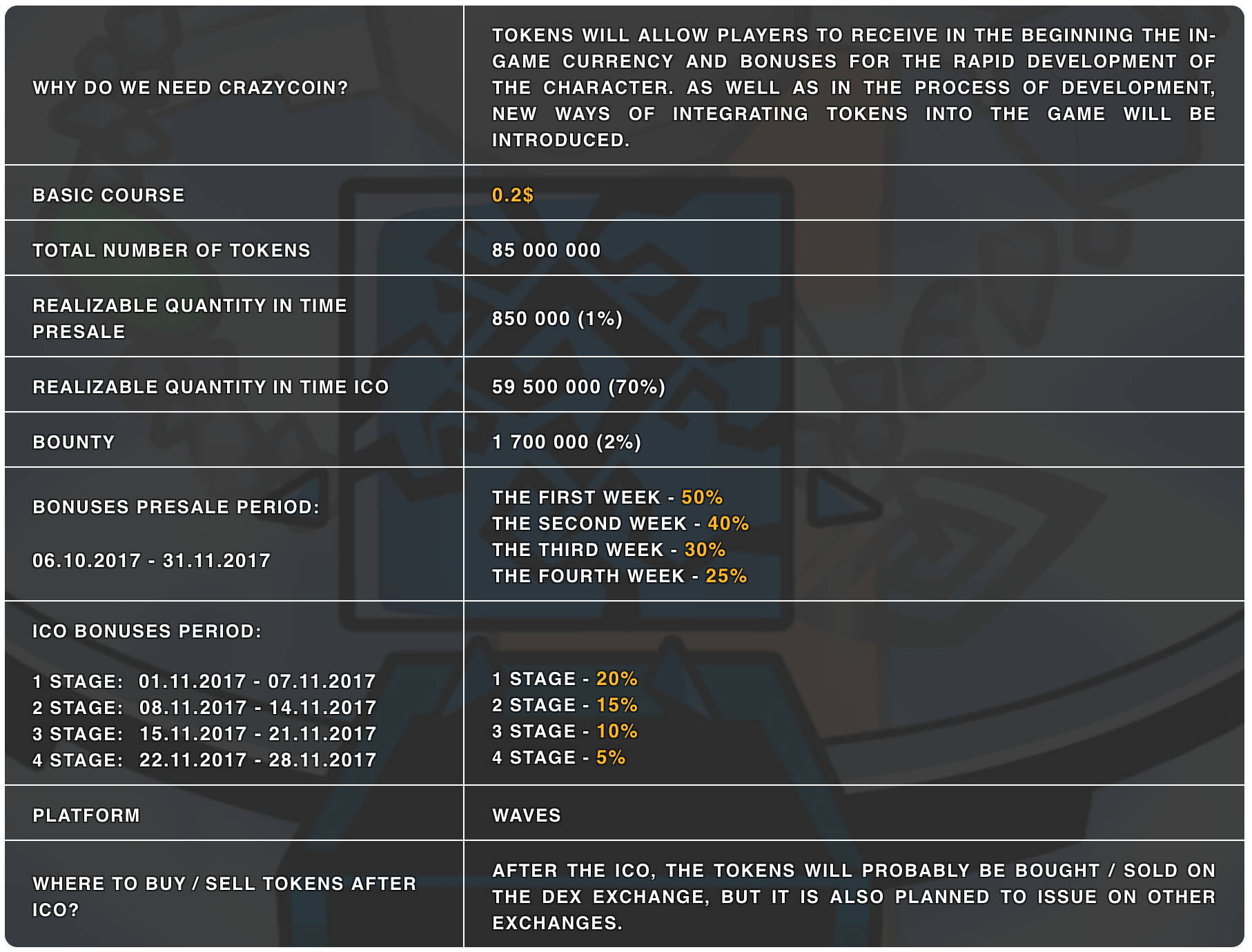 Creating a new site
In the near future - the creation of a new site that will give you the following opportunities.
First, the site will allow you to buy in-game currency, as well as in-game items and all sorts of bonuses;
Secondly, the site will sell attributes with logos and prints of Crazy Shapes and the company (for the most dedicated fans);
Thirdly, the site will allow you to buy all in-game items of future projects (other games will be developed when the active process of work on Crazy Shapes is over);
Fourth, you can make purchases using Crazy Coin and you can also buy Crazy Coin on the site, avoiding third-party resources.
Thus, you can access all of the company's projects, allowing you to easily buy in-game items and company attributes.
The site will be launched in March 2018.
Road map
August 2016 - Formulation of the idea
September 2016 - Start Production Activity
May 2017 - Release of the game in the App Store
August 2017 - Preparation for the ICO
October 2017 - Pre-ICO
November 2017 - ICO
January 2018 - Active promotion around the world
February 2018 - Active introduction of blockade into the game
March 2018 - Provisional date of launch of the site as a single entry point to the company's projects
This website is only provided for your general information and is not intended to be relied upon by you in making any investment decisions. You should always combine multiple sources of information and analysis before making an investment and seek independent expert financial advice.
Where we list or describe different products and services, we try to give you the information you need to help you compare them and choose the right product or service for you. We may also have tips and more information to help you compare providers.
Some providers pay us for advertisements or promotions on our website or in emails we may send you. Any commercial agreement we have in place with a provider does not affect how we describe them or their products and services. Sponsored companies are clearly labelled.