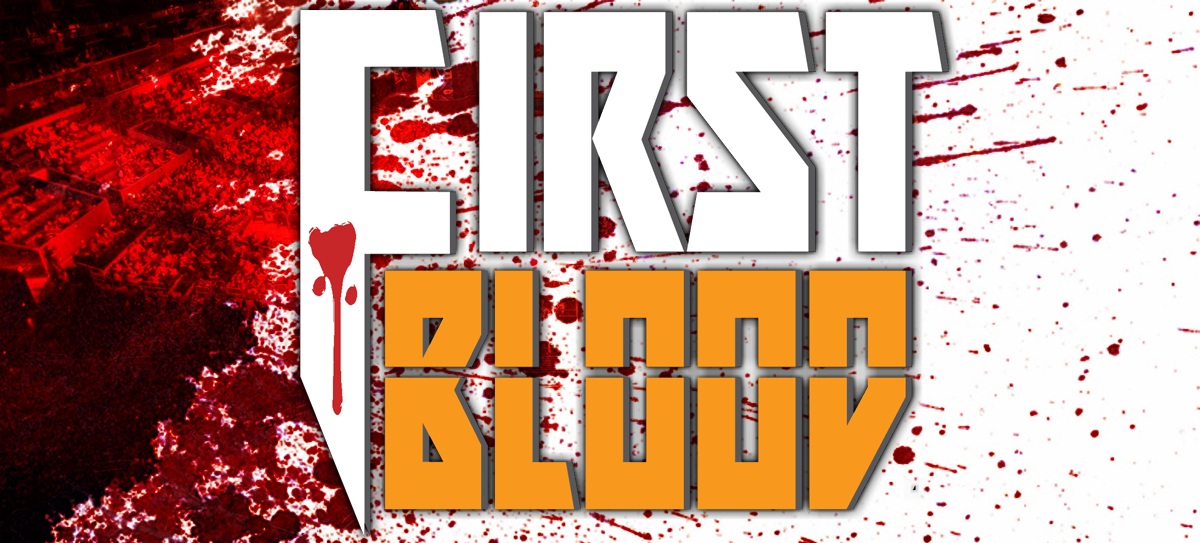 FirstBlood is a decentralized eSports platform built on Ethereum. It allows players to test their skills and to bet on games without being subject to downtime, hacks, traditional money transfers, financial regulations, and middleman corruption and fees. FirstBlood intends to make the eSports industry more transparent and efficient while bringing in a new demographic into the crypto community, thus bringing cryptocurrencies one step closer to mainstream adoption. 
How it Works  
FirstBlood is a decentralized application (dapp) that allows users to bet on eSports games. It runs on the Ethereum Virtual Machine (EVM) and it is powered by 1ST tokens. 
When a user opens the FirstBlood Web or Desktop software and bets on a match with 1ST, the tokens are sent to and held by the FirstBlood smart contract system that functions as a decentralized escrow. After the match takes place, Witnesses connect to the game API, analyze the results, and communicate the result to the Smart Contract System. If the result is uncontested, the prize will be sent to the winner and a fee is paid to the witnesses for the service provided. If the result is contested, however, the result will be voted on by a Jury Voting Pool (JVP). 
Witnesses are users that are running automated witness nodes. Two witnesses are randomly chosen to analyze the results of each match. The results are published on the blockchain and the witnesses are paid a fee for their service. This process is automated, so witnesses do not need to perform any action while reporting the result of a match, but they need to have a 1st balance and to send a special transaction to the smart contract to signal that they want to participate in the witness pool. The bigger the share of a specific witness in a pool, the higher the chances of that witness being chosen. 
The Jury Voting Pool is only called upon when a match result is contested. When this happens, a group of juries is selected from JVP to vote on the match outcome. The Jury must vote manually according to the evidence provided by the players. Once the quorum is met, the prize will be awarded to the selected winner, and Jurys that voted for the final result are rewarded for their service. Juries that vote against the majority may be penalized.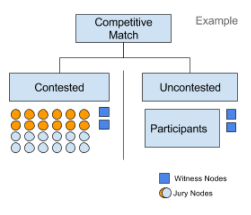 In order to encourage a healthy and competitive environment, FirstBlood will implement ranking and reputation systems like the Global Ranking (leaderboard style), the Match-making Ranking (MMR), and the User Reputation System (URS).
The Global Ranking system allows users to earn a reputation based on achievements and match results. This ranking system encourages competition amongst FirstBlood players. Once a player has reached an high enough ranking, he will be able to become a mentor, and teach less-experienced players in exchange for 1ST tokens.
the Match-making Ranking (MMR) is adjusted after every match, according to the result. It allows users to be paired according to their skills.
The User Reputation System (URS) encourages players to behave honestly and punishes players that don't. The URS is present in every aspect of the user experience, from initial sign-ups to professional tournament play. The MMR also gives higher matching priority to users with higher reputation scores.
Additional features of the FirstBlood platform are the ability to host tournaments and a referral program that allows users to be rewarded for inviting active players. FirsBlood also wants to make 1ST tokens redeemable for goods and services through a partnered network of retailers, dapps and other participants, thus creating additional demand for 1ST tokens. 
Crowd Sale
FirstBlood will host a crowdfunding campaign that will take place on September 26th at 12AM UTC and will last for a month. During this time 1ST tokens will be issued and sent to the investors according to their investment. Since the tokens are issued on the Etereum Blockchain, users will be able to invest with Ether by sending it to a special smart contract address.
During the first hour of the crowd sale, 1ST tokens will be sold at a 70% discount, which will decrease after the hour ends and will continue to do so every week: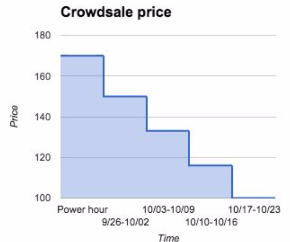 The crowd sale proceeds will be used to further develop and market the platform. Visit the Crowd Sale Page for more details.
Team
The FirstBlood team includes names like Joe Zhou, co-founder and CEO of Alt-Options, Zack Coburn founder of EtherOptt, a decentralized options exchange built on Ethereum. Joey Krug, core developer at Augur, the decentralized predictions market built on Ethereum, and Mikko Ohtamaa CTO and co-founder of LocalBitcoins, the largest p2p Bitcoin exchange in the world. To see the full team, visit the Crowd Sale Page
This website is only provided for your general information and is not intended to be relied upon by you in making any investment decisions. You should always combine multiple sources of information and analysis before making an investment and seek independent expert financial advice.
Where we list or describe different products and services, we try to give you the information you need to help you compare them and choose the right product or service for you. We may also have tips and more information to help you compare providers.
Some providers pay us for advertisements or promotions on our website or in emails we may send you. Any commercial agreement we have in place with a provider does not affect how we describe them or their products and services. Sponsored companies are clearly labelled.