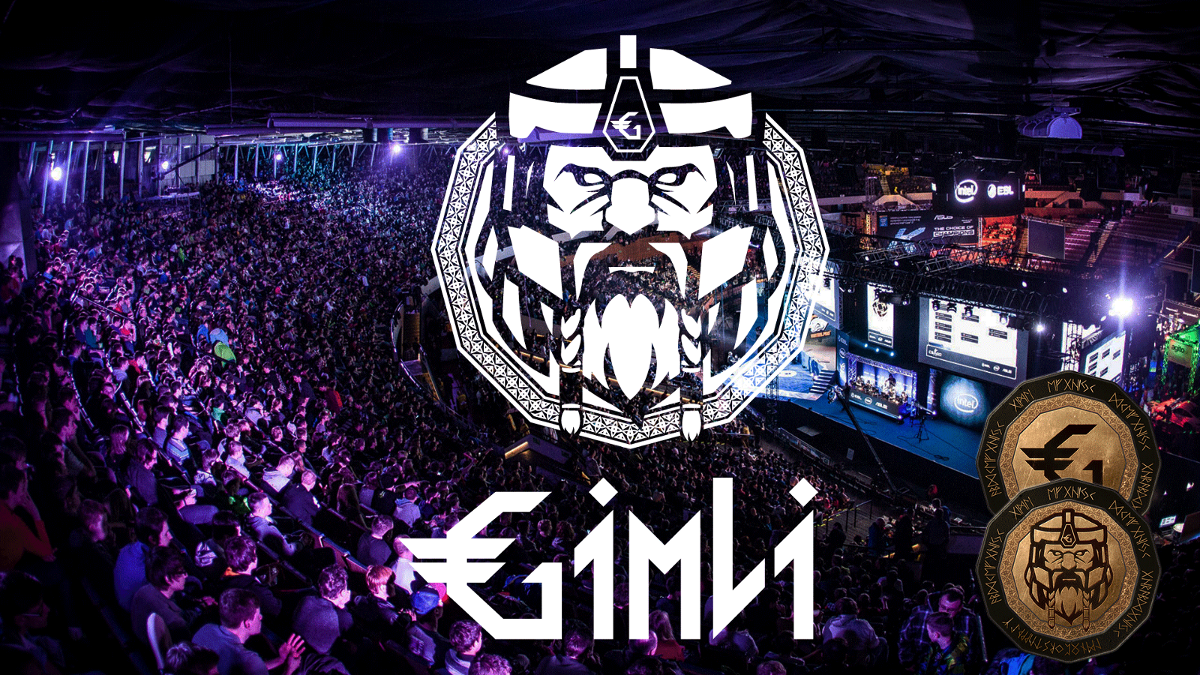 This is a sponsored guide and does not represent investment advice from CryptoCompare. Please do your due diligence when dealing with any Initial Coin Offering and never invest more than what you can afford to lose.
Introduction to Live eSports
The online streaming industry has grown significantly over the last few years and each year has seen an increase in the numbers of unique viewers and total views. From 2015 to 2016 81% more people viewed live content and at current growth rates the industry is estimated to be worth $70.05 billion by 2021.
The eSports market has also grown significantly and it currently draws in over 500 million viewers a month. Live eSports events took two of the top spots in the list of the ten most viewed US TV programs. Market studies have also shown that live stream audiences crave attention and ways to interact with their hosts and until now the options for this interaction has been quite limited. Gimli aims to make online eSports more interactive and engaging by pushing the boundaries of what live streamers can offer their audience.
What is Gimli?
In a nutshell, Gimli is a decentralized application built on Ethereum that facilitates a decentralized betting system for live eSports. With many other ways to interact, including voting, donations, surveys and tournament prize pooling, the idea is to give control back to streamers and allow them to connect more effectively with their growing audience as well as monetize their streams in a fair and efficient manner.
Gimli aims to become the preferred global platform for eSports digital betting as well as the leading brand in competitive eSports. The Gimli team identified two main ways to achieve this: Firstly, by providing the most interactive and user-friendly interface and, secondly, to build a team of eSport players that can grow a user base from the ground up.
What does Gimli offer?
The Gimli platform is focused on two methods to enhance the viewer and streamer experience of live content. Firstly allow a secure and easy way to bet and secondly to increase the interactivity for viewers and streamers. The betting facility not only enhances the viewing experience but also creates a method for streamers to monetize their content more effectively.
Since Gimli is based on Ethereum, it is not a centralized solution. This makes it transparent and resistant to hacking or server downtime. The Gimli smart contact ensures safe betting between users without needing a traditional third party to facilitate the transaction. The ongoing bets and the matchmaking algorithm are hardcoded into the Ethereum blockchain. The cost efficiencies that Ethereum generates via reduced transaction and operating costs are passed on to the consumer and streamer.
The Gimli platform and its native ERC20 GIM token make it very easy to implement various other features, all designed to increase that interactivity that the audience desires. For example, users can offer odds and act as their own bookmakers with the pool of viewers coming to their own odds in a peer to peer fashion. This makes the pricing of the odds better value as a central party doesn't make their money through incorrect odds.
Donations have been a big part of the Youtube and Twitch streamers revenue. Many streamers have started to harness the power of their livestream audience for crowdfunding or charitable campaigns. GIM tokens and the platform allows streamers to accept donations and curate custom crowd funding campaigns for specific causes or goals that are tailored to the interests of their audience.
Gimli has identified that it is important to increase engagement between streamers and viewers but also amongst users. Currently, this almost exclusively exists in live stream chats that are often overcrowded and only active during steaming hours. Gimli would like to create a more social platform that stores viewer stats such as their favorite streamers and donation stats. Depending on their donation history they award ranked status giving those who donate more extra features.
How Does Gimli Work?
We will take a look at the betting algorithm here to see how it works. First, Gimli assigns each streamer a unique ID and for each match a Game ID. The streamer then inputs the stream details and sets the GIM fee they will charge to bet. To place a bet, the Gimli smart contact checks that the user has enough GIM to do so. If they don't, the platform will take users through the steps required to buy Ethereum and Gimli. The betting algorithm then withdraws the GIM bet amount from the viewer's Gimli wallet and places it in a betting pot with all the other bets that were made on that same team. The GIM fees are withdrawn and kept in escrow, to be transferred to the streamer when the game ends.
Instead of using an oracle to obtain match results, the judges are the streamers themselves. They declare the winner when the game is over. Despite the centralization in this part of the algorithm, it is thought that streamers who have a public image would never be incentivized to lie as they would be banned and lose all of their fanbase.
The betting pot is paid out to the winners minus the predetermined fee set by the streamer. This fee goes to the streamer, however, there is the option to share the fees with other professional players, game editors and others.
The GIM tokens and Token Sale
Gimli Tokens (GIM) are the means by which Gimli charges a fee and covers its costs. There is no mining or creation of GIM after the crowdsale. Viewers need to spend GIM each time they place bets on Gimli. They can also use GIM to donate to streamers or participate in surveys, crowdfunding or any of the other interactive functions the platform implements.
To make it easy for new users to bet at all times with Gimli, GIM can be purchased directly on the Gimli app from Gimli's GIM reserve. GIM is also available on the secondary market from streamers, who may sell or use them as tournament or raffle rewards, or from other token holders. Since Gimli will be offering GIM for sale to users on its platform, Gimli will have to buy more GIM back from other token holders over time on exchanges as Gimli's GIM reserve is depleted. This buying pressure should increase as more users use Gimli leading to potential appreciation in price.
The GIM sale will accept Ethereum at a fixed rate of 1 ETH to 700 GIM and will run from September 16th to October 1st or when the cap of 80 million tokens has been sold. Any unsold tokens will be transferred to the Gimli reserve fund. The sale will not be available to US purchasers. There will be a total of 150 million GIM tokens in circulation, allocated in the following ways:
80 million sold to the general public;

10 million sold to eSports professionals;

10 million kept in the Gimli reserve pool for sale through the Gimli App and website;

20 million granted to advisors, streamers and professional gamers, kept in a multi signed wallet;

30 million granted to Gimli founders, team and employees;
To learn more about Gimli, visit the official website, check out their team and read the whitepaper or join the discussion on slack.
This website is only provided for your general information and is not intended to be relied upon by you in making any investment decisions. You should always combine multiple sources of information and analysis before making an investment and seek independent expert financial advice.
Where we list or describe different products and services, we try to give you the information you need to help you compare them and choose the right product or service for you. We may also have tips and more information to help you compare providers.
Some providers pay us for advertisements or promotions on our website or in emails we may send you. Any commercial agreement we have in place with a provider does not affect how we describe them or their products and services. Sponsored companies are clearly labelled.