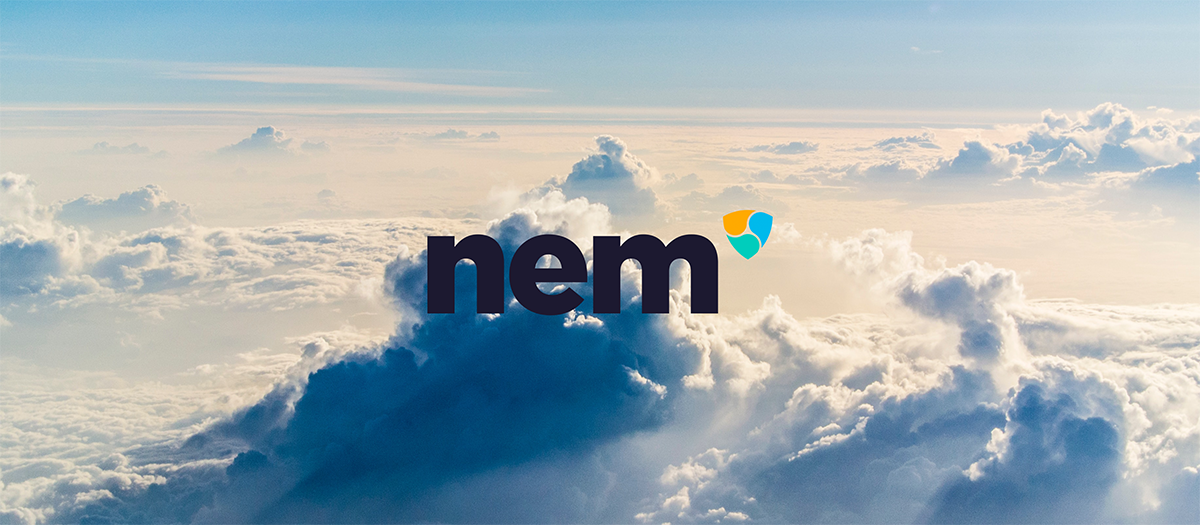 Launched in March 2015, NEM (XEM) is a peer-to-peer (P2P) cryptocurrency platform that has been written in the widely-used Java programming language. As a second-generation blockchain network, the NEM platform features multisignature accounts and encrypted messaging.
NEM's distributed ledger technology (DLT)-enabled network is able to manage multiple different ledgers through a single platform. Users may create "smart assets" on the NEM blockchain,  and they may represent any real-world asset. 
NEM's Blockchain Has Been Developed from the "Ground Up"
In order to conduct transactions on the NEM network, the platform's native token, called XEM, may be used to make payments and cover processing fees. As noted on NEM project's official website, the cryptocurrency's blockchain has been developed from the "ground up" - in order to create a high-throughput and scalable network.
As a permissioned, private blockchain network, the NEM platform allows developers to build enterprise-grade applications. While major crypto networks such as Ethereum (ETH) are only able to handle around 15 transactions per second (TPS), the NEM blockchain aims to deliver significantly higher throughput rates.
Using Proof of Importance (PoI) As Blockchain Consensus Mechanism 
NEM's platform also includes an open, public blockchain network that is managed through a proprietary proof-of-importance (PoI) consensus protocol. As explained by its developers, the PoI algorithm uses network theory to determine and assign each network account an "importance" rating.
NEM's creators have used PoI instead of the more widely-used proof-of-work (PoW) and proof-of-stake (PoS) consensus mechanisms. The NEM development team notes that PoW networks like Bitcoin may give miners with more powerful computing machines an advantage over those who cannot afford to acquire a large amount of computing power.  
Proof of Stake Networks Give "Unfair Advantage" to Coin Hoarders
Moreover, bitcoin mining consumes vast amounts of electricity - as one recent study has revealed that the energy-intensive activity requires more power than the entire nation of Switzerland. Meanwhile, NEM's developers state that PoS chains give an "unfair" advantage to users who hold the largest amount of cryptocurrency. 
The more funds users stake in their crypto wallets, the more profits they are able to on PoS networks. According to NEM's development team, the "rich get richer" on PoS-based blockchains and users are incentivized to save their coins - instead of spending them to create a more productive economy.
Users Must Have 10,000 Vested Coins Before Being Eligible for Harvesting
In order to resolve the problems found in PoW and PoS consensus protocols, NEM's developers have made important changes to how network participants are incentivized on blockchain-based platforms. For instance, POI only "counts" coins in users' wallets if they have been in their account for an extended period of time.
To begin harvesting, which is similar to mining on the Bitcoin network, NEM blockchain users must have at least 10,000 vested coins. This means that the coins must remain in a user's account for "a few weeks" before the account is eligible for harvesting. As explained by its developers, NEM uses "delegated" harvesting to pool users' "account power" while ensuring the safety of their private keys.
Harvesting Occurs Automatically through Users' Wallets
NEM network's users may connect their account to one of the platform's remote nodes, in order to use its computing resources to validate blocks on their behalf. Each NEM account has an importance score which determines its "chances of harvesting" or the probability of being selected to validate the next block of transactions on the crypto network.
As noted on the NEM project's website, a harvester's computer need not be running in order to participate on the platform's blockchain. The harvesting process occurs automatically through users' crypto wallets. 
After an account has harvested a block, it receives the transaction fees associated with validating transactions (in that particular block). Transaction processing fees are also paid for using multisig accounts and for sending encrypted messages.
NEM Foundation Close to Bankruptcy
In late January 2019, the NEM Foundation, an organization focused on the ongoing development of the NEM platform, revealed it was close to filing bankruptcy. In order to cover operational costs, the foundation had asked for NEM's community members to make donations. 
Presumably due to lack of financial resources, the NEM Foundation said it would be laying off certain staff members. Notably, many other blockchain-related organizations struggled with acquiring capital during the extended crypto bear market that lasted throughout 2018.
NEM Ventures Invests $500,000 in Crypto Commerce Platform
In March 2019, NEM Foundation's venture capital division, NEM Ventures announced that it had invested $500,000 in Vimba, a commercial platform that was previously known as MyCryptoSaver. 
As noted on its website, the Vimba platform allows users to convert funds held in their bank accounts into cryptocurrency.
NEM Foundation's Catapult Roadmap
In late March 2019, the NEM Foundation revealed its Catapult roadmap, which involves the development of NEM's new "core engine." Its creators claim that the Catapult engine will help in creating a highly secure blockchain that can be used to manage data associated with routine business operations.
As noted by NEM's developers, Catapult will feature aggregated transactions, which consist of multiple "merged" transactions that are used to conduct "trustless" swaps. These are performed by issuing a "one-time disposable" smart contract, and after all account holders have cosigned (approved) the aggregate transaction, all "inner" transactions are executed simultaneously.
Additionally, NEM's Catapult upgrade will include multilevel multisig accounts, which links several accounts by requiring cosignatories, or a group of users, to approve transactions before they are conducted. 
Building a Platform for Trading Security Tokens and Managing Supply Chains
As explained in its technical documentation, Catapult will enable "native public and permissioned interaction" (communication between private and public networks). The Catapult update will also make it easier and safer to issue smart contracts - as users may not be required to write code.
According to NEM project's management, Catapult has been developed as an open-source distributed ledger, which allows users to trade digital assets. Notably, these include security tokens, cryptocurrencies, and various other financial products. 
The Catapult ledger may also be used to engage in e-commerce transactions, manage customer records and supply chain processes, and various other services such as voting and notarization.
Integrating NEM Catapult with Lightning Network Protocol
During Q3 2019, the NEM team plans to release mobile and desktop wallet support for Catapult. The platform's developers will also demonstrate how the Lightning Network (LN) can be integrated on the Catapult ledger. 
In 2020, NEM's developers are planning to release a new stablecoin and also use the blockchain network to manage files by using the Interplanetary File Sharing protocol (IPFS).
This website is only provided for your general information and is not intended to be relied upon by you in making any investment decisions. You should always combine multiple sources of information and analysis before making an investment and seek independent expert financial advice.
Where we list or describe different products and services, we try to give you the information you need to help you compare them and choose the right product or service for you. We may also have tips and more information to help you compare providers.
Some providers pay us for advertisements or promotions on our website or in emails we may send you. Any commercial agreement we have in place with a provider does not affect how we describe them or their products and services. Sponsored companies are clearly labelled.