This is a sponsored guide and does not represent investment advice from CryptoCompare. Please do your due diligence when dealing with any Initial Coin Offering and never invest more than what you can afford to lose.
What is Shping?
Shping is a rare thing in the blockchain project world in that it has a product already in the marketplace.
Its shopping assistant app for iOS and Android lets users scan barcodes to bring up a wealth of information about product authenticity, safety, ingredients and other information. Crucially, however, this is a two-way process where instead of just getting data, the user sends it.  
Consumers can add new products to the Shping database, with details about the product as well as read and write reviews and rating products. And consumers are not doing all this work for nothing – Shping incentivises users to interact with the app.
For sending information to the system app users are rewarded with payments in a token called Shping Coin. Also, when shoppers scan a product they find out if it being recalled or has been in the past for that matter.
Shping is not just for consumers and is more than just an app. Companies are able to implement and manage the traceability of their branded products and certification organisations are already on board as partners; and the participating companies can also target app users with rich media and other types of marketing.
Introduction to ShpingAustralia-based Shping began life as a startup called Authenticateit that set out to provide a scalable brand protection and supply chain integrity solution for companies of all sizes. It subsequently evolved to become both a consumer and business-facing venture.
In addition to the shopping app for consumers to get and provide product information, Shping also provides businesses with a means to market to Shping users based on profile, location and other preferences.
Building on its roots in product authentication, companies will be able to guard against those such as counterfeiters that impinge on product authenticity. Real-time information from Shping users continually updating the database helps keep maintain authenticity. Products can have digital signatures attached "virtually" to their products to provide another levels of protection for brands.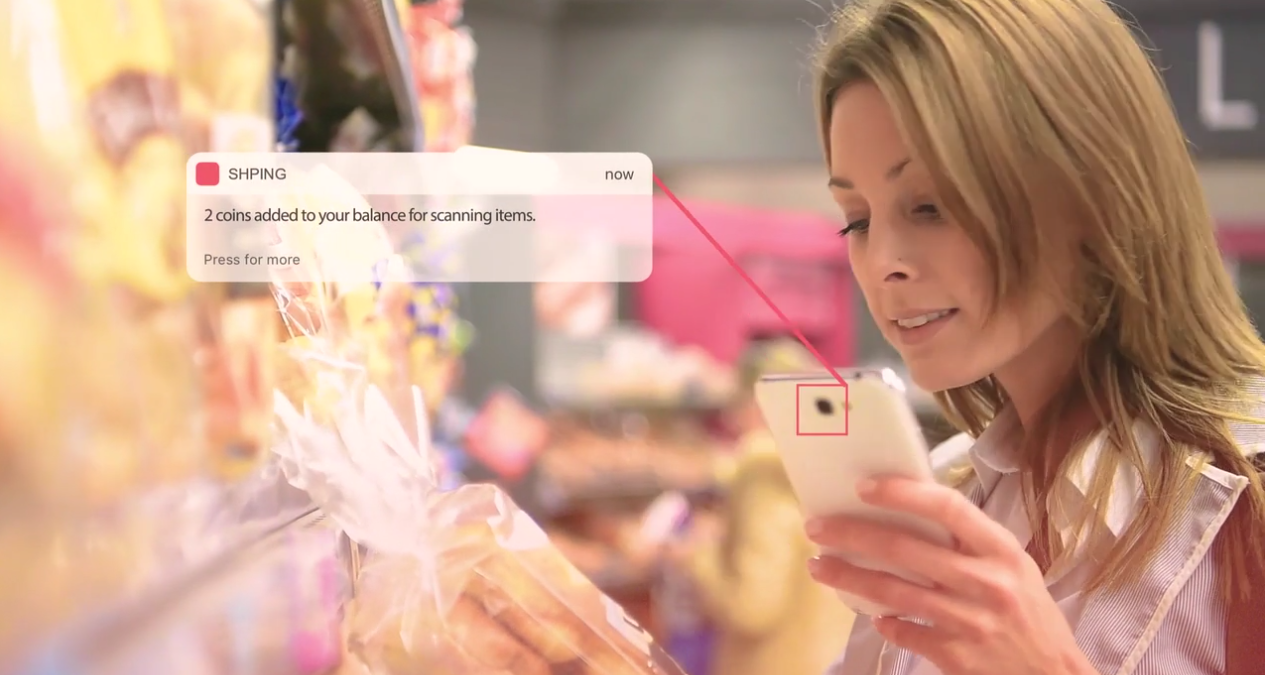 How does it work
Imagine you are strolling down the aisle of your local supermarket and come across a product you haven't seen in a while that you really like. You scan it with the Shping app and discover it is not in the database. You list it and are rewarded with Shping Coin tokens.
Then you write a review extolling the pleasures of the product – you earn more tokens.
The company that owns the brand utilises the Shping platform's technology to triggers an advert to appear on your smartphone screen with a QR code voucher for money off your purchase plus a spare one to give to a friend – voila, everyone is happy. The company gets the sale, the customer gets free tokens and Shping enriches its database and its token-fuelled economy expands.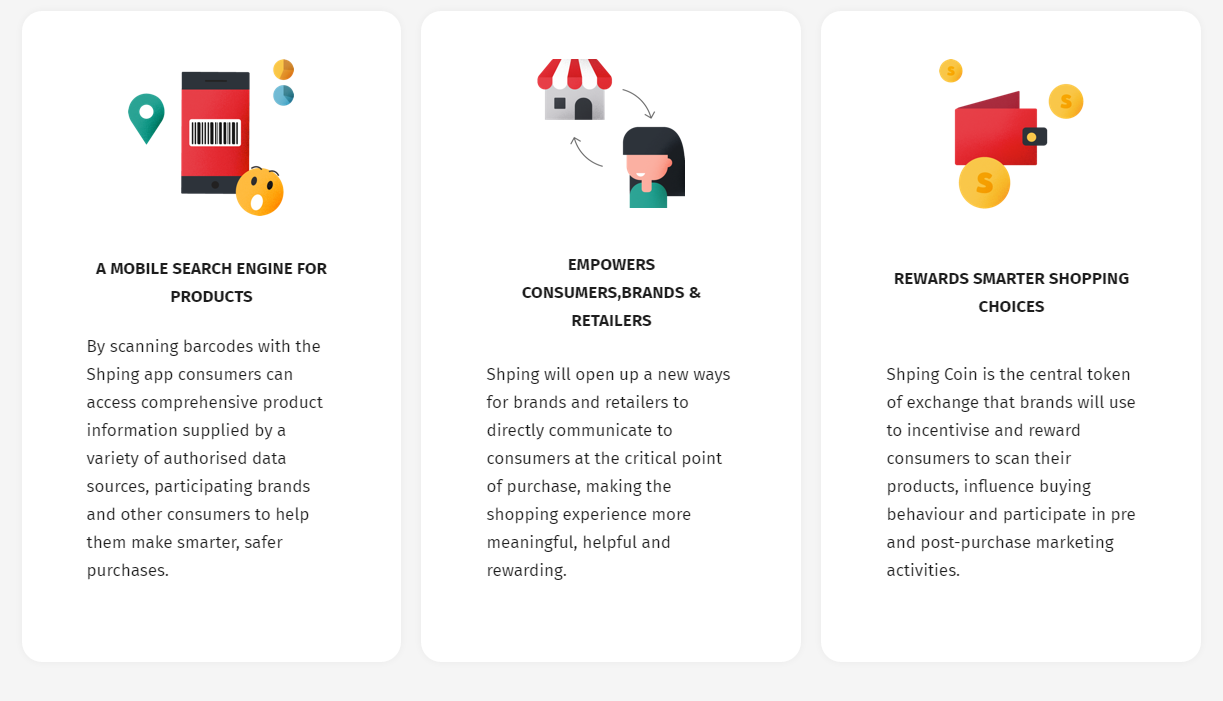 Companies can provide other information to attach to a product . It might include recipes, user manuals, questionnaires, surveys and videos; the possibilities are almost limitless with plenty of room for marketers to experiment in new and imaginative ways.
Traceability management is implemented with a Hyperledger permissioned blockchain that complys with GS1 EPCIS standards. GS1, a non-profit organisation, has developed international standards that all companies trading globally and locally need to follow and is at the heart of the Shping Security platform's tracking and tracing solutions. The platform also works with all other necessary standards.
Shping has partnered with Everledger to execute the integration of EPCIS event registration. The Electronic Product Code Information Services (EPCIS) standard is an agreed way of enterprises to share views of physical and digital data within varied business contexts, such as in a shopping app like Shping. EPCIS is critical for the Shping platform because it lets companies share information about products as they move through the supply chain.
The project's strategic partners include: Australian Certified Organic, The National Farmer's Federation (Australia) and The Asia Food Safety Zone in Changchun, China, to name but a few, with other partnerships being negotiated around the globe.
The Token
The Shping Coin token runs on the Ethereum blockchain platform for decentralised apps and is ERC20 compliant. The tokens are used to incentivize users to scan products, upload product details, write reviews and interact with promotions . Because it is powered with a smart contract its reward mechanism is all automated.
Token supply is 10 billion of which half is available for purchase. The remainder is divided 42% for incentivisation within the app economy, 5% for advisers, 2% for the team and 1% for bounties. The token sells for 0.01 USD. Tokens are distributed as soon as the purchase transaction completes so investors do not need to wait for the end of the crowdsale before receiving their tokens.
The crowdsale began on 22 February and ends on 23 March.
Conclusion
With the help of its users and certification and government authorities, the platform has already amassed 30 million products in its database. That's good news for investors who are rightly becoming much more discerning about which ICOs they invest their money in.  
This is a blockchain project coming to market with a working product and a clear way forward to scale it. Token utility is transparent and easily understandable as the value exchange conduit in which users are incentivized to interact with and grow the platform.
A better shopping experience for consumers, authenticity protection for company brands and highly targeted marketing opportunities, constitutes a valuable triple play from Shping.  Sign up now and start scanning and earning and once you've got a hand-on feel for how this all works, you can put some money behind this well thought out project.
This website is only provided for your general information and is not intended to be relied upon by you in making any investment decisions. You should always combine multiple sources of information and analysis before making an investment and seek independent expert financial advice.
Where we list or describe different products and services, we try to give you the information you need to help you compare them and choose the right product or service for you. We may also have tips and more information to help you compare providers.
Some providers pay us for advertisements or promotions on our website or in emails we may send you. Any commercial agreement we have in place with a provider does not affect how we describe them or their products and services. Sponsored companies are clearly labelled.