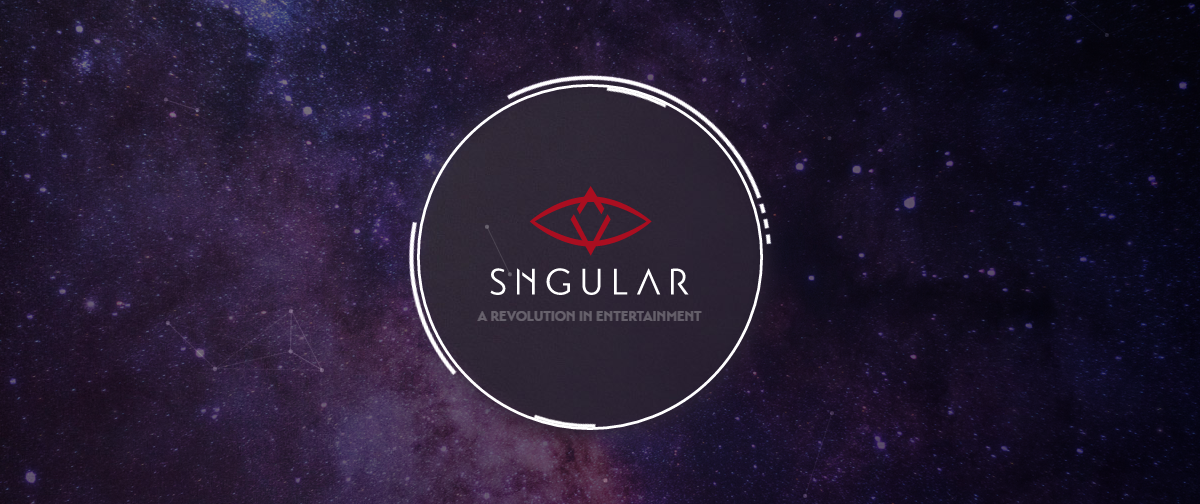 SingularDTV (S-DTV) is a content production and distribution platform built on Ethereum. The goal is not only to create and broadcast quality film and tv content but also to reshape the entertainment industry into a more fair, efficient and transparent business thanks to blockchain and smart contract technology. 
How it works 
Singular-DTV is a Centrally Organized Distributed Entity (CODE). CODE is a new form of organizational structure developed in partnership with MME, the same legal firm behind the formation of the Ethereum foundation.  The CODE is a distributed entity as it is crowd funded and the equity is shared between token holders that receive dividends from the profit generated by the platform, but it is centrally managed, meaning that token holders do not take part in the decision-making and development of the platform. 
The decentralized component of this governance model lives on the Ethereum blockchain as a tokenized Smart Contract System. These tokens are called SNGLS and they represent a share in Intellectual Property (IP) of S-DTV: film, television and software projects. The centralized component can be represented by a number of different company structures, which are in charge of managing S-DTV's funds, projects, and development.  
"

Together, the CO (

Centrally Organized component ) 

and the DE (

Distributed Entity)

build a bridge between the centralized legacy paradigm and the decentralized Ethereum paradigm.

" 

Zach LeBeau

 
A total of 1 Billion SNGLS tokens will be issued, half of which will be made available on the crowd sale and 40% held in a "Storage Vault". The remaining 100 million tokens will be allocated to core investors of S-DTV.  
This Storage Vault exists with the purpose of maintaining a fund that will be continuously reinvested into the platform, as the dividends received from these 400m tokens are allocated to the Workshop, that is in charge of converting, spending and managing these Ether dividends received from the vault. The Workshop is also in charge of collecting fiat/crypto revenue and sending it to the Vault and Smart Contract System, the SCS then distributes SNGLS and Intelectual Property (IP) revenue by the token holders. 
The revenue aforementioned is collected from the Transactional video on demand (TVOD) Portal and from the Rights and Royalties Management Platform.  
Singular-DTV will acquire the distribution rights of other film and tv properties to distribute along with their projects on the TVOD portal and/or under its brand on bridge portals like AppleTV iTunes, GooglePlay, and Vimeo. The current projects being worked on by S-DTV include a tv show "Singular", a feature length documentary and a short form documentary series. 
The Rights and Royalties Management Platform creates revenue by selling rights to its Intelectual Property. It is S-DTV's intention to buy into the Ujo digital rights management software system and negotiate a fair and equitable ownership stake. S-DTV may also opt to build its own digital rights platform independent of Ujo. 
Security 
Following the epic saga of the DAO hack, security is paramount for any serious blockchain project, especially one that is being built on Ethereum. Since SNGLS tokens do not bear voting or splitting functions, this system is inherently safer than the DAO. Despite this, S-DTV is secured by an auditing/security mechanism called The Guard.   
"The Guard exists in both the CO and DE. In the CO, it takes on the form of an advisory board and set of procedures to vet and review the SCS. In the DE, The Guard resides in the SCS monitoring its performance.

" 

SingularDTV 

CODE 

Summary Overview

 
Singular-DTV has also employed additional efforts to ensure that the Smart Contract System has no flaws. Besides the auditing that will be performed by The Guard, S-DTV is also offering a 30BTC bug bounty
Token Launch
Singular-DTV wants to gather a total of $7.5 million. In order to do so, a crowdsale which will last for a month will be held. During this time 500 million SNGLS tokens will be up for sale at a fixed rate of 0.00125 ETH per SNGL during the first 10 days, and will drop by 12.5% every 4 days until it reaches 50% (in 12 days). These funds will be used to complete the "Singular" tv show, launch the S-DTV Documentary Division, buy a stake in the Ujo rights management platform and to develop the TVOD distribution portal. A minimum of 34m SNGLS must be sold, otherwise, the project will be canceled and all the investments will be returned. 
Since the issuance of tokens takes place on the Ethereum network, you'll only be able to invest in the crowd sale using Ether. This is done by sending ETH to a special smart contract wallet address, that in turn issues and sends you the newly created SNGLS tokens. This can be done using any wallet, but in order to be able to see and transfer your tokens, you'll need to use the Mist Browser or the S-DTV Light Wallet. 
S-DTV Lightwallet 
In order to facilitate the crowd sale and to provide an easily accessible platform for users to manage their tokens, Singular-DTV developed an Ethereum lightwallet. This wallet allows you to store and transfer SNGLS tokens and Ether. The S-DTV team has created a video tutorial on how to use this the wallet:
This website is only provided for your general information and is not intended to be relied upon by you in making any investment decisions. You should always combine multiple sources of information and analysis before making an investment and seek independent expert financial advice.
Where we list or describe different products and services, we try to give you the information you need to help you compare them and choose the right product or service for you. We may also have tips and more information to help you compare providers.
Some providers pay us for advertisements or promotions on our website or in emails we may send you. Any commercial agreement we have in place with a provider does not affect how we describe them or their products and services. Sponsored companies are clearly labelled.