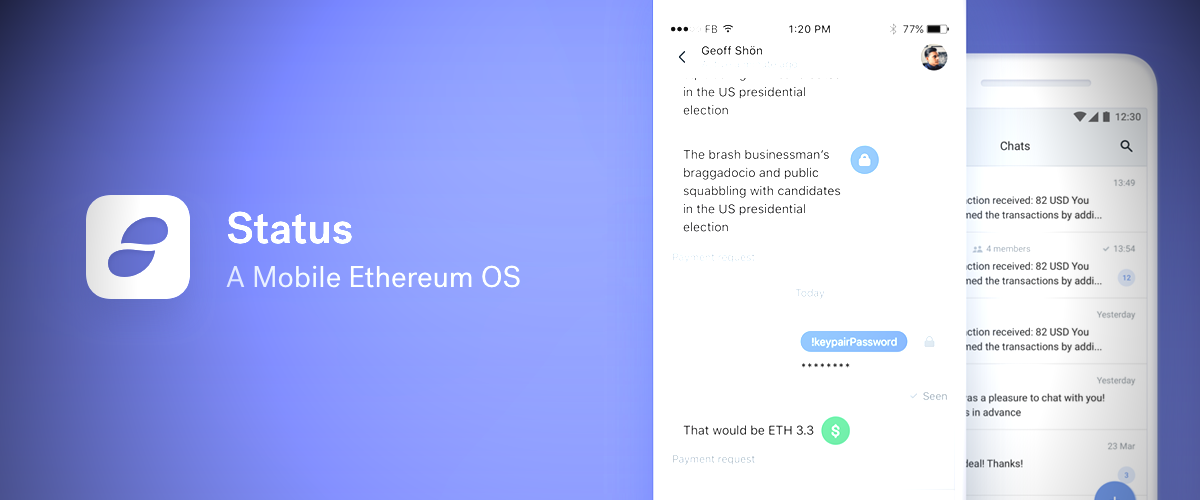 What is Status
Ethereum is a smart contract platform where developers can build and deploy decentralized applications or dApps that do not rely on any form of centralized authority. These dapps are hosted by Ethereum nodes.
So far, we've seen dozens of projects and applications being developed and launched on the Ethereum network. From the DAO, to FirstBlood, Iconomi, Singular-DTV, Gnosis, Augur, Matchpool, and many more.
However, for the blockchain enthusiast that wants to interact with all these dApps, doing so can be challenging. That's where Status comes in! Status is an Android & iOS mobile client built on Ethereum technology and for Ethereum users.
"With Status your mobile device becomes a light client node on the Ethereum Network, enabling you to access Ethereum's entire ecosystem from anywhere."
Although all of these dApps we've just mentioned are pretty exciting by themselves, they are even more so when they can come together to form an ecosystem. This is what Status is building, an intuitive user interface where mobile users can access all of these decentralized applications in one place.
Status runs go-ethereum directly from your mobile device, turning your mobile phone into an Ethereum node, which means that validation of blocks is done on the client side.
Status will be both a browser for Ethereum dApps and a decentralized messenger. The hybrid browser and messenger system is used to increase user acquisition and outreach, staying agnostic and as close as possible to the principles Ethereum embodies.
"When Carl & Jarrad looked at how to achieve mass adoption for a client. We looked at things such as where the people are, how they behave on their devices, time spent on pc vs mobile - as of 2014 more time is spent on mobile than desktop, and of that time - a THIRD of it is spent within Instant Messengers."
The decentralized messenger will allow users to find each other globally and to transact and communicate with each other with no restrictions.
On the Ethereum browser side, Status will be able to run basically any dApp that runs on Mist or MetaMask. So far, there are multiple dApps listed on Status like uPort, Gnosis, Oasis Exchange, Ethlance, Aragon, Etherisc and Ujo. However, Status is completely open source and anyone can list their dApps at will.
Overall, the Status project is extremely exciting and is the first step towards complete decentralization in every aspect of our online habits, allowing users to carry on with their "digital" activities without the need to ever leave the Ethereum ecosystem and be subject to middleman fees, hacks, censorship, and so on, which has become the norm in online apps and social media.