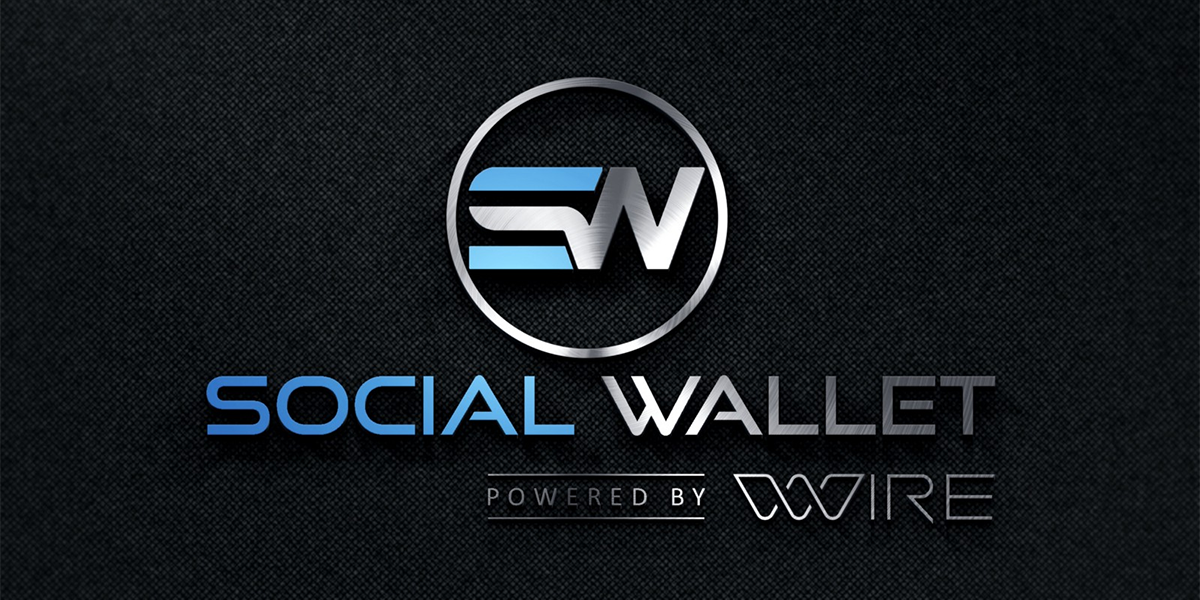 This is a sponsored guide and does not represent investment advice from CryptoCompare. Please do your due diligence when dealing with any Initial Coin Offering and never invest more than what you can afford to lose.
What Is Social Wallet?
Social Wallet is a first of its kind platform designed to enable cryptocurrency to be sent over today's existing social network infrastructure. The platform, built upon the central tenets of easy, quick, and secure transactions, works seamlessly with Facebook, Twitter, and email. Based on the current roadmap, Social Wallet plans to add multiple social media sites such as YouTube and Instagram, in the coming months.
Social Wallet named their token WIRE, to associate it with that of a wire transfer. No prior setup is needed by the recipient. Also, there does not need to be any advanced knowledge of the transaction itself. Social Wallet allows individuals to send cryptocurrency anywhere. Pick a celebrity, an influencer, a friend, or anyone else you wish and send them cryptocurrency on any social networking platform.
Built upon the idea of simplicity, any transaction on Social Wallet can be accomplished in four simple steps. The utility derived from WIRE, is central to Social Wallet's platform. Specifically, WIRE serves as a fully functioning cryptocurrency with privacy features as well as the "gas" required to use the platform.
What Is WIRE?
WIRE, was named after the service that banks have been using for decades. If you don't know, a wire transfer is an electronic fund transfer from one bank or entity to another. These kinds of transaction are the bread-and-butter of contemporary banking. Another advantage of a wire service is that you only have to have the account number of the receiving party. With that information you can send money at your own will. The receiving party doesn't even need to know it's on the way. It's an extremely easy process, which Social Wallet has taken note of and has applied to their token.
WIRE acts as both the fuel that allows the social media transactions to occur, a resource comparable to Ethereum's concept of gas as well as a cryptocurrency token acting as a store of value, sent from one social media user to another.
Whether you're new to cryptocurrency, and are interested in WIRE, or you're a seasoned veteran, it doesn't matter. WIRE is ready for anybody. The whole process to send WIRE from one person to another on social media can be accomplished in under four steps. After account creation, you can load it with WIRE and at that point you will be able to send WIRE to another social media user using their social media handle or username. The person on the other end doesn't need to know you are sending them WIRE, they will simply receive a message through social media notifying them and can then go through the easy process of collecting them on the Social Wallet platform.
Sending Cryptocurrency Made Simple/Demo Of The Platform
Step 1: Sign Up/Login
This step is pretty self-explanatory. If you already have a Social Wallet account, go ahead and sign in. If not, you will be prompted to create an account. Believe it or not, this will probably be the hardest step you have to complete!
Step 2: Select the Social Media Network You Would Like to Use
For this example, you are sending WIRE using Twitter as the social media site. You can also use Facebook and email providers. In the future, we are planning on implementing other social media sites and other ways to send WIRE to your friends and family. Click on the social media icon, and then move on to the next step.
As an aside, another option is the ability to send to another user on the Social Wallet platform. We have implemented this option with the idea that once you have a Social Wallet account, you will keep using it with your friends and spread the love.
Step 3: Enter the Appropriate Information
No matter the platform, as long as you have their social media screen name, email address, or Social Wallet handle, you are able to send WIRE to anyone in the world.
Once you have their social media handle entered, all you have to do is figure out how much WIRE you want to send. This is dependent upon you, but we know the more the better. Always be giving.
If you are sending this for a charitable cause, to someone new to the platform, or just want to include a message, go ahead and add a note.
For right now, the only selectable token to send or receive is our WIRE token. There are plans in the future to start possibly accepting other cryptocurrencies, but for now select WIRE and type in the amount you want to send.
Step 4: Click Send
The final step is to click send. Once you've done that, wait for the confirmation popup, and if you want, check your transaction history to make sure. It's all that simple. Each step, taking only seconds.
It is a simple process that may leave you asking yourself, why social media? Why didn't I think of this first?
Why Social Media?
Social Wallet is taking the way that we interact on social media when it comes to things such as liking, sharing, and interacting, and bringing cryptocurrency to the table as well. You are probably already aware that social media in the past decade has exploded in use. In fact, businesses have moved away from traditional marketing and moved more into the social space. Social Wallet is capitalizing upon that excitement. Because Social Wallet is able to connect to already existing social media sites and email, it facilitates an easier way to share cryptocurrency.
Social media is simple to use, why can't cryptocurrency and the blockchain mimic that?
Social Wallet Debit Card
In the next four years, the ecommerce market is set to almost double to 4.5 trillion dollars. With our blend of social network integration, global remittance opportunities, and brand recognition, its no surprise that Social Wallet intends to be a part of this amazing opportunity.
The Social Wallet Debit Card, closes the circle of universal opportunities to send, share, spend, and convert tokens by partnering with a 3rd-party debit card provider on the blockchain. Its unique program offering of "white label" debit card, allows Social Wallet to brand our debit card as the "Social Wallet Debit Card." Just as using the Social Wallet platform to send and receive tokens, the easy Social Wallet Debit Card is an easy one-time setup that will provide users the ability to transfer tokens into their desired currency.
Our white label debit card provides options to tailor our debit card to both the needs of our organization and our consumers. Our agreement ensures great service, including quick transactions and importantly complies with the Anti Money Laundering (AML) and Know Your Customer (KYC) regulations. Our partnership with the 3rd party debit card provider accomplishes the goal of making traditional banks obsolete and dominating the ecommerce market.
Expansion and Keeping Current
The WIRE Token EARN Program rounds out the core features of Social Wallet. Achieving mass adoption is not a Phase-1 business process. It takes a dynamic business strategy where we can touch and educate the very perimeter of non-adopters on social media. The more avenues we provide for users to experience the platform and possible first encounter with cryptocurrency, the more we can solidify ourselves as a leader in this emerging market. We have allocated WIRE tokens directly for this aggressive user acquisition goal.
The Social Wallet platform contains an "EARN" tokens tab. Once a user links their social media account to the platform, they can engage the EARN feature, which will provide opportunities to acquire WIRE tokens.
To increase brand visibility and educate potential users on the ability to earn tokens, Social Wallet will amass a strong and consistent social media presence through strategic widespread efforts to raise awareness of our platform and benefits of blockchain technology. This will be achieved through a series of targeted sponsored ads on various social media networks, news publications, and websites. Beyond those strategies, Social Wallet will focus on reaching out to financial, tech, and lifestyle influencers to work on generating content to drive awareness of the product and offering. This encompasses the Phase-1 of user acquisition efforts.
Phase-2, upon amassing new users, is where users will be given the ability to earn a reward through likes, retweets, shares, or comments on Social Wallet social media posts. In turn, the platform will automatically recognize this action and deploy WIRE tokens straight to a user's Social Wallet accounts.
Providing opportunities to EARN tokens while expanding our brand recognition to crypto and non-crypto users is the type of win/win marketing strategies that Social Wallet will capitalize upon. Tokens, including other cryptocurrencies than WIRE, accumulated by the Social Wallet team through multiple revenue streams, will continue to be reallocated to the EARN program for the life of the platform.
Social Wallet can future proof itself and will maintain a certain sense of versatility inherent in its own platform. Finally, Social Wallet understands cryptocurrency's potential to increase social mobility and pursue humanitarian efforts. They have made it their mission to lead by example in their mission to create the Social Wallet Initiative, a movement focused around humanitarian efforts in the hope that it brings crypto to more people through the power of charity.
Outreach/Charity
Social media sites like Kickstarter, GoFundMe, and Fundly have shown how generous and charitable random strangers on the internet can be. Social Wallet knows this. We know the strength of the blockchain and cryptocurrency and know how much it has changed people's lives. We are bringing charitable social media exchanges, and cryptocurrency together, to truly make the world a better place.
The Social Wallet Initiative: Crypto Giving Back
The Social Wallet Initiative is the passion project created by the team to increase social mobility. It is a project in which 10% of the funds earned from the WIRE token sale will be allocated to. "To some, this might feel like a gamble, but we know and trust the benevolence of the human spirit, and we want to give back to the communities that have supported us for so long," states Jack Brown, Social Wallet CEO.
The Social Wallet Initiative aims to promote these stories of kindness and empathy, in order to foster a community that cares for one another. One way that this will be accomplished is by highlighting exceptional stories of charity. Social Wallet, through this initiative, plans to increase the knowledge of cryptocurrency and the blockchain to people who have not yet adopted cryptocurrency, thus furthering the goodwill and giving experienced through our platform.
What Do I Do? Where Do I Sign Up?
Getting involved with Social Wallet, and the Social Wallet Initiative is as simple as using our platform. Since we have focused on being easy-to-use, considering that we want to introduce as many new people to cryptocurrency as we can, all you have to do is sign up for an account, login, and fund your account with the WIRE token. Once you've done that, you are ready to start sharing and letting the love of charity enfold you.
And how you donate or give is entirely up to you. Imagine that you're scrolling through your Facebook feed and see that an old friend has run over some glass on the highway on their way to work. All four tires, flat. They don't have the money, and you want to help out. All you do is send them some WIRE through our platform, and they are on their way to a new set of tires.
Imagine that your favorite animal shelter, the one you adopted your furry friend from, has rescued a large number of animals from an abusive situation and posted a profile for each animal on Twitter. Some of the animals are sick but can get better with the right amount of treatment, and that costs money. You feel your eyes well up, and a weight pressed against your chest. You don't have to send off a check, you just log in to your Social Wallet account and send them some WIRE to get those animals to their loving and caring forever homes.
Social Wallet, and the Social Wallet Initiative, want to become a place of inclusivity and humanity. Social media has connected the world more any other technological achievement has. And, it has also made us more caring. We will amplify the positive messages that surround us. The power of cryptocurrency and the blockchain have enabled this to happen, and we plan on celebrating that. Together, we can become a better world.
Social media has been such a huge factor in the shaping of how we interact and communicate. Social Wallet has experienced first-hand how cryptocurrency has changed the financial technology industry. We know this combination will onboard new cryptocurrency users and changed the mystique that the blockchain and cryptocurrency carries with it. No more mystery, together we will leverage cryptocurrency and blockchain technology for the benefit everyone.
This website is only provided for your general information and is not intended to be relied upon by you in making any investment decisions. You should always combine multiple sources of information and analysis before making an investment and seek independent expert financial advice.
Where we list or describe different products and services, we try to give you the information you need to help you compare them and choose the right product or service for you. We may also have tips and more information to help you compare providers.
Some providers pay us for advertisements or promotions on our website or in emails we may send you. Any commercial agreement we have in place with a provider does not affect how we describe them or their products and services. Sponsored companies are clearly labelled.