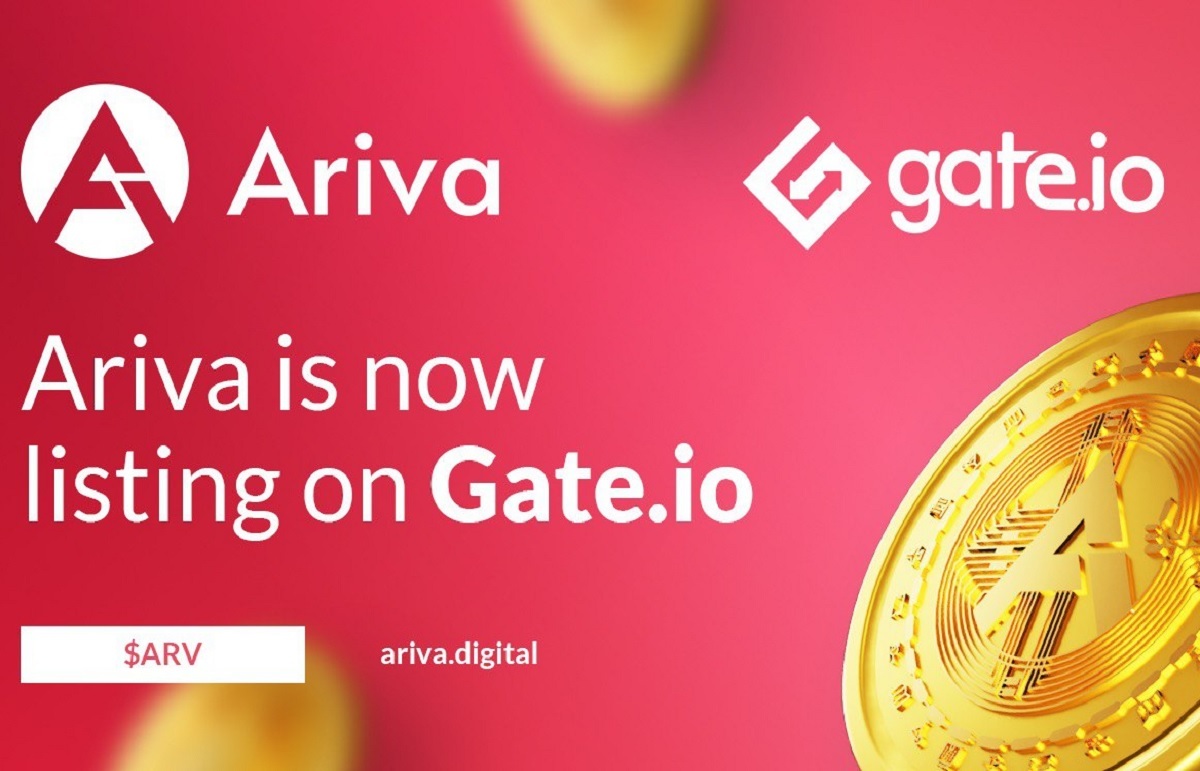 This is a sponsored story. Its content does not constitute financial advice. Please remember that the value of investments, and any income from them, can fall as well as rise so you could get back less than you invest. If you are unsure of the suitability of your investment please seek advice.
Ariva, the next-generation tourism & travel blockchain hub, has made a huge splash with its token listing on Gate.io. In addition, the popular crypto exchange has announced that it will be listing ARV/USDT trading pairs on October 8th 2021.
Huge Development for Ariva
The listing is a significant one for Ariva and continues the rapid expansion that has been experienced in the past few weeks. ARV has been listed on more than eight exchanges and has witnessed increased adoption during this period.
Gate.io is regarded as one of the top exchanges in terms of liquidity and has a customer base of over 4 million users. In addition, ARV holders can deposit, withdraw, and exchange their tokens on the Gate.io trading platform. As a result, Ariva expects the price of ARV to experience a spike as the crypto community reacts to this positive development.
ARV has a marketcap of $21 million with more than 21,000 active token holders at the time of publication. Ariva has also revealed a $10,000 reward giveaway, and interested participants will have to take part in a few activities listed here.
A Comprehensive Blockchain Hub for the Travel Industry
Ariva has been able to build an all-in-one blockchain hub aimed at decentralizing the travel and tourism industry. It has deployed an efficient and scalable blockchain architecture that caters to the needs of this fast-growing industry.
To achieve its aims, the Ariva ecosystem is divided into three distinct but interconnected products, namely Ariva.Finance, Ariva.World and Ariva.Club. Each product has features that provide a unique experience for users.
Ariva.Finance is a top-class blockchain-based payment gateway that enables merchants to accept crypto payments seamlessly. Merchants can quickly deploy the payment gateway in their websites and stores to accept ARV and other elite cryptocurrency payments.
Ariva.Finance has low transaction fees, and merchants can value their services and products more than conventional payment methods. Merchants can also use the inbuilt dashboard to view transactions and create invoices for payments.
Ariva.World is an innovative hub that connects tourists with local and global travel/tourism service providers. Users can book airline tickets, tour guides, hotel reservations and many more on Ariva.World. Businesses can also list valuable goods and artifacts on the online shop that can be sold to tourists via cryptocurrencies.
Ariva.World features a product & services management panel that allows businesses to track sales and manage their listings on the platform. Ariva.Club is the dedicated social media hub for travellers to share their experiences and connect with other travellers.
Users can create profiles and build a following by sharing their experiences travelling globally. Ariva has designed a reward system that incentivizes active members and contributors with ARV for their activities. Businesses can also advertise their products and get endorsements from users.
Exciting Times Ahead
Ariva team has already revealed its quest to embark on more partnerships and listings in the future. ARV token was recently listed on the crypto exchange Gate and Bitmart to rave reviews from the crypto community. You can learn more about Ariva by visiting the website https://ariva.digital/. 
This website is only provided for your general information and is not intended to be relied upon by you in making any investment decisions. You should always combine multiple sources of information and analysis before making an investment and seek independent expert financial advice.
Where we list or describe different products and services, we try to give you the information you need to help you compare them and choose the right product or service for you. We may also have tips and more information to help you compare providers.
Some providers pay us for advertisements or promotions on our website or in emails we may send you. Any commercial agreement we have in place with a provider does not affect how we describe them or their products and services. Sponsored companies are clearly labelled.