This is a sponsored story. Its content does not constitute financial advice. Please remember that the value of investments, and any income from them, can fall as well as rise so you could get back less than you invest. If you are unsure of the suitability of your investment please seek advice.
B2Broker, a recognized market leader in providing technology and liquidity solutions for Forex and crypto industries, has launched cTrader White Label to help brokers expand their operations. The new service will allow businesses to access one of the highest-rated multi-asset trading platforms on the market used by experienced traders across the globe. Now all brokers can offer their clients a complete trading experience with the cTrader platform, providing them with an unmatched array of possibilities.
What is White Label cTrader?
A top-tier brokerage solution, White Label cTrader is perfect for those seeking an experience adjustable to a company's preferences. This product provides features that will satisfy both institutional and retail clients in building their Forex, cryptocurrency, or multi-asset broker. A fully customizable user interface can be created to match any branding requirements - and that's just the tip of the iceberg.
White Label offers you everything your business needs, including a license for the servers and an established connection to liquidity providers. Moreover, with this white-label solution, you don't need to worry about integrating CRM, back-office systems, or implementing crypto processing, because the B2Broker team will do everything for you! You'll also have unlimited 24/7 customer service available.
As well as companies that intend to start trading activities from scratch, this solution will also be beneficial to those that plan to expand their platforms list, enabling their users more options and features for efficient and convenient trading.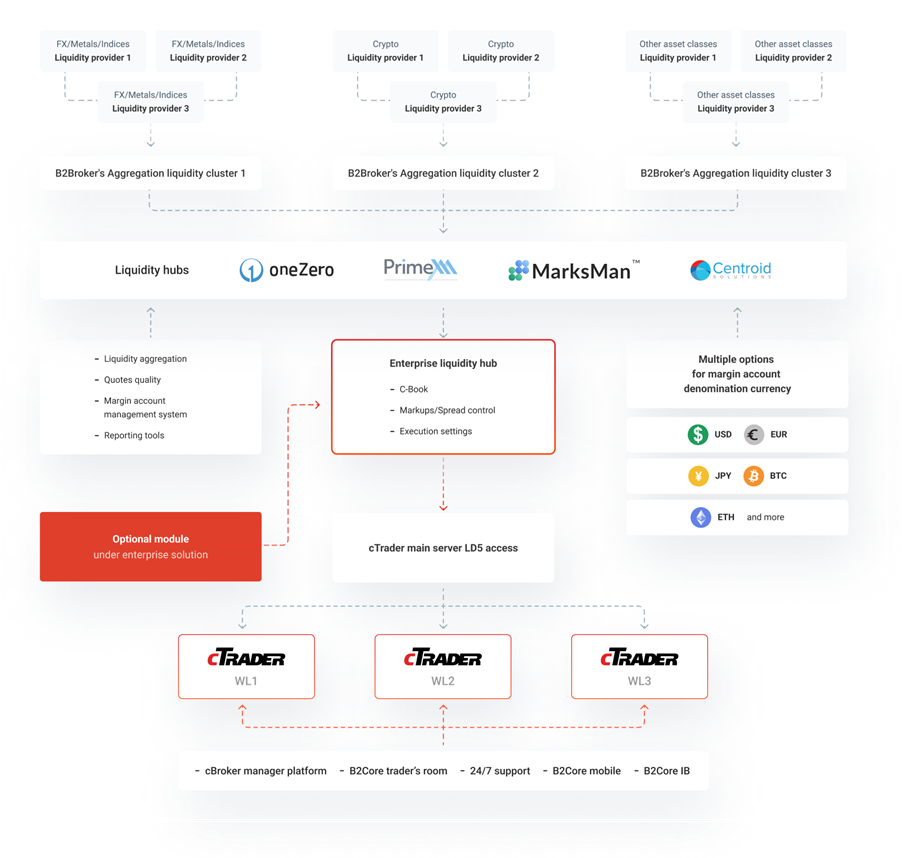 cBroker, a Practical Tool for Managing Processes
cBroker is an app that helps brokers keep track of their clients' activities and see the bigger picture. It provides a simple yet efficient way to manage trading inquiries and maintain customer accounts. cBroker has been designed to give business owners total control over the trading environment. With detailed information readily available at your fingertips, you will gain the full picture of all processes in the system.
cTrader Copy
Platforms that offer users the ability to copy other traders' strategies are becoming increasingly popular, as they offer a convenient and user-friendly way to trade. cTrader Copy comes with a range of features that make it a great option for both experienced and novice traders — investors can choose the assets they wish to trade, as well as the amount they wish to invest. Also, the built-in Copy Stop Loss allows users to control their risk level. Businesses that are looking to boost profitability and grow their client base will benefit greatly from using cTrader Copy because of its user-friendly interface and extensive options.
Open API
The cTrader open API gives developers the ability to create bespoke applications that work seamlessly with cTrader in order to meet specific business requirements. The white-label functionality of the solution enables you to easily customize the interface to match your brand and offer your traders the features they require. This makes it ideal for businesses that want to create a unique and branded trading experience for their customers.
White Label cTrader integrates smoothly with any current trader's room you may have. The benefit of this approach is that you can still access all of the essential trading tools with any additional programs you want. Using an existing customer interface (such as TradingView) or constructing your own for an optimal user experience — this solution is capable of handling both. Customized labels and visuals, programmable technical analysis indicators, and other features allow you to build the ideal trading environment.
Prime of Prime Liquidity Pool
Featuring a Prime of Prime Liquidity Pool, White Label cTrader is the perfect solution for those seeking the best prices from world-leading financial institutions. A large portfolio of over a thousand different trading instruments, including 110 Forex symbols and 150 cryptocurrency CFDs, allows traders to take advantage of the best that the market has to offer. Thanks to Tier 1 liquidity coverage, White Label cTrader will fulfill all your brokerage business needs, whether you want to offer Forex, metals, commodities, indices, cryptocurrencies, equities, or ETFs.
B2Broker and cTrader
B2Broker's White Label cTrader provides a complete brokerage solution for companies looking to get into the Forex, crypto, and multi-asset markets.
"cTrader is a well-known platform with a proven track record of success, and it is used by all the market's top brokers. A quick search on the Appstore for cTrader will reveal all the major companies that use this platform.
We believe that in today's ultra-competitive markets, every broker must offer a wide variety of trading platforms to its clients. Otherwise, the broker would lose clients who wish to trade on the cTrader platform. In addition to the traditional trading capabilities provided by the MT platform, cTrader will almost certainly attract a new category of traders and investors.
When it comes to managing your crypto brokerage, and its algo capabilities, cTrader is one of the top solutions on the market.
Since 2021, we have been seeing a growing demand for cTrader among cryptocurrency brokers. Since many cTrader brokers use our liquidity offering, we decided to open a whole new world for brokers that want to grow more sophisticated and cater to traders' needs, rather than requiring them to use a single platform," B2Broker CEO Arthur Azizov.
Using the platform, brokers will have access to all the tools and resources at their disposal, including a fully customizable front-end interface, back-office management tools, and much more that will make it easier for them to get started. White Label cTrader can also serves as a valuable addition to an existing brokerage, allowing you to extend the scope and reach of your company, thereby increasing your revenue and attracting new customers. White Label cTrader's features can be customized to meet your specific needs and brand identity, whether you're just starting out or running an established business.
The White Label cTrader platform is going to be getting even more innovative features and benefits in the near future. Keep an eye out for updates on what's coming, and do not hesitate to contact us to learn more about how we can help your business!
This website is only provided for your general information and is not intended to be relied upon by you in making any investment decisions. You should always combine multiple sources of information and analysis before making an investment and seek independent expert financial advice.
Where we list or describe different products and services, we try to give you the information you need to help you compare them and choose the right product or service for you. We may also have tips and more information to help you compare providers.
Some providers pay us for advertisements or promotions on our website or in emails we may send you. Any commercial agreement we have in place with a provider does not affect how we describe them or their products and services. Sponsored companies are clearly labelled.