Amid a significant downturn in cryptoasset prices, Binance has managed to remain the market leader when it comes to cryptocurrency exchange volumes, towering over competitors despite sudden volume surges from competing exchanges, such as DigiFinex.
Despite the recent bear market declines, cryptocurrency trading platforms including OKX (formerly known as OKEx) and Coinbase, have remained the leading exchanges by trading volume, behind Binance, maintaining their position among the top 5 exchanges.
Over the year, the rise of FTX has been notable, risingfrom varying positions in the top 10 to secure, in mid-July, the position of the second-largest cryptocurrency trading platform by trading volume, behind only Binance.
OKX also stands out. Launched in 2017 in China, it quickly moved across Asia to settle its HQ in Hong Kong. The platform recently acquired various licenses to expand across the world, lately in UAE, to acquire market share in the Middle East region after seeing expansion in Europe.
On top of its spot and derivatives trading services, OKX also operates its own token (OKB), which enables users to access special features on the OKX exchange. With OKB, holders can participate in early token sales and gain access to a variety of services, including lending, staking, and play-to-earn.
Coinbase's trading volume has been impacted by an investigation from the U.S. Department of Justice (DOJ) into one of its former employee's misuse of confidential information related to listing decisions. The investigation saw the Securities and Exchange Commission (SEC) separately file securities fraud charges against this individual and allege nine of the involved assets were securities.
Seven of the nine assets included in the SEC's charges are listed on Coinbase, which suggests the SEC could move against Coinbase for listing what it sees as securities. Coinbase has disputed these assets are securities.
Coinbase  has also recently partnered with BlackRock to allow clients of its portfolio management platform for institutional investors, Aladdin, short for "Asset, Liability, Debt and Derivative Investment Network," to buy Bitcoin.
The Nasdaq-listed cryptocurrency exchange will provide cryptocurrency trading, custody, prime brokerage, and reporting capabilities. BlackRock is notably the world's largest asset manager, with over $10 trillion in assets under management.
Out of the top exchange by trading volume – Binance, OKX, Coinbase, and FTX – Coinbase is the only one that hasn't launched its own token.
The Road to the Ethereum Merge
Cryptocurrency exchange volumes also need to be put into context with the upcoming Ethereum Merge, which is currently the leading narrative in the cryptocurrency market, with related assets rallying heavily after developers announced that the final testnet merge in Goerli is scheduled to take place over the coming week.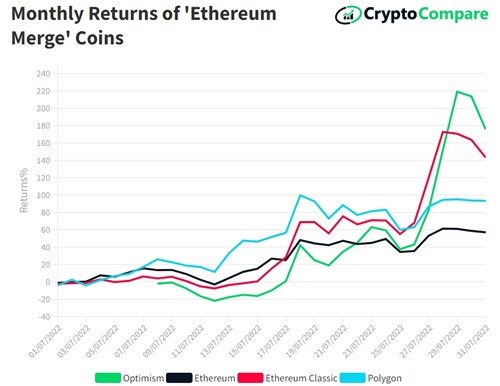 Ethereum miners have campaigned to maintain a Proof-of-Work (PoW) version of the network called ETHPOW, which suggests an airdrop of ETHPOW tokens is possible.
In the short term, this looming airdrop may lead to positive price action for Ethereum and other tokens in its ecosystem as users try to gain as much of the airdrop as possible.
Other well-known hard forks, such as Ethereum Classic, or Bitcoin Cash maintain active communities, but they have been heavily overshadowed by their forked counterparts in Ethereum and Bitcoin.
Find more insights on CryptoCompare's recent blog post on the First Rally Of The Bear Market.
This website is only provided for your general information and is not intended to be relied upon by you in making any investment decisions. You should always combine multiple sources of information and analysis before making an investment and seek independent expert financial advice.
Where we list or describe different products and services, we try to give you the information you need to help you compare them and choose the right product or service for you. We may also have tips and more information to help you compare providers.
Some providers pay us for advertisements or promotions on our website or in emails we may send you. Any commercial agreement we have in place with a provider does not affect how we describe them or their products and services. Sponsored companies are clearly labelled.