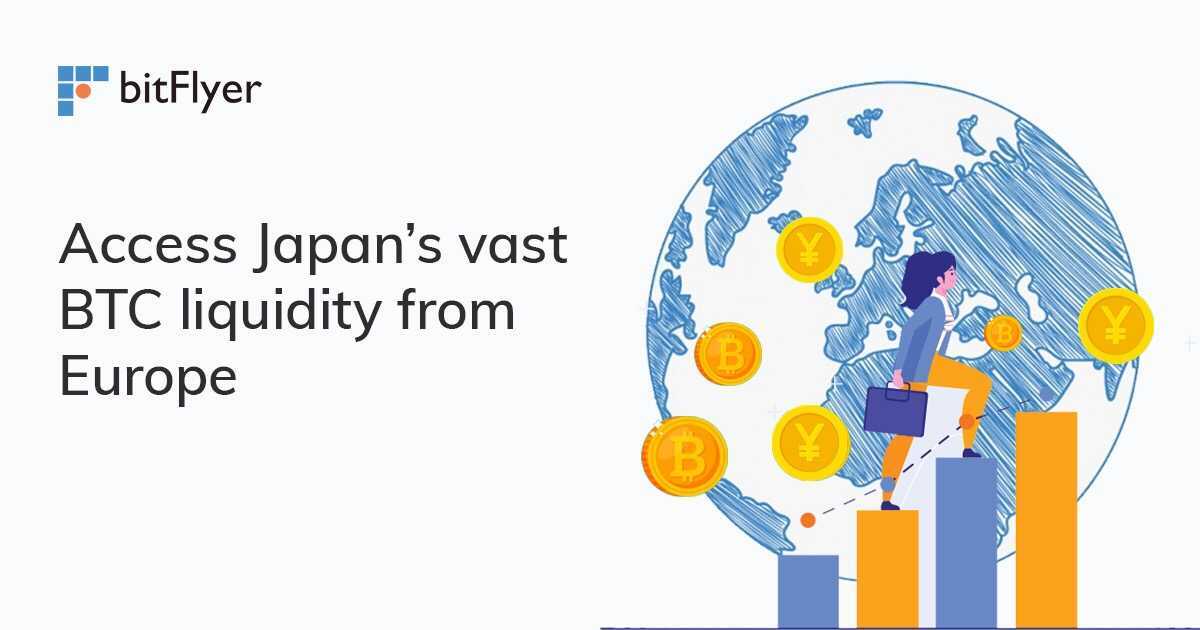 Making money available to everyone, regardless of where they are located, is one of the goals cryptocurrencies were created to achieve. Crypto exchange bitFlyer is now making the liquidity of the Japanese bitcoin market available to European traders, and plans to keep expanding cross-border trading.
In a recent announcement, bitFLyer revealed it's launching cross-border trading to allow bitFlyer Europe users to access the deep liquidity of the Japanese bitcoin market from the platform, while still under the umbrella of the European-regulated platform.
Japan is one of the biggest bitcoin markets in the world, with CryptoCompare data showing 10.5% of all BTC being traded against a fiat currency is traded against the Japanese Yen. The currency falls only behind the U.S. dollar and Tether's USDT stablecoin.
While before it was virtually impossible for traders to use euros to participate in BTC/JPY trading without going through multiple steps – which included handing over sensitive data to numerous exchanges – they will now be able to do so easily on bitFlyer Europe.
How European traders can benefit from Japanese liquidity
All of the trading platform's entities are regulated to the highest standards according to their respective jurisdictions, which implies proper controls and know-your-customer and anti-money laundering compliance.
bitFlyer EUROPE is fully regulated as a payment institution and is supervised by the CSSF, the Luxembourger FSA. Its Japanese entity is regulated by the Japanse FSA and its American Branch acquired license from 50+ MSBs across states, including the New-York Bitlicense.
Using just one account European traders can now trade bitcoin against two major fiat currencies: the euro and the Japanese yen. It's worth noting their access to bitFlyer Japan's liquidity is unseen to BTC/EUR trading pairs, as out of the 10.5% trading volume BTC/JPY pairs have, bitFlyer makes up over 77%.

This creates significant arbitrage opportunities and opens up what could be seen as an opportunity for traders. While markets are efficient, BTC has a different value depending on what it's traded against, as different nations see a difference in the cryptocurrency, and premiums develop.
For years, South Korea has had what is known as the kimchi premium, a gap in cryptocurrency prices in South Korean exchanges when compared to foreign exchanges. The premium is mostly seen on the price of bitcoin.
Other price differences are also created when stablecoins are used to buy BTC. Trading pairs against Tether's USDT often incur a risk premium, as traders know the peg these have to the USD could be broken, and as such consider the stablecoin riskier to use than actual dollars.
Arbitrage Opportunities
Arbitrage opportunities are created when the same asset has a different price on different trading pairs. Some platforms were even created to help traders take advantage of these opportunities, but often the costs associated could eat away the profits.
Using the kimchi premium as an example, a trader would have to buy bitcoin on a foreign exchange like Coinbase, move it to Bithumb, and sell it there to make a profit. Cryptocurrency prices are volatile and if a transaction was to take an hour to confirm – which could easily happen if it had a low transaction fee attached to it – it could be too late to take advantage of the premium.
Paying higher transaction fees could mean it would only be worthwhile for whales to take advantage of the premium. With bitFlyer's offering, every European trader will be able to take advantage of arbitrage opportunities on the more liquid BTC/JPY pair.
Arbitrage opportunities are set to be short-lived, but taking into account traders won't have to move their funds out of the same exchange taking advantage of them won't be as hard.
At press time, CryptoCompare data shows BTC is trading at $10,464 and 1.0948 million yen, the equivalent of $10,474.9. A $10 difference per BTC would not be worth it if users had to move funds from one exchange to another.
Bringing cross-border trading to every major region
bitFlyer was the first cryptocurrency exchange licensed to operate in Japan, the EU, and the U.S. at the same time, and is now the first to bring JPY liquidity to Europe. Its long-term objective is to bring spot trading pairs to every major region, expanding opportunities for traders.
This means that in the U.S. a BTC/JPY and a BTC/EUR trading pair could be available in the future, within the same platform, while European traders get a BTC/JPY and a BTC/USD pair. In Japan, traders will get a BTC/EUR and BTC/USD pair.
In its release, bitFlyer pointed out that the launch of cross-border trading is revolutionary for the cryptocurrency industry. You can sign up for an account now.
This website is only provided for your general information and is not intended to be relied upon by you in making any investment decisions. You should always combine multiple sources of information and analysis before making an investment and seek independent expert financial advice.
Where we list or describe different products and services, we try to give you the information you need to help you compare them and choose the right product or service for you. We may also have tips and more information to help you compare providers.
Some providers pay us for advertisements or promotions on our website or in emails we may send you. Any commercial agreement we have in place with a provider does not affect how we describe them or their products and services. Sponsored companies are clearly labelled.