What's the difference between Coinbase and Coinbase Pro? What's Coinbase Prime? How do the fees work? Is it safe? All this and more will be covered in this guide: Coinbase vs Coinbase Pro.
What Is Coinbase?
Coinbase is a U.S.-based exchange owned by Coinbase Global Inc that provides various services for investors who are looking to gain exposure to cryptocurrency assets. Services that are currently available under the Coinbase umbrella include Coinbase, Coinbase Pro and Coinbase Prime. As a collective, they are some of the most well known, popular and trusted cryptocurrency services available today. 
Coinbase was founded back in 2012 when the cryptocurrency ecosystem was still in its infancy. Since then, it has attracted a loyal following for its user-friendly interface, regulatory compliance and advanced security systems that have made it easy and hassle-free for investors to gain exposure to cryptocurrency. 
For the purpose of this guide, we are going to focus on the differences between Coinbase and Coinbase Pro, as Coinbase Prime, unlike the traditional Coinbase and Coinbase Pro services,  is a new integrated solution that caters for institutional investors who are looking to manage large amounts of crypto assets. 
If you fall under this category, then we recommend you check out Prime's offer directly.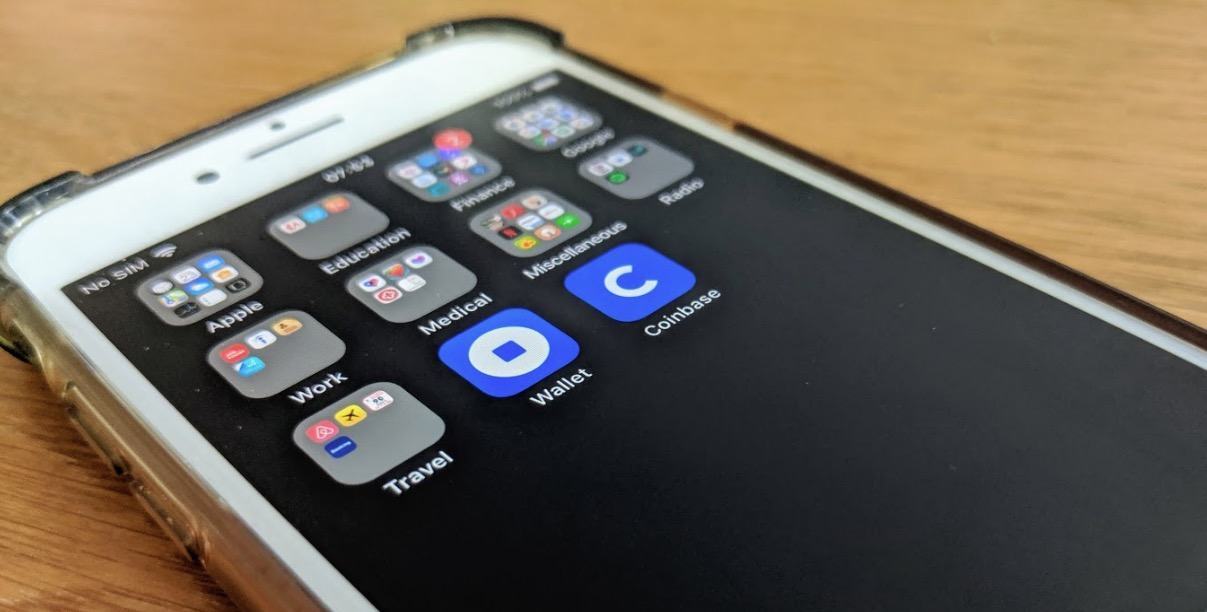 Coinbase and Coinbase Pro: An Overview 
Although the same company owns both Coinbase and Coinbase Pro, they offer different services catered at different levels of investors. 
Coinbase is an easy-to-use platform that is designed with new cryptocurrency investors in mind. It allows you to purchase crypto directly with your credit or debit card and even offers PayPal support. 
Coinbase comes with a simple interface that provides new investors with a snapshot of information and insight about certain cryptos. Users of Coinbase are able to buy, sell, exchange, send and receive over 40 different cryptocurrencies. 
Coinbase Pro is more suited to experienced investors, or those who are trading frequently. The Coinbase Pro dashboard provides investors with a more professional-looking interface and a wider breadth of market data. 
Much like the traditional Coinbase service, it also allows users to purchase crypto directly with a debit card, credit card, PayPal, as well as a plethora of other options. Coinbase Pro also allows you to buy, sell, trade, deposit, withdraw, and gives you access to stop orders, limit orders and time in force order policies.
On the surface level, you can think of Coinbase as an entry-level, accessible platform that is well suited to the average investor. However, if you want to dive deeper into market data and actively trade your assets, then Coinbase Pro would be more suited to you.
TLDR Pros and Cons:
Coinbase
Pros
Accessible UI catering for beginners 

Easy to purchase, sell and trade cryptocurrencies 

Widely available 

Watchlist with notifications & price alerts

Two-factor authentication and cold storage
Cons
Limited selection of assets compared to other exchanges

Complex fee structure 

Tracks your purchases 

No control over your private keys 
Coinbase Pro
Pros
Wide selection of assets 

Simple free structure 

A dashboard that includes user-friendly charts and market data 

Stop, limit and margin trade options 

Two-factor authentication and cold storage

Easy to purchase, sell and trade cryptocurrencies 
Cons
Fees are cheaper than Coinbase, but still more expensive than other providers 

No control over your private keys 

Not beginner-friendly
Coinbase and Coinbase Pro: Features
Both Coinbase and Coinbase Pro provide the following services: 
Mobile App: An extremely accessible and well put together mobile application that is available on both iPhone and Android. The experience is almost equal to that of the web experience and allows users to purchase, sell, swap and access a plethora of other features.
Storage: Whenever you open a Coinbase.com account and purchase crypto, your funds are stored on the exchange. You can think of your "Coinbase.com account as a brokerage that can store your crypto for you." 
Coinbase also provides a wallet service called Coinbase Wallet that provides you with a private key. If you do this, then your wallet is your responsibility as it is stored directly on your device and not within a centralized exchange like Coinbase.com. 
It's worth pointing out that you do not need to be a Coinbase user to use the Coinbase Wallet service. 
Coinbase Unique Features
Earn & Learn: Coinbase has an educational program that lets users learn about crypto via short video clips. Most sessions include 3-5 videos and once you have finished watching them, you can even earn small amounts of the crypto you have learnt about by answering some questions! 
Newsfeed: Coinbase aggregates crypto news from around the world so you can stay up-to-date on everything crypto. 
Price Alerts: Create a watch list of your favourite cryptocurrencies & create custom price alerts so you can stay in the loop about market movements. 
Staking: For the U.S. and other eligible countries, customers can stake Ethereum, Algorand, Cosmos, Tezos and Dai. 
Coinbase Pro Unique Features
Multiple Trading Options: Users of Coinbase Pro can access more advanced trading features such as stop orders and limit orders. You can find a full overview of the order types available on Coinbase Pro here.
Charting Features: Users of Coinbase Pro can access more advanced, real-time charting features including trade history, order book data, moving averages, price charts.
API Keys: Coinbase Pro allows users to access API keys, allowing third-party integration of other apps with your Coinbase account. Coinbase provides an easy tutorial on how to set up your unique API here.
Sub accounts: On Coinbase Pro traders can create multiple portfolios to experiment different trading strategies and follow their individual performance.
Coinbase and Coinbase Pro: Supported Assets
Both Coinbase and Coinbase Pro support numerous fiat currencies, such as USD, GBP and EUR. It's worth noting that not all assets supported by one platform are supported by the other. For example, Golem (GNT) is supported by Coinbase Pro, but not supported by Coinbase. 
The full list of tradable assets can be found below: 
Coinbase:
0x - ZRX
1inch - 1INCH
Aave - AAVE
Algorand - ALGO
Ampleforth - FORTH
Ankr - ANKR
Balancer - BAL
Bancor Network - BNT
Band Protocol - BAND
BarnBridge - BOND
Basic Attention Token - BAT
Bitcoin - BTC
Bitcoin Cash - BCH
Cardano - ADA
Cartesi - CTSI
Celo - CGLD
Chiliz - CHZ
Clover Finance - CLV
Compound - COMP
Cosmos - ATOM
Curve DAO Token - CRV
Dai - DAI
Dash - DASH
Dogecoin - DOGE
Enjin Coin - ENJ
Enzyme - MLN
EOS - EOS
Ethereum - ETH
Ethereum Classic - ETC
Filecoin - FIL
Gitcoin - GTC
iExec - RLC
Internet Computer - ICP
Keep Network - KEEP
Kyber Network - KNC
Litecoin - LTC
Loom Network - LOOM
Loopring - LRC
Mask Network - MASK
Mirror Protocol - MIR
NKN - NKN
NuCypher - NU
Numeraire - NMR
OMG Network - OMG
Orchid - OXT
Origin Token - OGN
Polkadot - DOT
Polygon - MATIC
Quant - QNT
Ren - REN
Rally - RLY
SKALE - SKL
Solana - SOL
Stellar Lumens - XLM
STORJ - STORJ
SushiSwap - SUSHI
Synthetix Network - SNX
Tellor - TRB
Tether - USDT
Tezos - XTZ
The Graph - GRT
UMA - UMA
Uniswap - UNI
USD Coin - USDC
Wrapped Bitcoin - WTBC
yearn.finance - YFI
Zcash - ZEC
Livepeer - LPT
Amp - AMP
Coinbase Pro:
Coinbase Pro has additional trading pairs available, we recommend you view the full list directly via the following link.
Coinbase and Coinbase Pro: Fees
Coinbase and Coinbase Pro have different fee structures. Despite Coinbase being the simpler, more accessible platform, its fee structure is actually more complicated to understand and trading regularly works out to be more expensive. 
Coinbase Pro, however, costs less and uses a maker-taker approach. As per Coinbase "the base rate for all purchase and sale transactions in the U.S. is 4%." But, the fees vary based on your location and payment method."
Coinbase charges 0.50% per trade, 3.99% for credit card purchases, and 1.49% for Coinbase wallet or bank account purchases. Coinbase Pro, on the other hand, charges 0% - 0.5% per trade. 
Unlike Coinbase, Coinbase Pro utilises a tier system. This means that higher value transactions come with lower costs. Attached below is an image from Coinbase's site detailing the different tiers and associated fees.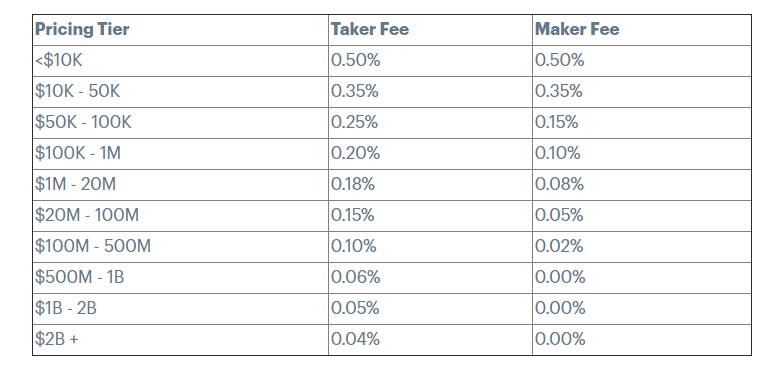 Coinbase vs. Coinbase Pro: Security
Coinbase and Coinbase pro share account login information - as such, they both offer the same security features.
Two-Factor Authentication
Coinbase and Coinbase Pro offer the widely used two-factor authentication services via SMS or Google Authenticator. If you are trading any quantity of crypto, we highly recommend you use these services.
***Best Practices***
In almost all instances, Google Authenticator is a superior option as it circumvents the risk of your phone being spoofed - a practice that allows people to intercept the text messages being sent to your phone. Which in the case of 2FA, can include the security codes. 
Cold Storage and Crypto Vaults
Coinbase's vault service acts like a normal wallet, but prevents you from withdrawing your cryptocurrency immediately by adding extra security steps. 
As per Coinbase: "Vaults also go through a secure approval withdrawal process after creation. Unapproved vault withdrawals will be cancelled in 24 hours."
Users can also split the ownership of there vault between multiple users or emails - requiring multiple authentications before a transaction is approved. 
FDIC Insurance (up to $250,000)
US customers of Coinbase may also receive insurance on USD deposits of up to $250,000 - this does not extend to your cryptocurrency funds, however. 
Conclusion
As mentioned above, Coinbase and Coinbase Pro cater to different types of investors. 
We'd recommend the original Coinbase platform for new investors or those just getting started with the world of crypto. 
With many assets to trade and a simple UI, the only real downside is the higher than average & complex fee structure. Coinbase's Earn platform is also a great way to earn small quantities of crypto whilst educating yourself on this ever-evolving space at the same tie. 
If you're a more experienced trader who wants to access a wider breadth of market data - such as trade history and order book data - then we'd recommend you use Coinbase Pro. This service also provides users with more trading pairs and options - such as  stop orders and limit orders. 
We hope you enjoyed this guide! If you have any questions about either of the Coinbase services, then please do comment below! 
This website is only provided for your general information and is not intended to be relied upon by you in making any investment decisions. You should always combine multiple sources of information and analysis before making an investment and seek independent expert financial advice.
Where we list or describe different products and services, we try to give you the information you need to help you compare them and choose the right product or service for you. We may also have tips and more information to help you compare providers.
Some providers pay us for advertisements or promotions on our website or in emails we may send you. Any commercial agreement we have in place with a provider does not affect how we describe them or their products and services. Sponsored companies are clearly labelled.