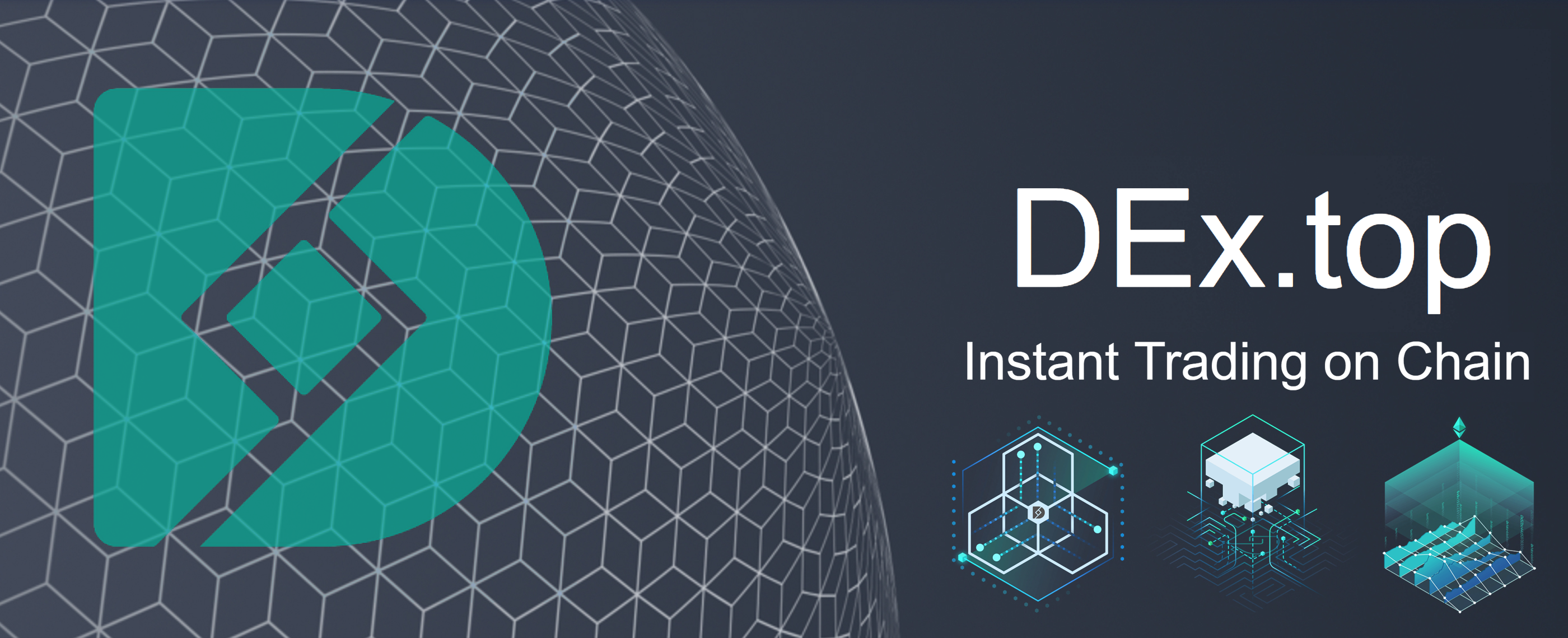 Traditional centralized exchanges play a big role in the crypto space, allowing users to buy and sell cryptocurrencies quickly and intuitively. However, with the convenience that a centralized service provides, a few disadvantages come along. Traditional exchanges have shown that they are prone to security failures like hacks and exit scams, an issue that has cost investors and traders millions of dollars and has deterred would-be crypto enthusiasts from joining the scene.
Luckily, there is an alternative that is becoming more popular every day. Decentralized crypto exchanges like DEx.top allow users to buy and sell Ethereum and ERC-20 tokens in a convenient manner while still giving them the ability to hold on to their funds in their own wallet. Today, we're going to learn about the DEx.top exchange and how to use it so that you too can protect yourself from the woes of centralized exchanges.
Incubated by Bitmain itself, DEx.top is a decentralized exchange based on the Ethereum network. Unlike others, deposits made on the DEx.top exchange are sent to a smart contract that requires orders to be signed off with your associated wallet's private key. This method ensures others cannot withdraw funds or execute trades without your permission, even if the exchange itself was compromised. The official DEx.top website reads:
"DEx.top has no custody of or access to your funds, nor your private key. It is just a service of order matching and a source of liquidity."
While the exchange of funds takes place on the Ethereum blockchain, all other activities are handled by the exchange's off-chain ledger which provides instant order placing, canceling, matching and executing.
Since DEx.top leverages the Ethereum blockchain for decentralized trading, it is only possible to trade Ethereum-based tokens which means that other cryptocurrencies like BTC and LTC or fiat currencies like USD and EUR are currently not available. However, DEx.top has plans to add BCH, EOS, RSK and other ecosystems along with other cross-chain solutions.
Given that DEx.top interacts directly with the blockchain, you'll need to access it through an Ethereum wallet. This can be easily done using the MetaMask Ethereum wallet extension which will allow you to interact with DEx.top and other dApps through your current browser.
Let's see how DEx.top works!
Part 1 - Install Metamask
The first thing you'll need to do in order to start using the DEx.top exchange is to download and install MetaMask. We have a great guide on how to use MetaMask, so click here to learn "How to use MetaMask".
Part 2 - Register an account
Once you've set up MetaMask, it's time to register your DEx.top account.
Step 1:

Go to DEx.top or click

here
Step 2:

Click "

Sign up

" to create a new account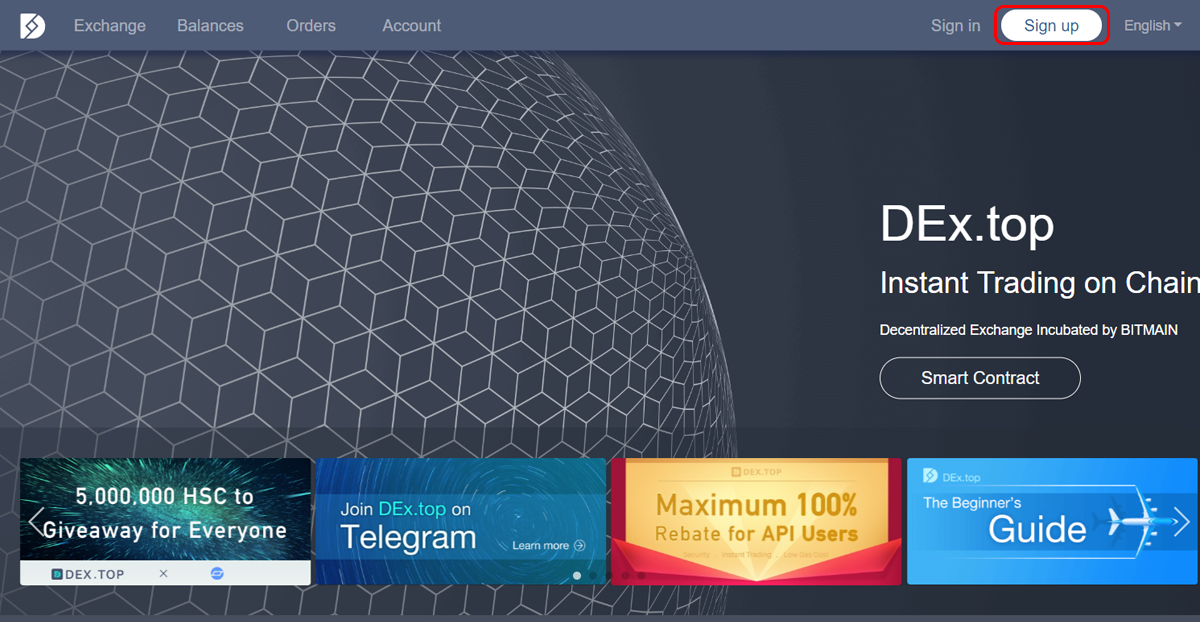 Step 3:

Fill in the gaps with your relevant information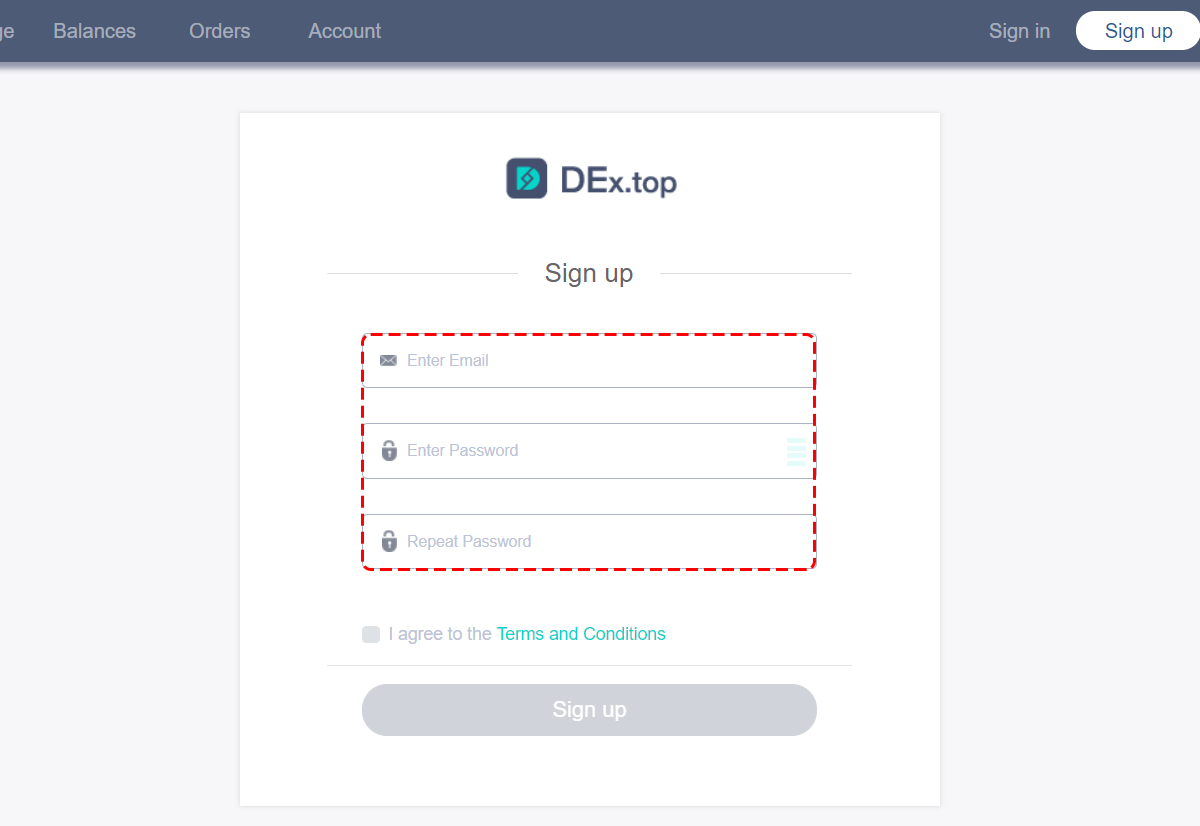 Step 4: Agree to the terms and conditions and click "Sign up"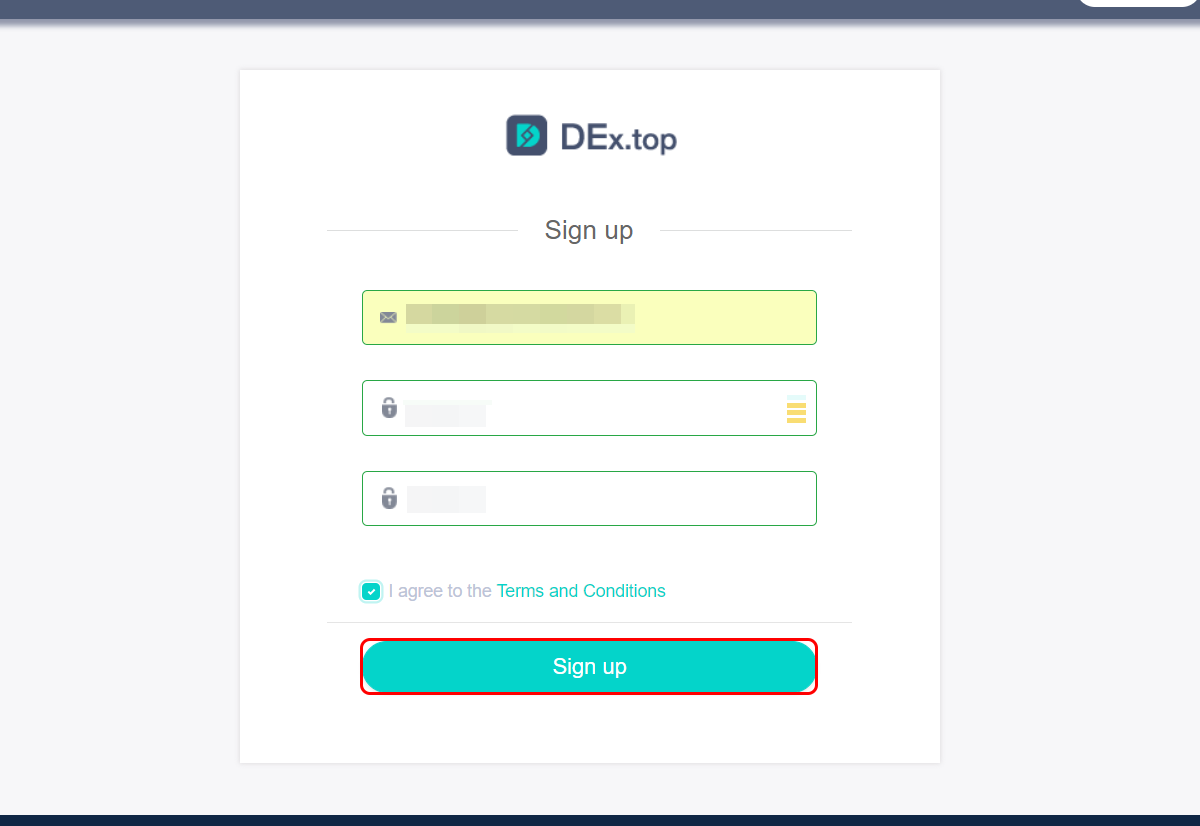 Step 5: You will receive a confirmation email in your inbox. Click "Confirm your account" to confirm your email address activate your newly created account.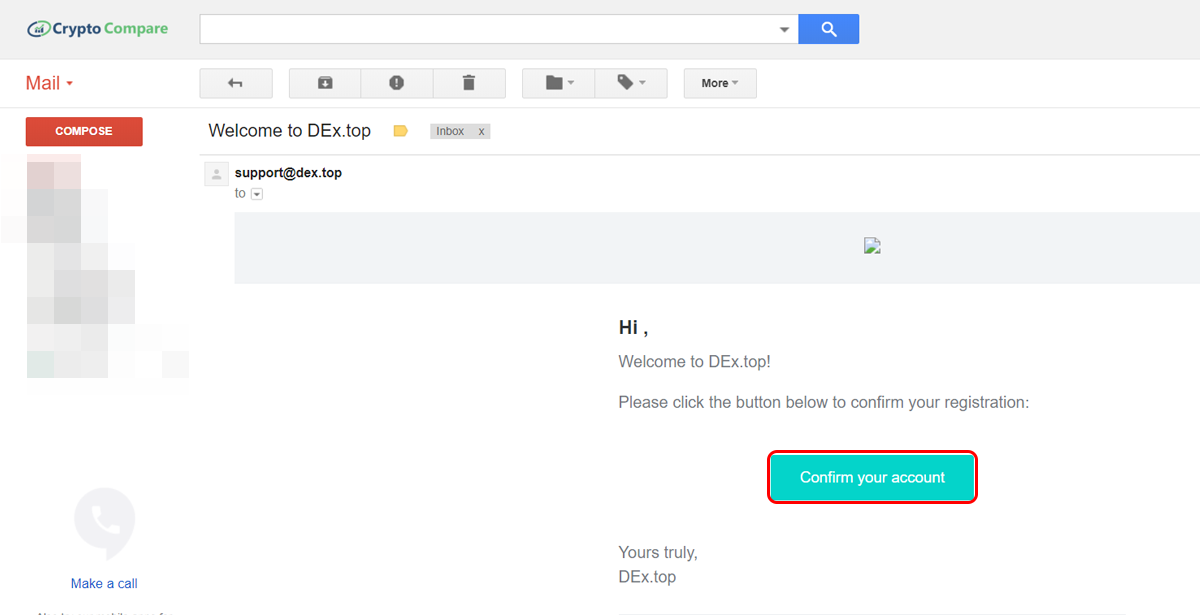 Part 3 - Log in
Step 1: Once you have verified your email address, click "Sign in"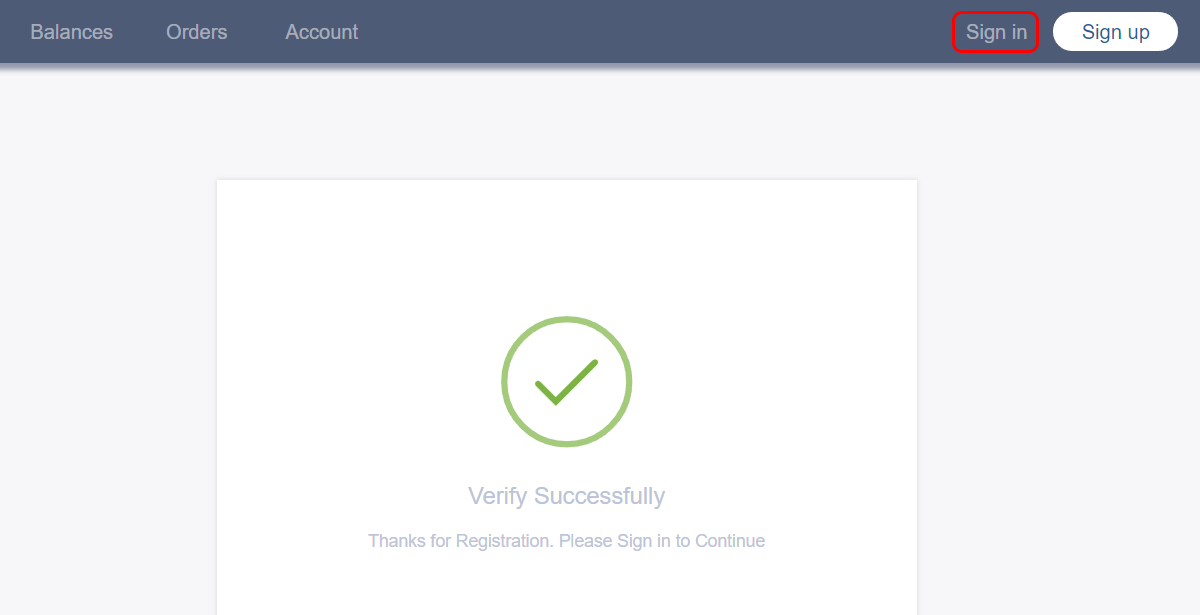 Step 2: Fill in your email and password and click "Sign in" again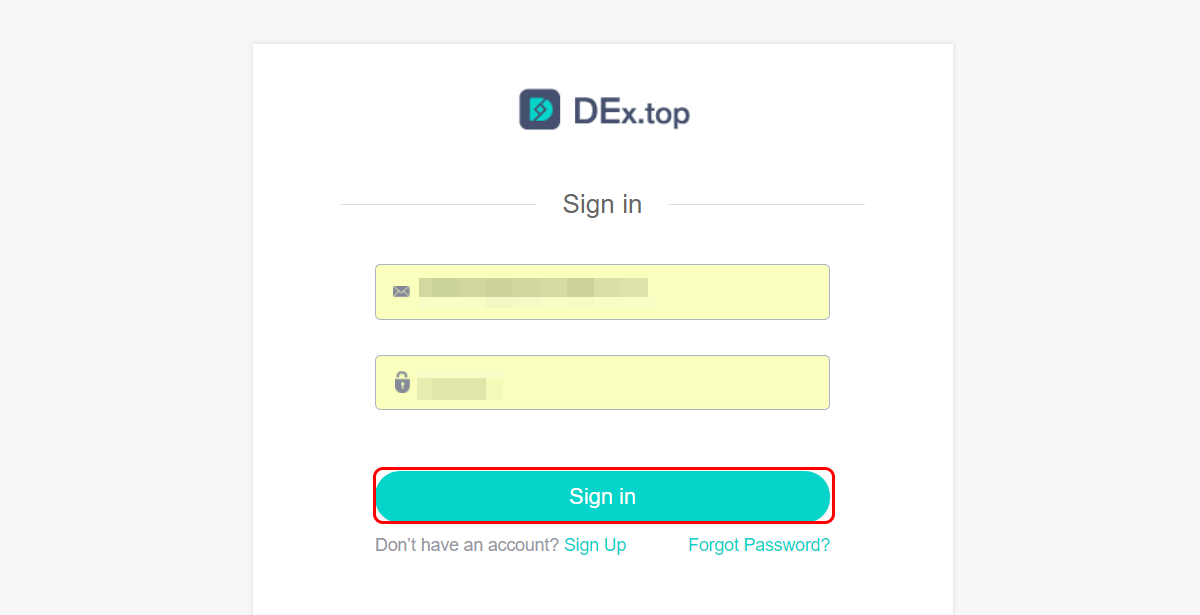 You'll be taken to your account dashboard.
Part 4 - Bind your wallet
Now that you've set up your DEx.top account, you'll want to deposit funds. Unlike traditional exchanges, DEx.top does not have access to your funds. Instead, you must bind your own MetaMask wallet address or addresses to a smart contract in which you'll need to sign off every transaction with your private key. Once you've binded an address, said address cannot be used in another DEx.top account.
Step 1: Click "Balances"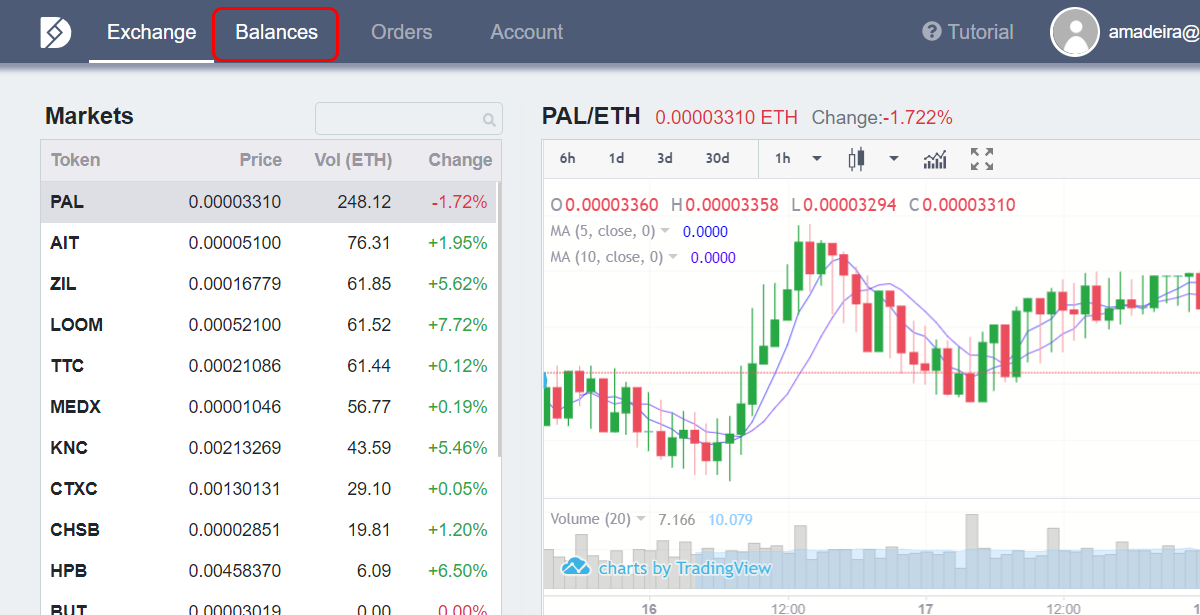 Step 2: Now, to bind your address, click "Go Binding Address"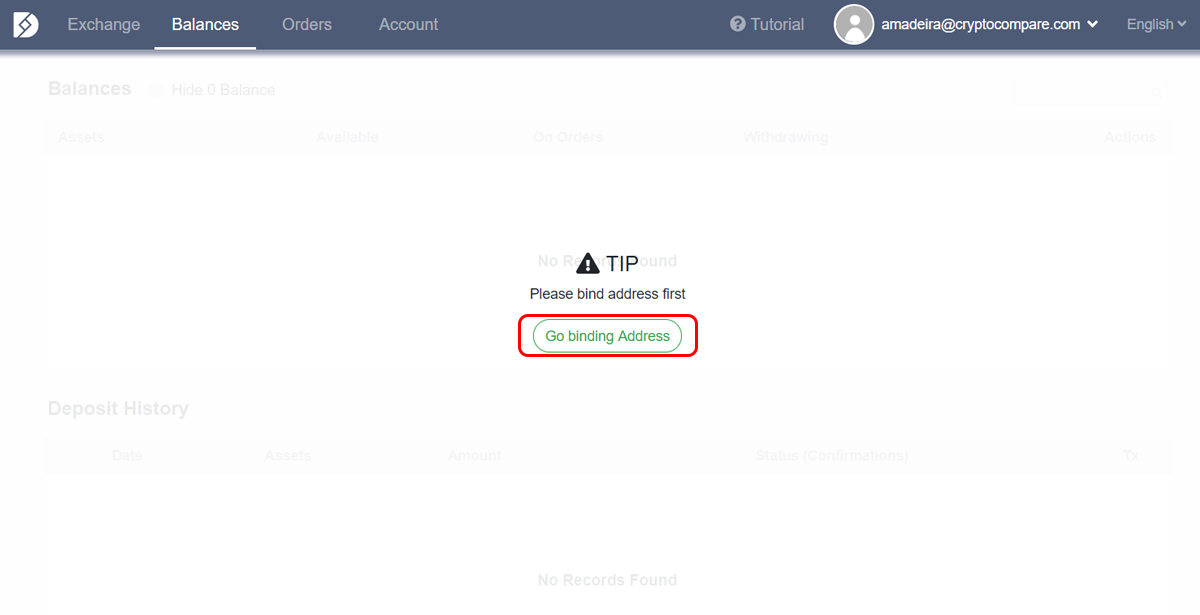 Step 3: Click "Binding new address"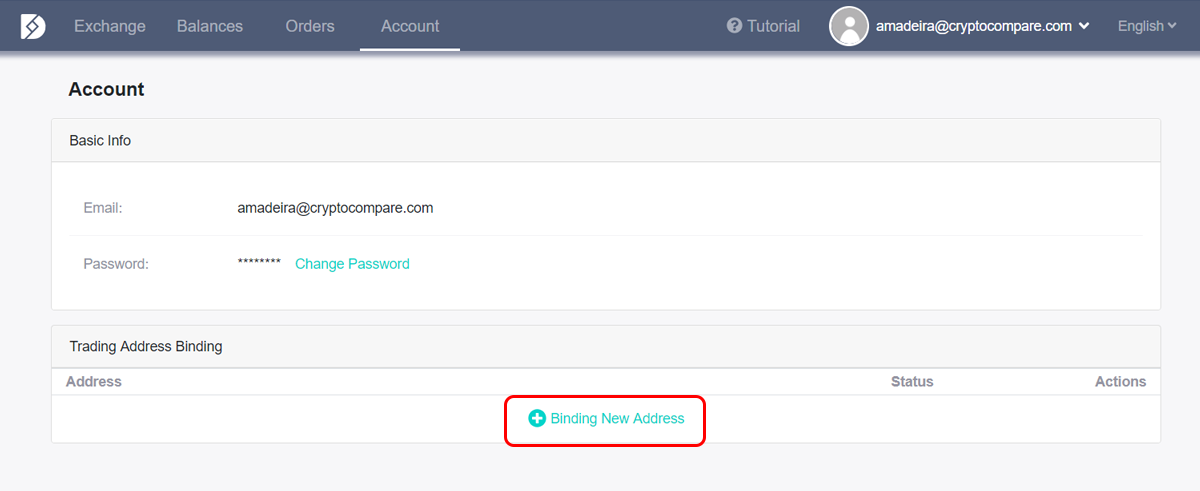 Step 4:

Enter your Ethereum address (MetaMask will likely fill this in automatically) and click "Binding new address"

Step 5:

A MetaMask window will pop up to prompt you about the address you wish to bind. Click "Sign" to confirm this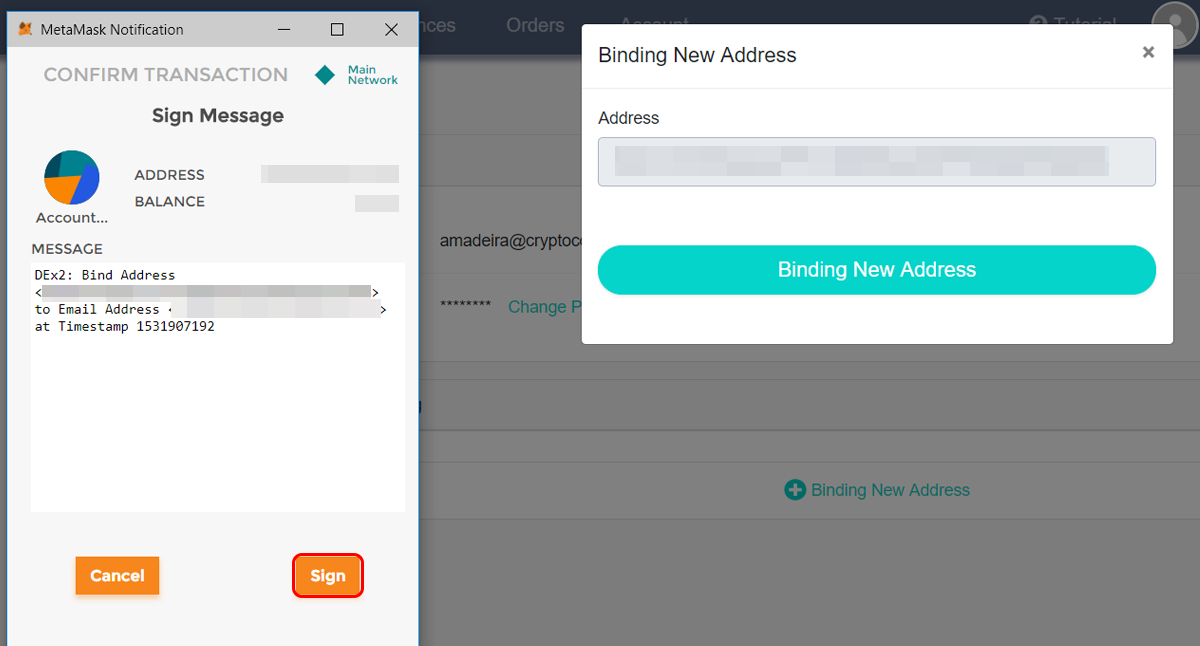 You can now see that your address has been successfully bound on the Balances page. Now it's time to deposit your funds into  If you haven't funded your MetaMask wallet, now it's the time to do so. You can send ETH and ERC-20 tokens to the wallet in order to start trading them.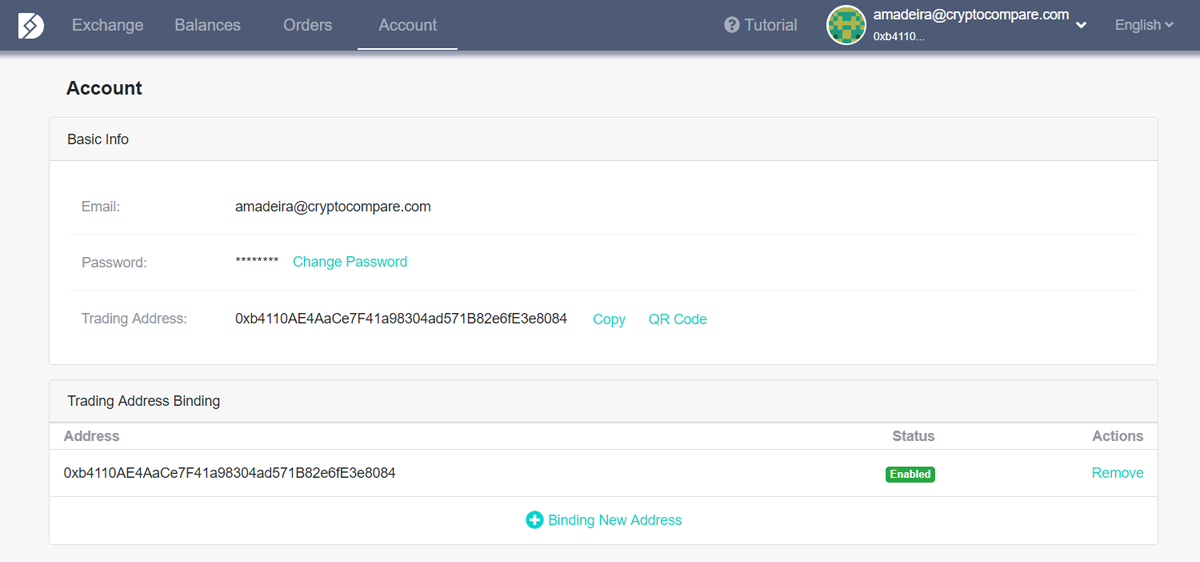 Part 5 - Deposit funds
Step 1: Choose your preferred token or ETH and click "deposit"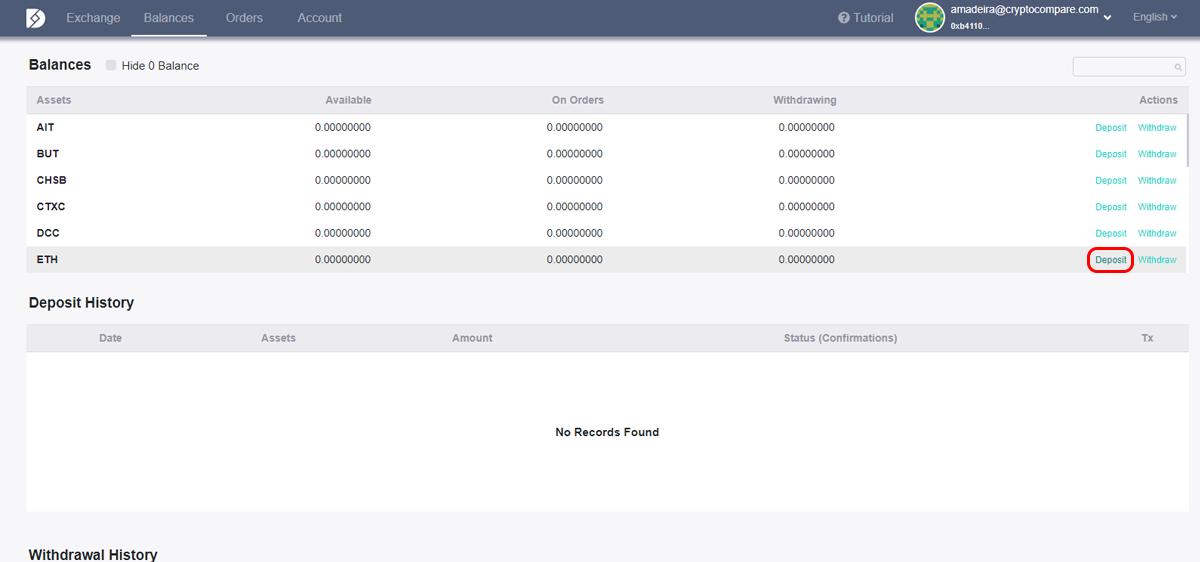 Step 2:

Enter the amount your want to transfer to the smart contract and click "Deposit"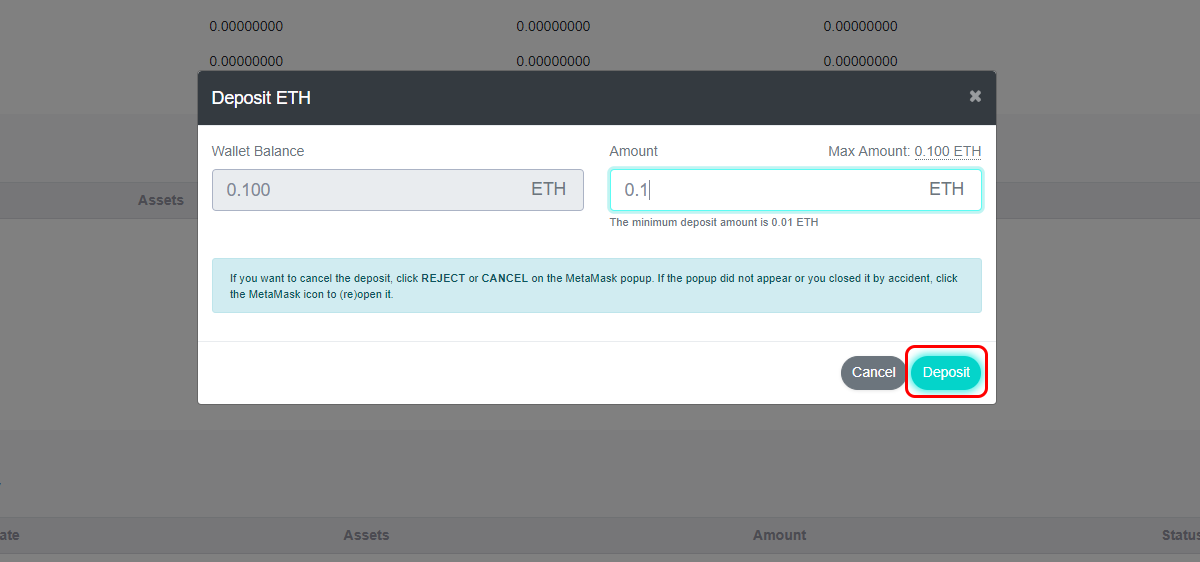 Step 3: A MetaMask popup will prompt you to accept the transaction. Click "Submit"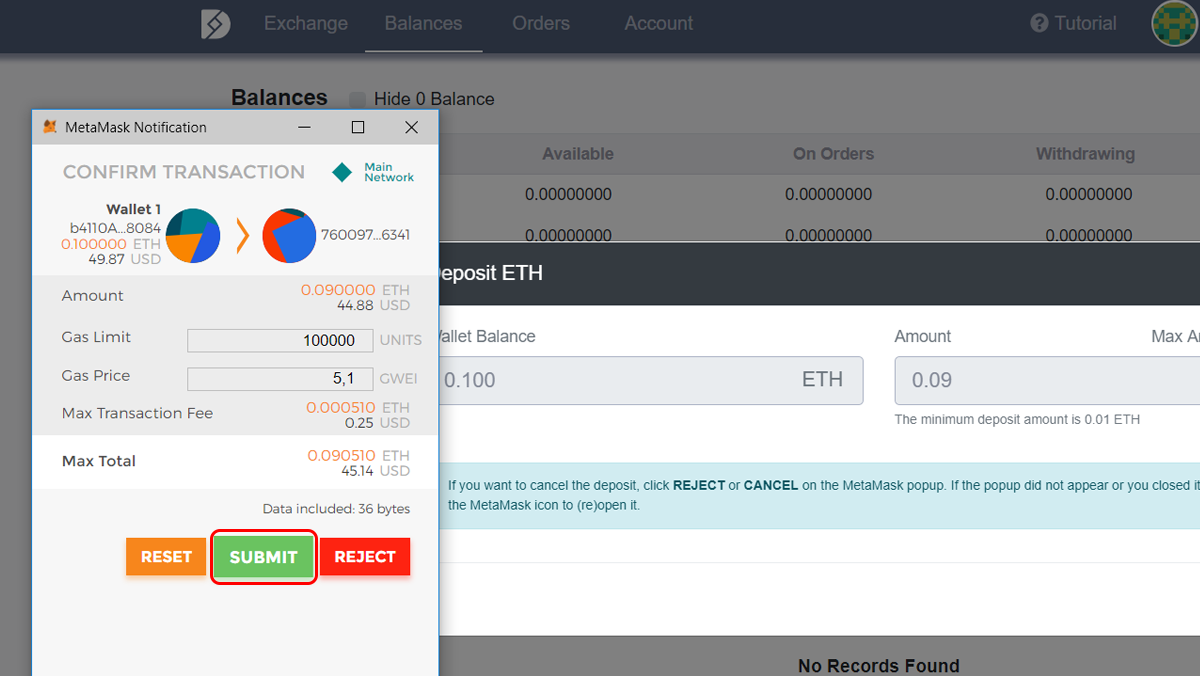 You can see that the transaction is now being confirmed in the Deposit history section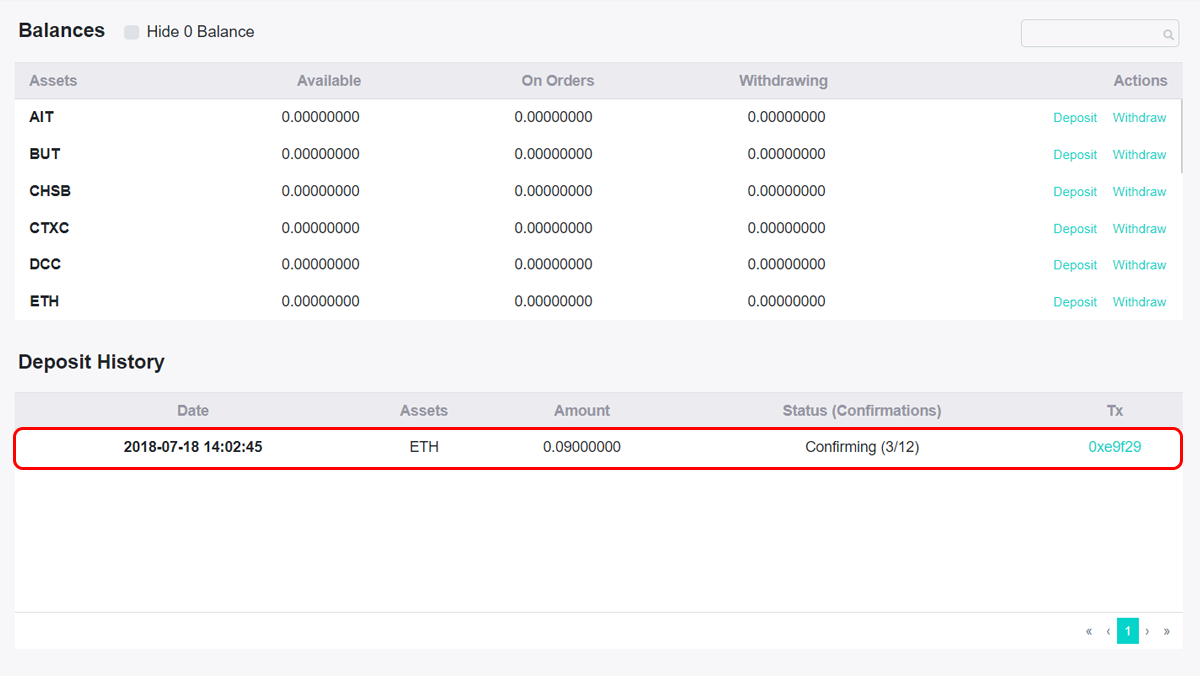 Part 6 - Trade cryptos (Buy&Sell)
Now that your wallet is funded and bound with the DEx.top exchange, it's time to start trading! It's important to note that, unlike other decentralized exchanges, the deposit gas fee is covered by DEx.top itself.
Step 1: Click "Trade"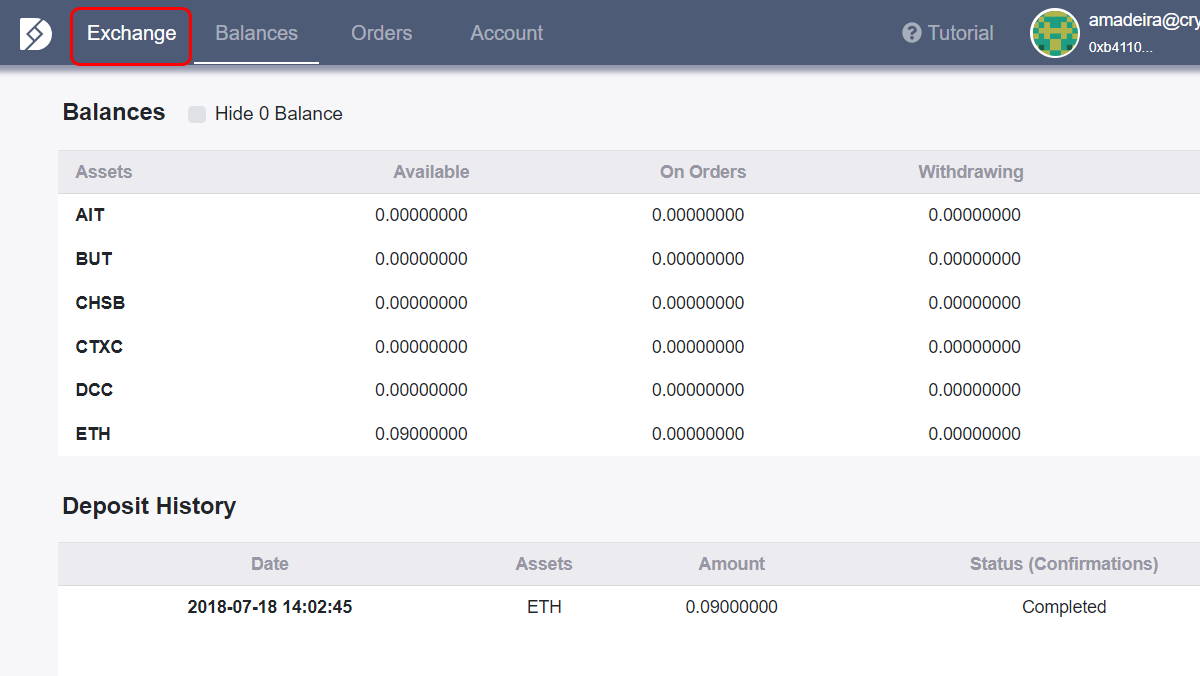 Step 2:

Select the market in which you want to trade. To do so, select one of the tokens on the right-end column.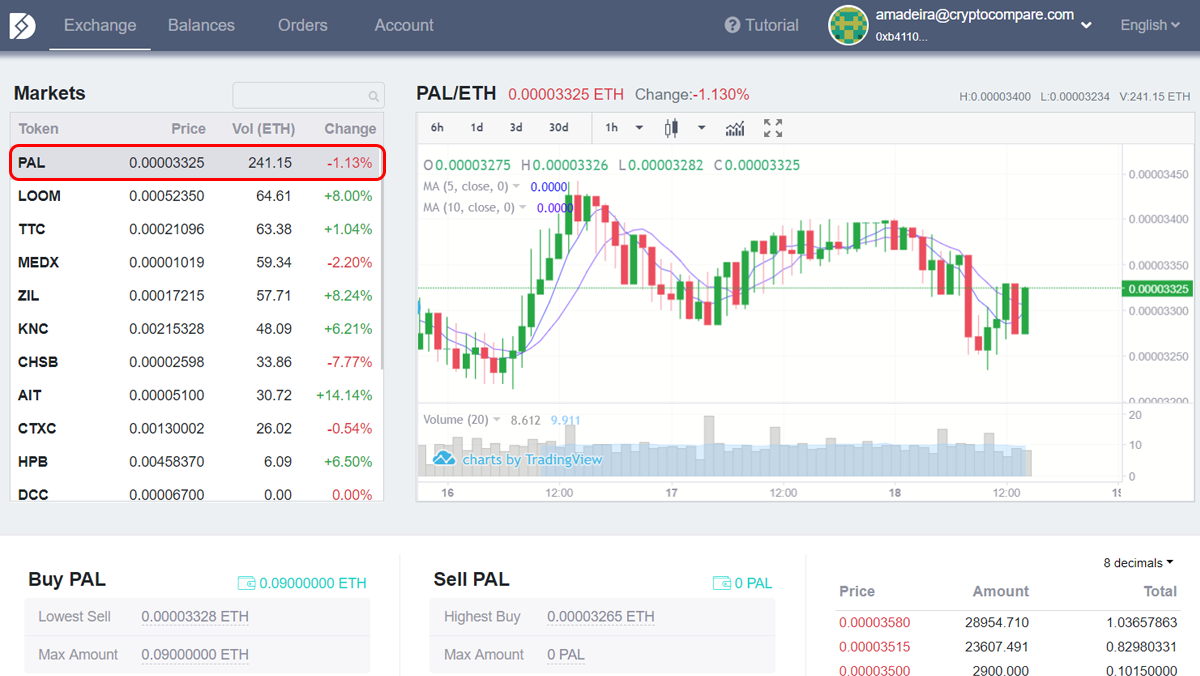 DEx.top allows you to trade ERC-20 tokens for ETH, so by selecting any pair, you'll be buying or selling said token with/for ETH. In this example we're choosing PAL (the first on the list) which means we can either buy PAL with ETH or sell it for ETH.
Below the markets section and the chart, you'll see a Buy column (1) and a Sell column (2). If you want to buy an ERC-20 token with ETH, use the Buy section and if you want to sell an ERC-20 token for ETH, use the Sell section. We're going to buy an ERC-20 token.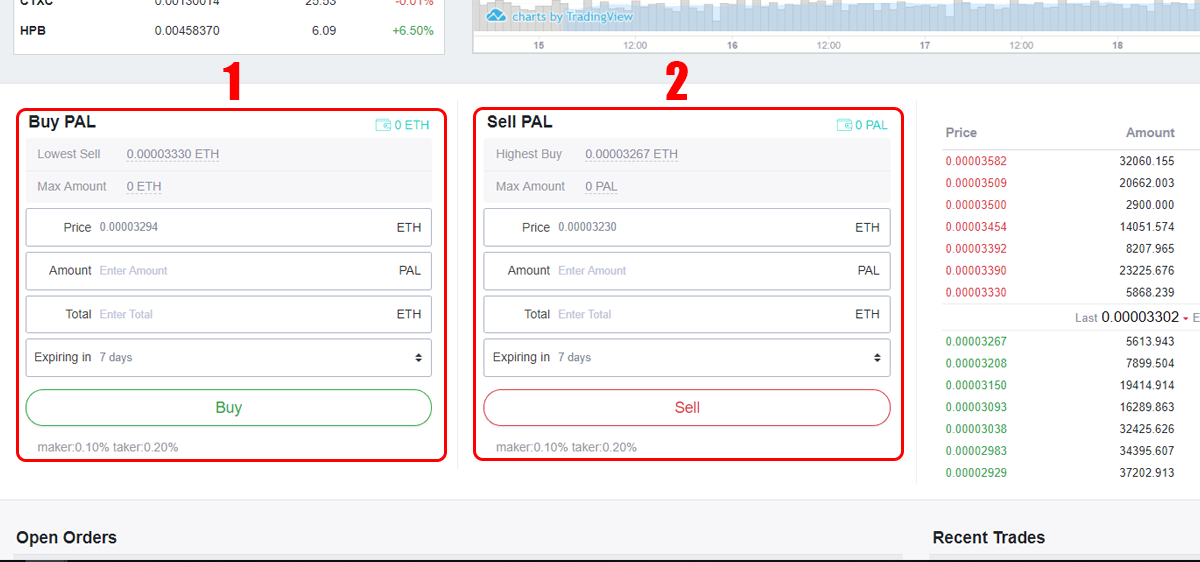 Step 3: Add the price you want to pay (You can click the "Lowest Sell" option to choose the price of the lowest sell order or highest buy order). Choose the amount you want to buy or sell. The total field will be calculated from the previous two fields. Lastly, choose the time that you want the order to be valid for. Once this is all done, click "Buy" or "Sell"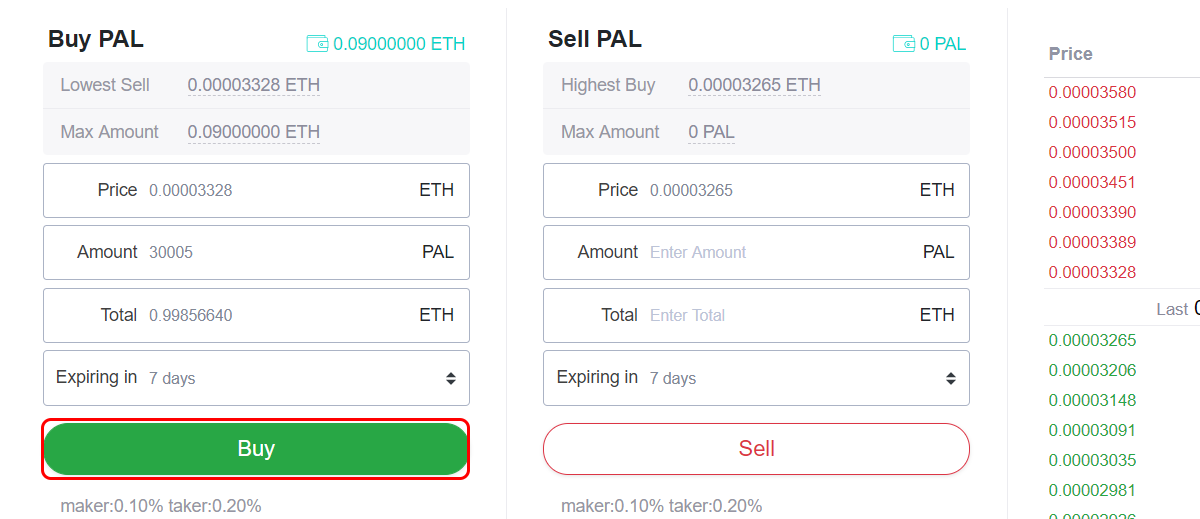 Part 7 - Withdraw funds
Once you've bought your preferred token or cryptocurrency, you can withdraw your funds back to the wallet on the balances page. Gas fees for withdrawals are currently absorbed by DEx.top to encourage early use.
Step 1: Once again, go to the "Balances" section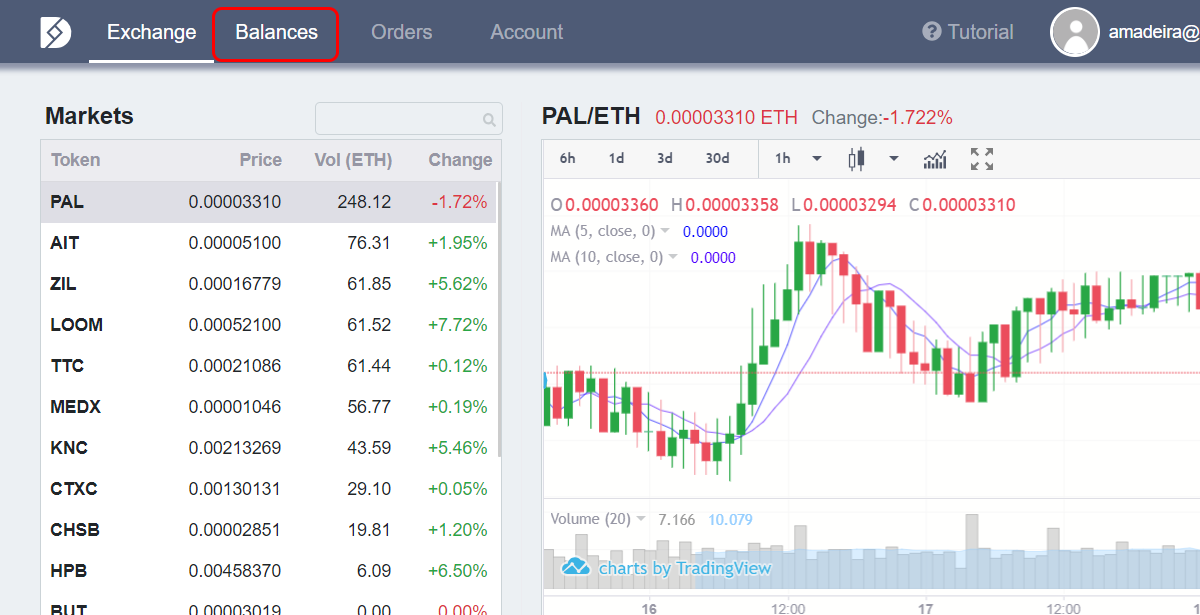 Step 2: Choose the currency you want to withdraw and click "Withdraw"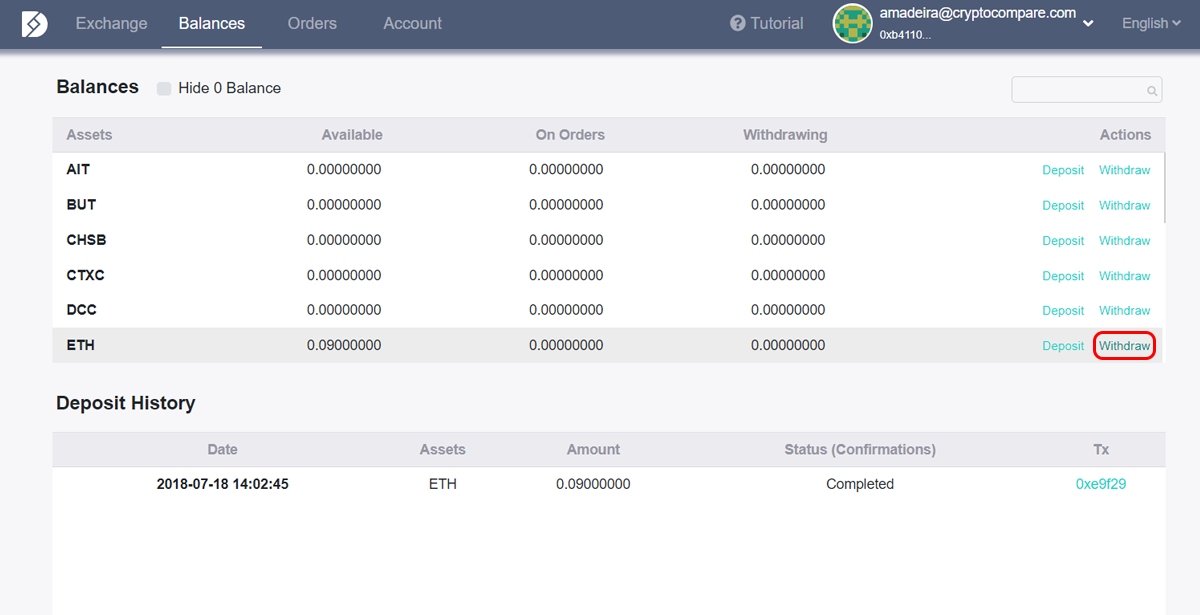 Step 3: Enter the amount you want to withdraw and click "Withdraw"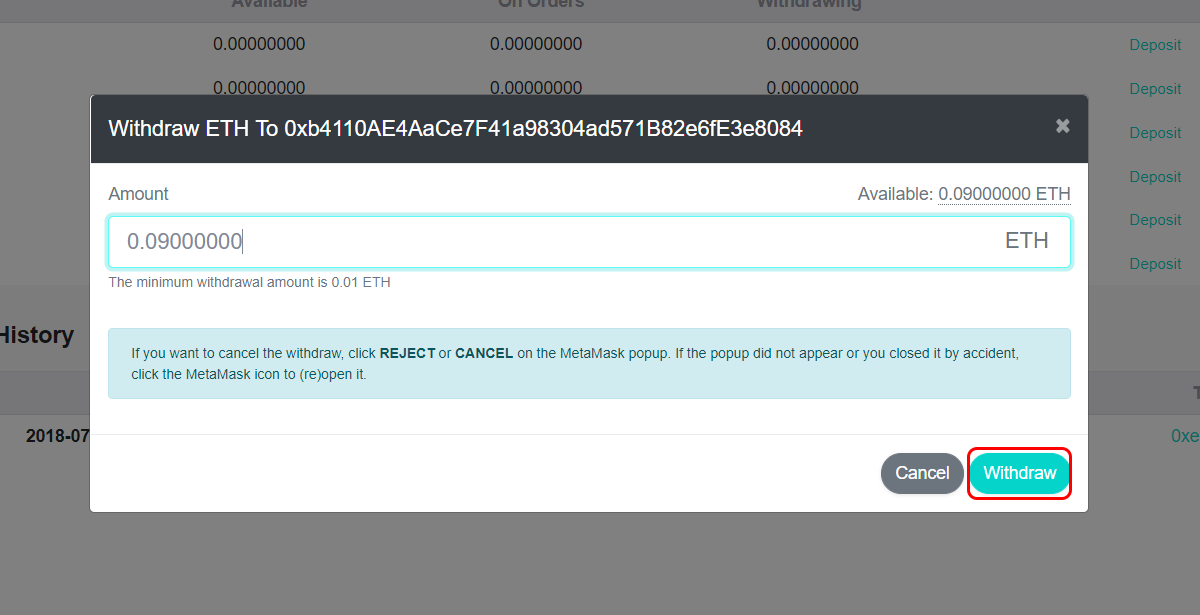 Step 4: A MetaMask popup will prompt you to accept the transaction. Click "Submit"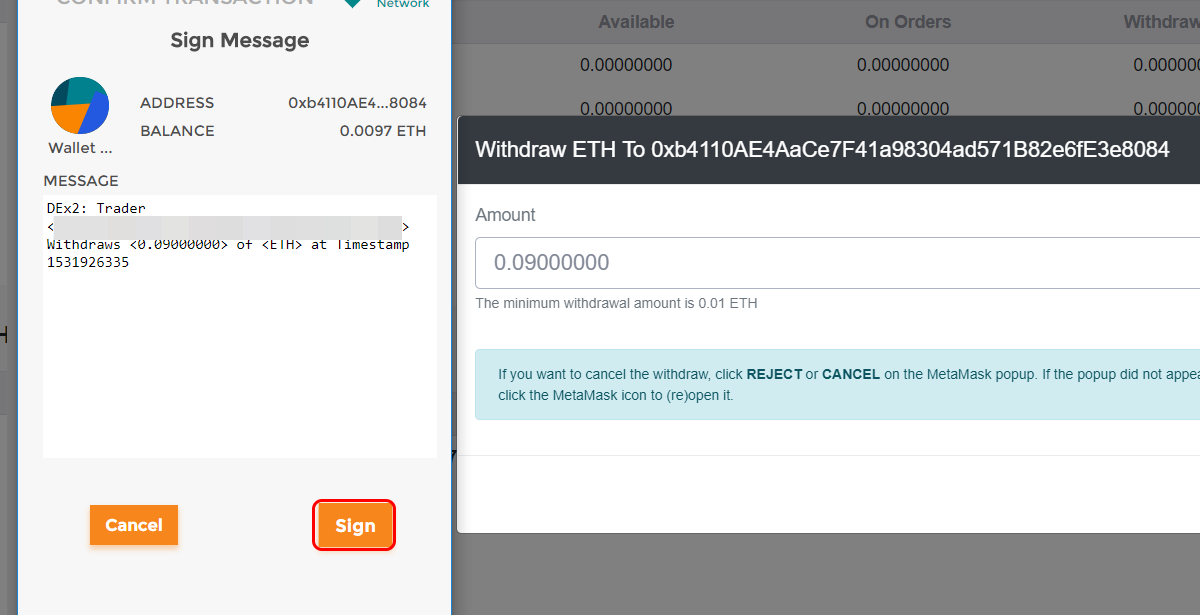 Once the withdraw starts you'll also be able to see it in the Withdraw History section.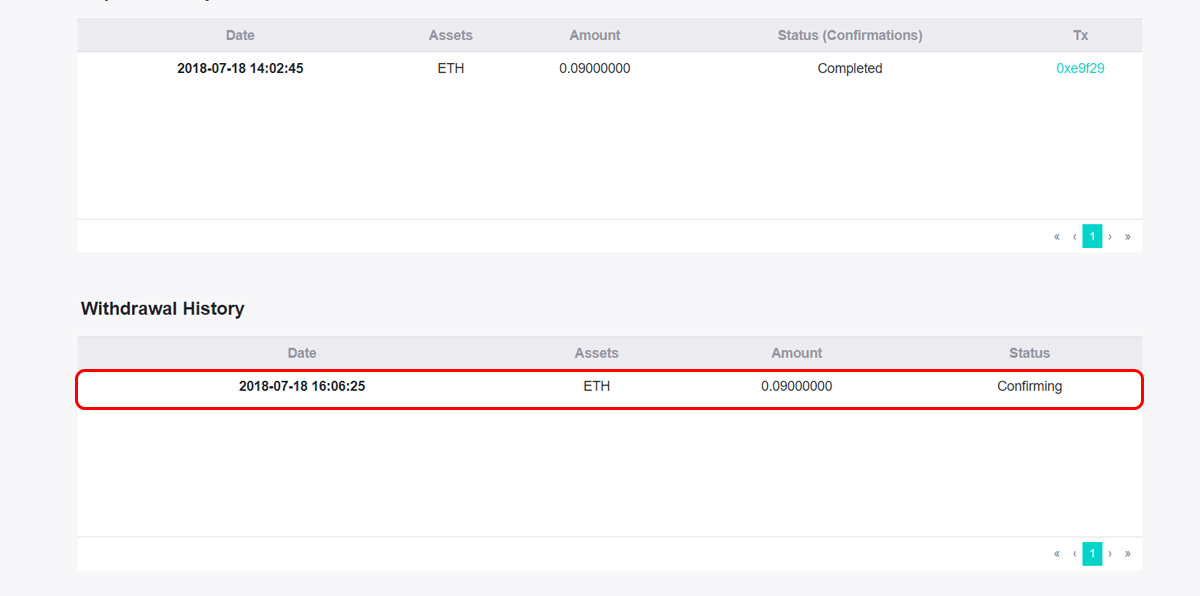 That's it for how to buy and sell Ethereum and ERC-20 tokens on the DEx.top exchange. If you have any additional questions, feel free to contact their customer support which is active 24/7 on their Telegram channel.
This website is only provided for your general information and is not intended to be relied upon by you in making any investment decisions. You should always combine multiple sources of information and analysis before making an investment and seek independent expert financial advice.
Where we list or describe different products and services, we try to give you the information you need to help you compare them and choose the right product or service for you. We may also have tips and more information to help you compare providers.
Some providers pay us for advertisements or promotions on our website or in emails we may send you. Any commercial agreement we have in place with a provider does not affect how we describe them or their products and services. Sponsored companies are clearly labelled.