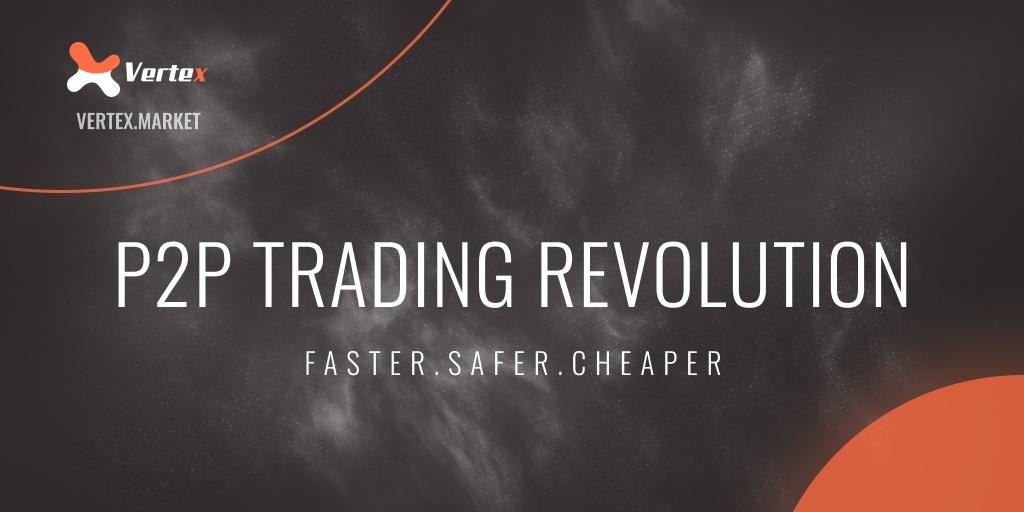 The last decade sure gave us something to root for, since the decentralized blockchain technology was developed with the purpose of what we wanted for years – independence. The rise of Bitcoin intrigued an entire world due to its innovative approach.
But the cryptocurrency industry is still pretty new. We can't buy everything we want with crypto (yet), so we need to exchange them to fiat once in a while.
Now, we can go for the classics and use third parties for the exchange operations, but that will take some time. The transfer process can last for several days, which is inconvenient – especially if it is an emergency.
In order for people to sell and get Bitcoin, altcoins, or tokens, a new type of crypto instrument was developed – the P2P electronic cash system. The platforms that operate with this instrument allow crypto exchanges without any kind of intermediate. 
Vertex Market is one of these platforms, known not just for the speed, but also for the wide variety of payment options and the security provided.
What should you know about Vertex Market?
With over 70,000 users in almost two hundred countries, Vertex Market conquered a lot of crypto enthusiasts due to all the options provided and the tempting benefits.
Depending on the country they are from, users can choose any type of payment available on the platform - like Credit Card, PayPal, MoneyGram, or Western Union. You can even choose a local bank or get to meet the user in person.
The cryptocurrencies accepted are those with the biggest market capitalization, both volatile or stable, so that they can meet the actual people's need:
BTC;

ETH;

BCH;

LTC;

USTD;
When it comes to security, Vertex doesn't mess around. It operates with a streamlined process, simplifying tasks and improving the performance. 
Not to mention its team is really serious when it comes to guaranteeing safety for its users. For example, if the seller claims that he hasn't received any payment, the buyer will be asked to present the team a video proof that he actually paid. 
Is it hard to work with Vertex Market?
Not at all, on the contrary! You just need to select the country you are from and you will instantly see:
The top payment options;

The nickname of the users;

The users' rating, based on previous exchanges;

Their desired payment type;

The limits of fiat value accepted;

The price for one coin.
On the top of the website, users can also access specific pages – either to post an offer or to access their wallet. Note that even if Vertex has its own crypto wallet, you can use external wallets as well.
Are there benefits?
Of course there are - from their prices to the relationship the team establishes with their users.
For every exchange operation, both the sellers and the buyers are asked for just 0.5% of the amount, as transaction fees. And if their exchanges are positive, they will eventually get to the VIP status – the ticket for trust, well deserved.
But one of the biggest benefits is that Vertex provides users with a Theft Cover Insurance and Trade or Scam Insurance Services. That really shows how serious they are with safety.
Qualitative support, engaging cashbacks for trades, and hall meetings with the team, Vertex Market has simply everything! 
This website is only provided for your general information and is not intended to be relied upon by you in making any investment decisions. You should always combine multiple sources of information and analysis before making an investment and seek independent expert financial advice.
Where we list or describe different products and services, we try to give you the information you need to help you compare them and choose the right product or service for you. We may also have tips and more information to help you compare providers.
Some providers pay us for advertisements or promotions on our website or in emails we may send you. Any commercial agreement we have in place with a provider does not affect how we describe them or their products and services. Sponsored companies are clearly labelled.