In 2017, the Ripple cryptocurrency has turned a lot of heads, especially on the price charts! Increasing in value several times over since the beginning of the year and making several partnerships with banks throughout the world. Most Recently, Ripple has also committed to "locking" 55Billion of their tokens in a special escrow contract.
As Ripple's popularity grows, it becomes easier to buy it with fiat. Several exchanges have added trading pairs for Ripple, most recently Kraken. However, this guide will teach you how to buy XRP using the Bitstamp platform. So, let's get to it!
Part 1 - Create an account with Bitstamp
Step 1: Click here

to go to Bitstamp
Step 2: Click "Open Account"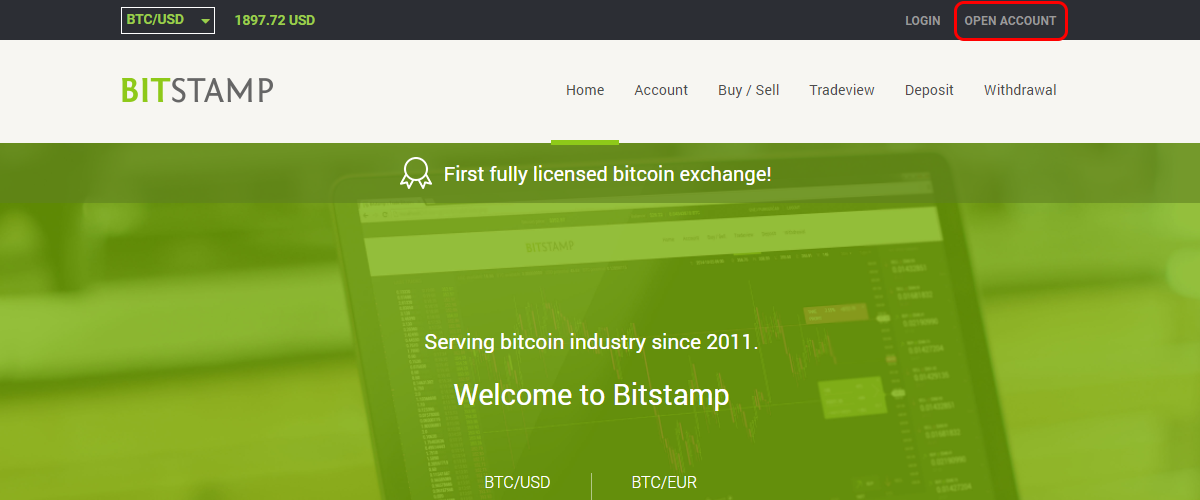 Step 3: Enter your personal details, agree to the terms and conditions and click "Register"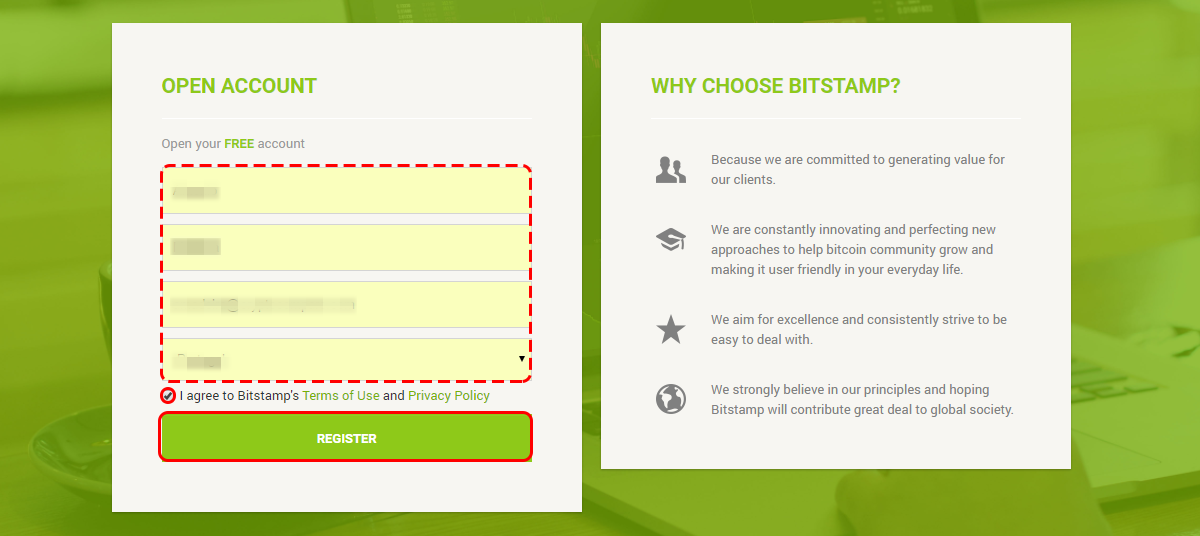 Step 4: You'll be sent an email with your login details, ID and password. Use these to login

Step 5: Go back to Bitstamp and click "Login"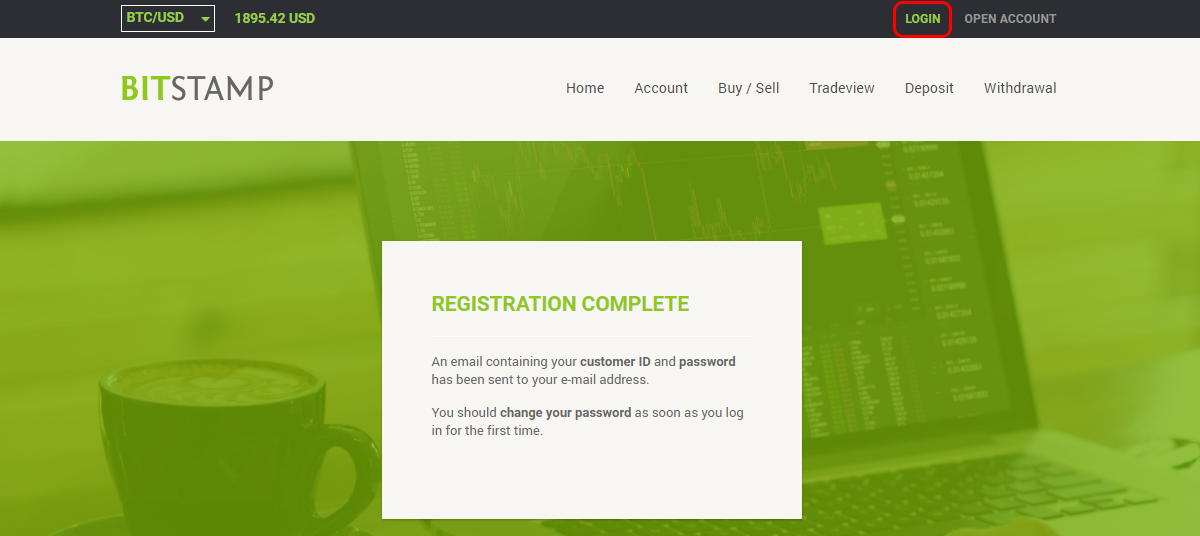 Step 6: Enter your ID and password and click "Login"

Step 7: You'll be prompt to change the password for security reasons. Enter the current password, the new password, confirm the new password and click "Change Password"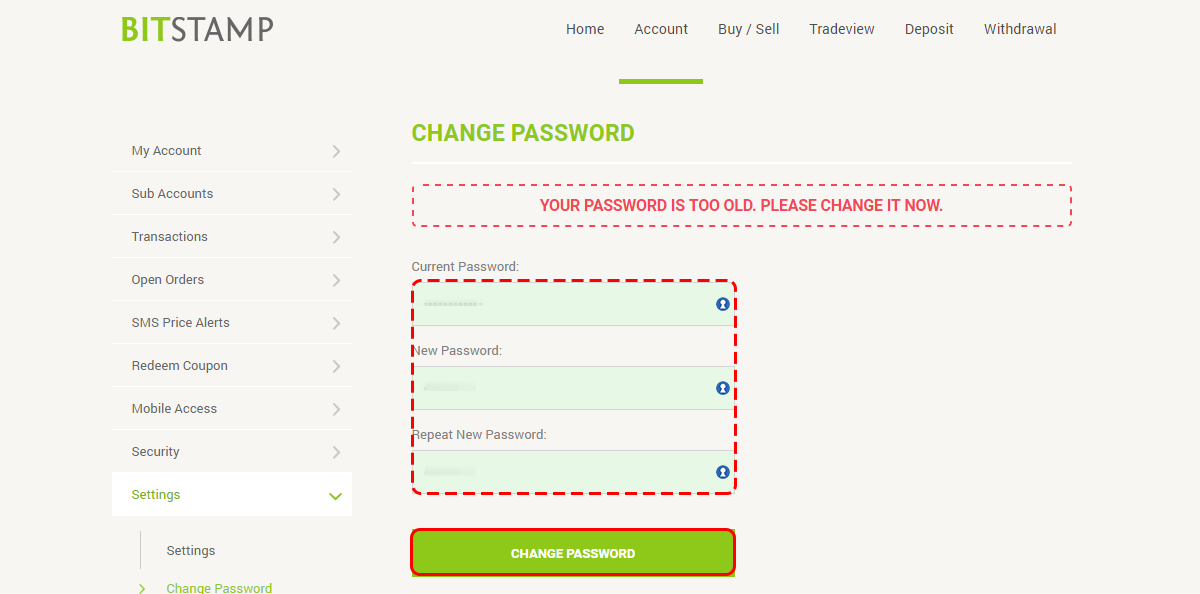 Part 2 - Verify your account
Step 1: Scroll down a bit and click "Verify Account"

Step 2: Now, enter your personal information and scroll down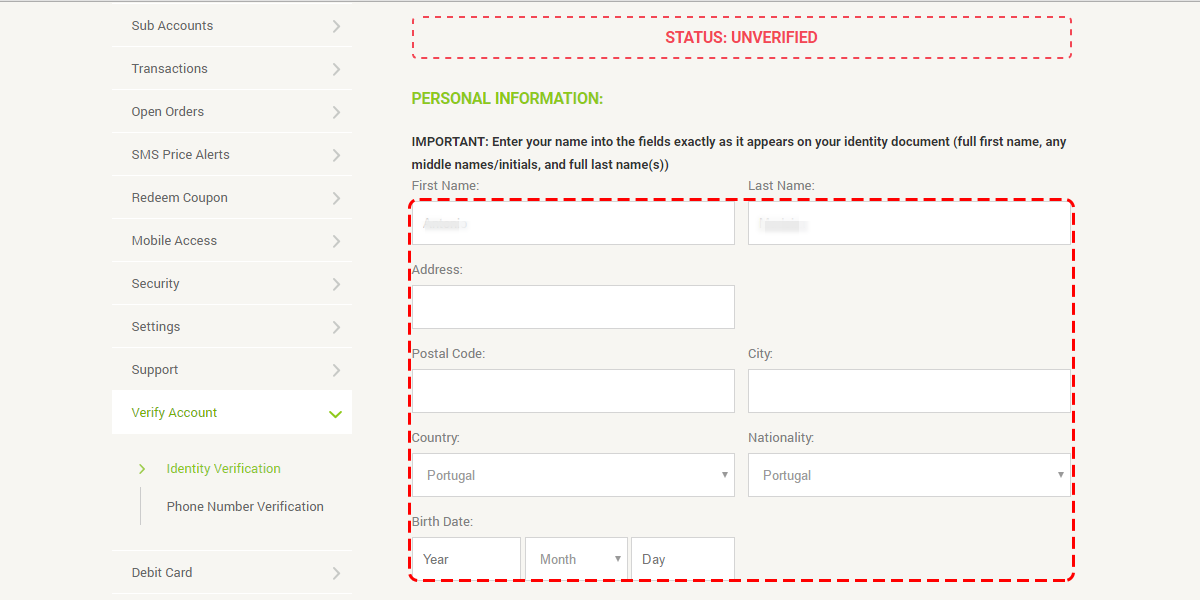 Step 3: Confirm if you're a US citizen and continue (Yes or No)

Step 4: Now, we need to upload our ID, front and back. To do so, click "Choose file" and upload your images

Step 5: Fill in the correct info on the ID you've just uploaded

Step 6: Upload proof of your address like a bank statement or utility bill

Step 7: Lastly, click "Submit Verification Request"

This process may take a while and Bitstamp will inform you once it's done.
Part 3 - Deposit USD
Step 1: Now that your account has been verified, we'll need to deposit USD or EUR. Click "Deposit"

Step 2: Choose your deposit method

Step 3: Enter your information and click "Deposit"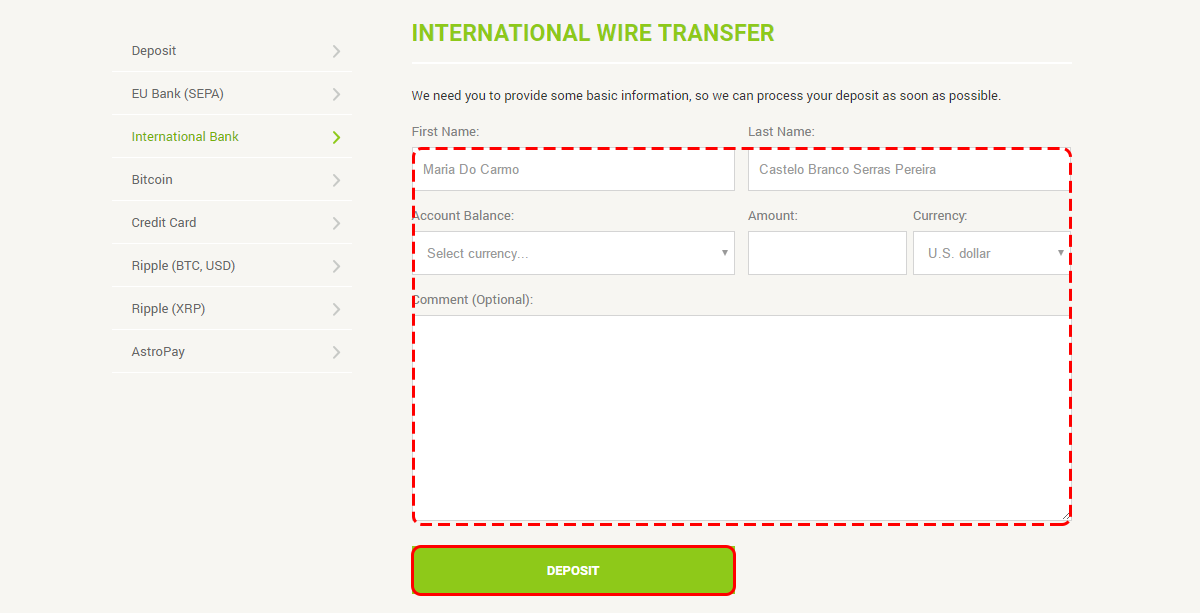 Step 4: and follow the instructions provided by Bitstamp
Part 4 - Buy Ripple (XRP)
Now that you have fiat in your account, it's time to buy some Ripple (XRP).
Step 1: Click "Buy/Sell"

Step 2: Choose your preferred pair in the left upper corner. We're going with XRP/USD

Now, you can choose to do an instant order or to choose any other from the list on the left corner. For simplicity sake, we're choosing the instant order which means that we're going to take a sell order that has already been created. However, you can also choose to create your buy order in "Limit Order"
Step 3: Choose whether you want to buy or sell XRP. We want to buy in this case so click "Buy XRP"

.

Step 4: Enter the amount you want to buy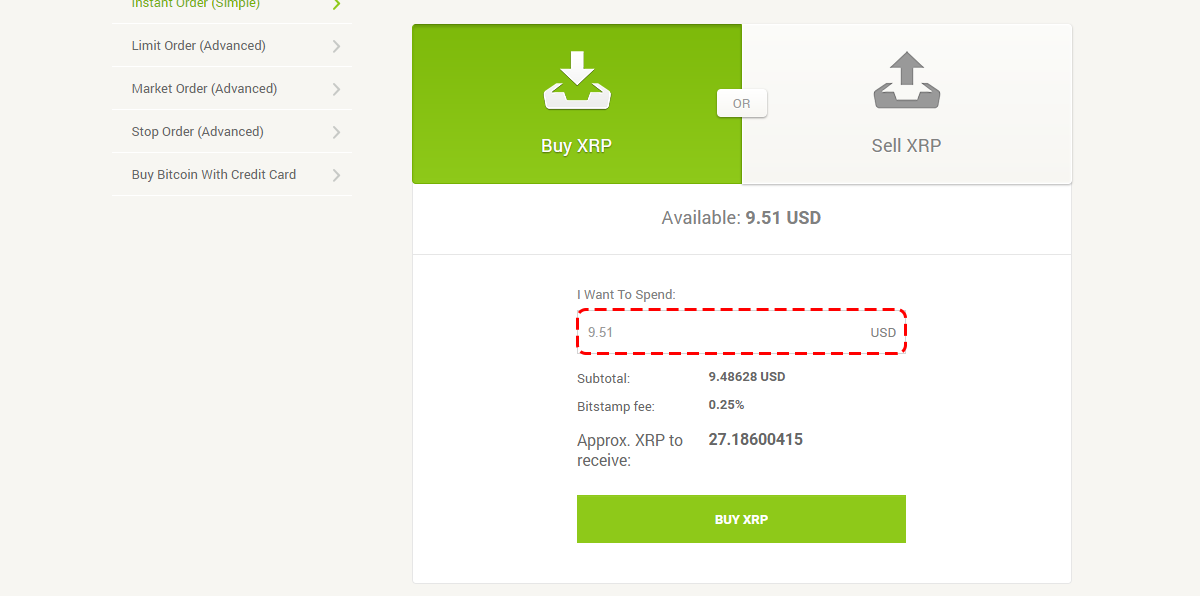 Step 5: Click "Buy XRP"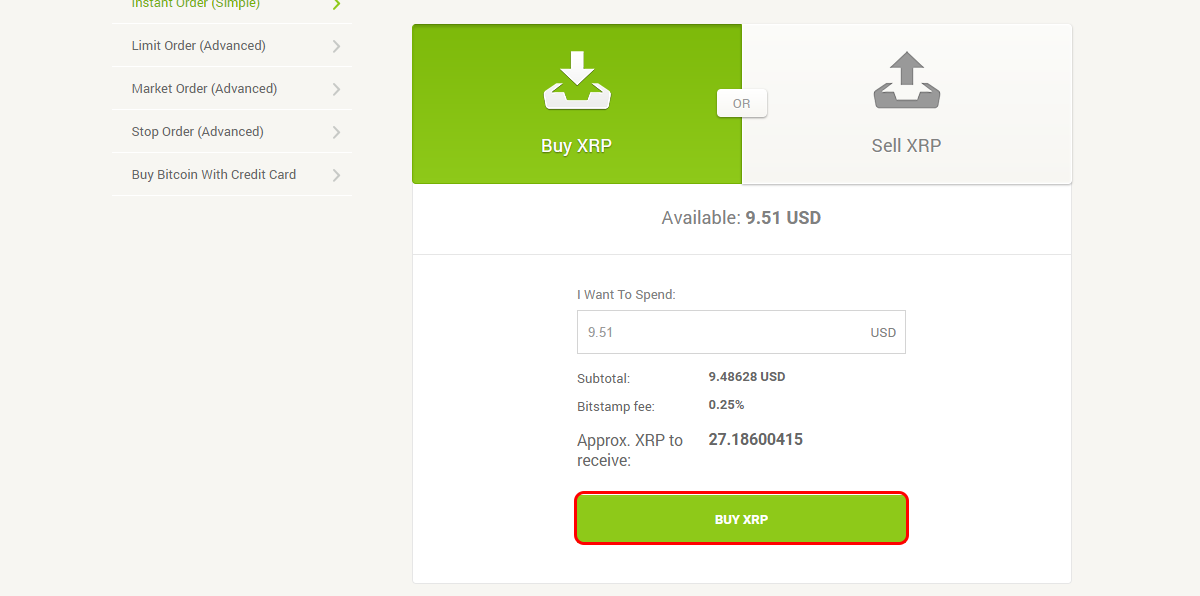 Well done! Let's see how the "Limit Order" works!
Step 6: Click "Limit Order"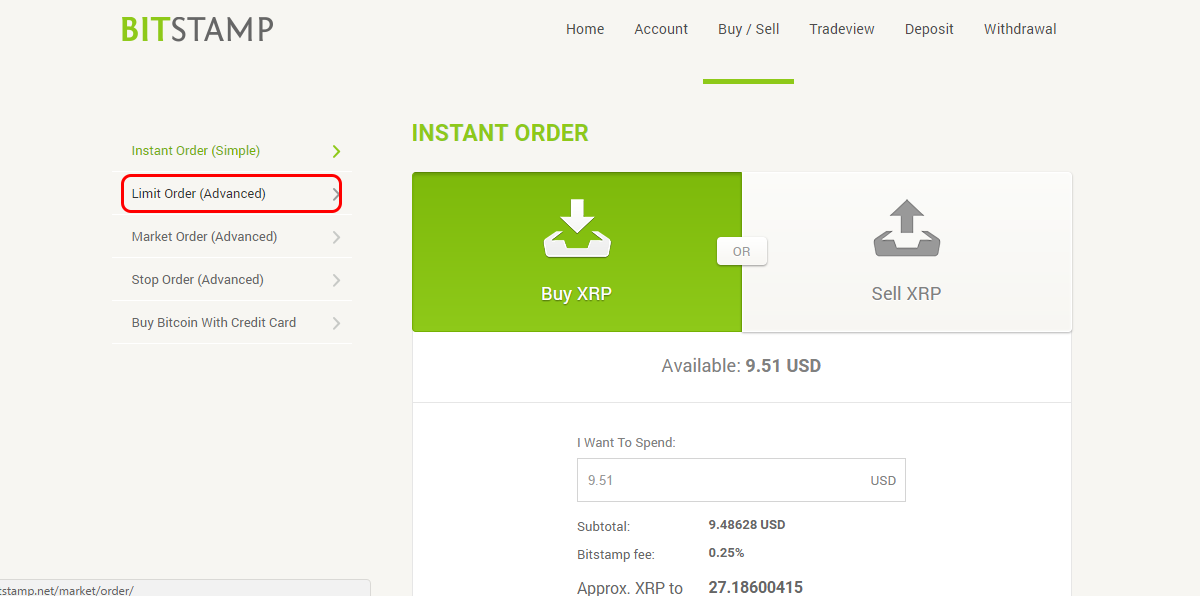 Step 7: Enter the amount of XRP you want to buy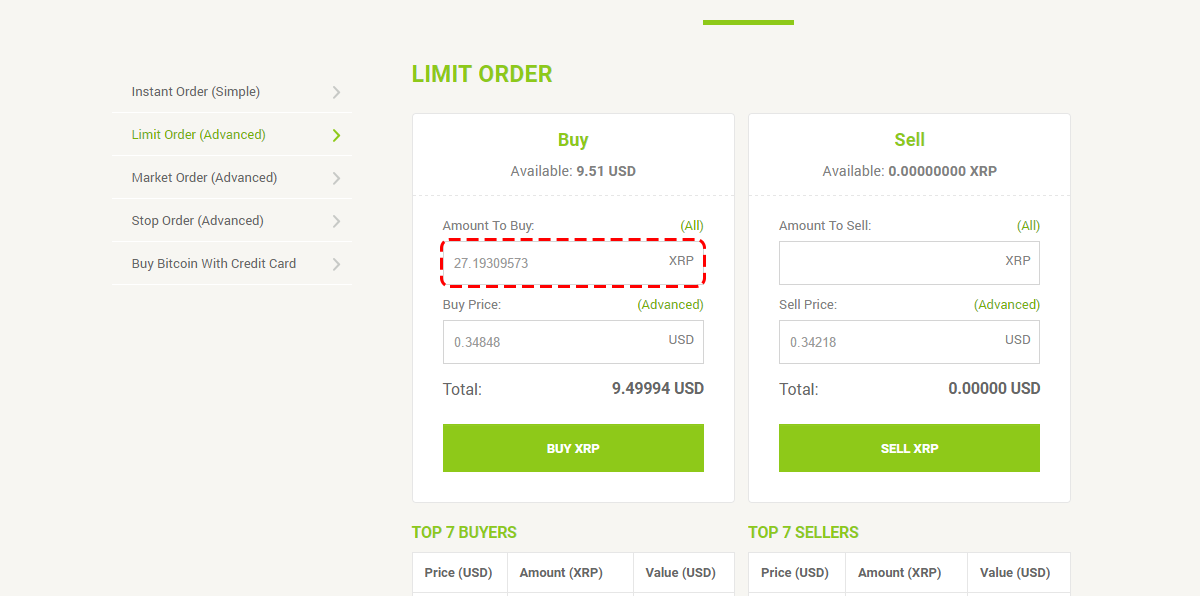 Step 8: Choose the price (you can check the order book below)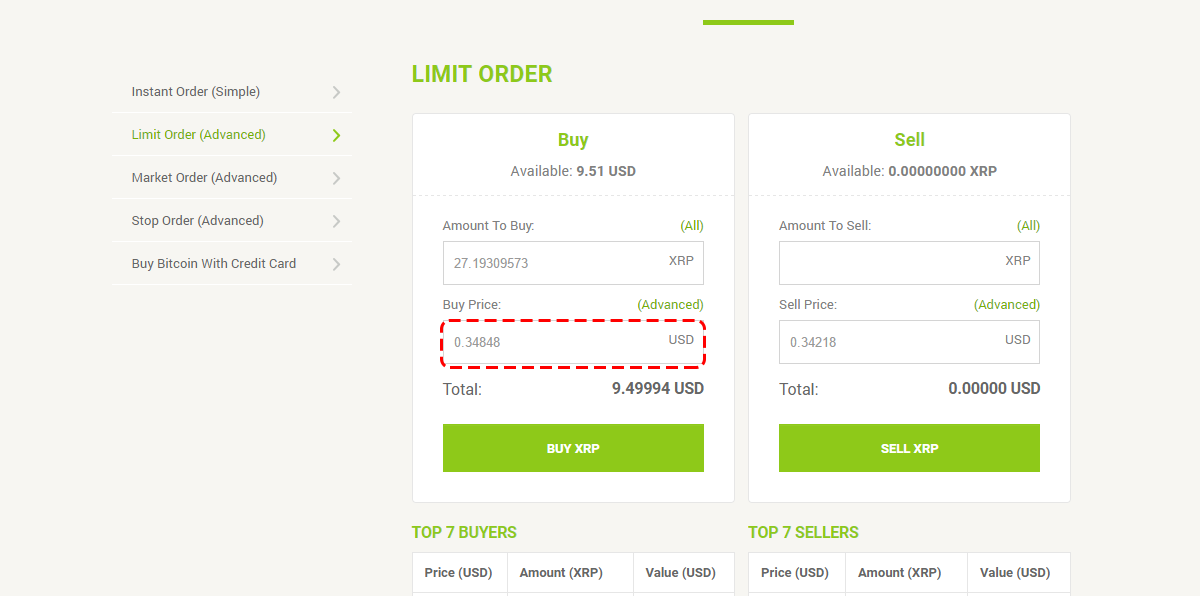 Step 9: Click "Buy XRP"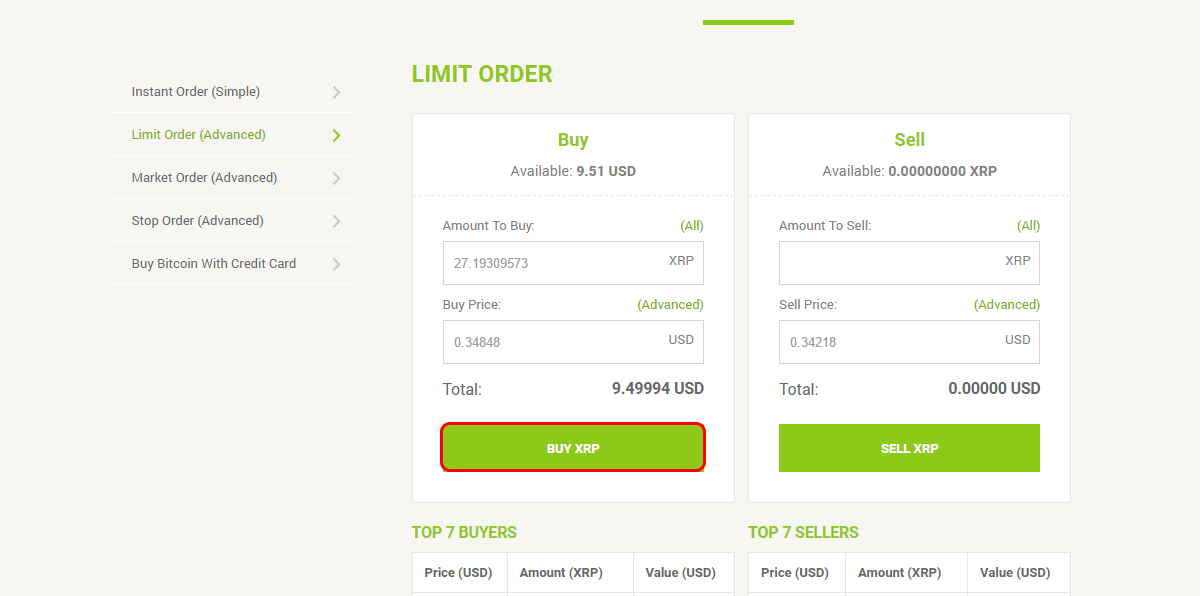 Well, you have now learned how to buy XRP! It's pretty simple. If you want to sell it, just select "Sell" instead of buy on the Instant Buy page or fill out the buy tab (and not the sell tab) on the Limit Order page.
Alternatively, you can also mine other coins or you can also try buying a cloud mining contract with Hashflare or Genesis Mining. You can use the profits to buy XRP since Ripple itself can't be mined.
This website is only provided for your general information and is not intended to be relied upon by you in making any investment decisions. You should always combine multiple sources of information and analysis before making an investment and seek independent expert financial advice.
Where we list or describe different products and services, we try to give you the information you need to help you compare them and choose the right product or service for you. We may also have tips and more information to help you compare providers.
Some providers pay us for advertisements or promotions on our website or in emails we may send you. Any commercial agreement we have in place with a provider does not affect how we describe them or their products and services. Sponsored companies are clearly labelled.