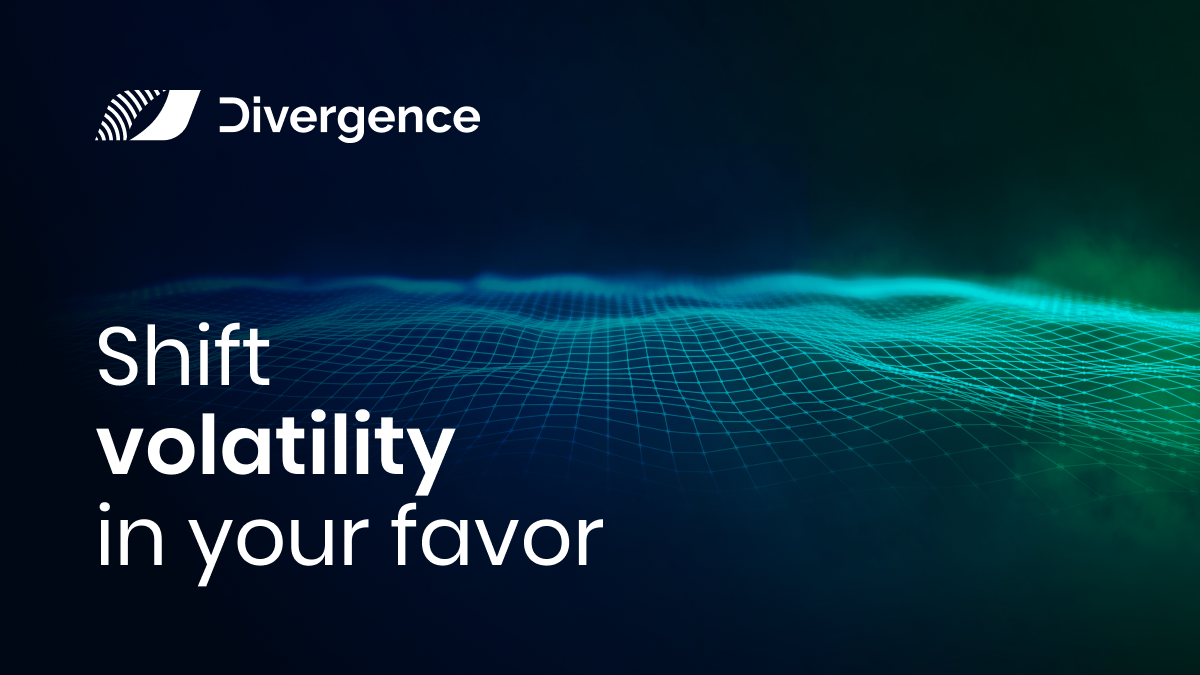 This is a sponsored story. Its content does not constitute financial advice. Please remember that the value of investments, and any income from them, can fall as well as rise so you could get back less than you invest. If you are unsure of the suitability of your investment please seek advice.
Divergence is one of the cutting-edge DeFi derivatives platforms that has attracted the interest of traders and investors in recent months. The DeFi protocol has attracted the backing of major VCs like Mechanism Capital and KR1. Its list of strategic backers include investors such as Huobi Ventures and AscendEx. Divergence's recently released public beta quickly gained much traction in the retail trader community.
A growing ecosystem for options trading
Divergence is growing in popularity because it is one of the few DeFi protocols to offer easily tradable, customized crypto options. Divergence V1 enables the trading of binary options, or sometimes called digital options. This type of options offer a fixed payment at settlement. It limits risk for both options buyers and sellers since the options risk-reward is known upfront before a transaction. Divergence has a distinct advantage as a decentralized derivatives exchange as it has an intuitive and user-friendly interface. It has no minimums, no native tokens, and upfront costs except the gas fees required for creating options markets. And it is incredibly easy to trade on.
Divergence is also designed to have a high capital efficiency, which ranks it favourable against other derivatives DEX on Ethereum. Its DEX is truly decentralized and provides use cases such as volatility speculation, event betting, hedging, and volatility tokenization. 
Introducing Divergence V1
Divergence V1 is the flagship product and consists of an AMM-based marketplace that allows users to create DeFi options markets and trade synthetic derivative tokens. Binary options are offered as the main products on its platform at present.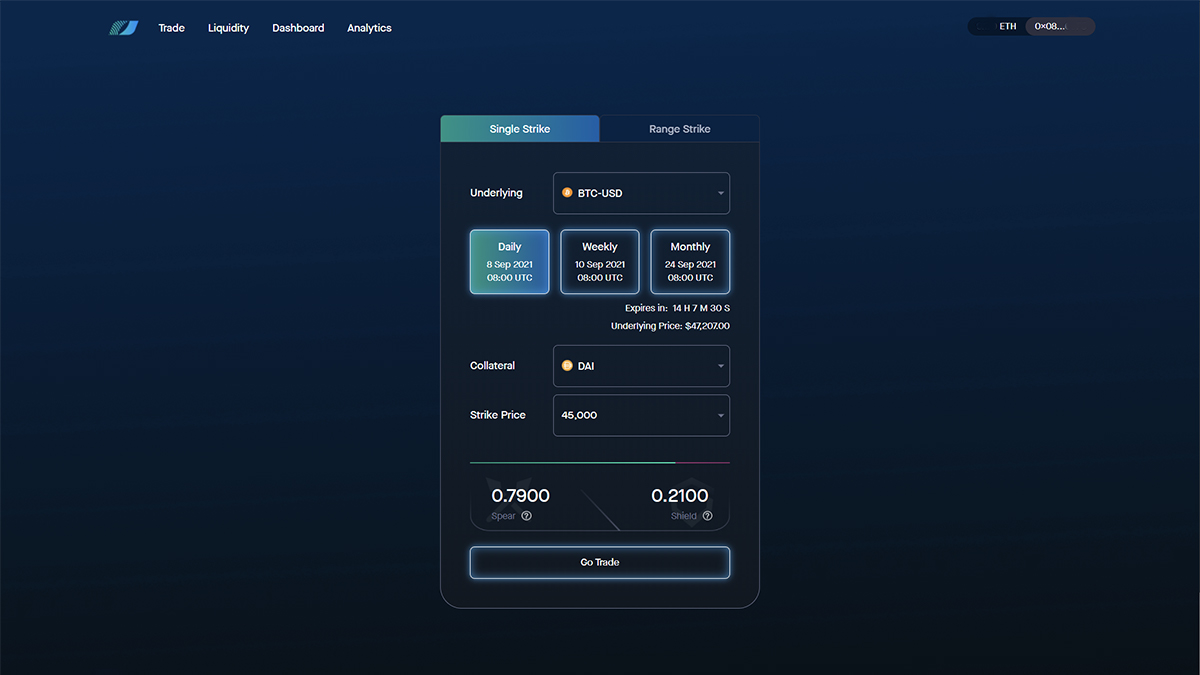 Divergence V1 is designed with an easy-to-use one-step buying and selling process. Other DEXes, in comparison, require multiple steps and a level of technical sophistication to complete options transactions. In addition, its AMM marketplace has more composability with other DeFi protocols, allowing any fungible tokens to be used as collateral. Traders have the opportunity to create new options markets with DeFi-native coins and efficiently manage their capital on the Divergence platform. 
Suppose a trader wants to trade the BTC-USDT option on Divergence. They can create a pool using stablecoins like USDC or BUSD as collateral. Or they can also use WBTC or even WETH as collateral. This feature is unique to Divergence and makes it stand out from the competition. In contrast, at centralized platforms, users are limited by the types of collateral they can trade options with.
In some decentralized platforms, options markets cannot be cost-efficiently recreated once the term expires. Divergence solves this problem by rolling over unclaimed liquidity pool collateral in the same pool. 
Let's say a trader creates a BTC-USDT options pool that updates strike price at +7%. When the current options contract expires, this pool will automatically use a new strike price which is 7% higher than the settlement price. This saves the trader costs in transaction fees from re-creating a new pool with similar terms. 
Trading Crypto Options on Divergence V1 Testnet 
Divergence has a live V1 Testnet on the Ethereum kovan testnet for users to trade crypto options. It will release its mainet in Q4 after its smart contracts are audited and open-sourced. The entire trading process is straightforward. Users can connect supported wallets like MetaMask to the Divergence test app. Once connected, users can place orders within the trade section. 
Divergence has two types of binary options available: options with a single strike and those with a range strike. Users get paid one collateral if the underlying price settles above or below a single strike or when it settles within or outside of a range strike. Divergence has tokenized binary calls and puts as Spears and Shields. Traders can buy and sell Spear or Shield tokens using their chosen collateral.
A major innovation of Divergence is that Spear and Shield are virtual tokens that exist as abstractions of options positions within smart contracts. By doing so, Divergence is able to cut down gas fees that would have occurred if these derivative tokens had been ERC-20s. This also enables the Divergence options pools to smoothly roll over options expiries. Such tokenization of options positions occurs behind the scenes, so that users can have a smooth options trading experience.
DIVER Token Overview
DIVER token is the governance token of the Divergence Protocol and is designed as an incentive for liquidity providers and holders. DIVER holders can propose and vote on governance proposals for the Divergence protocol. The token is a productive asset that is expected to gain value from the growth of the protocol and its derivative markets. 
Divergence has announced its DIVER tokens IDO on September 20, 2021. The token sale will distribute 2% of the total supply of DIVER tokens through a Dutch auction on SushiSwap's MISO launchpad. The auction is scheduled to last for 24 hours with a Starting Bid of $0.1/DIVER which will reduce to a minimum bid of $0.05/DIVER towards the end of the IDO. Following the IDO sale, DIVER tokens will be available for trading on SushiSwap, which is expected to be a long-term liquidity venue for the token.
Update: Due to a recent security breach of MISO, Divergence's IDO will be held at the Balancer LBP, at 1PM UTC on 27 September. Check the blog post for more details.

Follow Divergence:
🔔Website: https://www.divergence-protocol.com/ 
🚀Twitter: https://twitter.com/divergencedefi 
💬Telegram: https://t.me/divergenceprotocol 
📢Telegram Announcement: https://t.me/divergenceannouncement 
📺Youtube: https://www.youtube.com/c/DivergenceProtocol 
👓Discord: https://discord.com/invite/v96fhsPfRa
This website is only provided for your general information and is not intended to be relied upon by you in making any investment decisions. You should always combine multiple sources of information and analysis before making an investment and seek independent expert financial advice.
Where we list or describe different products and services, we try to give you the information you need to help you compare them and choose the right product or service for you. We may also have tips and more information to help you compare providers.
Some providers pay us for advertisements or promotions on our website or in emails we may send you. Any commercial agreement we have in place with a provider does not affect how we describe them or their products and services. Sponsored companies are clearly labelled.