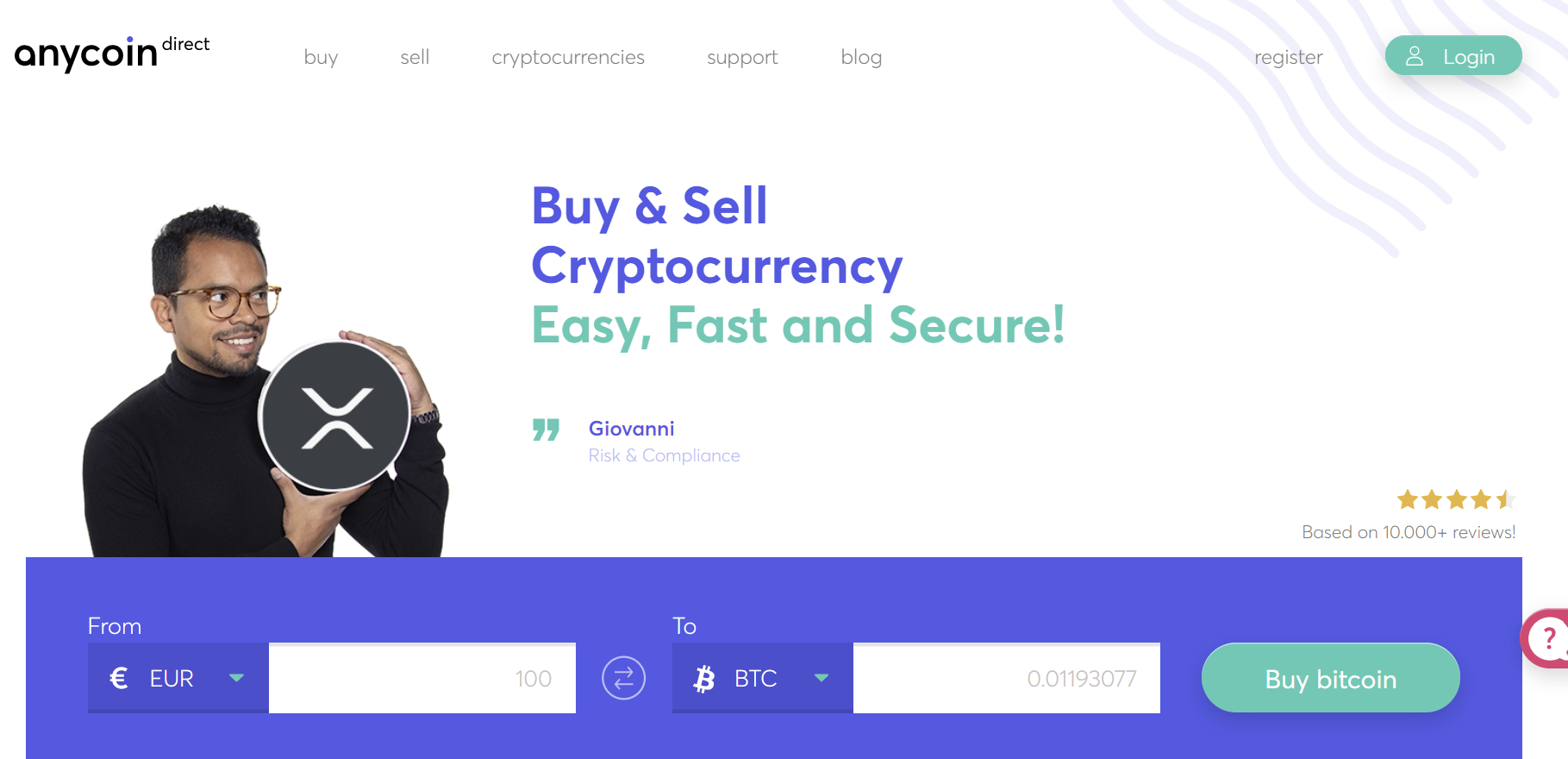 If you're in the market to buy or sell cryptocurrencies, the Europe-based trading platform Anycoin Direct is an option to consider, as it has been helping onboard new users into the cryptocurrency space since 2013.
One of the advantages of Anycoin Direct is its live chat support.  The platform has written extensive informational pages to help its users understand what cryptocurrencies are and the difference between the cryptos they offer, while featuring a support team available 24/7. The firm was, in fact, the first European cryptocurrency broker to offer a live chat support service throughout the week.
Its platform has recently been revamped to make cryptocurrencies accessible to a larger audience that includes less tech-savvy users. Throughout the platform, there's an adaptive side support bar that dynamically shows users relevant questions and answers on the buying and selling process.
In a press release its CTO Julian van der Wijst stated:
"

With this new approach we're going to show that getting into cryptocurrency doesn't have to be difficult or unpersonal."
In this guide, we'll be looking at how users can create an account at Anycoin Direct and use it to buy and sell cryptoassets. It currently has over 25 available cryptocurrencies.
Creating an Account
The first step to by and sell cryptocurrencies with Anycoin Direct is to create an account with the platform. The process is rather straightforward: users need to click on the "register" button that will give them the option to either login or sign up.
Here the choice will be to sign up. Here users will be prompted to enter their email address and accept Anycoin Direct's general terms and privacy policy.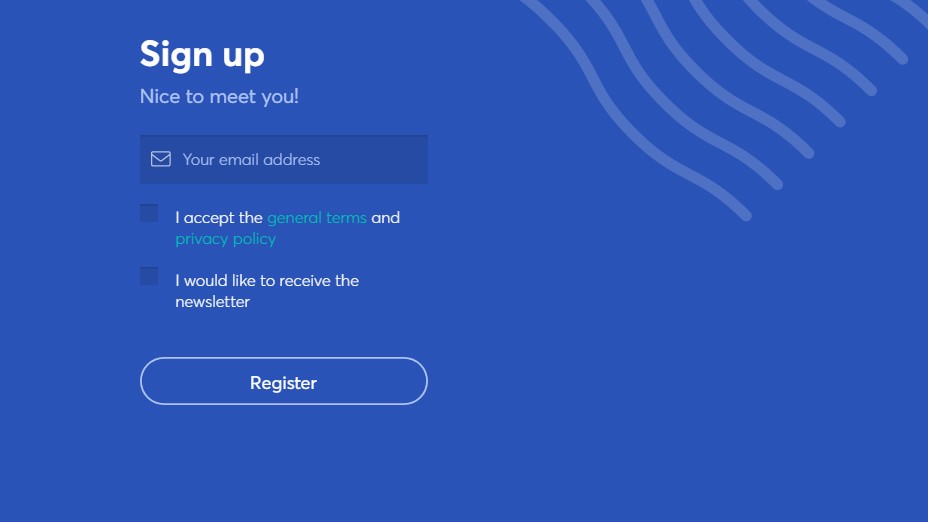 Once that's done, an email with a four-digit code will be sent to your address. Use this code to verify your email. After that, you will be greeted with a page asking for some personal details including your name and date of birth. After entering these details and specifying whether it's a business account, you can proceed by clicking "continue."
It's now time to enter your password. It's important to set up a unique password you will remember that's strong enough to prevent brute force attacks: the longer and more detailed the better. Anycoin Direct has an interactive smiley face showing the strength of the password being set up.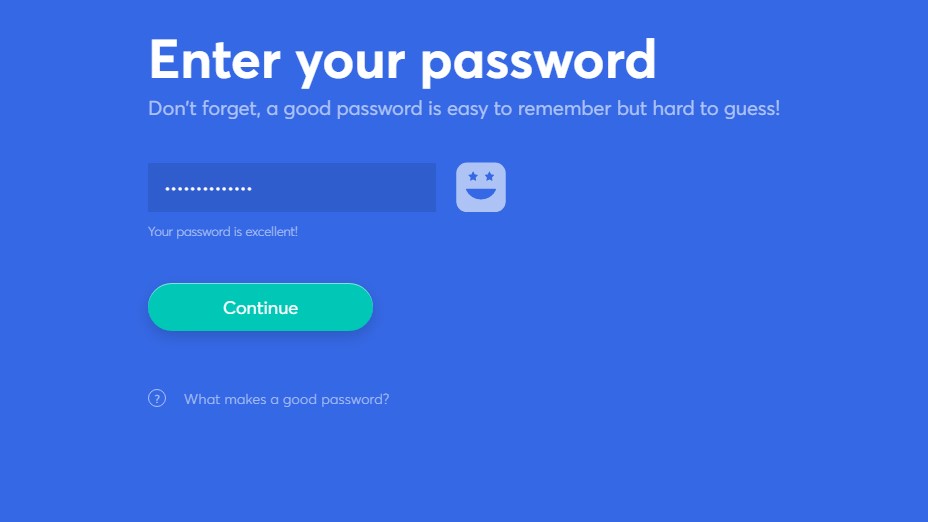 After clicking "continue" you will be prompted to set two-factor authentication (2FA). This is an optional step but a highly advised one as it will ensure your account is protected even if someone manages to guess your password.
Setting the 2FA is rather simple: you have to enter your phone number so a 6-digit code is sent to you every time you try to access your account. It's also possible, later on, to set up 2FA via Google Authenticator.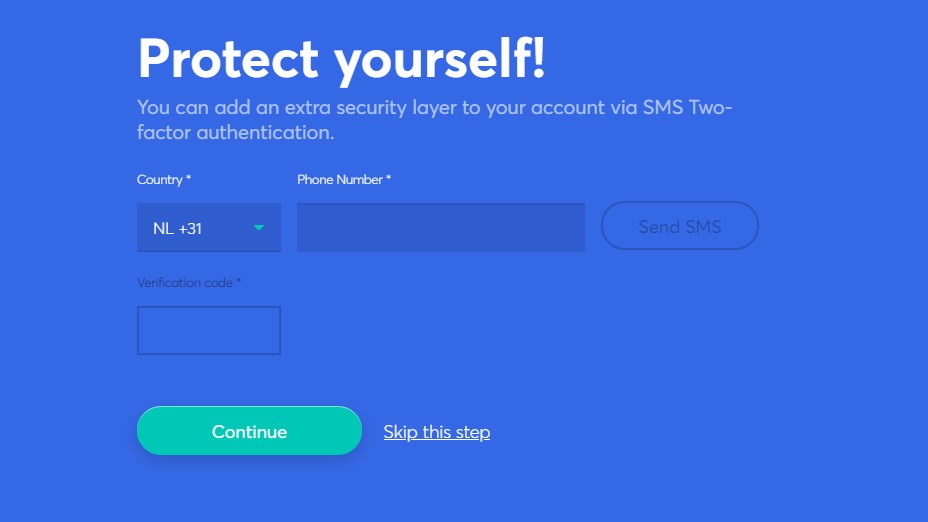 After setting up 2FA you are ready to start buying and selling crypto on Anycoin Direct.
Buying Cryptocurrencies
Now that your account is set up you can start using the exchange to buy cryptocurrency. On the homepage of Anyccoin Direct there's a blue exchange bar that can be used to buy cryptocurrency. Here you can enter the amount you want to buy and select the cryptocurrency you want.

This image shows us buying BTC. After we enter the amount of euros we want to spend or the amount of BTC we want to buy, the other field is automatically updated. Clicking on the "buy bitcoin" button will take us to a page asking where the bitcoin should be sent to.
If you haven't set up a wallet yet, there are various options out there. On CryptoCompare there are wallet listings you can filter according to coins supported, the anonymity provided, ease of use, extra services, and more.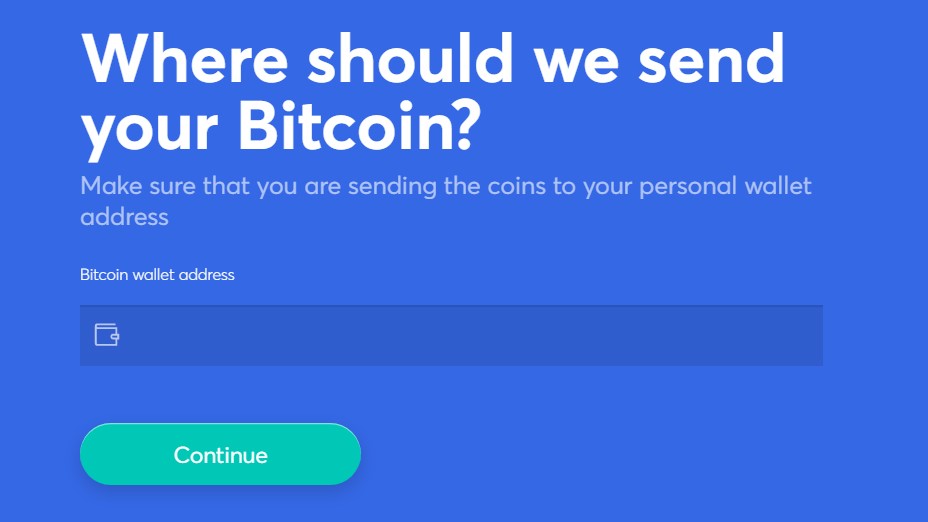 After choosing where to send the funds to – and double-checking the address you entered is correct – it's time to enter your bank account or credit card information for the order. You can either choose a verified account or credit card or add a new one.
Once that's done, it's time to choose the preferred payment method. Anycoin Direct will show you an overview of the available payment methods, the expected duration if they are used, and fee that is going to be charged.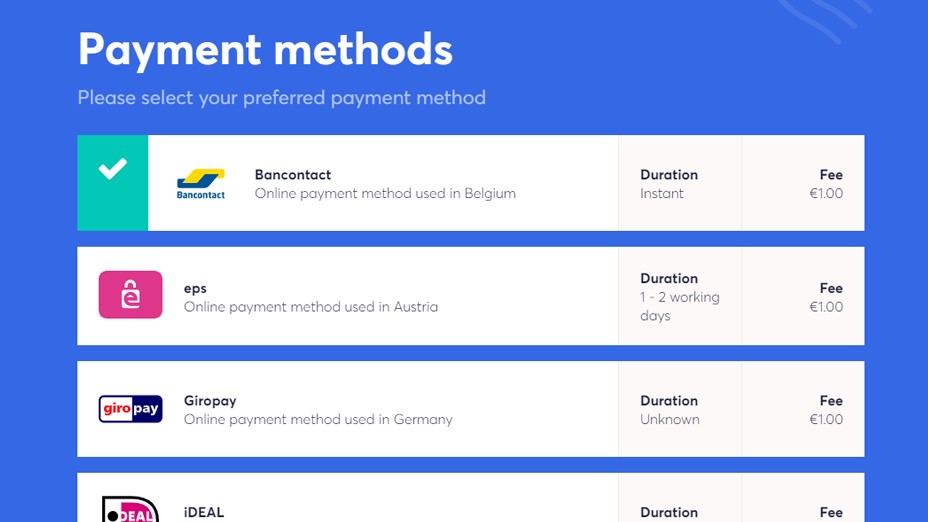 The next step will be to review the order. A page showing the wallet address you entered, the total cost, the payment method, the fees and credits involved will be shown. It's important to review your order to ensure nothing goes wrong with the transaction.
The final step is processing the transaction, meaning actually sending the payment to buy cryptocurrency. Depending on the selected payment method you will be redirected to a different page with instructions to complete the payment.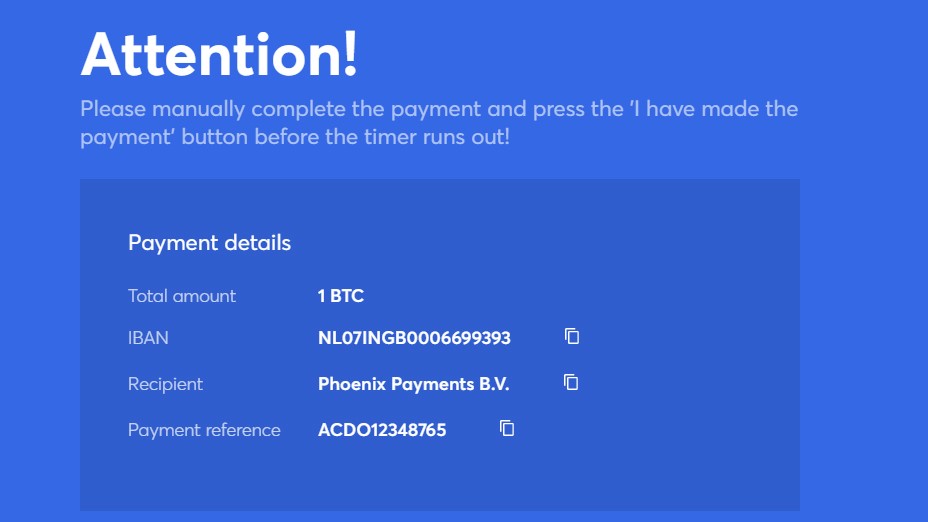 Once the payment has been processed, the cryptocurrency will be sent to your wallet.
Selling Cryptocurrency
If you want to sell your cryptocurrency on Anycoin Direct the process is rather simple. Just head over to the sell page and select the number of coins you want to sell or the amount of fiat you would like to receive on the exchange bar.

If you already verified a bank account with the trading platform, you just need to select it from the drop-down menu that will appear after you click the green "sell bitcoin" button. The funds will be sent to your bank account after the sale is complete.
After selecting your bank account, you will a summary of your order. Once again, it's important to review everything to make sure everything goes smoothly.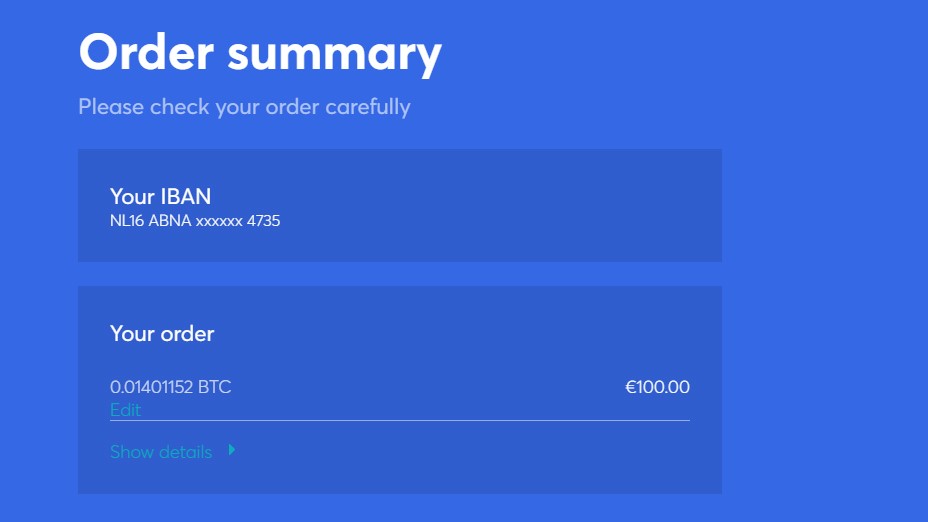 Now it's time to move your bitcoin to Anycoin Direct's address, so the order can be completed. On your wallet, you will need to select "send" or "withdraw" and move the funds to the wallet address shown to you on the final screen.
Once the coins are received the sale is processed and the funds are sent to your bank account. Transactions take up to 2 working days to process, and you can monitor the crypto transactions using a blockchain explorer. If you need any help, Anycoin Direct's support team is available 24 hours a day, seven days a week.
This website is only provided for your general information and is not intended to be relied upon by you in making any investment decisions. You should always combine multiple sources of information and analysis before making an investment and seek independent expert financial advice.
Where we list or describe different products and services, we try to give you the information you need to help you compare them and choose the right product or service for you. We may also have tips and more information to help you compare providers.
Some providers pay us for advertisements or promotions on our website or in emails we may send you. Any commercial agreement we have in place with a provider does not affect how we describe them or their products and services. Sponsored companies are clearly labelled.