How to buy Ether with a debit/credit card
Today we are going to show you how to buy Ether with your debit/credit card through Coinbase, which is one of the most respected and known cryptocurrency exchanges out there.  
Coinbase offers an instant buy function that will allow you to get Ether in just a few minutes, without the need to wait for someone to sell them to you.
You can also use Coinbase to safely store your Ether, since it provides a top-notch security system. Of course, having your crypto in your own wallet is always the safest option. 
Part 1 - Create an Account 
Step 1: Click here to go to Coinbase and click "Sign Up". Fill out your information and click "Create Account" 

Step 2: After filling out your personal info, you need to verify your email adress. Open your inbox and click the "Verify Email Adress" button. 

Step 3: 

Step 4: Choose your country (1) and cellphone number (2), then click "Next" (3).
Click "Send SMS" (1). You will receive an SMS with a 7 digit code, type the code into the correct field (2) and click "Verify Phone number" (3)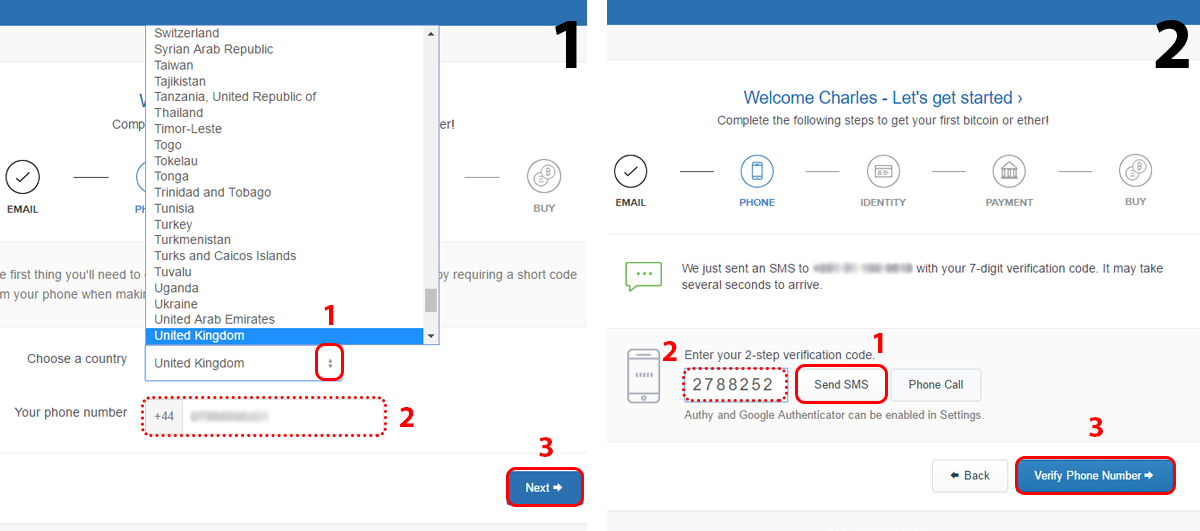 Step 5: After you phone has been verified you will need to verify your identity using an ID. Click "Start Verification" and choose the document you want to use.

Step 6: This is going to open a window for you to take a picture of your document with a webcam. Allow Adobe Flash (1) and Your Browser (2) to use the camera. 

Your account is now created and verified. Time to buy some Ether 
Part 2 - Add your debit/credit card
Step 1: Once you've confirmed your identity, you'll be prompted to add a new payment method.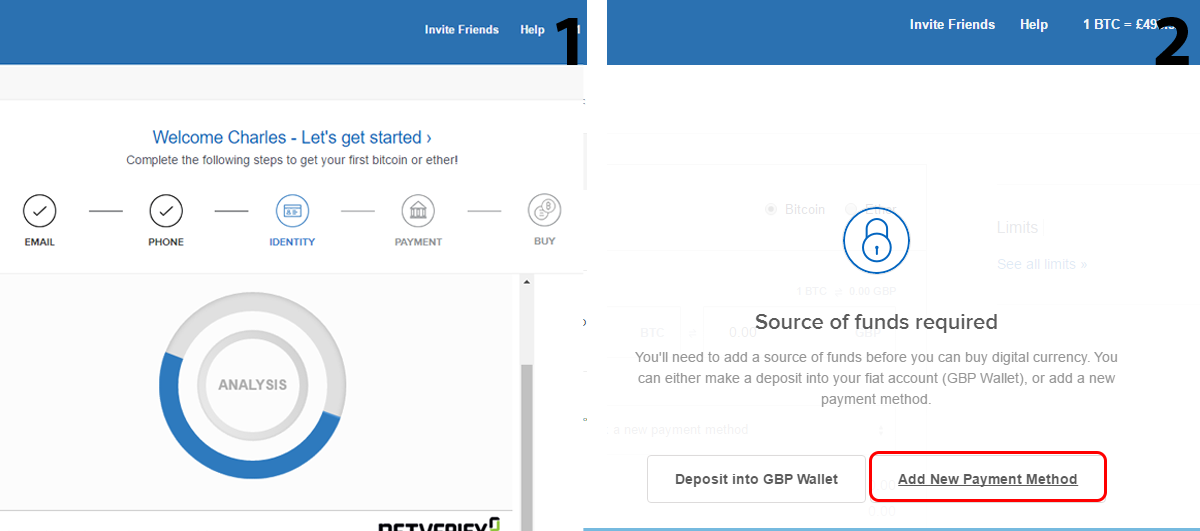 Step 2: Choose the second option and dd all your credit card information (1) and click "Next" (2). Check the example below if you have any questions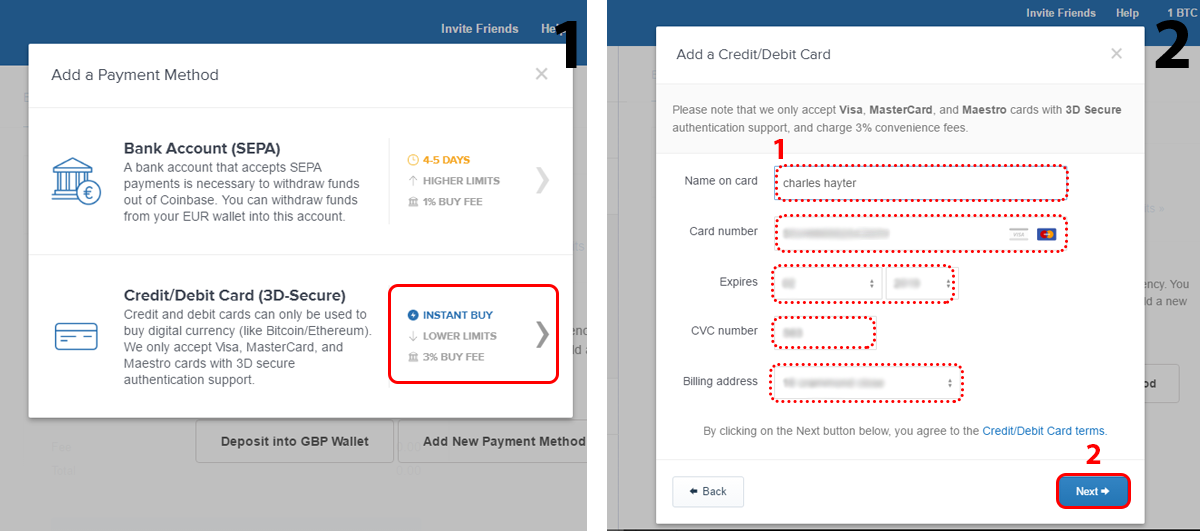 Now it's time to buy some crypto using your credit card 
Part 2 - Buy Ether using your debit/credit card  
Step 1: After your debit/credit card has been added you can click "Buy Digital Currency"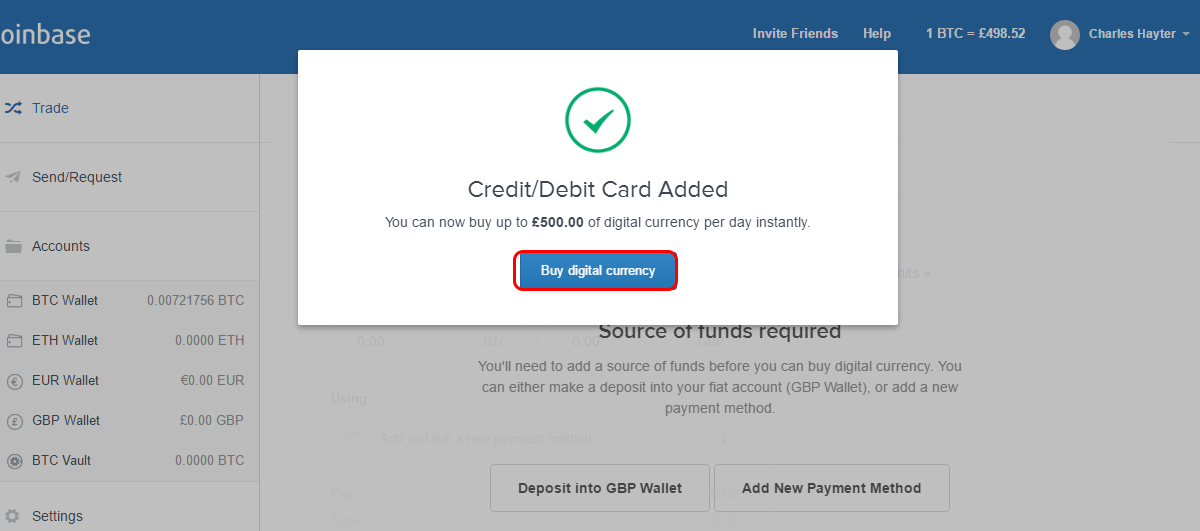 Step 2: Choose Ether and fill in the amount of ETH or fiat equivilant you want to buy. (1) and click "Buy Ether Instantly" (2)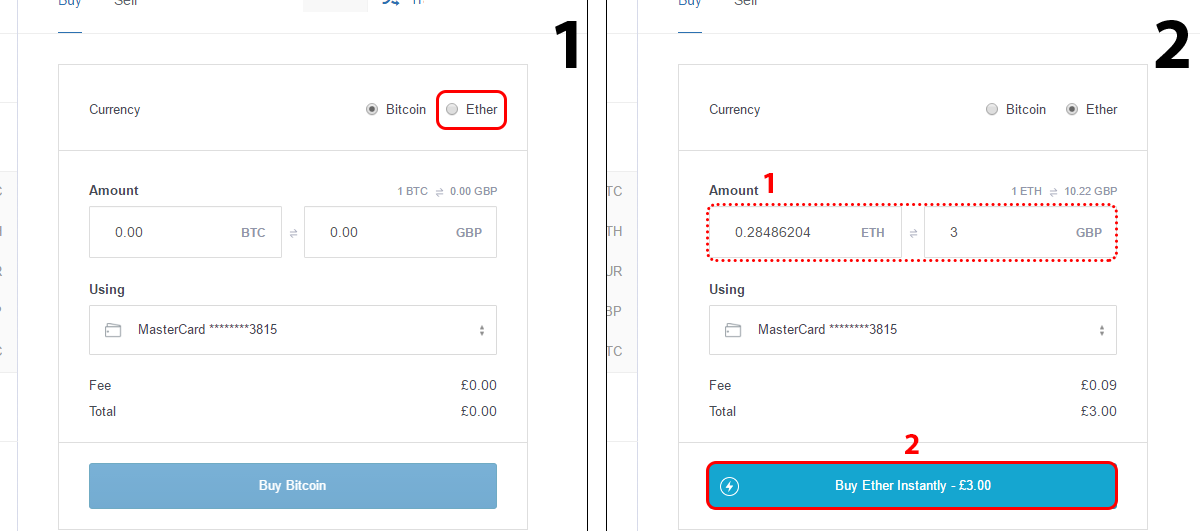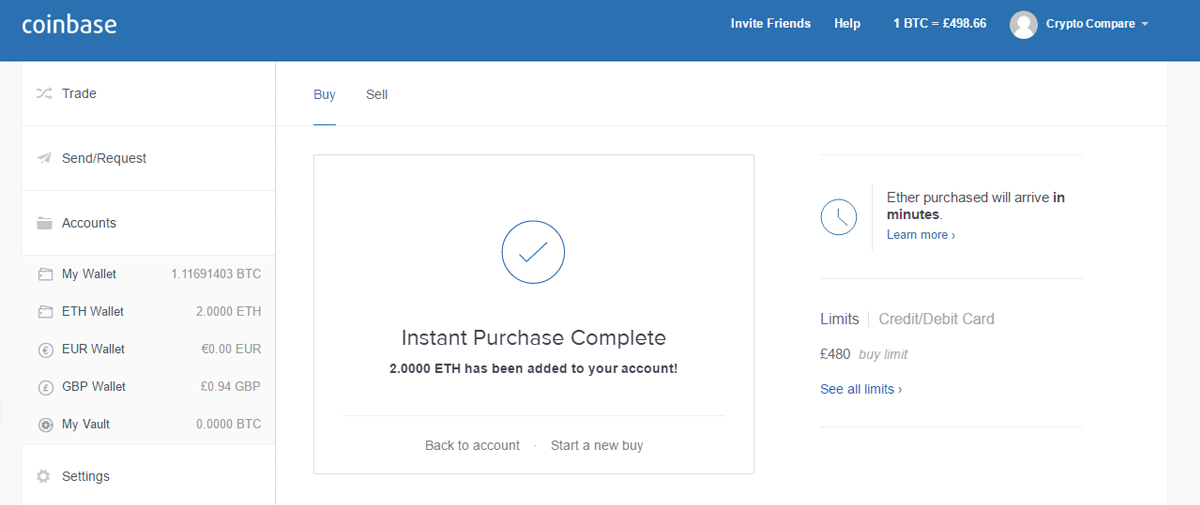 And you're done. You are now an official Ether holder, you can send it to your wallet, store it with Coinbase or sell it for a profit if the markets are kind to you.
Alternatively, you can also mine Ether or you can also try buying a cloud mining contract with Hashflare or Genesis Mining.
This website is only provided for your general information and is not intended to be relied upon by you in making any investment decisions. You should always combine multiple sources of information and analysis before making an investment and seek independent expert financial advice.
Where we list or describe different products and services, we try to give you the information you need to help you compare them and choose the right product or service for you. We may also have tips and more information to help you compare providers.
Some providers pay us for advertisements or promotions on our website or in emails we may send you. Any commercial agreement we have in place with a provider does not affect how we describe them or their products and services. Sponsored companies are clearly labelled.