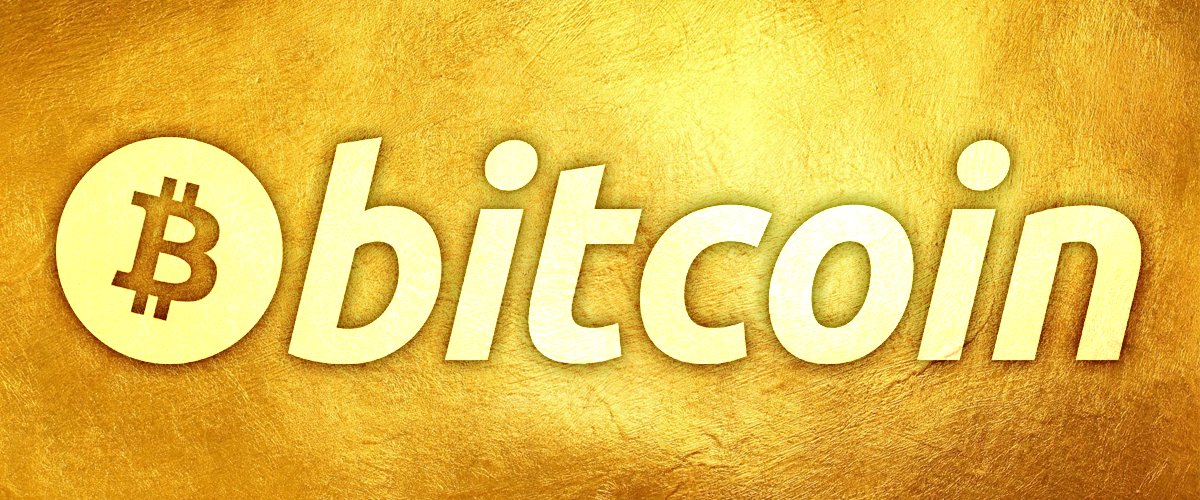 Bitcoin is somewhat akin to gold and is even regarded as "digital gold" by some. The similarities are many, they're both issued through a mining process (one real, the other simulated), they are both finite and they are both seen as a store of value. This is why if you're like Bitcoin, chances are you may also want to diversify your portfolio into gold.
However, turning Bitcoin into fiat and into gold can be difficult, time-consuming and expensive. That's why we love Vaultoro. Their service is perfect for those that are looking to buy or trade gold with Bitcoin and you can even get your gold in physical form.
There are, however, some restrictions:
You have to be fully verified on Vaultoro

We need to be able to contact you in person

We can only send gold to the address you specified in the verification

The minimum of delivery is 100 grams

The minimum unit is 100 grams

Since the vault stores good delivery bars (11-13 Kg) smelting / form costs must be paid by you

Delivery costs must be paid by you
However, Vaultoro was primarily set up as a way for people to easily and instantly buy, trade and sell assigned gold bullion secured as their legal property within a professional Swiss vaulting facility. It was not set up as a way to cheaply buy gold you hold in your hand.
As so, you might want to sell your vaulted gold on the Vaultoro market, withdraw the funds as Bitcoin or Euro and buy physical gold that you can hold in your hands from a local gold retailer. Please be careful about storing too much value at home.
If you want to keep your gold in digital format as a store of value, you can do so aswell. Your gold will be physically secured by Pro Aurum in their Zürcher Freilager, one of the world's largest and most secure gold storage facilities.
In this guide, we're going to teach you how to buy gold with BTC through the Vaultoro exchange! Let's get to it.
Part 1 - Create an account
Step 1: Click here to go to Vaultoro
Step 2: Click "Sign up"

Step 3: Enter your email, password, confirm your location, solve the captcha and, finally, click "Register"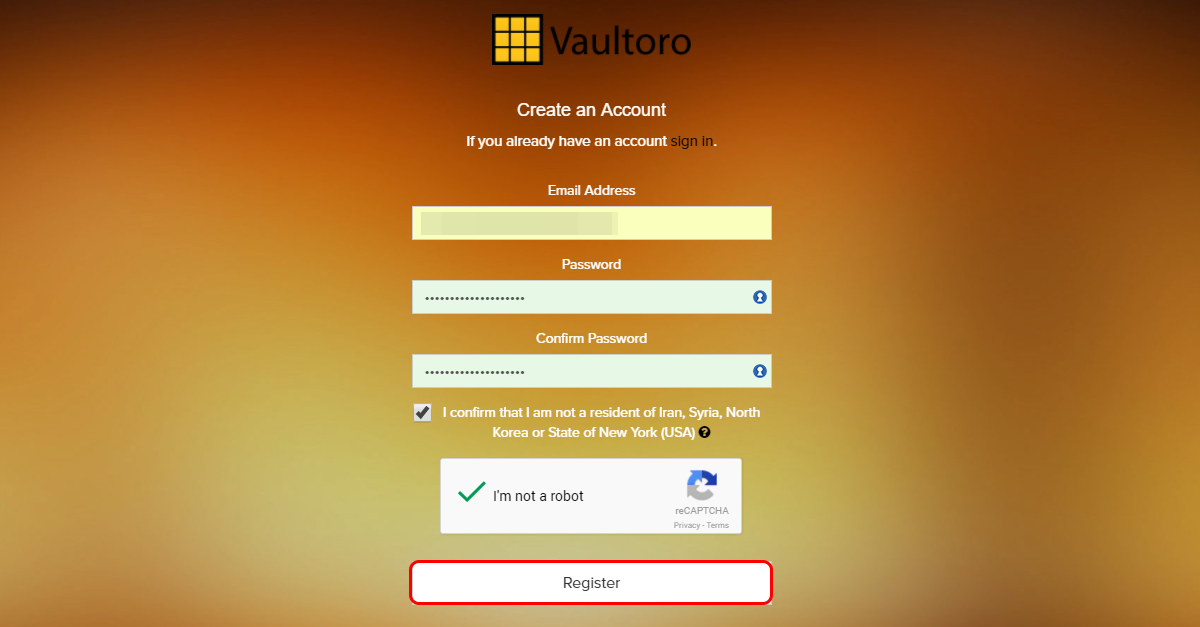 Step 4: A link will be sent to your email address. Click on it to confirm your email address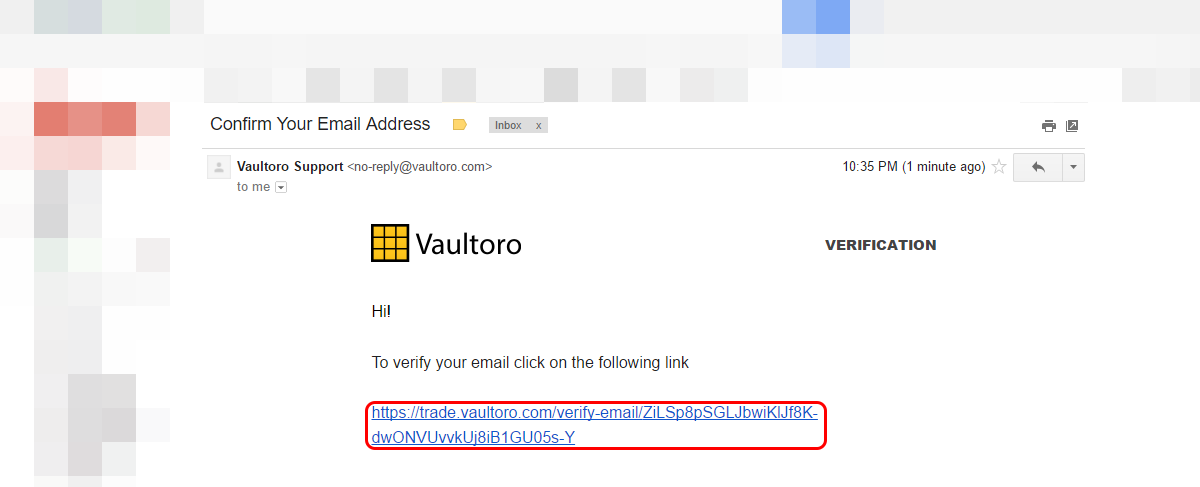 Step 5: Click "Continue" to go to the Vaultoro exchange

Part 2 - Verify your account
Although you can actually trade on Vaultoro without confirming your identity, you'll be imposed some limits and you will not be able to access all services. As so, we advise you to verify your account.
Step 1: On the Vaultoro dashboard, click "Verify Now"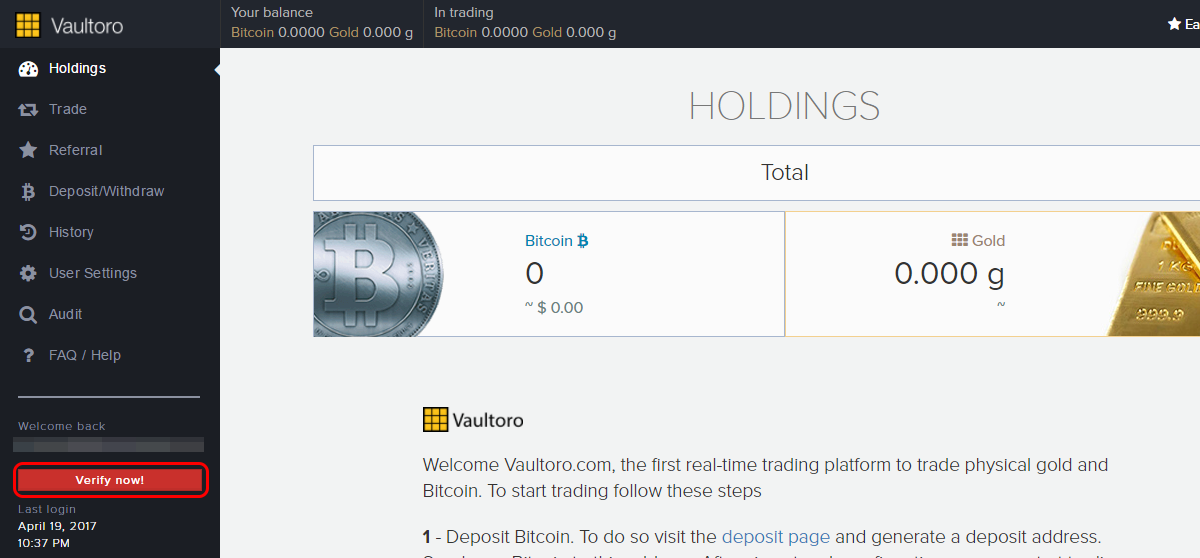 Step 2: Fill out the verification form with the correct information (name, date of birth, address, type of documents) and click "Save"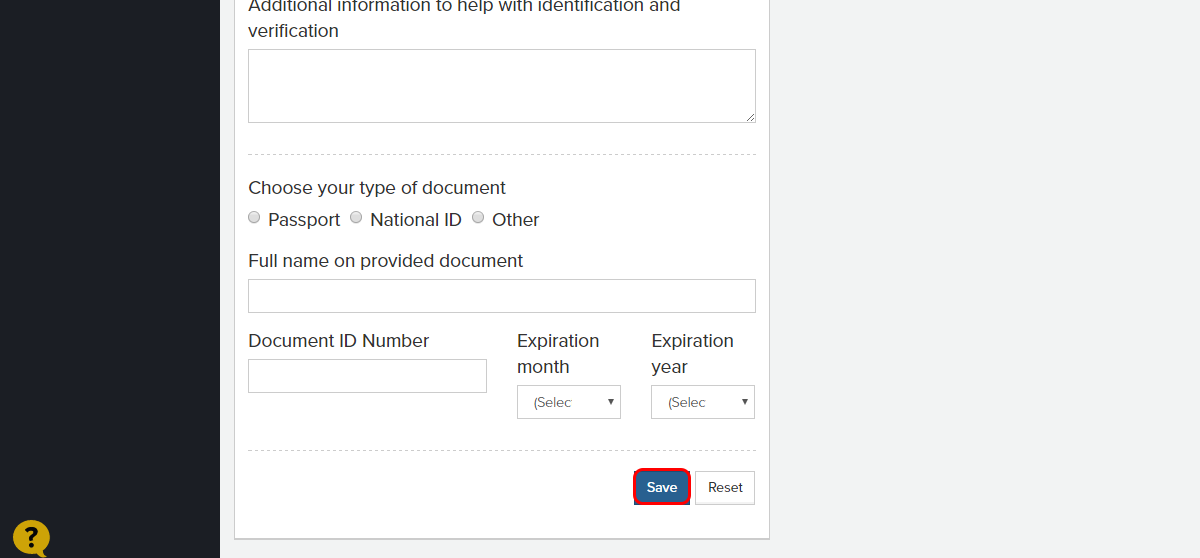 Step 3: Next, click "Choose File" on the Document copy front field to choose a file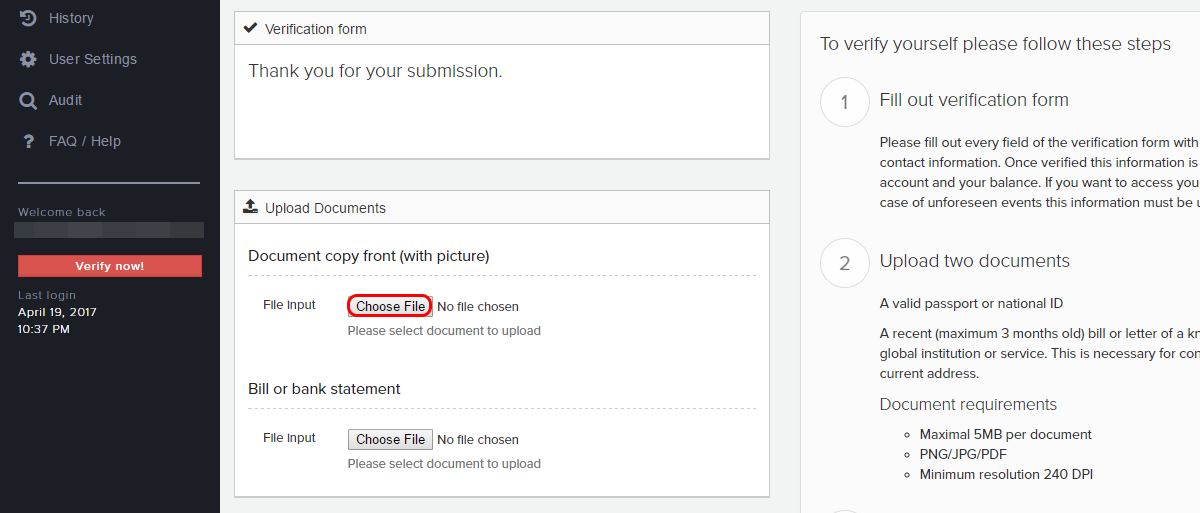 Step 4: Choose the image you want to upload and click "Open"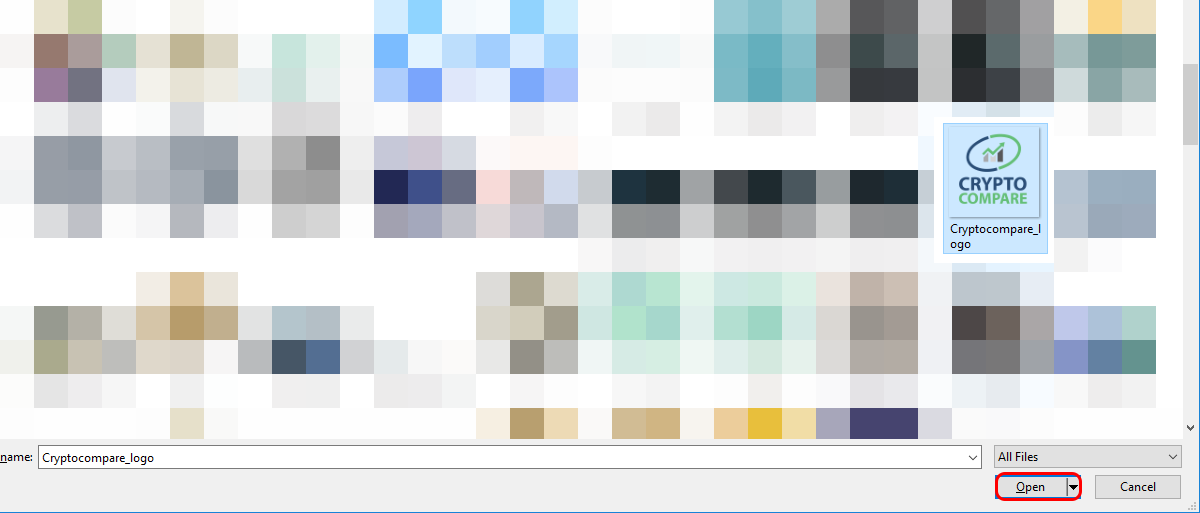 Step 5: Again, click "Choose File" on the other field

Step 6: Choose the image you want to upload and click "Open"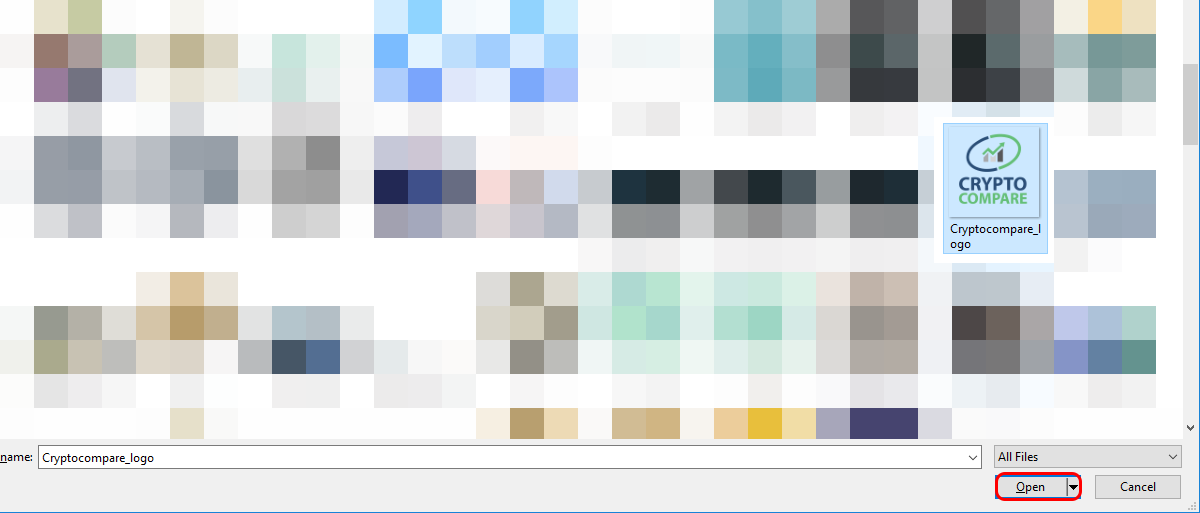 Step 7: Lastly, click "Verify me now!"

Your info and documents will be submitted for review, which may take some time. Vaultoro will email you when the process is complete.

In the meantime, you can always deposit and buy gold with a daily limit of 4 BTC.
Part 3 - Deposit Bitcoin
Step 1: Click "Deposit/Withdraw"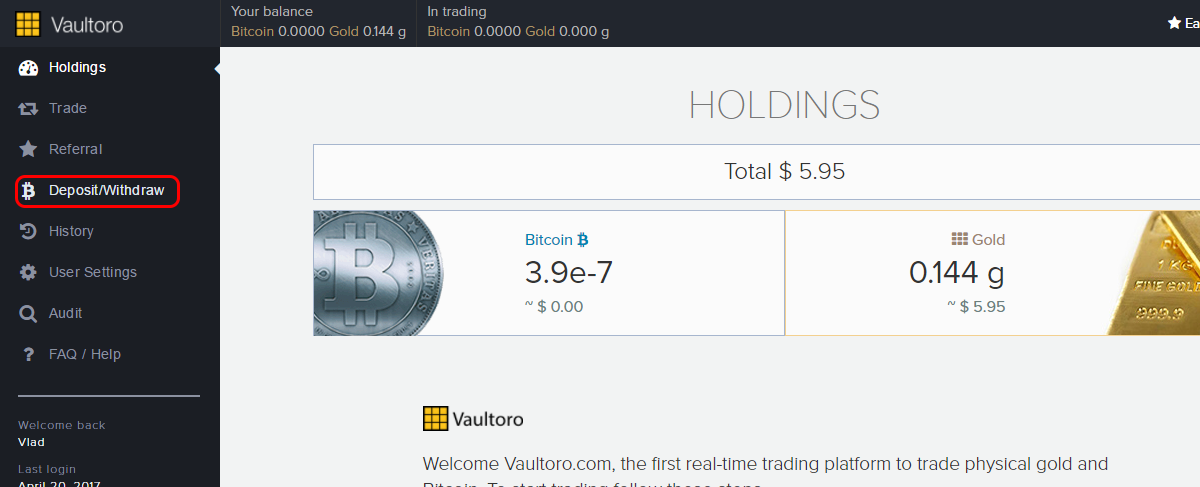 Step 2: Now, send BTC to the address shown

You will be shown the status of your deposit (highlighted in red in image below)

You can also send altcoins by clicking "Deposit with Altcoins"

This will open up a ShapeShift window that allows you to quickly convert altcoins into BTC and deposit them directly. To learn more about ShapeShift click here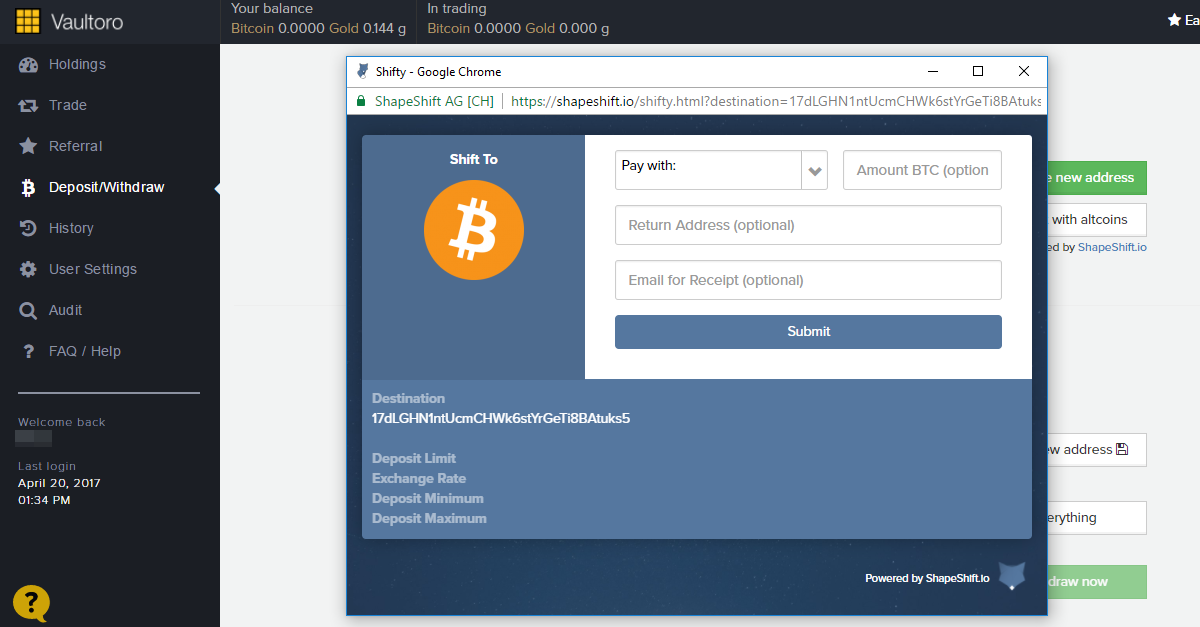 Part 4 - Buy Gold with Bitcoin
Step 1: Now it's time to buy some gold, click "Trade"

Step 2: Enter th

e amount of BTC you want to spend. You can also click "All" to enter the full balance

Step 3: Enter th

e price you want to pay for the gold. You can enter whatever price you want, but the lower the price, the fewer chances you have of the order being taken (or it will take longer). You can always check use the tools below like the Volume chart, Price chart and Orderbook. Alternatively, you can also use the "Last" button to choose the price of the last trade made in Vaultoro, which is what we did.

Step 4: Click "Place buy order"

That's it! You can see that the order was placed. Now, you just have to wait for it to be picked up by another trader.

If you want to cancel your transaction, then click "Your Orders"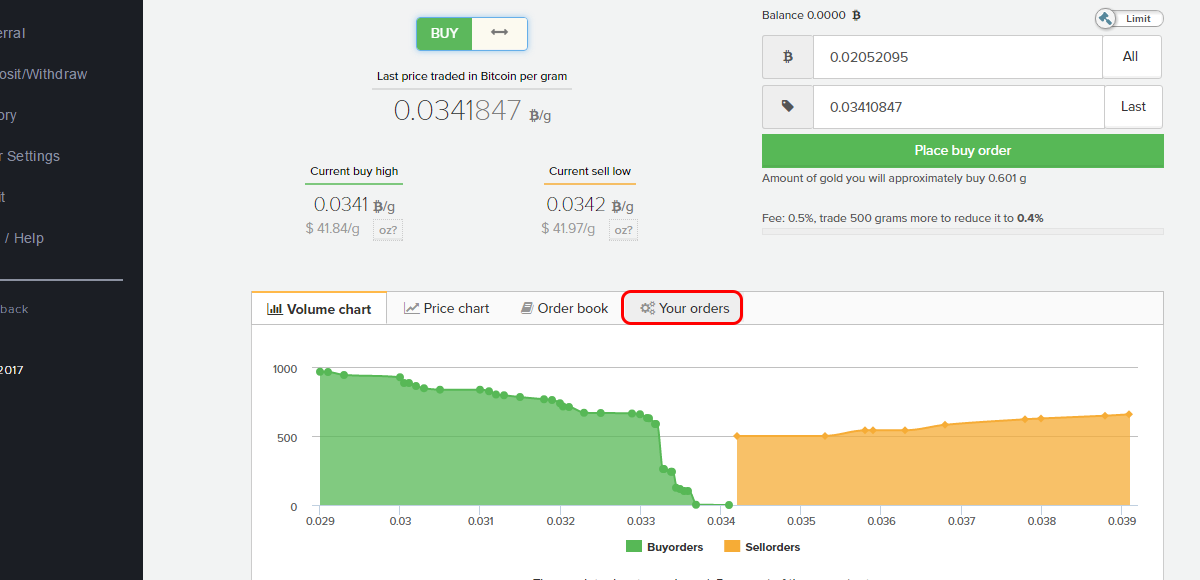 Then click "Cancel"

If you want to sell, the process is the same. All you need to do is change from buy to sell. To do so, click the "BUY" button as seen below

This will change the order type to sell

Part 5 - Withdraw BTC
Withdrawing BTC is almost the same as depositing but let's take a look
Step 1: Click "Deposit/Withdraw"

Step 2: Click "Save new address" to add a wallet address to your list. This makes it easier to withdraw to your regular wallet and also adds protection by requesting the password

Step 3: Enter your wallet address

Step 4: Then, click "Next"

Step 5: Enter your password and click "Save" once more

Step 6: Now enter the amount of BTC you want to withdraw. You can also click "Everything" to download all your balance.

Step 7: Lastly, click "Withdraw now"

Your withdrawal request will be issued and processed

Part 6 - Withdraw Gold
If you are interested in withdrawing your gold in physical format, there are some things to consider. Unfortunately, we cannot show you the process.The following was taken from Vaultoro's website:
How does gold bar withdrawal work?
The gold that you want to withdrawal must be in the vault at the time of your withdrawal request.

You need a sufficient amount of Bitcoin, Gold or Euros on account to pay all withdrawal fees.

Your Vaultoro account must be fully verified, and cannot be a trust, pension or official retirement account.

There are many risks involved in shipping bullion. To limit these risks we restrict the number of bars that can be shipped at any one time.

Vaultoro only delivers using insured couriers; your package must be signed for on arrival.

Due to anti-money laundering laws, we can only send gold to the address you have verified on your account. You will need to verify your Vaultoro account before the physical withdrawal options become available.

If you order multiple bars, then these might be sent in multiple parcels with multiple tracking codes.

Once your withdrawal has been processed the requested amount of gold will be reserved on your account until the gold has been dispatched. Any fees will also be reserved.

You cannot cancel your withdrawal request once submitted.

If you want to withdrawal more than 4 bars within an 180-day period then you will need to satisfy a more stringent anti-money laundering identity checks.

Any delivery dates are simply estimates; Sometimes courier companies can have delays. These delays can be longer with international deliveries due to things like customs.

Once a parcel has been dispatched you will be able to find parcel tracking codes in your Vaultoro account withdrawal request page.

If delivery fails after reasonable effort by the courier company, the bar will be returned to Vaultoro. All gold will be returned to your holdings in the Vault. Please note that fees will not be refunded.
This website is only provided for your general information and is not intended to be relied upon by you in making any investment decisions. You should always combine multiple sources of information and analysis before making an investment and seek independent expert financial advice.
Where we list or describe different products and services, we try to give you the information you need to help you compare them and choose the right product or service for you. We may also have tips and more information to help you compare providers.
Some providers pay us for advertisements or promotions on our website or in emails we may send you. Any commercial agreement we have in place with a provider does not affect how we describe them or their products and services. Sponsored companies are clearly labelled.