NEO has been created to shift our traditional economy into the new era of the "Smart Economy". It has been around since 2014, with the name "Antshares" which was later changed. Today, we're going to learn how to buy NEO with Bitcoin on the Bittrex exchange
Bittrex is the go-to spot for traders who demand lightning-fast trade execution, stable wallets, and industry-best security practices. Whether you are new to trading and cryptocurrencies, or a veteran to both, Bittrex.com is a good solution for you! Let's get to it.
Part 1: Create an account on Bittrex
Step 1: Go throw the Bittrex website (or click

here

), and on the upper right corner you will see the "login" button, click it (or

here

)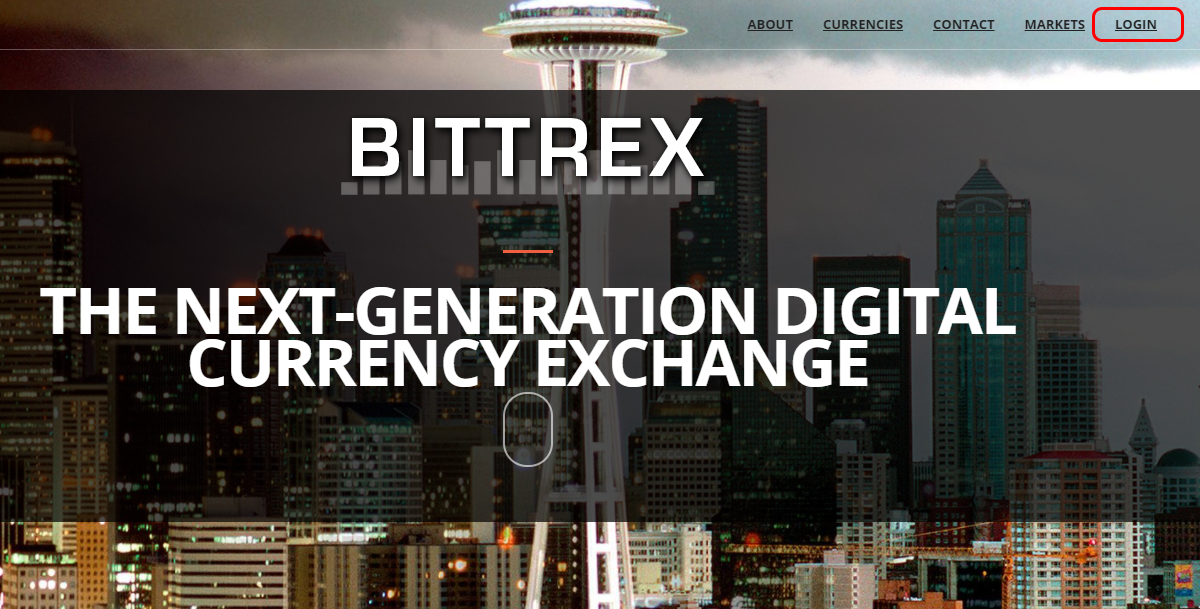 Step 2: Now, you are on Bittrex log in, click on the "Sign Up

" button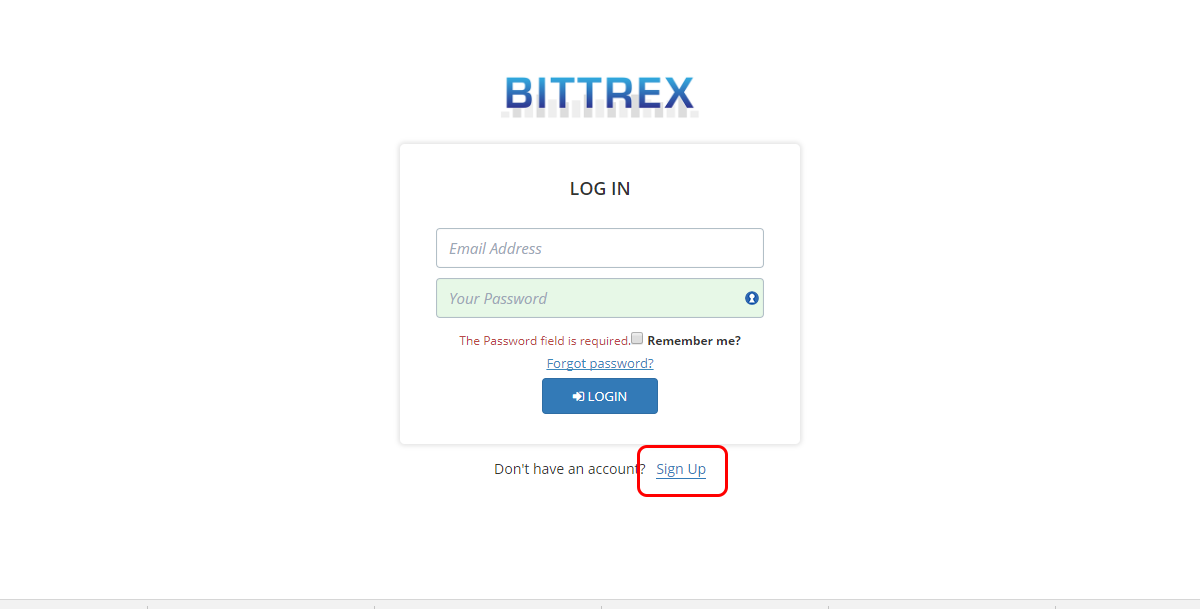 Step 3: Sign up your address, choose a password,

agree to the Bittrex.com

Terms of Service

and press "SIGN UP"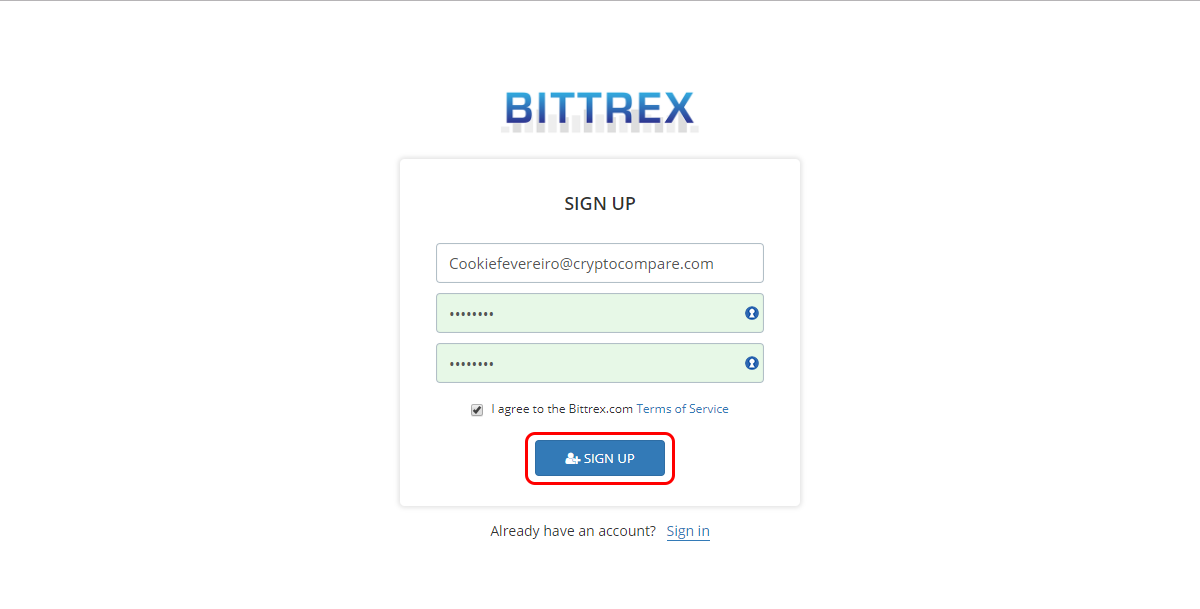 Step 4: The first time you log in, Bittrex will 

require you to verify your email address by clicking on the link they email to you.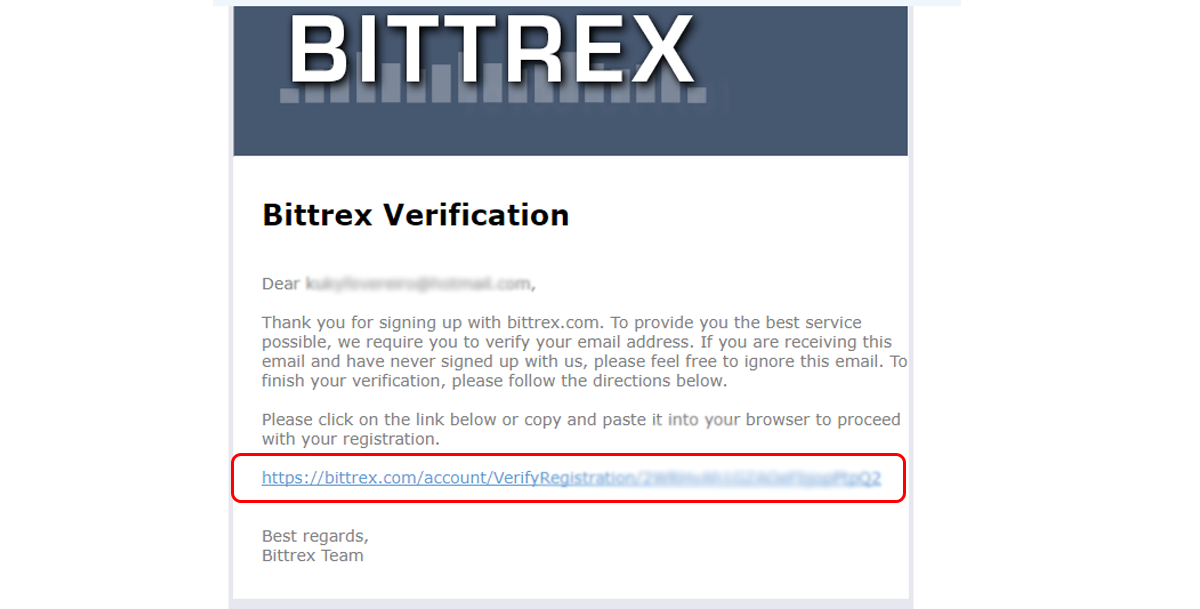 Part 2: Send bitcoins to your Bittrex wallet
Step 1: Once you have logged in, click on the "Wallets" tab in the upper right corner

Step 2: Then click on the "+" button next to "Bitcoin"

Step 3: A window will open, click on "New Wallet" to generate an address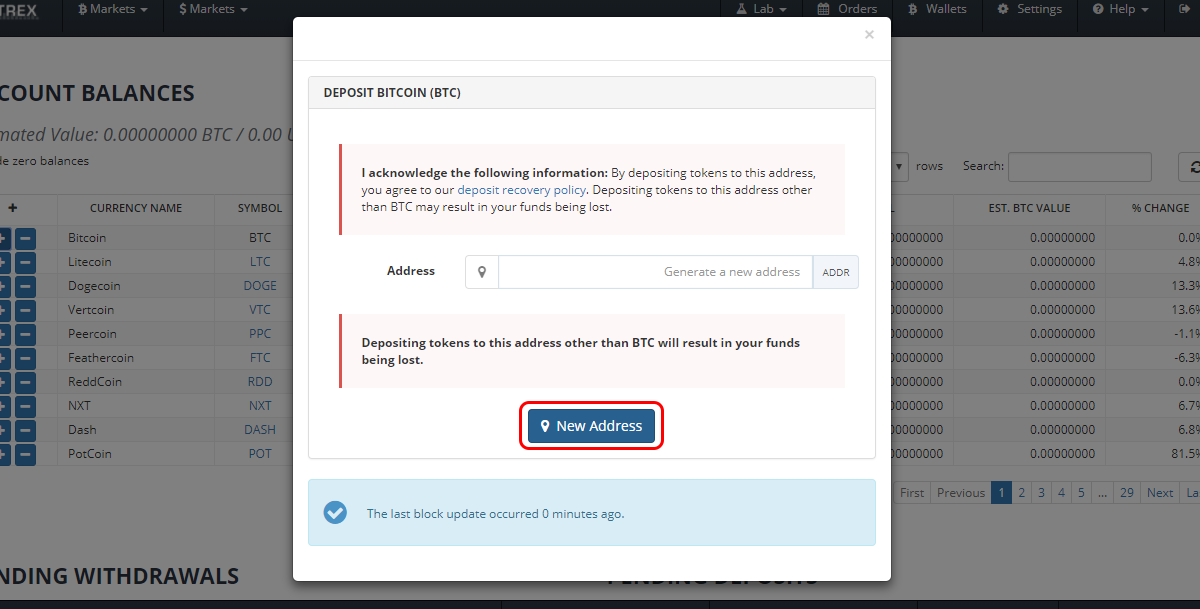 That address represents your personal online wallet that Bittrex holds for you and is where you should be send your BTC.

Step 4: For this tutorial, we have our bitcoins on an Electrum Wallet, but whatever your bitcoin wallet is, send a number of bitcoins you want to the Bittrex address you generated on the last step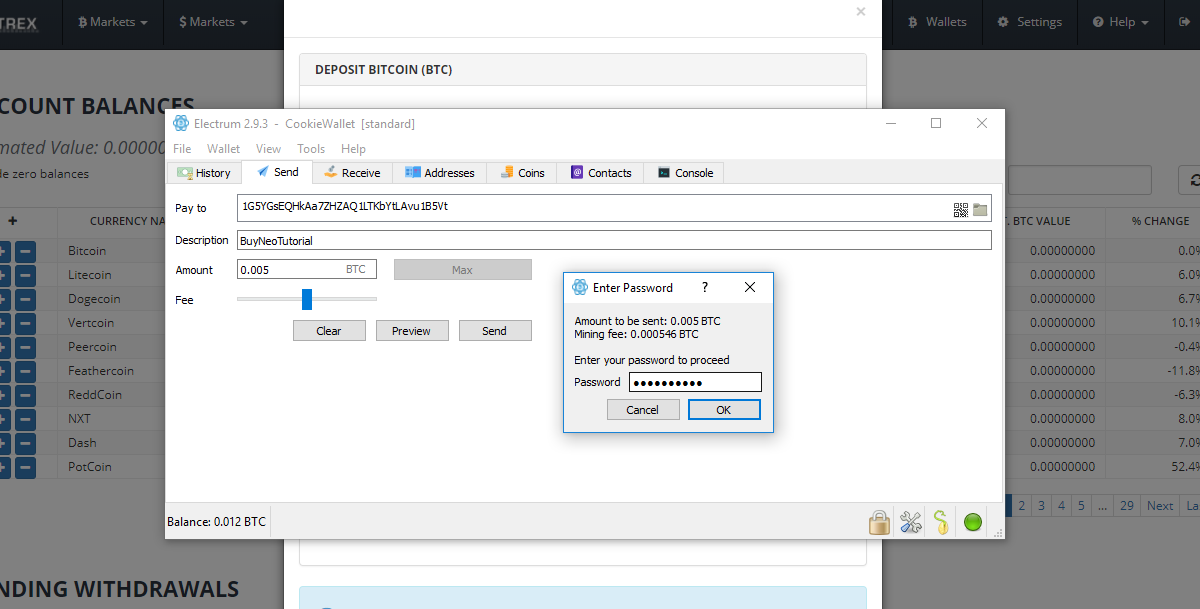 So when the transaction from the last step has been confirmed, you will be able to check the number of bitcoins you have on your Bittrex wallet as can be seen in the image below

Part 3: Buy NEO
Step 1: Type "neo" in the search tool and click on "NEO" to go to the NEO/BTC market. Alternatively, you can also click "B Markets" on the top left corner and search for NEO.

We are now in the NEO/BTC market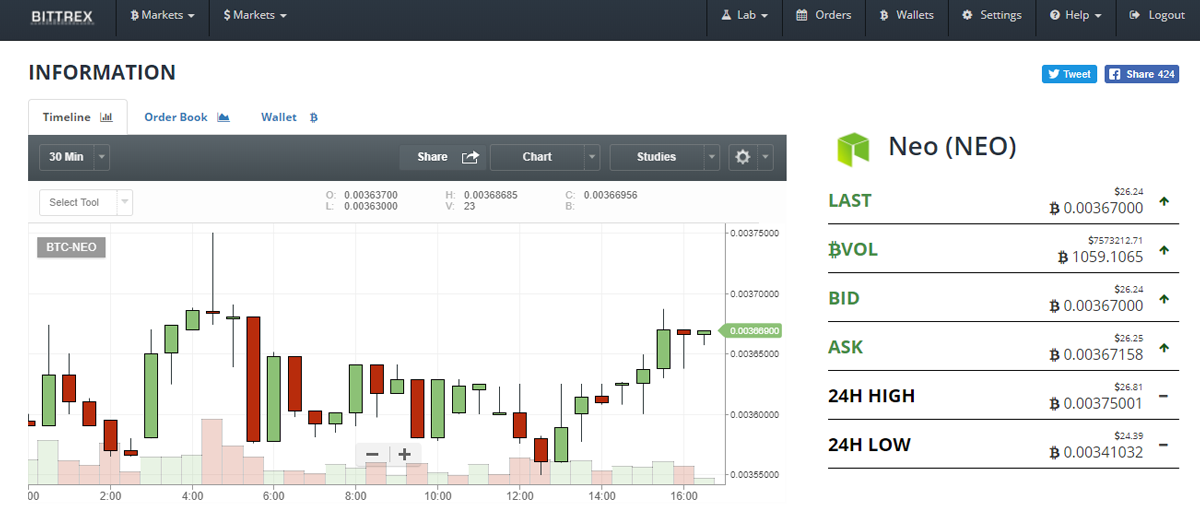 Last: The price of the most recent trade.
฿Vol: The total transaction costs of all trades in the last 24 hours
Bid: The highest price a buyer is currently willing to pay
Ask: The lowest price a seller is currently willing to sell
24H High/Low: The highest and lowest price NEO has reached in the last 24H
Step 2: Scroll down in the NEO market until you see the trading section

Step 3: We have transferred only 0.005 bitcoin to bittrex wallet, and we want to exchange all the bitcoin we have for

 neo, so click on "Max" under Units for the max number of NEO you can purchase for the BTC you have available (If you don't want to spend all of your BTC, then lower this number), and

under Bid we have 3 options:
Last: The price of the most recent trade
Bid: The highest current bid price
Ask: The lowest current ask price
If you want to get your order traded immediately, then choose Ask; this option will let you scoop up the lowest price available that someone is currently ready to sell at.
If you want to buy at a slightly better price, then choose Bid; this option will put you "in line" behind the existing buyers at this price .
If you want the price of the most recent trade, choose Last
(we chose Ask because we want a fast transaction for the guide)
Step 4: click "+ Buy neo" to continue the transaction

Step 5: Click "Confirm"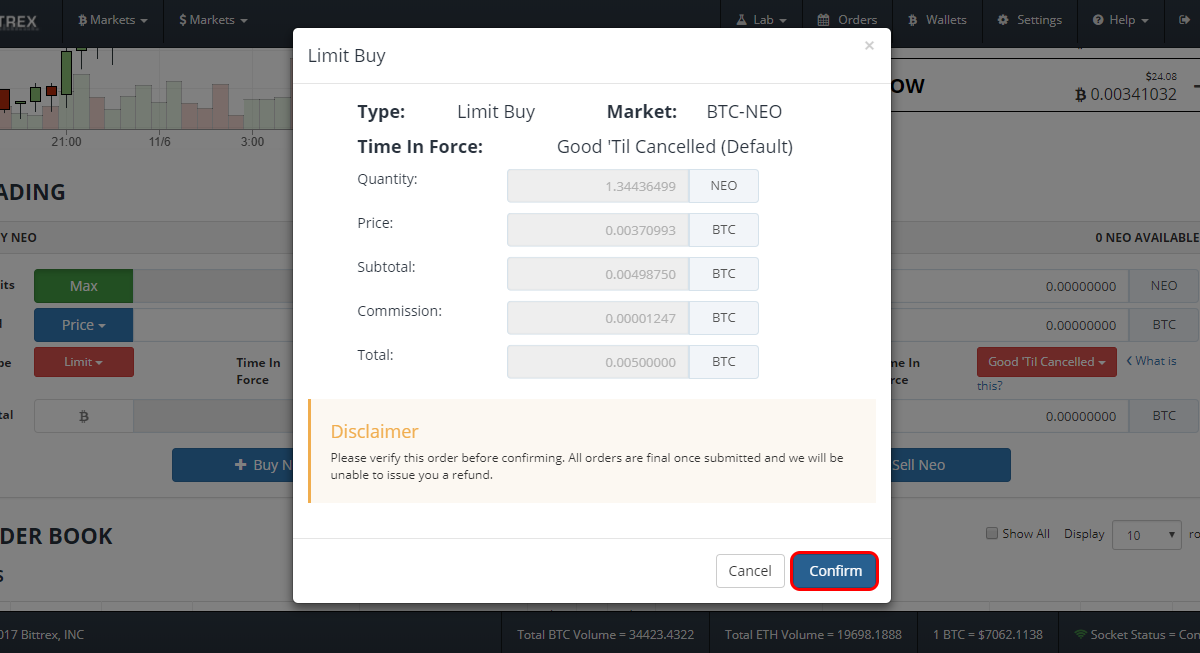 Now you just need wait, your order needs to be executed in order for the NEO to come through. Watch your "Open Orders" to see how much volume you still have yet to do before you get completely filled.
Once done, you can see your NEO clicking on your "wallet" tab

That's it, you own NEO now. On the NEO market window (the window we use to change BTC/NEO) you can sell your NEO coins for bitcoin again with the same parameters we use to buy NEO but this time on the right panel ("sell NEO"), or send to your NEO local wallet and wait until your NEO Gas flow in.
This website is only provided for your general information and is not intended to be relied upon by you in making any investment decisions. You should always combine multiple sources of information and analysis before making an investment and seek independent expert financial advice.
Where we list or describe different products and services, we try to give you the information you need to help you compare them and choose the right product or service for you. We may also have tips and more information to help you compare providers.
Some providers pay us for advertisements or promotions on our website or in emails we may send you. Any commercial agreement we have in place with a provider does not affect how we describe them or their products and services. Sponsored companies are clearly labelled.