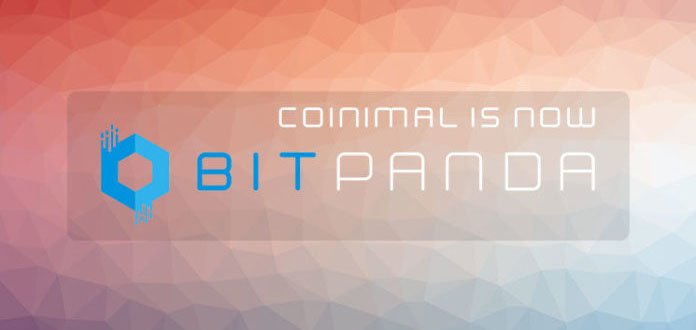 BitPanda, formerly known as Coinimal, is a Bitcoin, Ethereum, Dash and Litecoin web wallet with its own trading facility that allows users to buy and sell cryptocurrencies with fiat currencies (EUR) and to receive them within minutes. It is a fully automated platform: As soon as payment is confirmed, the coins are automatically sent to the buyers. Today, we are going to do a step-by-step guide on how to create an account and use BitPanda to purchase cryptocurrencies.
Part 1: Create an account
Step 1: Go to the BitPanda website (or click

here

) and, on the header, click on "sign up" (or click

here

)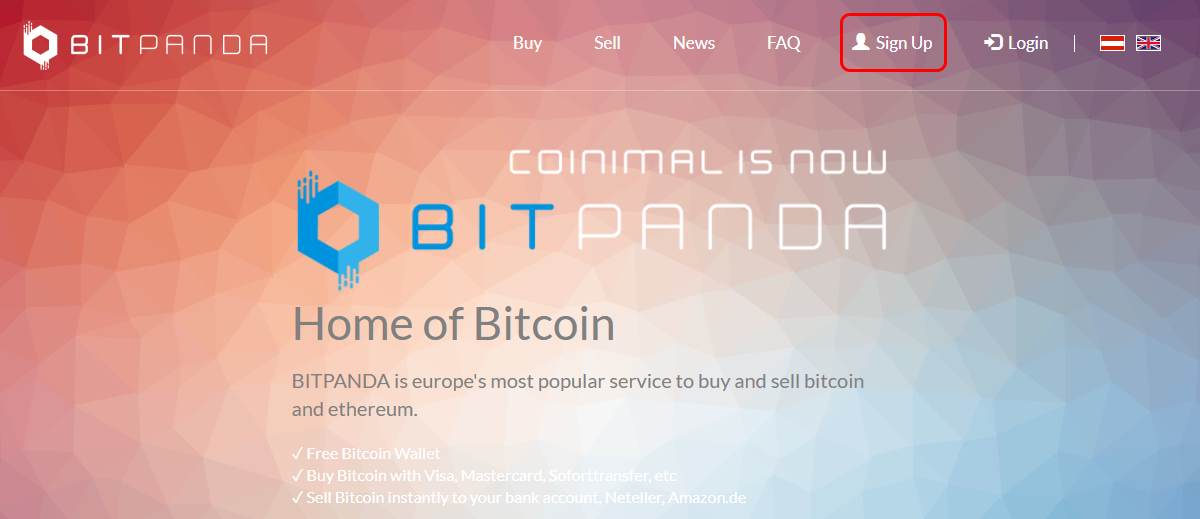 Step 2: Write your email, solve the captcha and click "Register"

Step 3: An email will be sent to your email address, check your email and click on the link provided by BitPanda

Step 4: Set your Password (Please use a secure password with atleast 10 characters that contains at least one uppercase letter, one lowercase letter and one number) and accept the Terms and Conditions. Then click  "Finish Registration"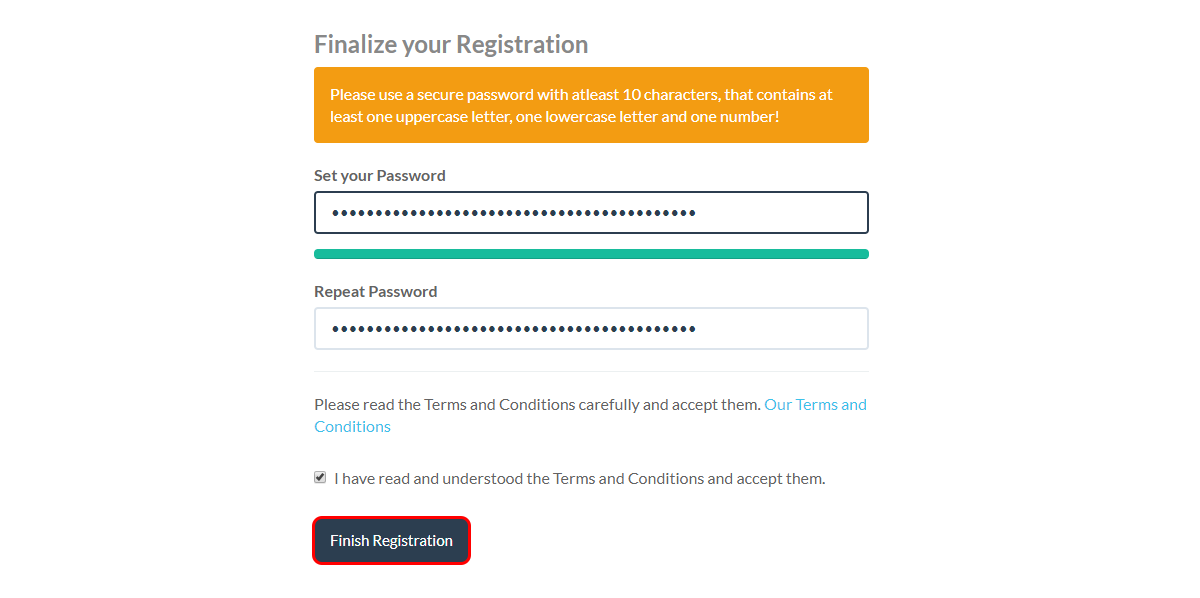 Step 4: If your email was confirmed successfully, you can now login to your account. Use the email and the password you set to log in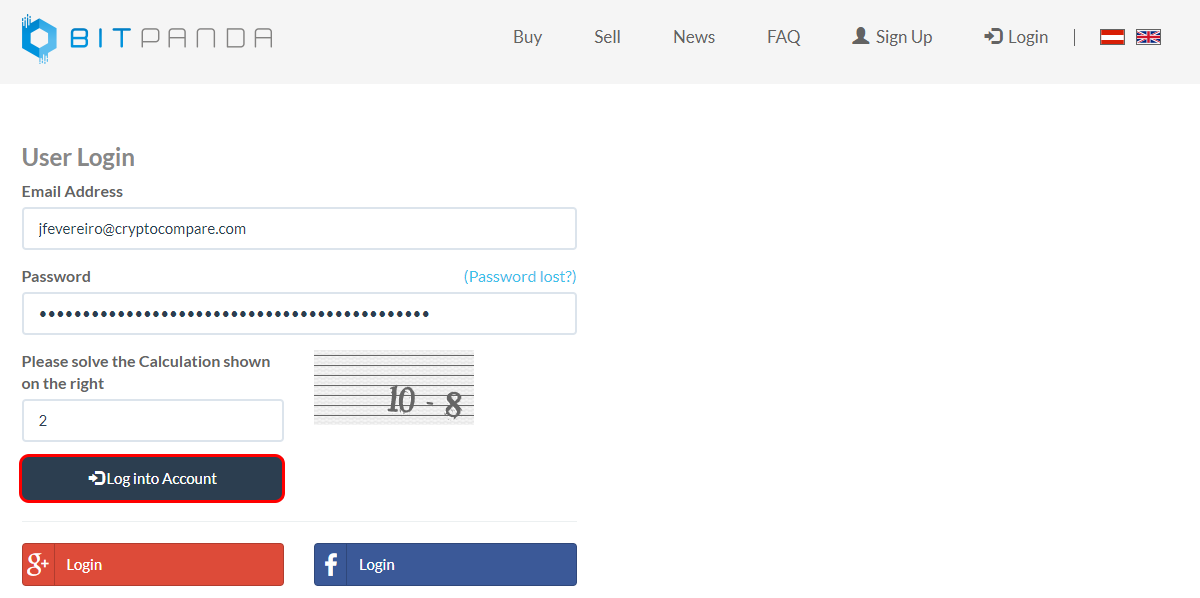 Part 2: Use BitPanda wallet
Step 1: Once you login, you will be redirected to your cryptocurrencies wallet (Bitcoin, Ethereum, Dash and Litecoin)
As a "Starter", you are not able to buy currencies, you can only sell them if you only want to use BitPanda to hold or sell coins skip until the 3rd Part. If not, click on the "Verification" button on left sidebar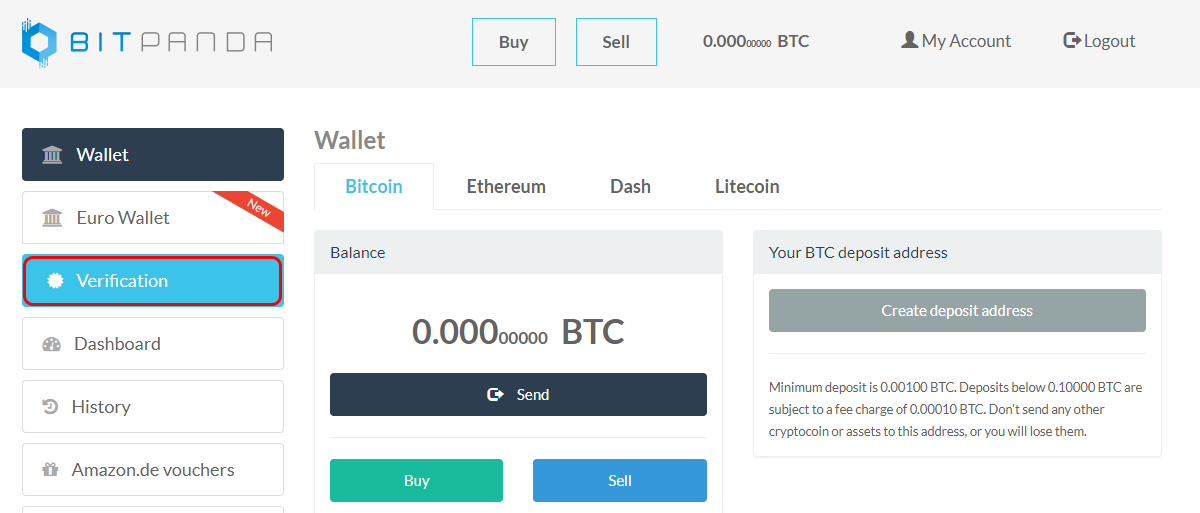 Step 2: Enter your correct mobile number to pass your "Bronze" verification. You will receive a 6 digit PIN that you will have to enter on this site. (enter your Cellphone Number in the following Way: International Country Code + your Number, without any Spaces and without the leading zero. E.g.: +43664123456)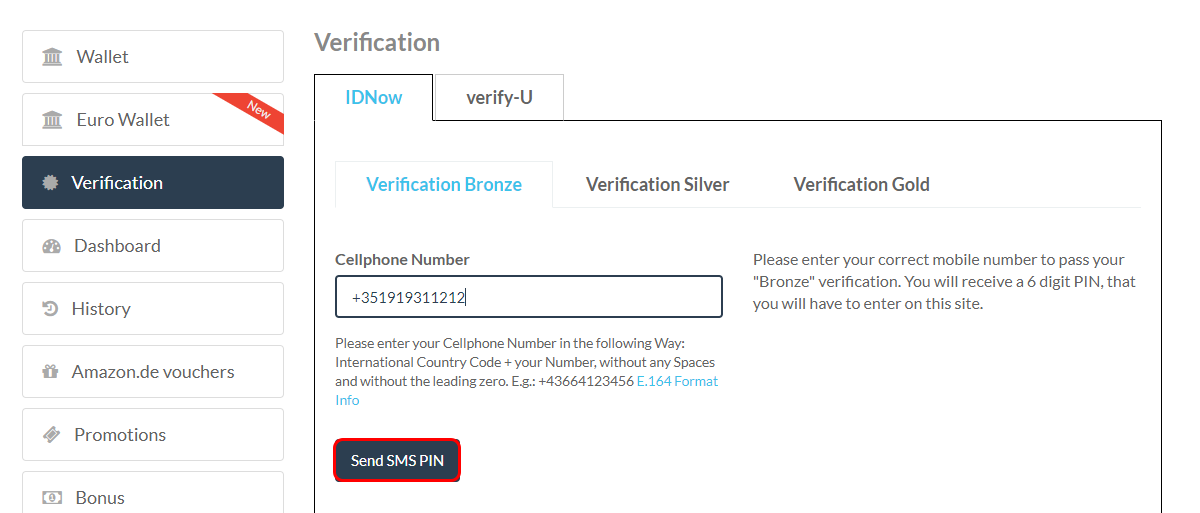 Step 3: Use the 6 digit PIN sent to your cellphone number and press "Submit"

Step 4: Now, fill the gaps with your information to get the silver verification and press "Submit" again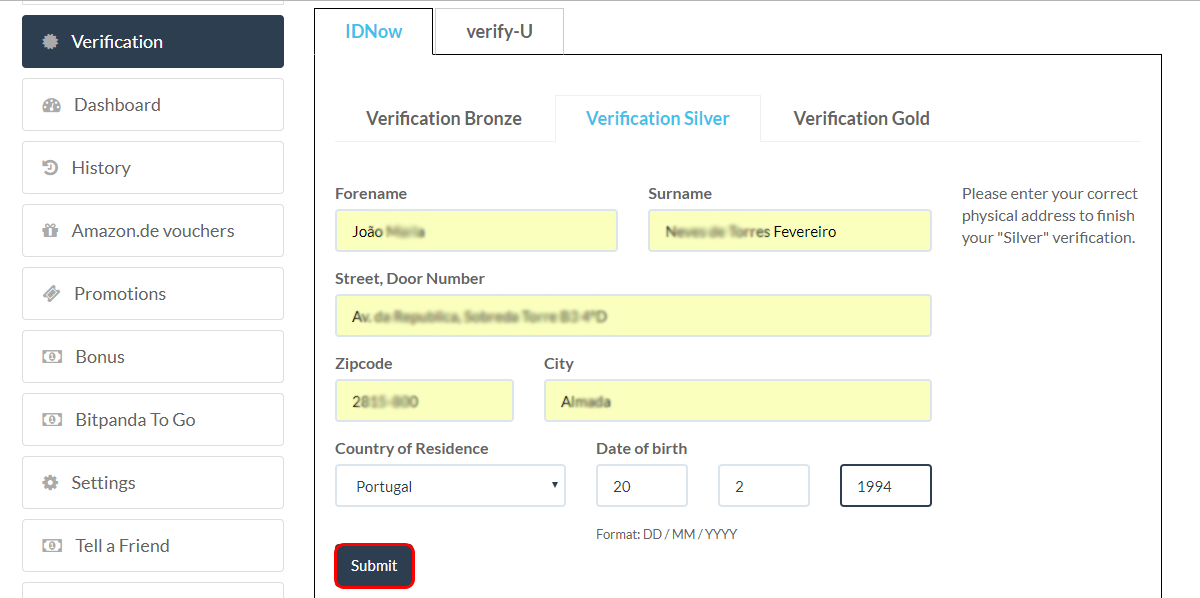 For this guide, the "silver verification" is enough, your Payment Options are SOFORT-Transfer, SEPA, Redeem Voucher, Euro Wallet and your Withdrawal Options are Euro Wallet, SEPA, Amazon.de Voucher Code, Skrill, NETELLER
If you need other option like Visa / MasterCard, NETELLER, Skrill or GIROPAY / EPS you need to continue to "gold verification", they will ask you to submit your ID card to complete
Part 3: Receive funds on your wallet
Step 1: Return to the cryptocurrencies wallet tab (the wallet tab on the sidebar)

Step 2: Choose the currency you want to receive by clicking on the correspondent coin name and then pressing "create deposit address" 

Step 3: A deposit address will be generate for that coin (that address is only for that coin, if you want to deposit other coins repeat the step 2 with the respective coin tab)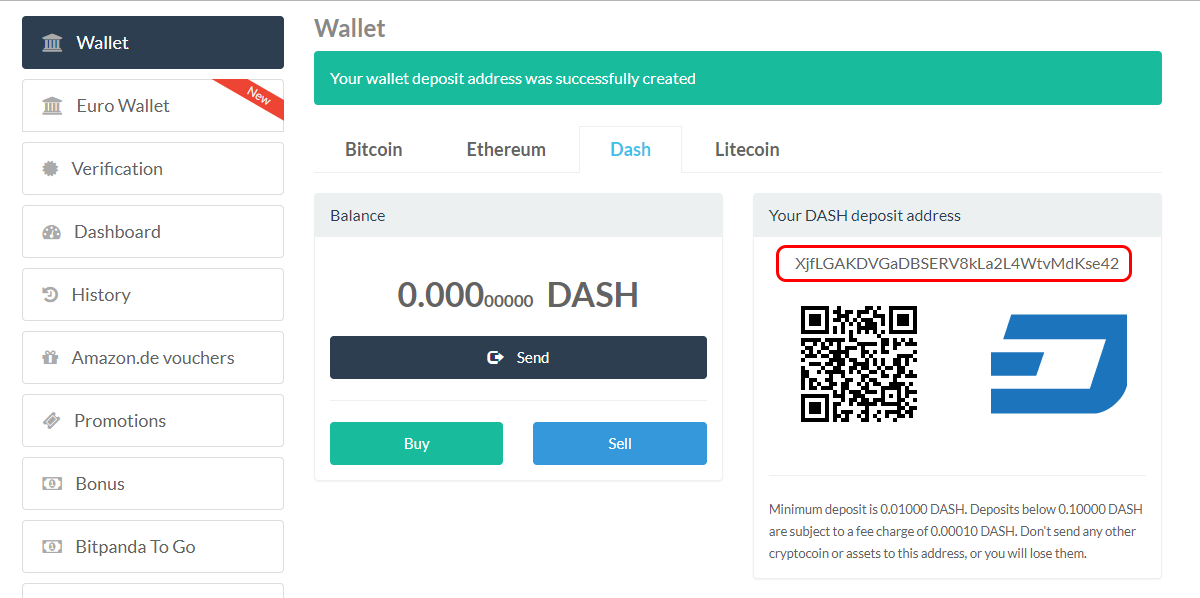 Part 4: Send Funds
Step 1: Choose the currency you want to send by clicking on the correspondent coin name and pressing the "Send" button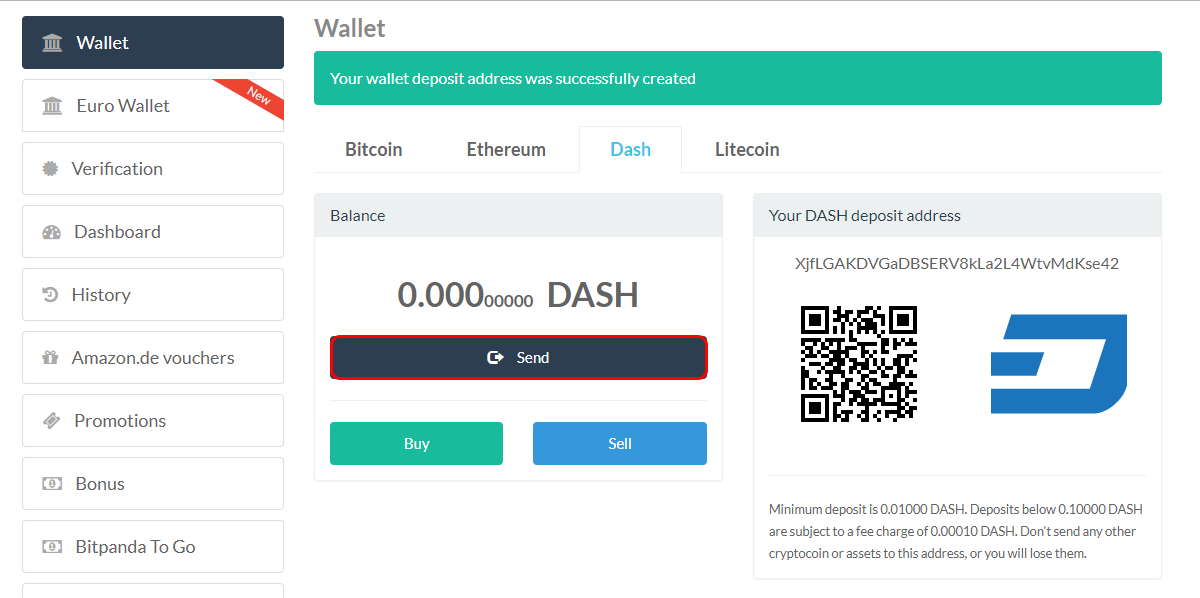 A window will open. Fill the blanks with the address to where you want to send, and the amount in the cryptocurrency or euro. Lastly, press "send"
Part 5: Receive and send fiat currencies
Step 1: Click on "Euro Wallet" on the left sidebar

Step 2: There, you have the "deposit" and "Withdraw" options under the EUR Wallet, both options have steps provided by BitPanda, just follow these steps to send EUR

Part 6: Buy or Sell cryptocurrencies
Step 1: On the header, you have a "Buy" and "sell" button, click on what you want to do as the process is very similar for both. In this example, we are going to show you the "buy" option

Step 2: Select a coin, Choose the payment provider, choose the amount to spend or receive and press the "Next Step" button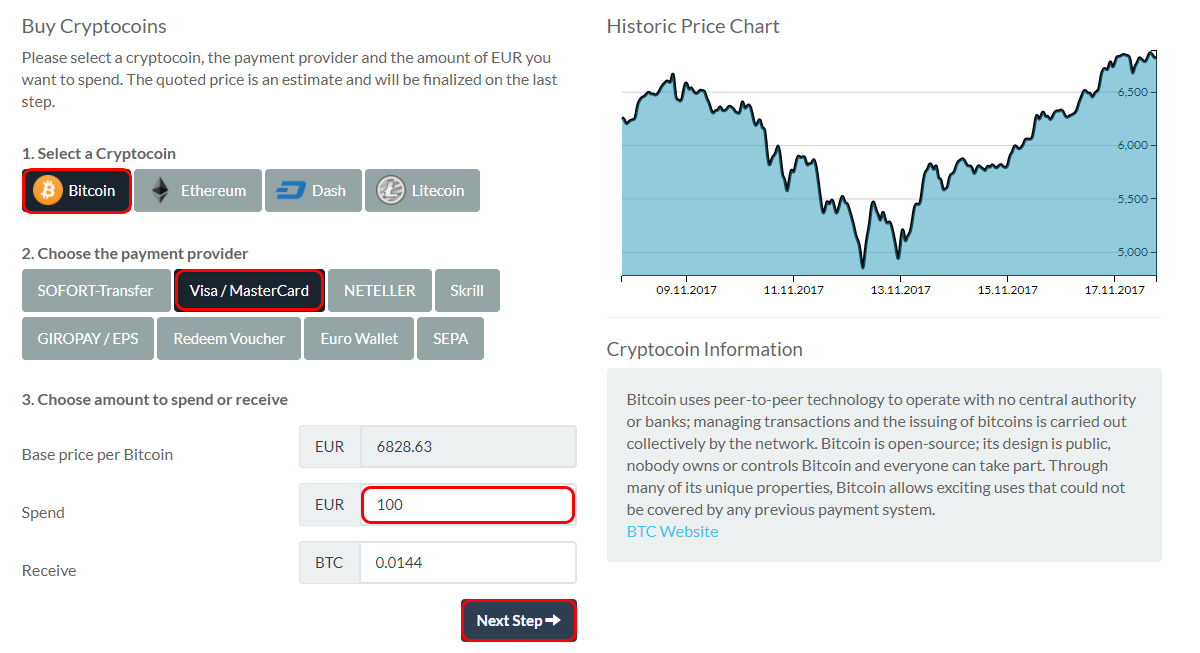 Depending on the payment provider you chose you will have a different "next step", complete this step with the information required.
That's it! You're now equiped to use BitPanda. For more information please visit the FAQ page clicking here.
This website is only provided for your general information and is not intended to be relied upon by you in making any investment decisions. You should always combine multiple sources of information and analysis before making an investment and seek independent expert financial advice.
Where we list or describe different products and services, we try to give you the information you need to help you compare them and choose the right product or service for you. We may also have tips and more information to help you compare providers.
Some providers pay us for advertisements or promotions on our website or in emails we may send you. Any commercial agreement we have in place with a provider does not affect how we describe them or their products and services. Sponsored companies are clearly labelled.