Over the years the crypto industry has flourished, becoming the perfect place for trading due to its high volatility. Being a trader isn't easy, and to buy and sell profitably intense study is required. Professional traders know different strategies and have a deep understanding of how financial markets work.
It's also important to be able to easily control your emotions and be disciplined after entering a trade. Fear of missing out (FOMO) can easily force traders to make bad decisions and end up losing money for it: when entering leveraged positions, the damage can be enormous.
eToro's copy trading features allow new traders to at the very least allocate a portion of their portfolio to copy professional traders. Those who don't feel comfortable yet may even use their entire balance to copy professional traders to learn from their moves while earnings from them as well.
What is Copy Trading?
Generally done in the context of a social trading network, copy trading is a process where investors can copy positions opened and managed by other traders. The investor only has to choose the amount of funds they wish to assign to the copied investor and, from then on, every decision the copied investor does is replicated in the investor's account.
Platforms allowing for copy trading usually let users stop copying other traders whenever they want to. Copied traders are compensated with a flat subscription fee per trader copying him, with based on the fees received from the assets copying him.
eToro's Copy Trading
A game changer in the industry, eToro's award-winning CopyTrader technology was released in 2010 and was one of the pioneers in the industry. eToro is a social trading platform where traders and investors can connect, share, and learn from each other. If you want to invest in a multitude of assets (top stocks, ETFs, commodities, cryptocurrencies) like a top trader, it's possible to do so while sharing knowledge with other users. We will show you how to get started on the platform by following the steps below.
Step 1 - Access here and click on the green button "Get Started".
Step 2 - Fill in the information necessary (name, email, password, phone number) to create the account (using Facebook and Google is an alternative). When done, check the two boxes below and click on the blue button "Create Account".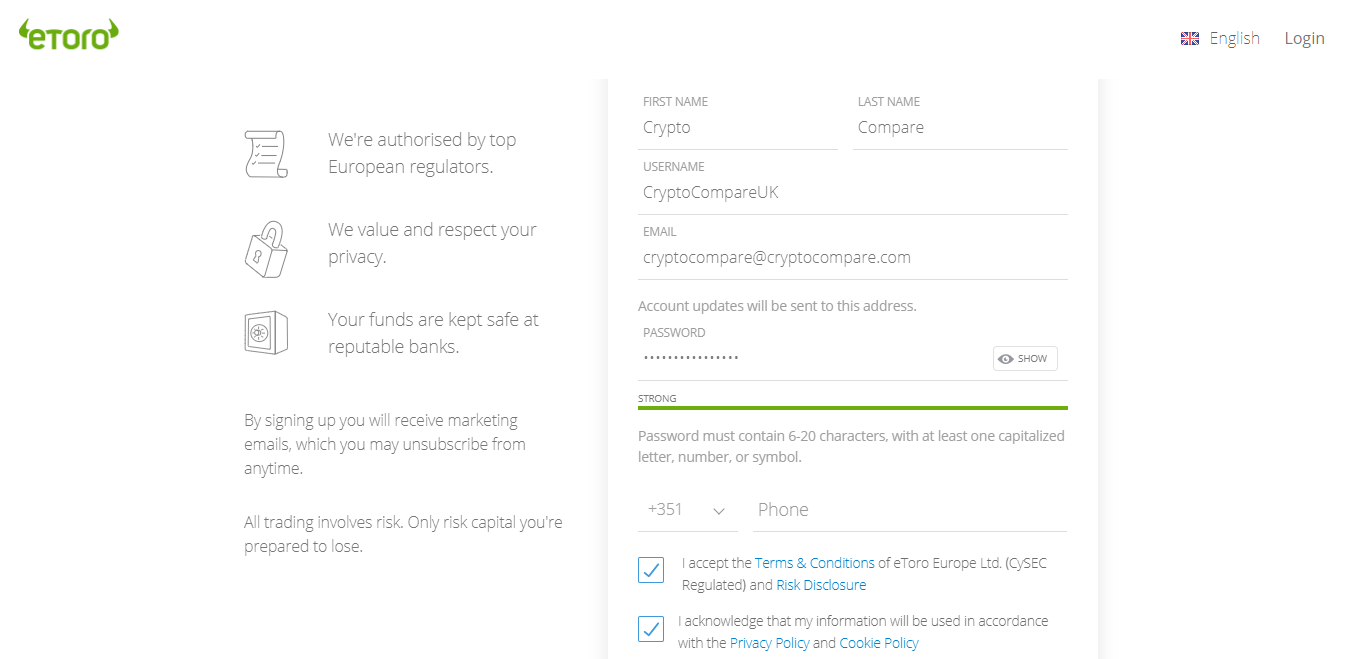 Step 3 - You'll be redirected to the dashboard. Click on the blue button "Complete Profile" under the username. A pop-up window will appear, click "Continue".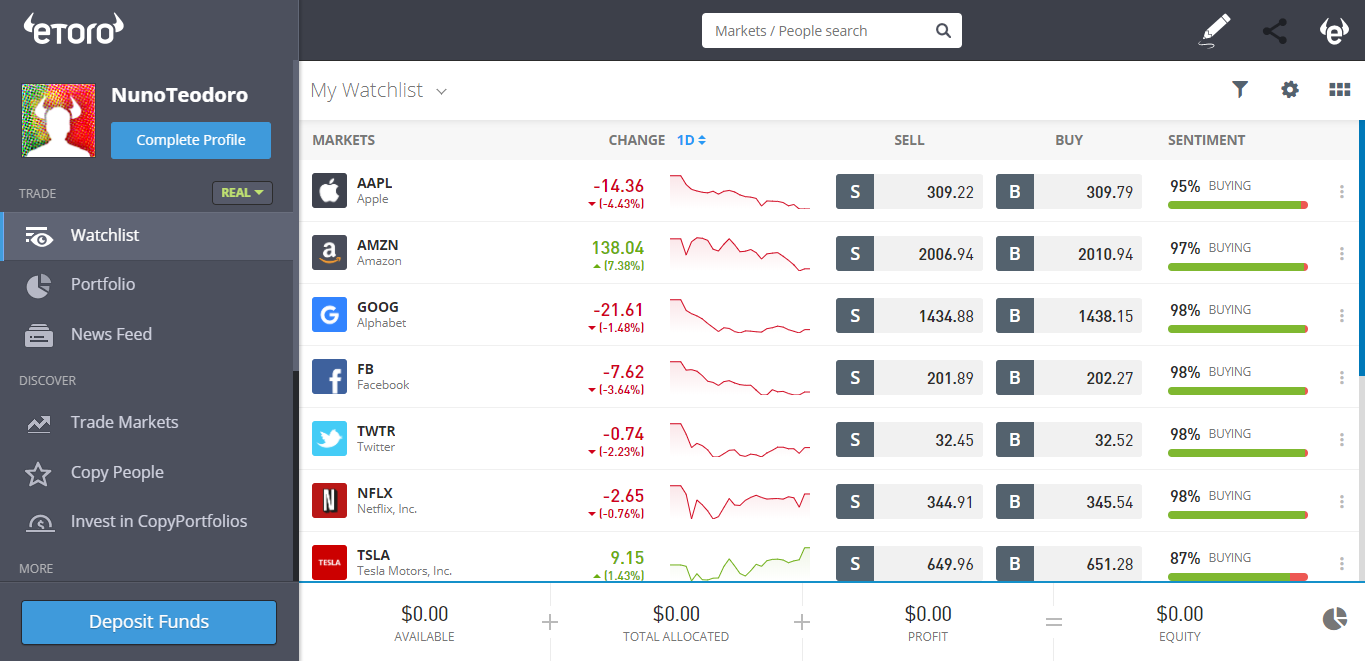 Step 4 - Here you will need to go through a couple of steps to complete the profile. This includes giving personal information (address, date of birth, financial status, profession) and also provide information about your experience and knowledge as an investor.
This step is necessary as eToro complies with regulators to ensure it isn't helping bad actors launder funds or capitalize on ill-gotten gains. Users have to answer regarding their trading experience in an attempt to protect them against the possible losses they may suffer if they're just starting out.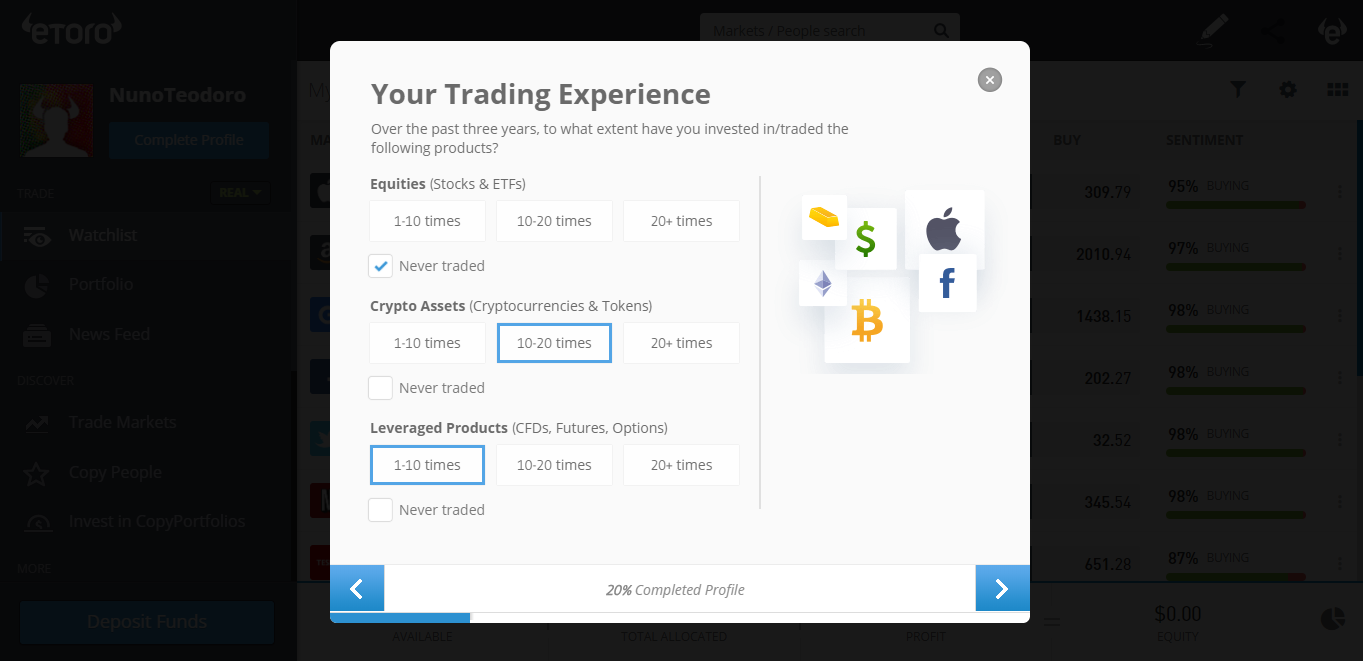 Step 5 - Once you've completed some steps you will have the option to "Continue To Deposit" or "Complete verification" (completing verification will remove deposit limits but it is necessary to go through additional steps).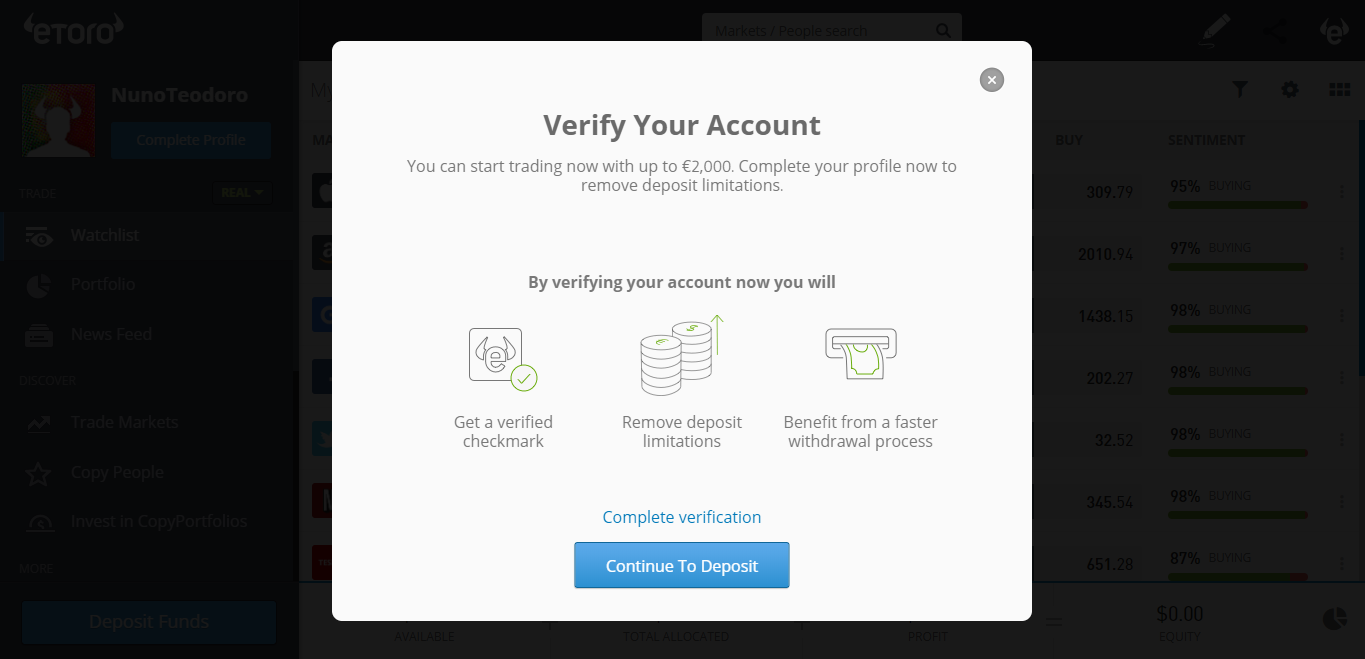 Step 6 - On the deposit page, choose the amount you wish to deposit together with your name and preferred payment method. Scroll down and click on the blue "Submit" button.
Step 7 - After depositing funds in the account you can now start copy trading. Scroll down on the left side bar and choose "Copy People". After that, click on "Who Invest In" and choose "Crypto". Select other criteria for search results if you wish and click the blue button "Go".
You can also select traders who invest in other assets, including commodities, stocks, and ETFs. Various financial experts believe you shouldn't put all your money in crypto, and as such copying traders with different risk factors and exposed to different markets may be a way to create a balanced portfolio on eToro.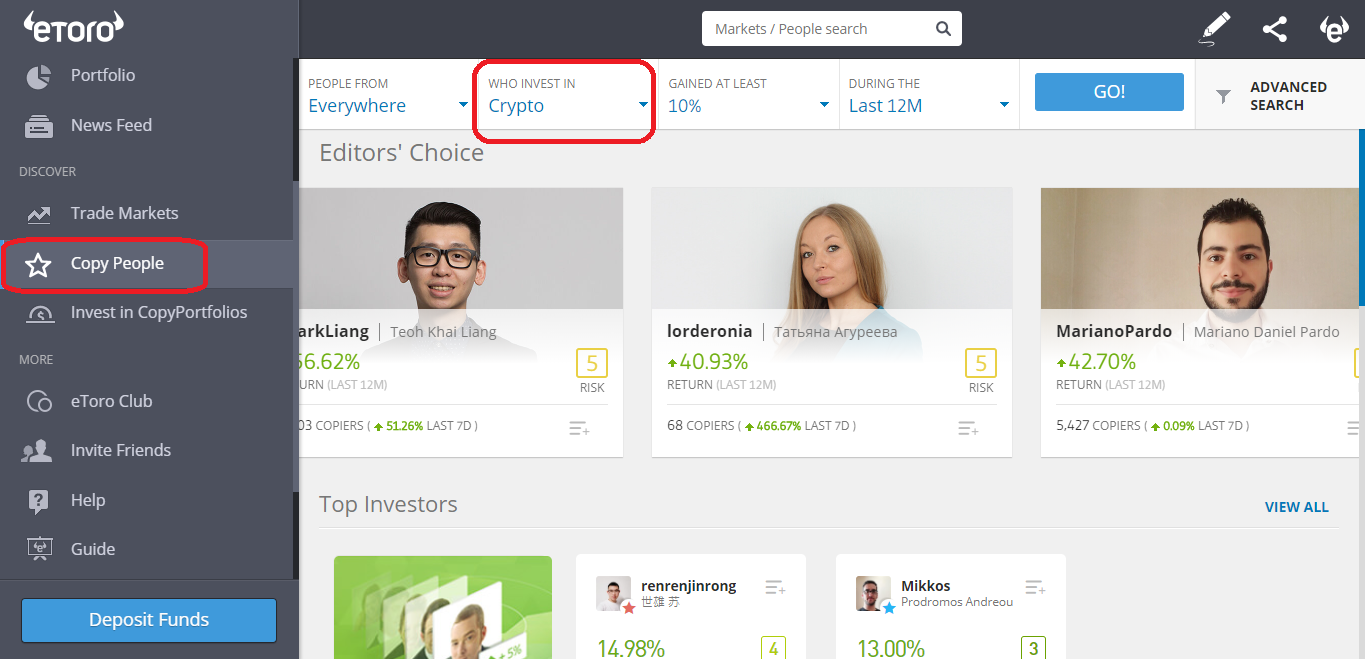 Step 8 - Choose one investor you like from the list by clicking "Copy" under their username. On this page, it's important to note eToro gives users access to the 'Risk Score' of other traders, which shows you how much risk they take in. A trader with a low risk score is likely to not overleverage their positions, while a trader with a higher risk score is likely going to risk more to potentially earn more.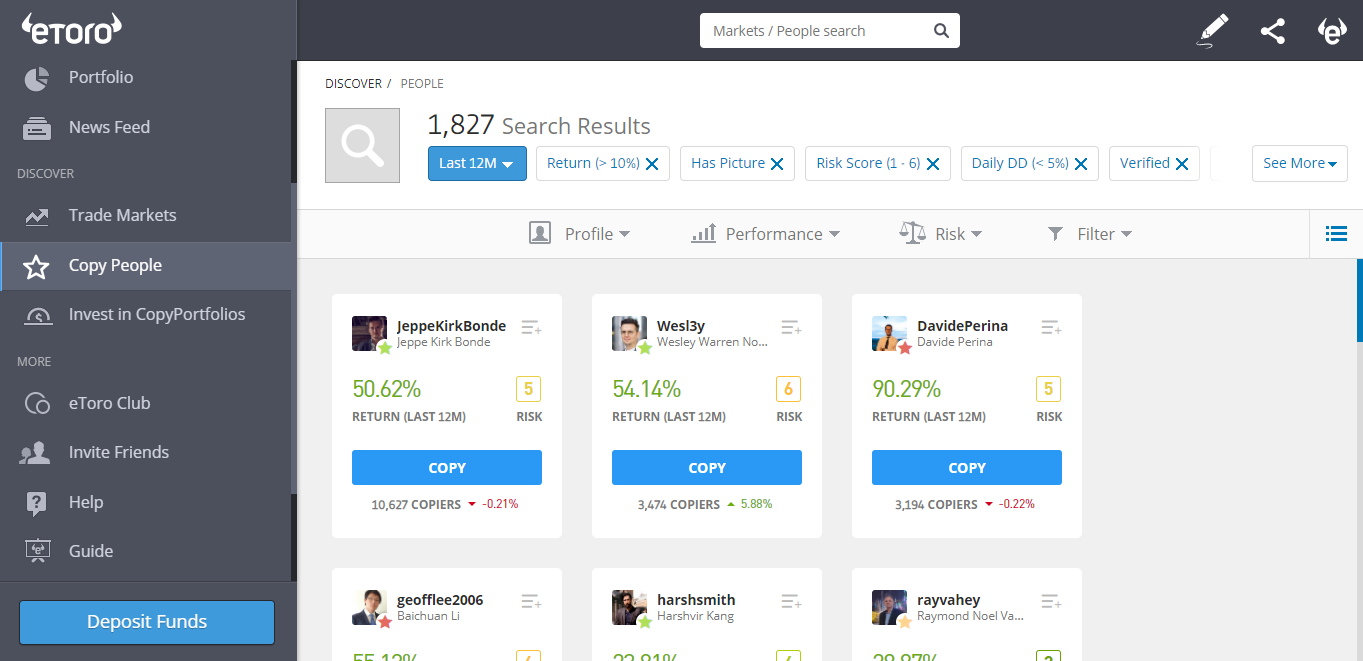 Step 9 - A pop-up window will appear. Choose the amount you wish to invest in copy trader and also a stop loss amount. Click on the "Copy" button below.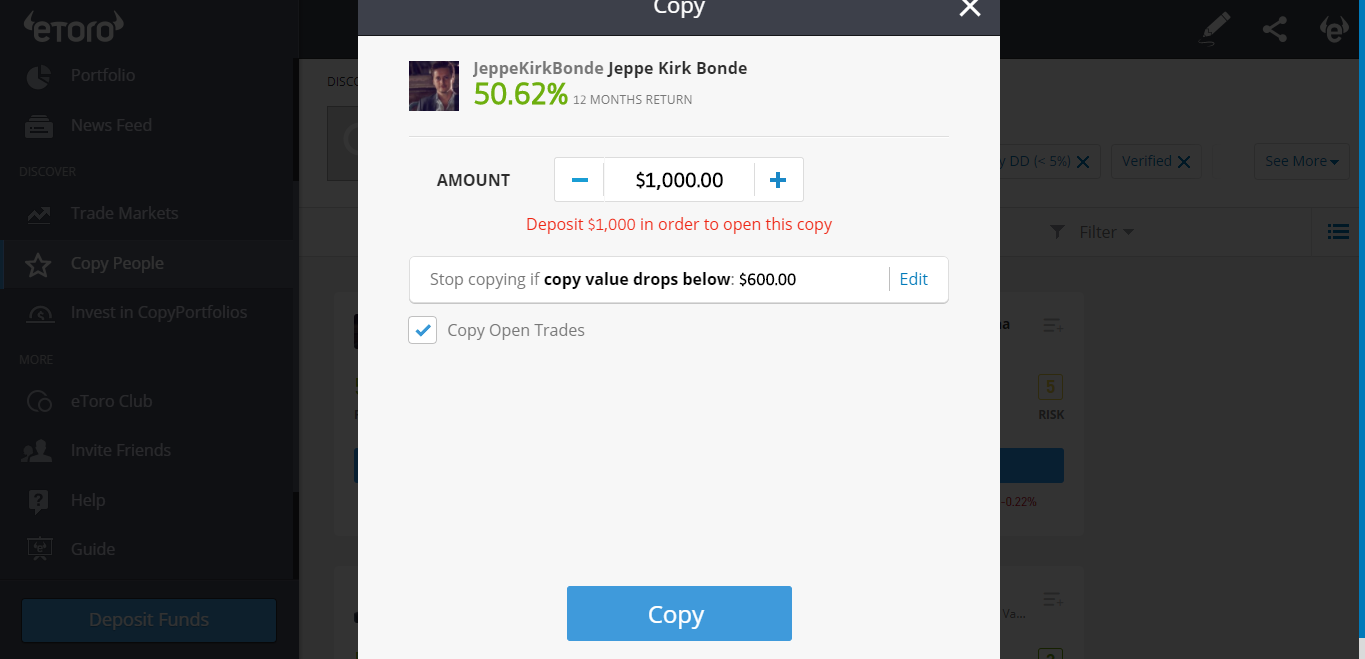 Congratulations! The copy trade process is complete, and you are now part of the most prestigious social trading platform in the world. To check how your investment is going simply click on the "Portfolio" option located on the side bar. If you feel like those you copied aren't doing a good job, you can stop copying them at any time.
Disclaimer:
eToro is a multi-asset platform which offers both investing in stocks and cryptoassets, as well as trading CFDs.
Please note that CFDs are complex instruments and come with a high risk of losing money rapidly due to leverage. 67% of retail investor accounts lose money when trading CFDs with this provider. You should consider whether you understand how CFDs work, and whether you can afford to take the high risk of losing your money. 
Past performance is not an indication of future results. 
Cryptoassets are volatile instruments which can fluctuate widely in a very short timeframe and therefore are not appropriate for all investors. Other than via CFDs, trading cryptoassets is unregulated and therefore is not supervised by any EU regulatory framework. 
This website is only provided for your general information and is not intended to be relied upon by you in making any investment decisions. You should always combine multiple sources of information and analysis before making an investment and seek independent expert financial advice.
Where we list or describe different products and services, we try to give you the information you need to help you compare them and choose the right product or service for you. We may also have tips and more information to help you compare providers.
Some providers pay us for advertisements or promotions on our website or in emails we may send you. Any commercial agreement we have in place with a provider does not affect how we describe them or their products and services. Sponsored companies are clearly labelled.