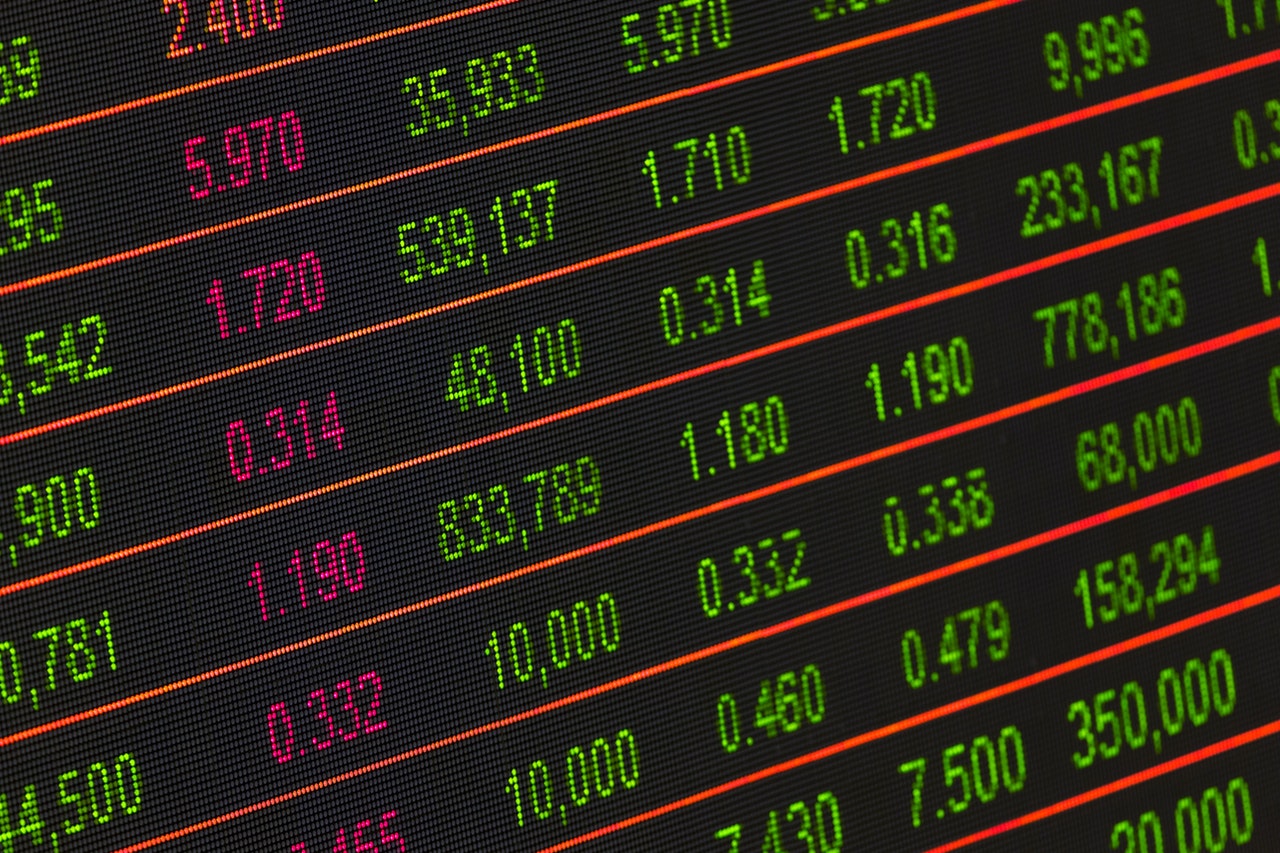 Cryptocurrency exchanges have evolved throughout the years, to the point it's now relatively easy to buy and sell cryptocurrencies. These on-ramps, however, have a major problem and that's trust.
The cryptocurrency community has always been somewhat against trusting a single entity with their funds, and thanks to regulations crypto users now also have to trust these entities with their emails, passwords, and IDs.
The problem here is no platform can ensure our data remains safe. A simple Google search for a "data leak" shows Samsung has leaked the personal data of around 150 users, and in the cryptocurrency space last year crypto exchange BitMEX accidentally doxed thousands of users' email IDs.
These leaks occur because the platforms want users to create accounts, register for newsletters, receive updates, and more. Often users end up reusing the same passwords online, and if hackers get a hold of their account in one place, they may access their crypto exchange accounts and steal their funds.
It's possible to avoid all of these problems by simply not having to create an account at a crypto exchange. Decentralized platforms offer an alternative, but they're limited to one blockchain, have very poor liquidity, and may charge an arm and a leg in trading fees.
Platforms like ChangeNOW offer users a solution, allowing them to trade cryptocurrencies securely without having to register for an account, letting them control their own funds while being able to access the liquidity of the platform.
Trading Crypto Without Registering an Account
ChangeNOW is a non-custodial service created to offer simple and fast cryptocurrency exchanges. Its service lets users trade safely and conveniently without even needing to use a browser enabled for Web 3.0 platforms, unlike decentralized exchanges.
The trading platform has over 200 cryptocurrencies – for a total of over 40,000 trading pairs -available and doesn't hold limits, allowing users to trade as much as they want to, without requiring an account. It's even possible to use ChangeNOW to buy using fiat, as users can buy crypto with Visa or MasterCard via a third-party partnership with Simplex.
ChangeNOW has partnered with prominent cryptocurrency wallet providers, including Edge, Atomic, CakeWallet, and Ledger, to simplify user experience and help on-board newcomers. It's worth pointing out ChangeNOW doesn't require KYC by default, but may ask users to pass a KYC check if their transactions are marked by its Risk Management System.
How it Works
ChangeNOW's website is rather user-friendly. All users have to do is specify which cryptocurrency they want to send and which cryptocurrency they want to receive. They then have to input the amount they are looking to send so the amount they will receive can be determined.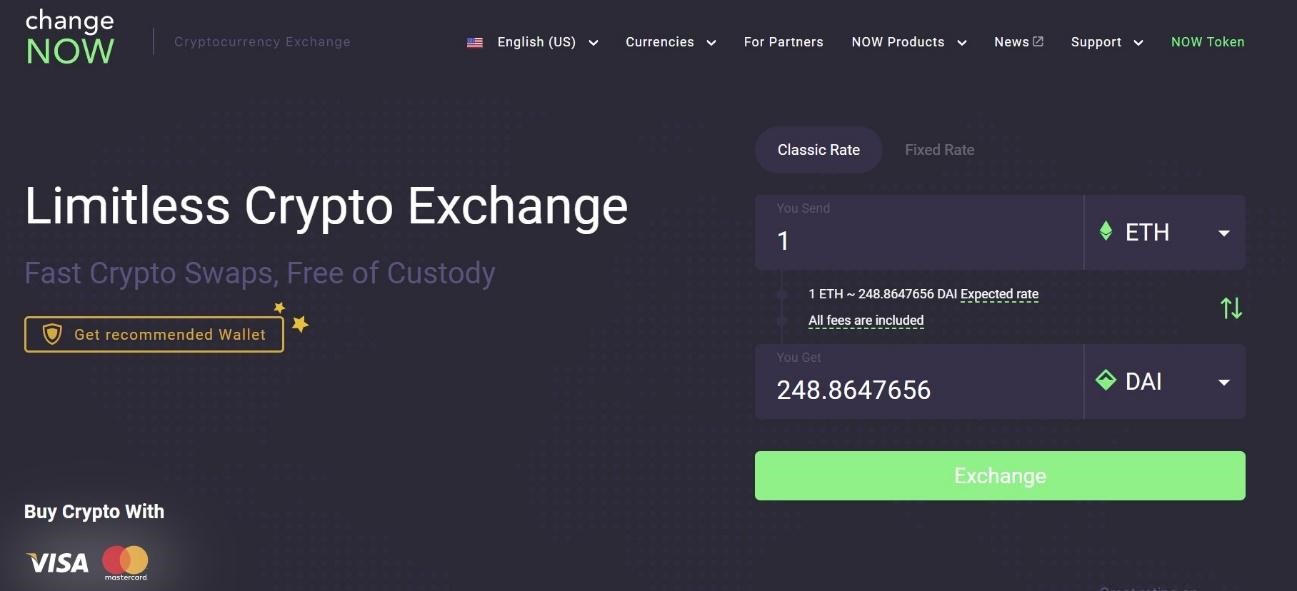 In this example, the user would have to type in their ether address to receive the DAI tokens. Clicking "next" would lead to a page where an ether wallet is generated for the user to send the ETH to in exchange for the DAI. If users don't have a wallet, they can create one using ChangeNOW's partner services. The suggested wallets adapt to the cryptocurrency the user chose. In this case, we're getting wallets that support DAI.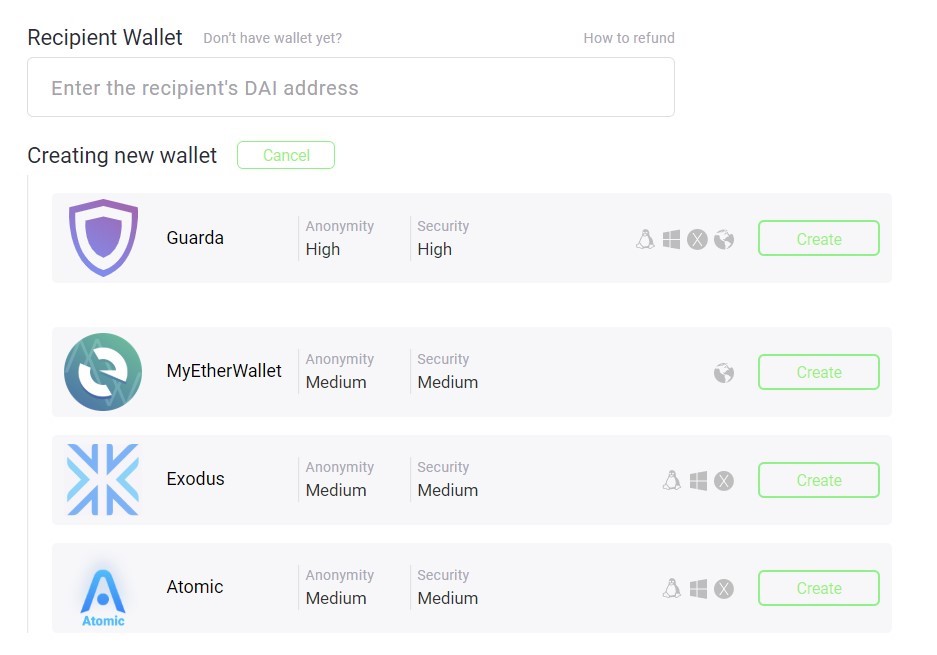 98% of the exchanges conducted on the platform are successful and take around two minutes to go through, depending on the amount of pending transactions and on the blockchains being used. The rates given on the platform are final – there are no hidden fees.
After choosing a wallet and accepting the rate, we are taken to a page where we have to confirm the transaction.

After confirming the transactions, all we need to do is send the funds over to the provided address and wait for the transaction to take place. Those who aren't yet comfortable with blockchain-based transactions or who just want to be notified can add their email address to get a notification.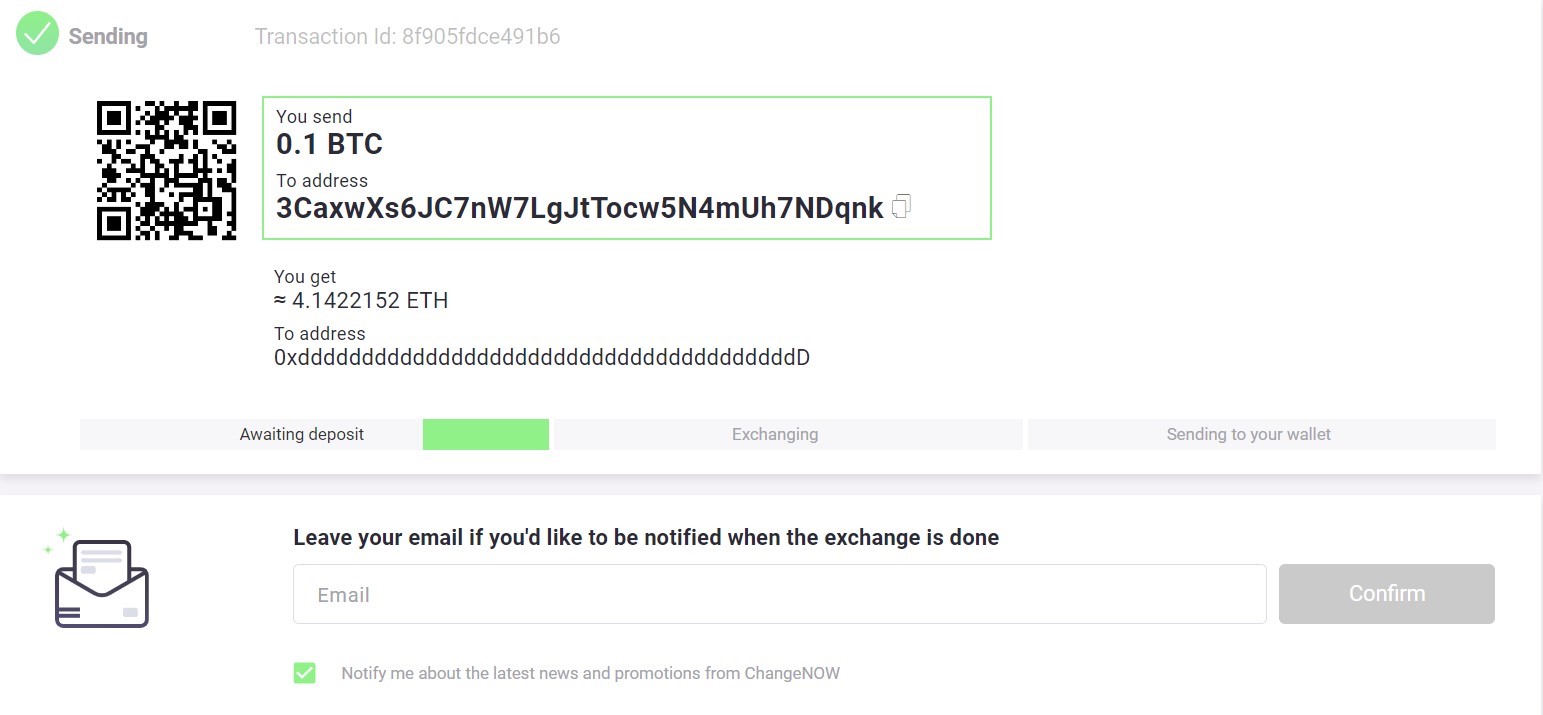 For the 2% of transactions that aren't processed right away, ChangeNOW's support team works 24/7 to help its users get through potential issues.
This website is only provided for your general information and is not intended to be relied upon by you in making any investment decisions. You should always combine multiple sources of information and analysis before making an investment and seek independent expert financial advice.
Where we list or describe different products and services, we try to give you the information you need to help you compare them and choose the right product or service for you. We may also have tips and more information to help you compare providers.
Some providers pay us for advertisements or promotions on our website or in emails we may send you. Any commercial agreement we have in place with a provider does not affect how we describe them or their products and services. Sponsored companies are clearly labelled.