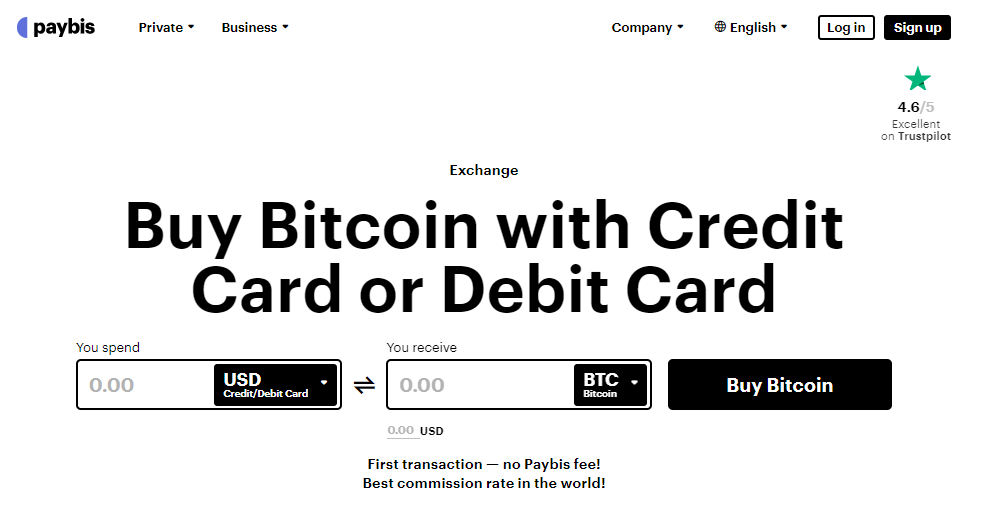 Paybis was founded in 2014 by Innokenty Isers, Konstantin Vasilenko, and Arturs Markevics. Their main goal was to provide the most trustworthy and responsive exchange service on the market.
This exchange offers a beginner-friendly interface, global coverage and a multilingual 24/7 dedicates customer service.
Speaking of their service, the platform offers some popular cryptocurrencies other than Bitcoin - you can buy Stellar Lumens, Ethereum, Litecoin, Bitcoin Cash, Ripple, Binance Coin, Neo, and Tron. Purchases can be completed using a credit card or a bank transfer.
A welcome addition to these payment methods is the presence of some popular digital wallets like Skrill, Neteller, Payeer and AdvCash. You can use these e-wallets as a payment method, exchange funds between them, and sell Bitcoin. 
What Makes Paybis Compelling?
Paybis is a fully licensed exchange, compliant with US and EU regulations. But what makes it unique compared to other exchanges like Coinbase and Binance is the sheer simplicity of the interface. Transactions can be finalized within minutes.
Furthermore, instead of storing your coins in an online wallet, your crypto is sent directly to your private wallet when purchasing from Paybis. There are no issues with ID verification when withdrawing, as you remain in full control of your funds at all times.
Additionally, Paybis doesn't charge any fees for the first transaction. This leaves you to try out the platform at no cost - a great feature for beginners.
We mentioned regulatory compliance earlier. As expected, there's a KYC process when purchasing from Paybis, which is fast and easy to complete. And if you have any questions, their responsive customer service is reachable through the live chat or email 24/7.
So, let's check out the platform and its main functionalities.
User Interface
When visiting the Paybis website for the first time, you will be met with the simple user interface that we came to appreciate
Registering for a new account will be your first step on Paybis. You can do this through the traditional email/password combo or use Google or Facebook registration at your convenience.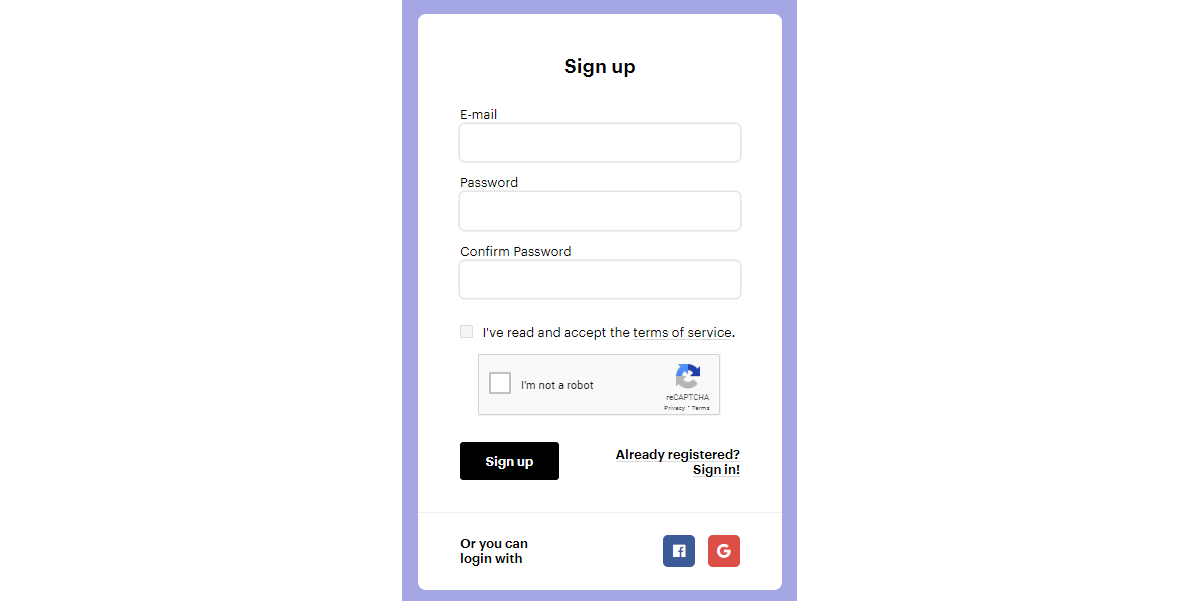 Once that is done, you can begin your first transaction. It's a fairly intuitive and simple procedure. Let's see how it works.
Initiating a transaction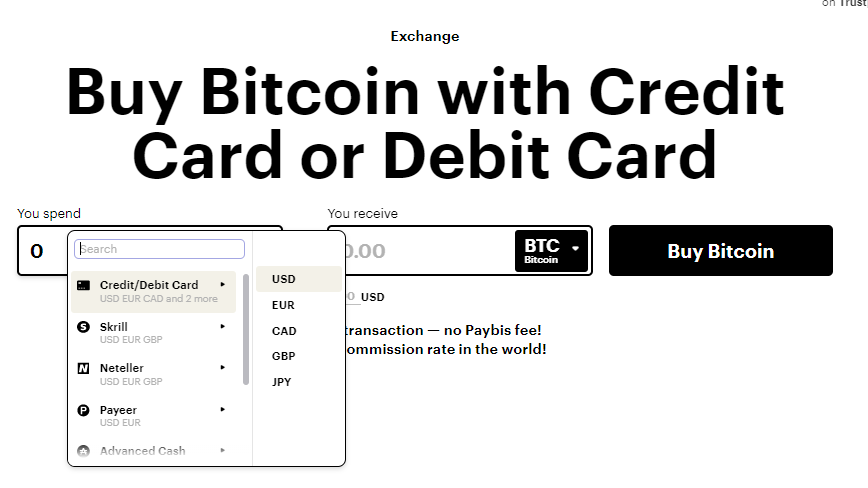 The left drop-down menu allows you to select your payment method. There's a good variety of choices here, and quite a few currencies supported.
You can pay with:
Credit/Debit Card (USD/EUR/CAD/GBP/JPY)
Skrill (USD/EUR/GBP)
Neteller (USD/EUR/GBP)
Payeer (USD/EUR)
AdvCash (USD/EUR)
Bank transfer
Paybis Gift Card
Bitcoin
This means that you can sell your Bitcoin on the platform as well, and directly convert it into one of the supported payout methods.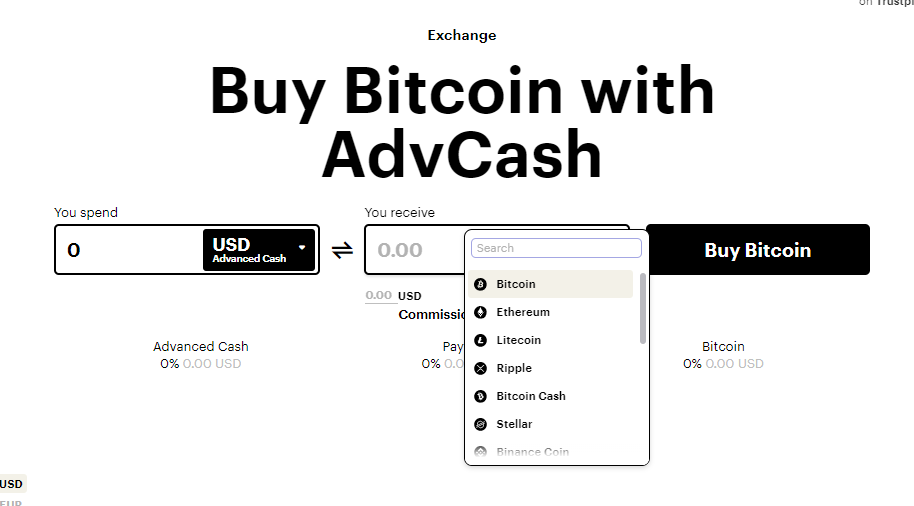 The right drop-down menu allows you to select any of the payouts for the previously selected payment method.
Keep in mind that crypto-to-crypto trading is not supported on Paybis. So if you are looking to exchange your Bitcoin for an alternative cryptocurrency, you won't be able to do it here. Instead, you can sell Bitcoin to your credit card or one of the digital payment processors.

Once you have selected your trading pair (we are using credit card to BTC in this example), you can type in the desired amount in any of the input fields. The system will automatically calculate the amount of the other trading pair.
When you are happy with your choice, just click on the "Buy Bitcoin" button to initiate the transaction.
As we mentioned before, Paybis doesn't use a custodial wallet to store your coins. As such, ensure you have created a wallet for the crypto you are purchasing beforehand.
ID Verification Procedure
Once your transaction is initiated, the system will ask you to confirm your identity. Simply follow the instructions to comply with the request.
1.    Enter your personal details
Type in your name and surname and select your birthdate from the calendar. Please note that you need 18 or older to use this service
2.    Add your address
Select your country from the list and enter your address. Make sure that it's the same address that is on the ID piece which will be used for verification. There's a restricted list for Paybis services, so make sure your country isn't one of them before proceeding.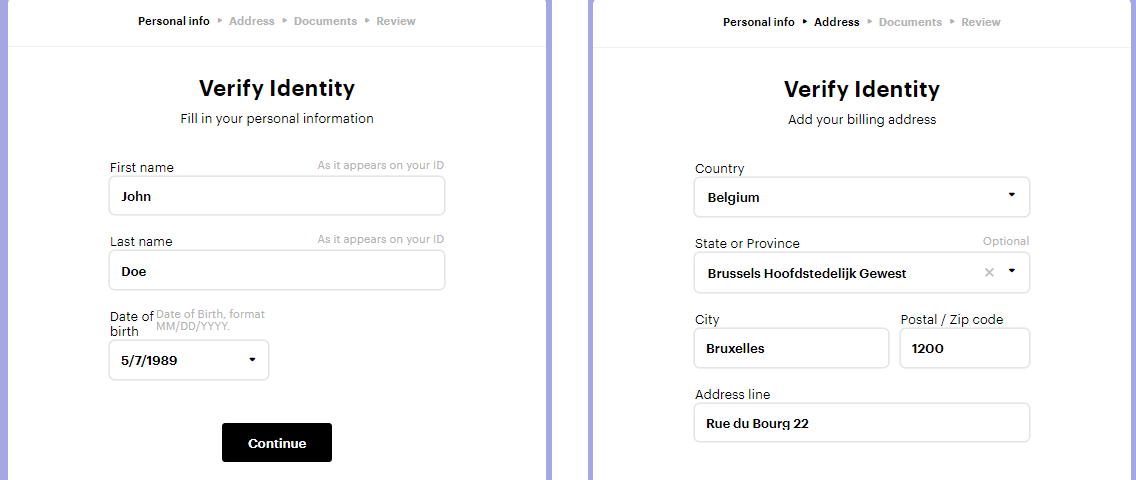 3.    Upload an ID document
Finally, select the type of ID you will be using. Simply take a picture and upload it.
That's the simple 3-step procedure for verifying your ID with Paybis. Once you click on the "Submit", your data will be processed by their staff.
Finalizing your Transaction
As soon as your ID has been confirmed, the system will prompt you to resume your transaction.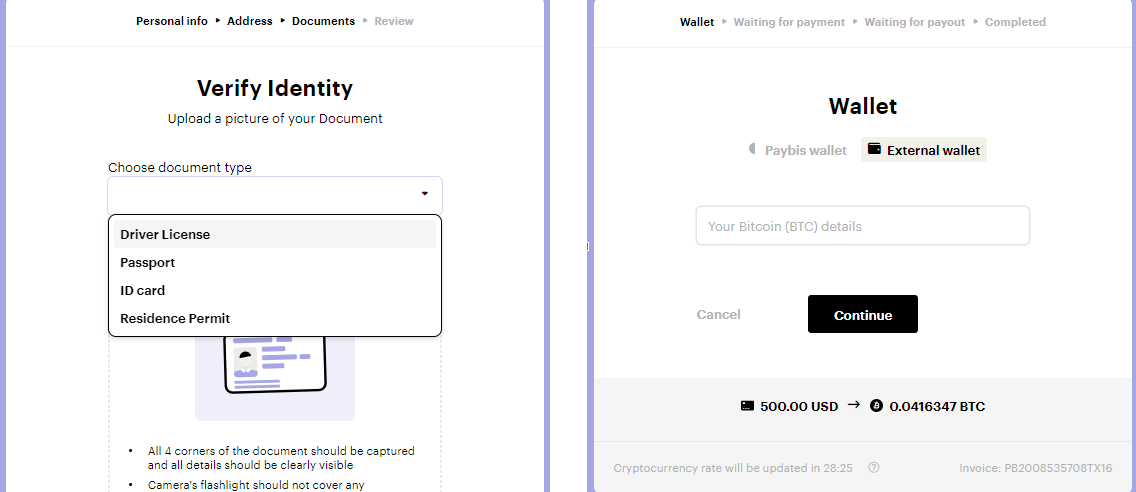 Enter the wallet address and clicking on "Continue" ill bring you to the payment screen.
Simply follow the instructions and finalize your payment. As soon as it's processed, you should receive your coins directly into your wallet.
If you think that the transaction is taking too long, you can reach their support team 24/7. There's a live chat function that will usually get you a response within seconds.
In conclusion, Paybis is a place for purchasing popular cryptocurrencies using unusual payment methods, no matter if you are a beginner or seasoned crypto-trader. It's fast, responsive, and convenient.
This website is only provided for your general information and is not intended to be relied upon by you in making any investment decisions. You should always combine multiple sources of information and analysis before making an investment and seek independent expert financial advice.
Where we list or describe different products and services, we try to give you the information you need to help you compare them and choose the right product or service for you. We may also have tips and more information to help you compare providers.
Some providers pay us for advertisements or promotions on our website or in emails we may send you. Any commercial agreement we have in place with a provider does not affect how we describe them or their products and services. Sponsored companies are clearly labelled.