If you are looking to get trading Bitcoin - one of the top exchanges to start on is Gemini Exchange - the digital asset exchange started by the Winklevoss twins. The exchange is a new breed of Bitcoin exchange that has top of the range security and impeccable regulatory and compliance procedures. 
A breath of fresh air in bringing a touch of wall street class & security to the innovative yet nascent Bitcoin arena.  
The first thing to do is to register with the exchange. At the present point in time though this is only available in 26 states and only in the United States. If you are not in a state served by the Company and not in the United States you cannot get access at this stage. 
If you are in the United States you need to enter your email address - after receiving their email with a registration token you will then have to enter it and then be asked to enter your phone number to set up two factor authentication - i.e. linking your phone to your account. A text message will then be sent through to you on your phone which you will have to enter into the interface.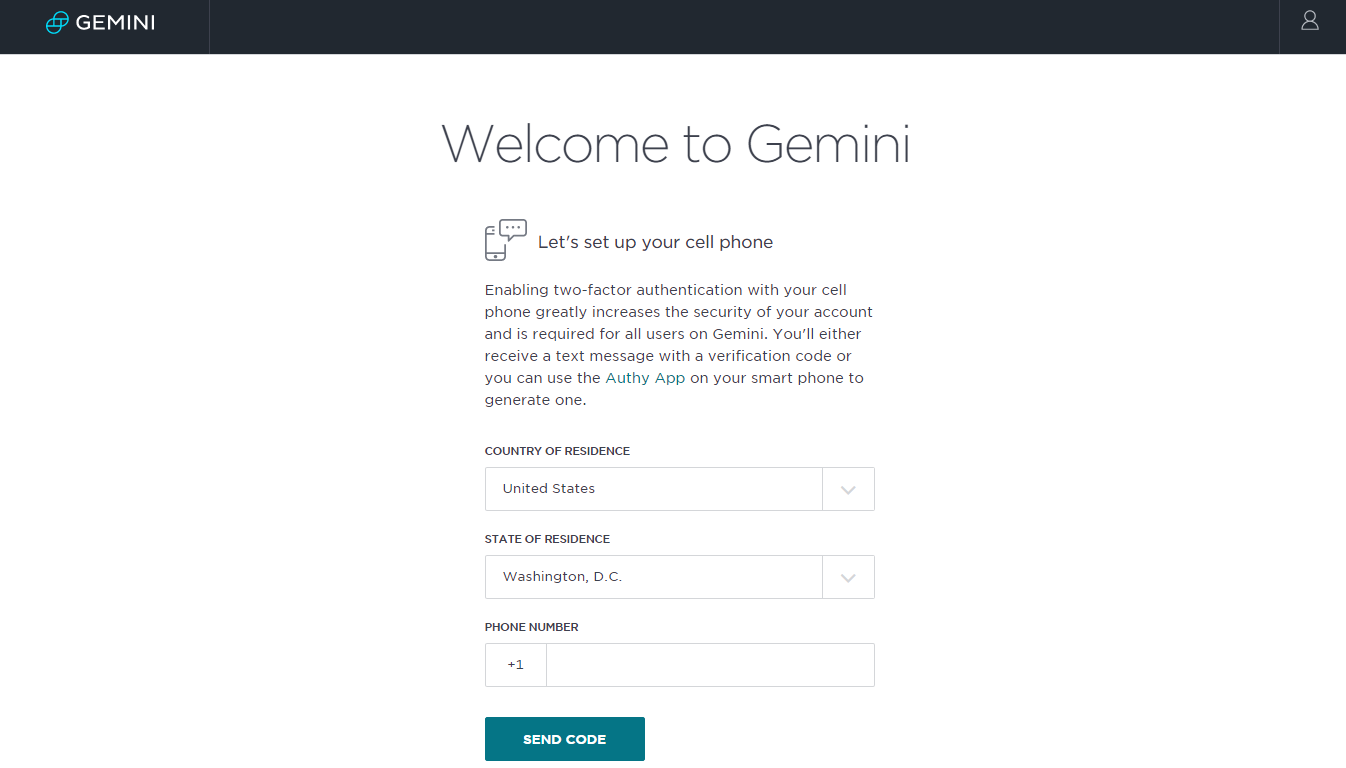 Once you have set up your account and completed the two factor authentication it is possible for you to deposit Bitcoins for trading into USD or to deposit cash. Gemini Exchange charges no deposit fees or withdrawal fees but does charge trading fees at the standard rate of 0.25% on both sides of the transaction. You can see the method for depositing Bitcoin below which used a QR code to represent the address to which you are depositing the Bitcoins at Gemini.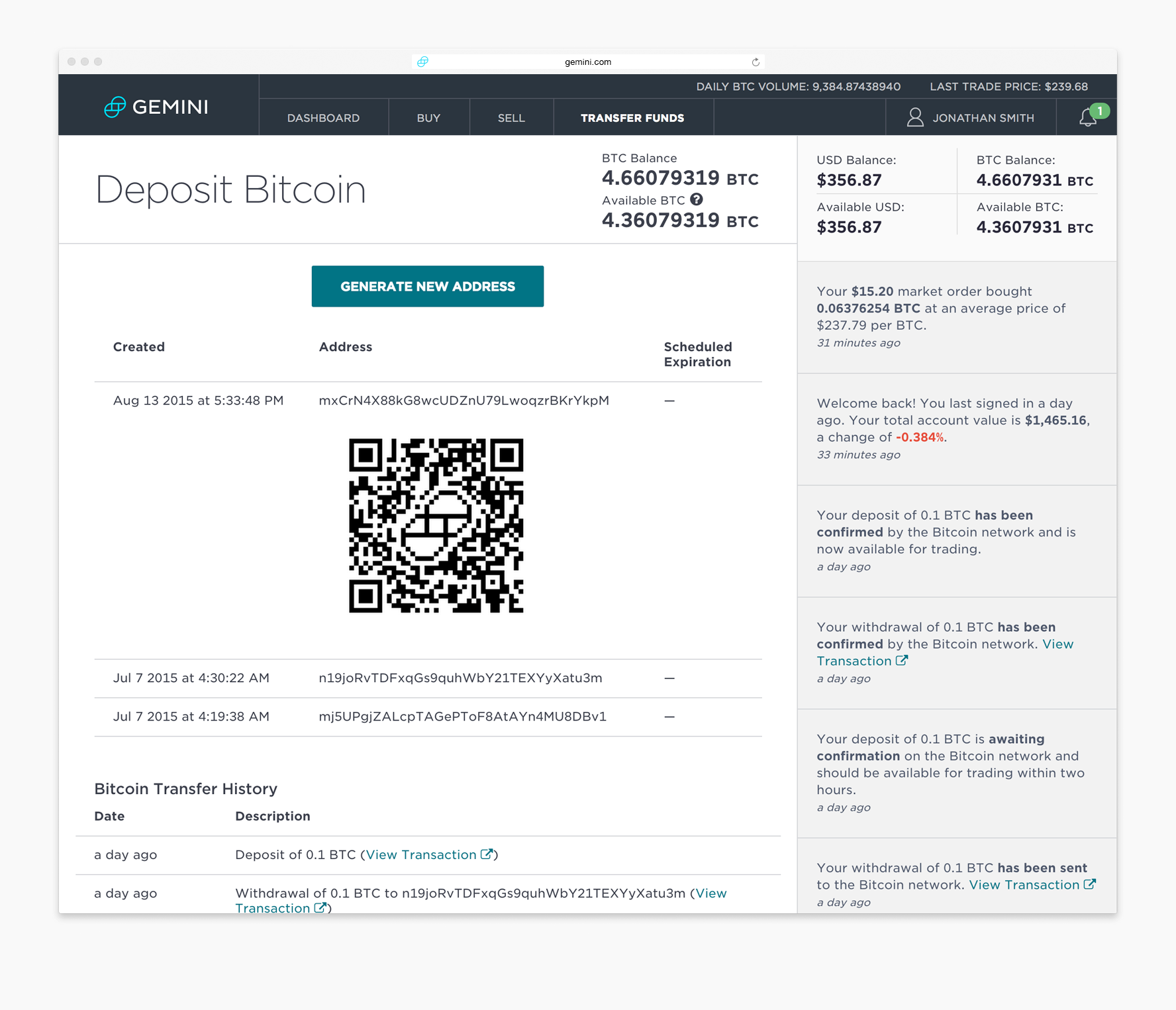 Once you have deposited your Bitcoin or moved your USD into the Exchange via Bank Transfer you are ready to start trading. This is where Gemini Exchange comes into its own as it has a set of simplified trading methods and a sleek interface that allow you to quickly and easily make your decision and push your trade into the orderbook.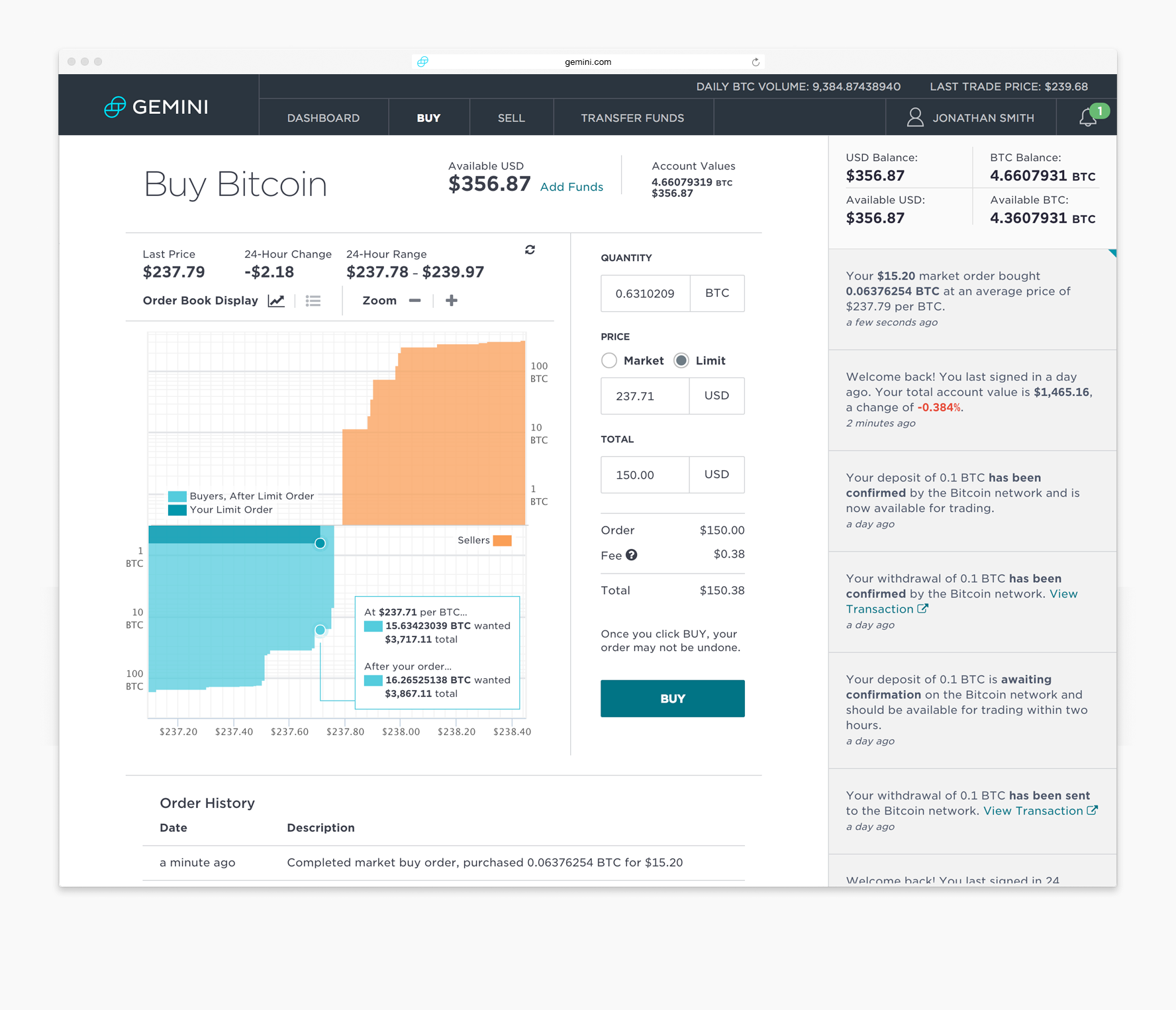 There is also dashboard to keep up to date with what is going on in the market . You can see the WinkDex prices, last orders and volumes. You can also see your balances in all assets and work out what your holdings are a glance. 
In all incredibly intuitive and easy to use. Add you review here and help others to get to grips with getting hold of Bitcoin on Gemini and if your experience is good let people know - and if not so good make sure you let others know what happened. 
This website is only provided for your general information and is not intended to be relied upon by you in making any investment decisions. You should always combine multiple sources of information and analysis before making an investment and seek independent expert financial advice.
Where we list or describe different products and services, we try to give you the information you need to help you compare them and choose the right product or service for you. We may also have tips and more information to help you compare providers.
Some providers pay us for advertisements or promotions on our website or in emails we may send you. Any commercial agreement we have in place with a provider does not affect how we describe them or their products and services. Sponsored companies are clearly labelled.