Bluebelt is a cryptocurrency exchange based in Singapore operating under a global brand, Bluebelt Exchange Group. Since its inception, Bluebelt Exchange Group has consistently operated with the aim of delivering satisfaction to its customers, bringing forth a revolution in the financial markets, where cryptocurrencies connect people without any social boundary or discrimination.
Today we are going to do a step-by-step on how to use the basics of this platform.
Part 1: Create an account
Step 1: Go to the BlueBelt website (or click here) and press the "Register" button.

Step 2: Fill in your information and follow all the 4 steps of the registration process.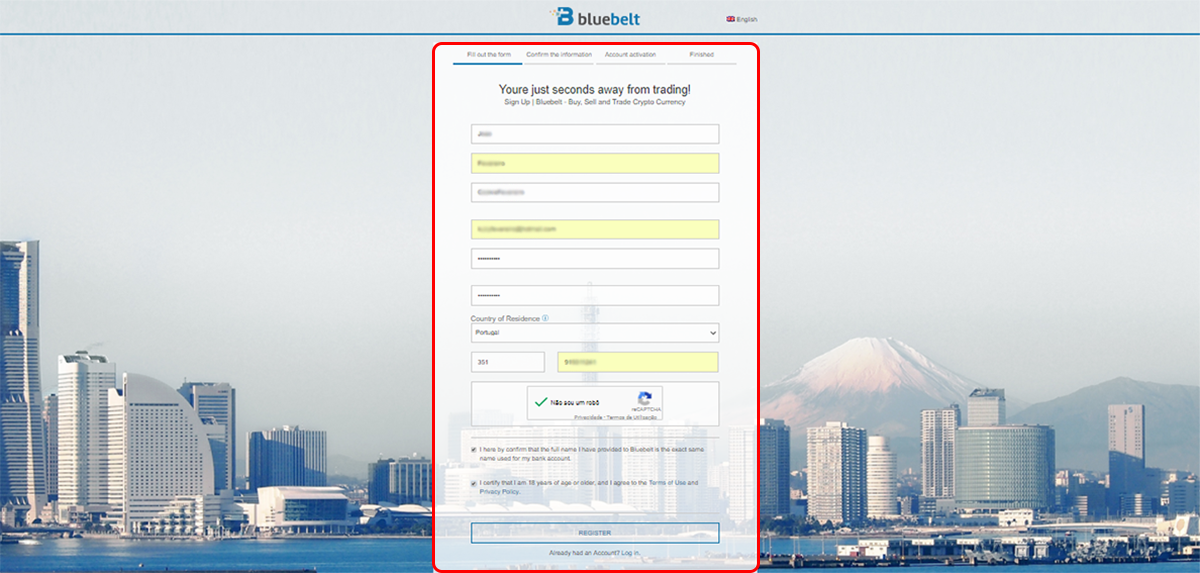 Confirm all the given data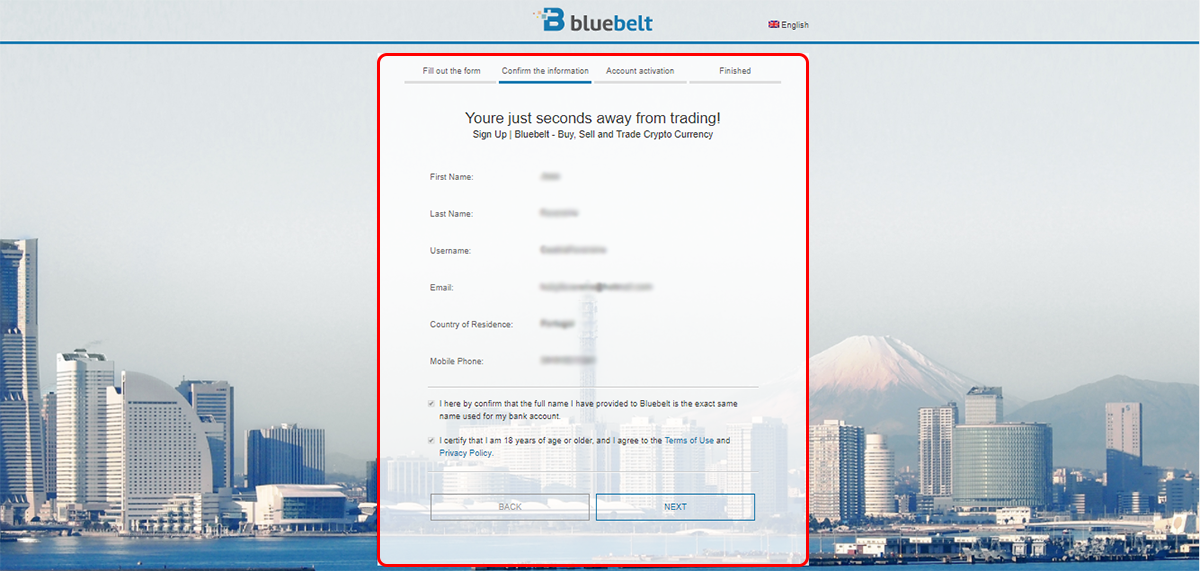 Use the activation code sent to your cell phone number and press "Finish"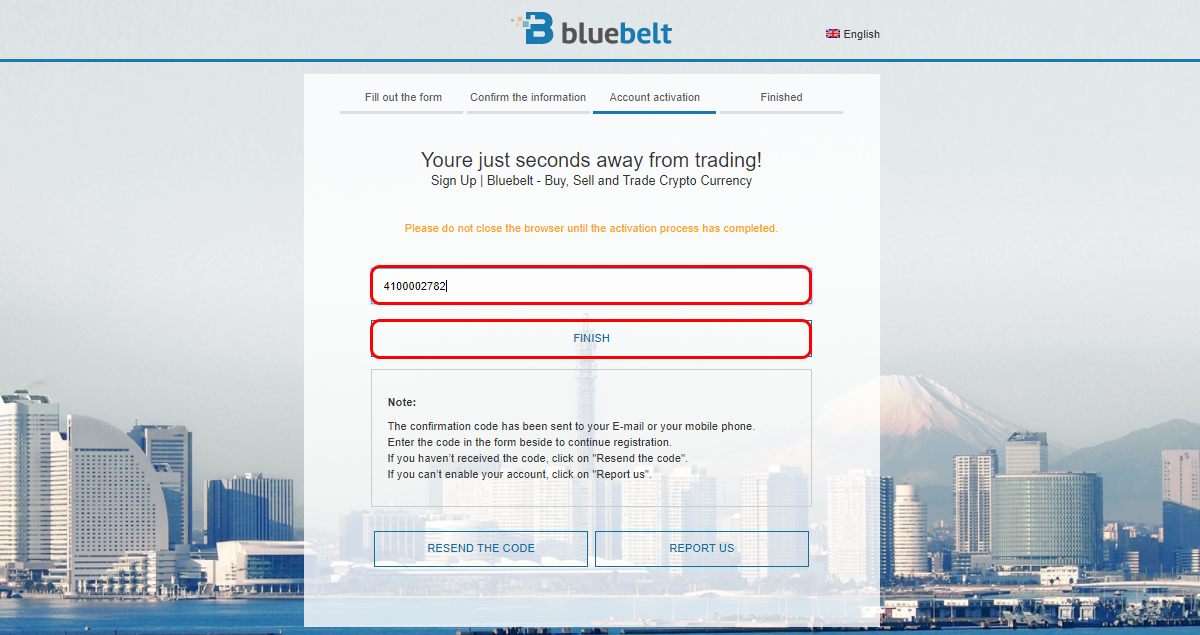 You will now be able to enter your account, use your email and password to do so.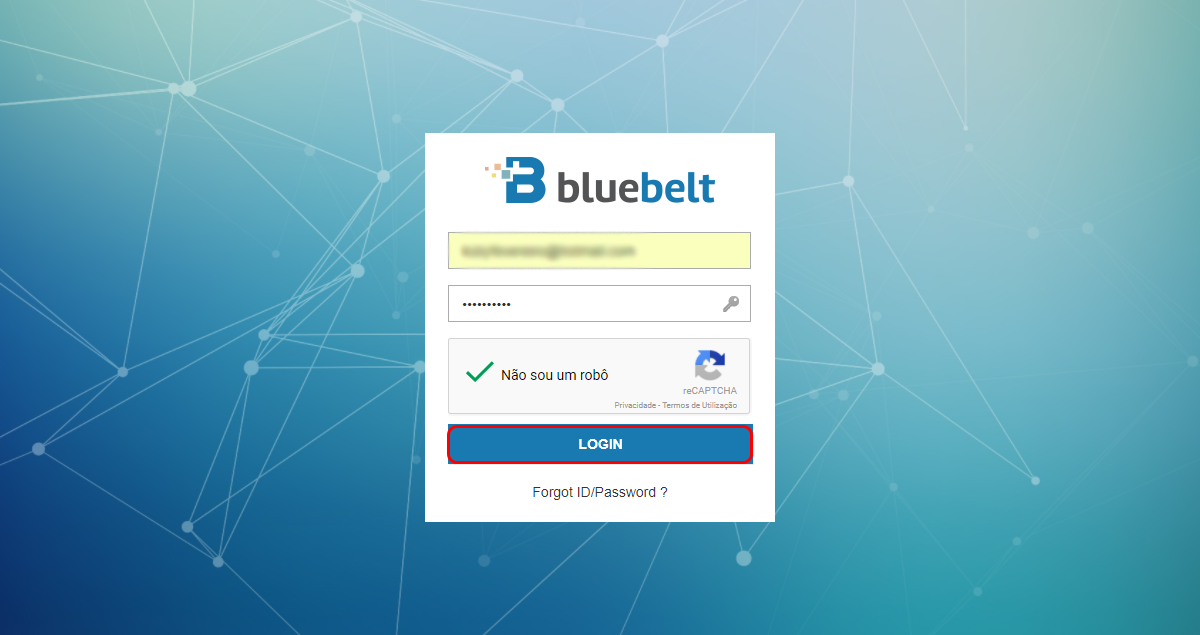 Part 2: Deposit funds
Step 1: On your main page, if you scroll down a bit, you will be able to see your BTC address. (Once you send bitcoin to this wallet, you can use bitcoin for Instant Sell or Transfer to Bluebelt Exchange Bitcoin Wallet with no fees)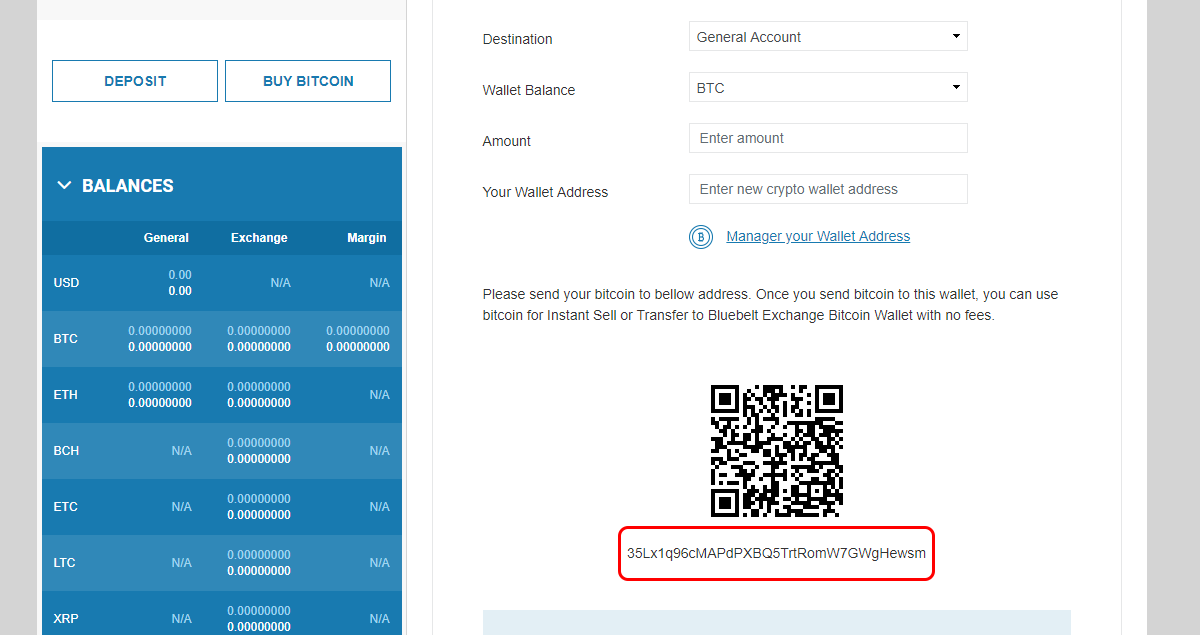 You can also send ETH or USD. To do so, you only need to change the currency on "Wallet Balance" to get the correspondence address (for USD you will need to use BankWire)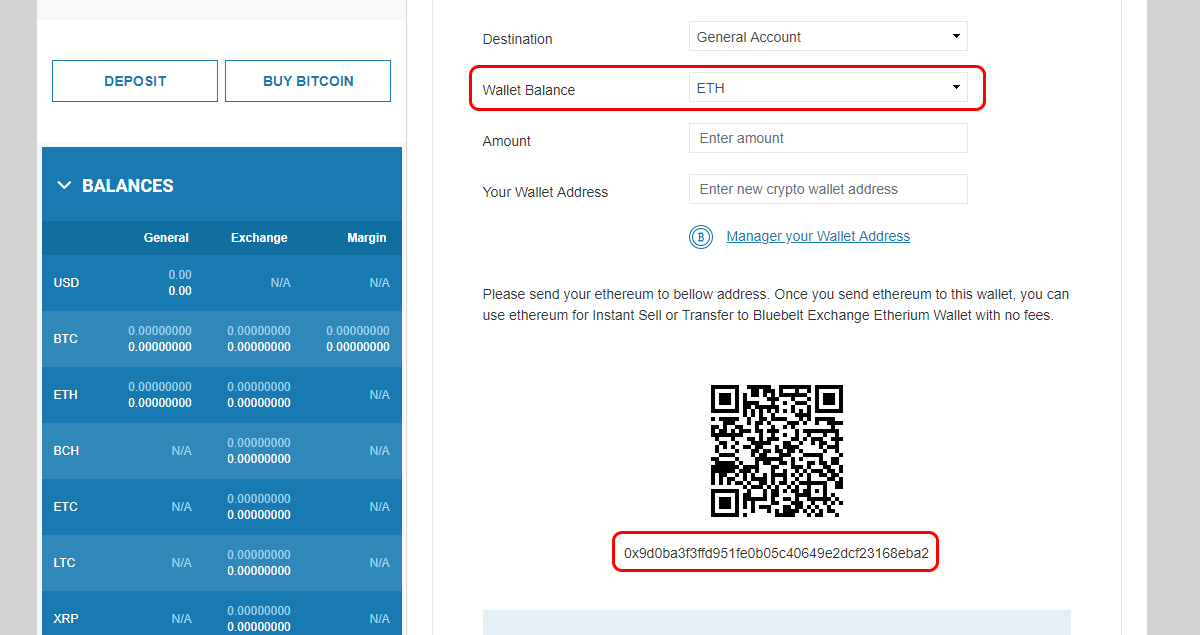 Important notes:
- The minimum deposit amount is 0.001BTC.
- Allways m

ake a deposit ticket after sending coins to wallet address.
In this guide, we are going to send 0.003BTC to test the "Instant Buy" and "Instant Sell" options.
Once your transfer is complete you will see your available balance on "Balances".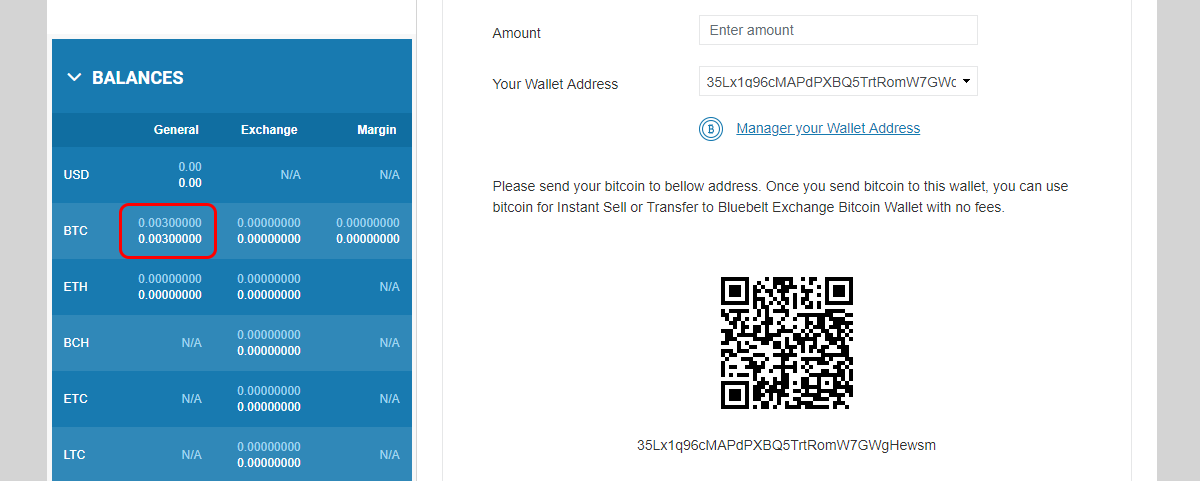 Part 3: Instant Sell
Step 1: Continue in the main page and, on the header, click the "Instant Sell" tab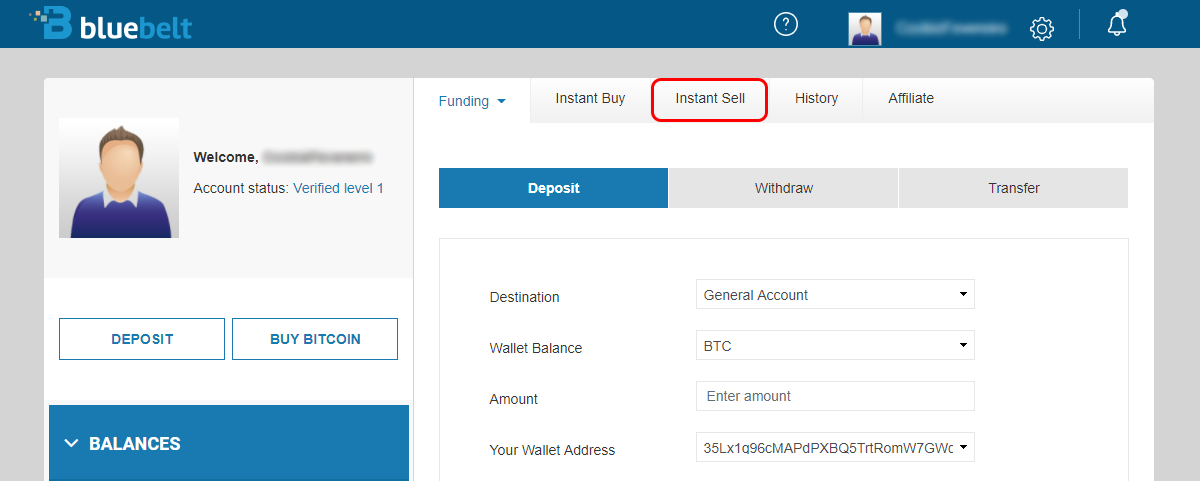 Step 2: Here you can see:
The current value of the currency that you are about to sell (1);
Above that information you can choose which currency you want to instant Sell (2);
And four standard amounts (3)

On the bottom, you can choose a specific amount different from the four standard amounts.
There, write the amount that you want to sell and press "sell now".

Step 3: Confirm the transaction

Step 4: Return to the DashBoard

Part 4: Instant buy
Step 1: In the main page, on the header, click on the "Instant buy" tab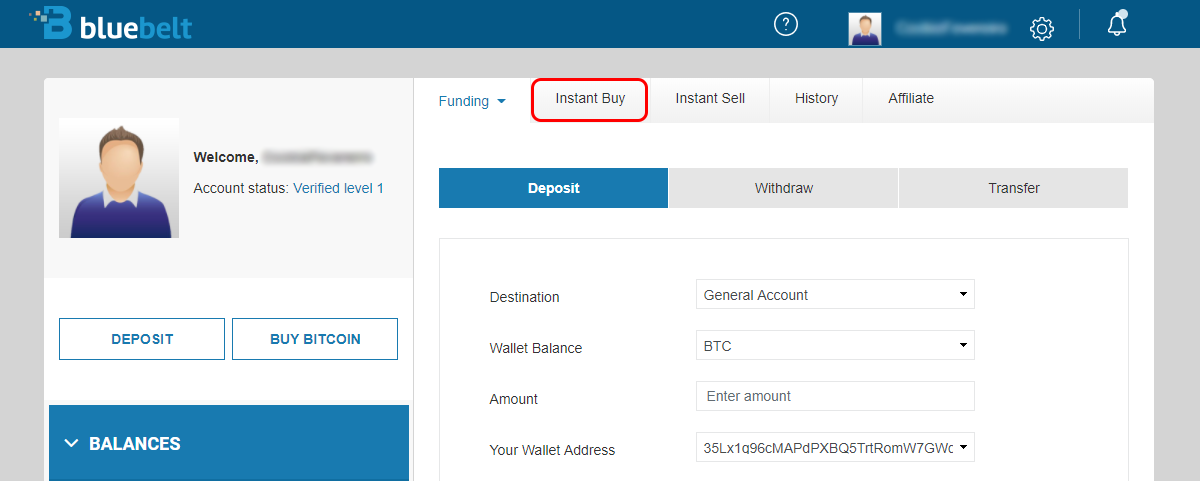 Step 2: Here the procedures are very similar to those of "Instant Sell". For this example we will buy ETH. So click on the Ethereum button, enter the USD value and click on "Buy Now"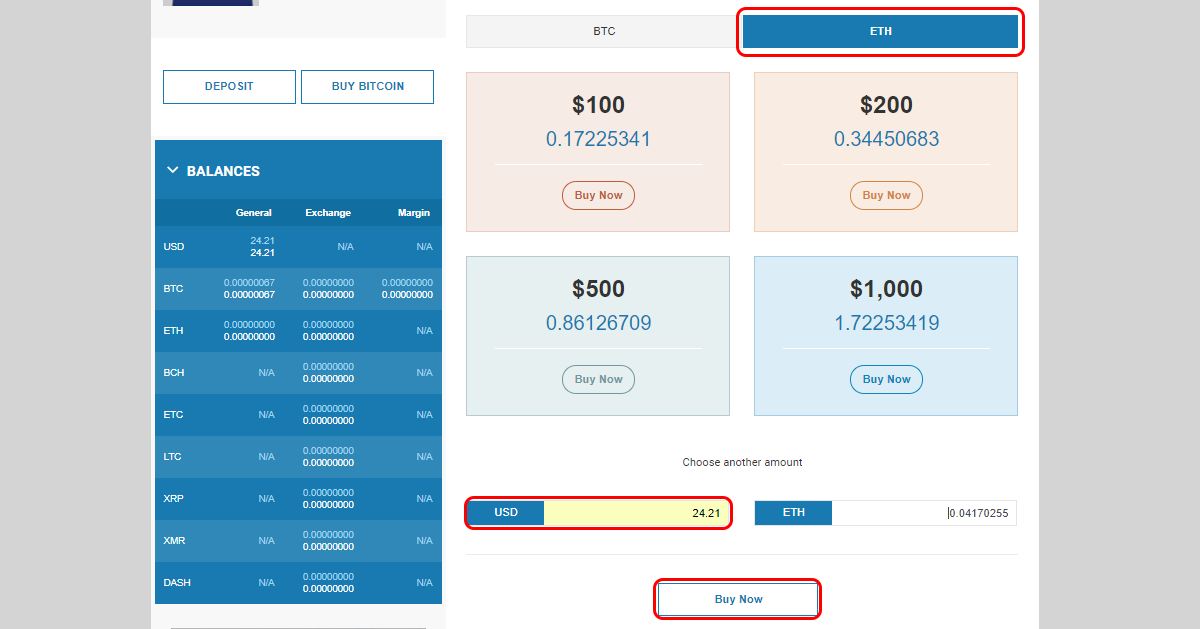 Step 3: Once again, confirm the transaction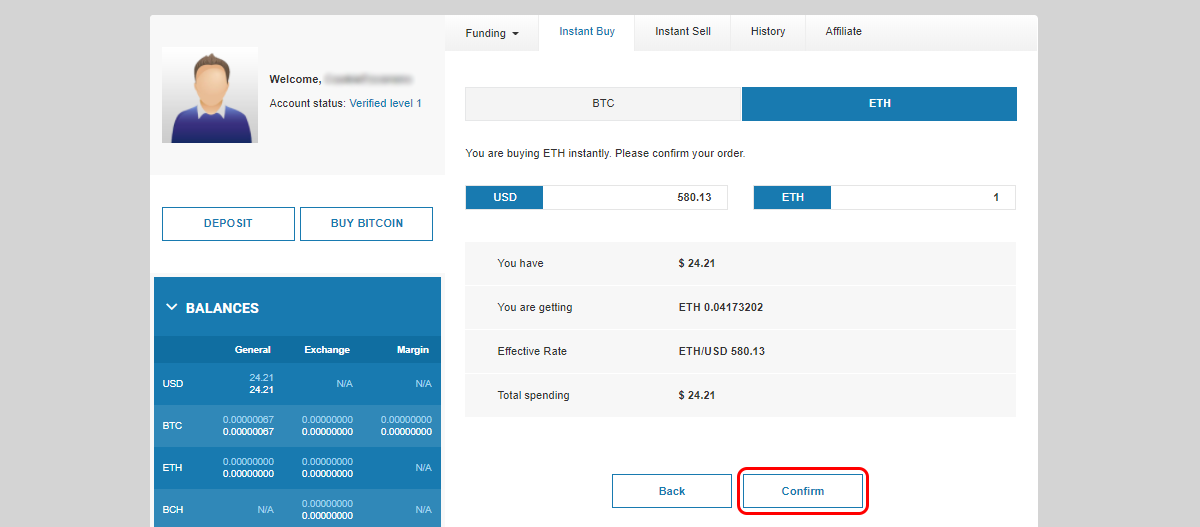 Step 4: That's it, we have bought ETH "instantaneously". Return to the DashBoard.

Part 5: Withdrawal your funds
Step 1: On the main page, click the "Withdrawal" tab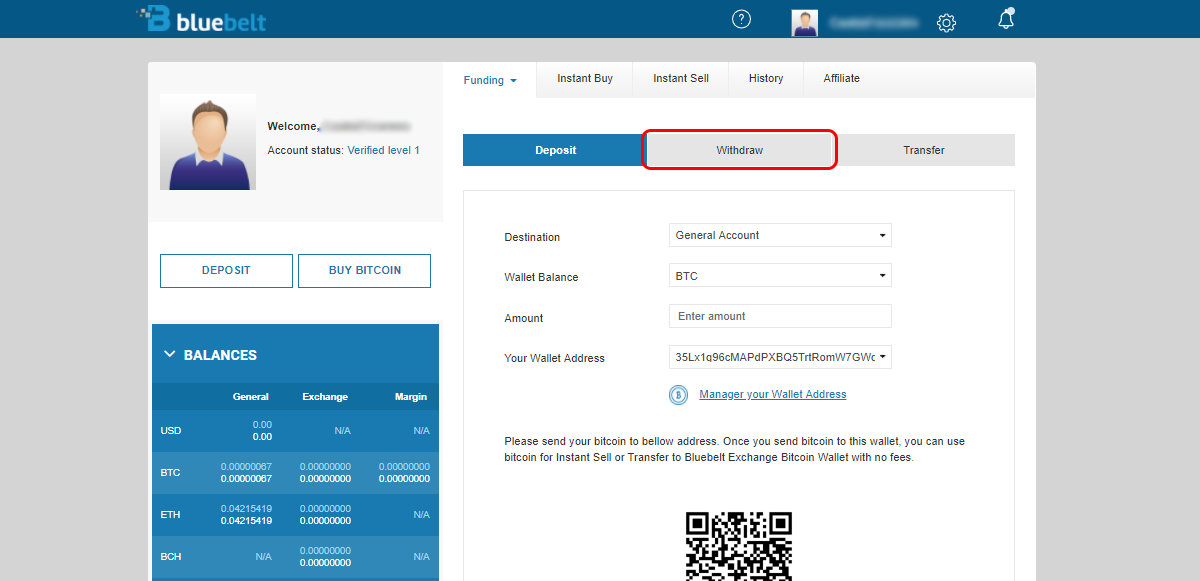 Step 2: Once there, choose the currency that you want to withdrawal, enter the amount and press "Next"

Step 3: Enter your ETH address and press "Next".

Step 4: Confirm all data and press "Withdrawal".

That's it, your withdrawal request has been registered!
Part 6: Transfer funds to the exchange app
Step 1: 

On the main page, click on "Transfer" tab, choose the currency that you want to transfer from your "General Account" to "Exchange", enter the amount and press "Next" (There is no fee for transferring among Bluebelt Wallets) Another way to have coins on the Exchange app is deposit directly on the exchange app. 

Note, this is only an example, transfer amount could not be less than 0.0001.
Step 2: To open the exchange app, scroll a little down until you see on the left of your screen the BlueBelt Exchange button, click on it.

There you will need to enter your email and password again. 

Bluebelt is a very complete application, in this step-by-step guide we only have used the most basic tools to let users know the capacity of this project. To know more about this project, please click here.
This website is only provided for your general information and is not intended to be relied upon by you in making any investment decisions. You should always combine multiple sources of information and analysis before making an investment and seek independent expert financial advice.
Where we list or describe different products and services, we try to give you the information you need to help you compare them and choose the right product or service for you. We may also have tips and more information to help you compare providers.
Some providers pay us for advertisements or promotions on our website or in emails we may send you. Any commercial agreement we have in place with a provider does not affect how we describe them or their products and services. Sponsored companies are clearly labelled.